About 27% of Japan is covered by plains and basins. The remaining 73% are covered in mountains. While this is bad news for agriculture, and life in general, for skiing, it means Japan is akin to paradise. Japan is a major destination for skiing and snowboarding, and the quality of its slope can be demonstrated by the fact it has hosted two Winter Olympics, in two different locations.
A couple weeks ago, the Otashift team decided to try out skiing, and along with a friend who a seasoned skier, went off on our very first time skiing. A few days later, after getting through the muscle sores and pains caused by multiple falls, I'm reporting to you my findings.
Here, I'll briefly explain what skiing in Japan is like, recommend some good spots, and what to expect if you come here to ski. And hopefully, you'll be convinced that Japan is one of the best skiing (and snowboarding) destinations, and you should come here if you're looking to venture into the Japanese snow.
SKIING AND SNOWBOARDING IN JAPAN
Japan has been blessed geologically, and meteorologically when it comes to skiing or snowboarding. Because of the winds coming from Siberia interacting with the Sea of Japan, the snow in the mountain ranges is of pristine quality, added to that, because of the number of places where you can ski and snowboard, you do not need to limit yourself to skiing and snowboarding, it can be skiing / snowboarding + tourism, all in one.
WHY YOU SHOULD SKI OR SNOWBOARD IN JAPAN
Japan is renowned for its powder snow, which is abundant in the country. Added to the quality of the service, for the price, of the many resorts, it's a no-brainer why one should go there. The most important part, for me at least, not being a huge skier, is the fact that because of the shape of the country and the percentage of mountain coverage, you can go from city to ski resort in a matter of hours, no matter where in the country you are. And because Japan has such rich culture, beautiful sights, and amazing food, a ski trip to Japan allows you to experience these other things Japan has to offer.
WHEN IS SKIING SEASON IN JAPAN?
In general, the skiing season starts in December. However, if you're looking for the deepest powder, the best time to go skiing and snowboarding in Japan is January, apparently nicknamed "Japanuary" by those in the know. February is similarly considered one of the best periods.
Naturally, the dates differ from Hokkaido to the more southern parts of Honshu. However, generally, Golden Week will mark the end of the ski season. The first resort to open during the year is usually Mt. Fuji Snow Resort Yeti, which opens as early as October. On the other hand, Mt. Gassan offers summer skiing, which is really rare.
Spring skiing is also an option. For those who'd like to save a few bucks in the off season, one can ski in Japan from March, all the way through the entirety of April. These periods will be cheaper, and will be significantly warmer. If you're like me and are not fond of the cold, it's a decent option. However because of the lower frequency of snowfall during the period, the snow will be less deep and harder.
HOW MUCH DOES IT COST TO SKI OR SNOWBOARD IN JAPAN?
This depends very much on the season. If you're there at the peak of skiing season, from December to around February, expect to pay from ¥5,000 to ¥7,000 ($40-$60) for a day pass, which is still a lot cheaper than in North America, for example. On off seasons, the prices go way down. We paid ¥2,700 ($24) for a full day pass when we went, in early April. Of course, you should also take into consideration the price of lodging, and guide company, if that's something you're interested in. If you're not planning on being there all day, you can get a half day ticket for about half the price (lifts generally run from 8 o'clock to 15-16 o'clock).
If you're a beginner, it's a good idea to get a ski and snowboard lesson. Group lessons generally start from ¥3000 to ¥5000 ($25-$45) for a half day, and ¥5000 to ¥7000 ($40-$60) for a full day. Private lessons will cost about ¥8000 ($71) per hour.
I'll go through rental further below. If you do not have any of the basic equipment required to ski, expect to spend ¥6,000 ($53) or so.
THE BEST SKIING AND SNOWBOARDING RESORTS IN JAPAN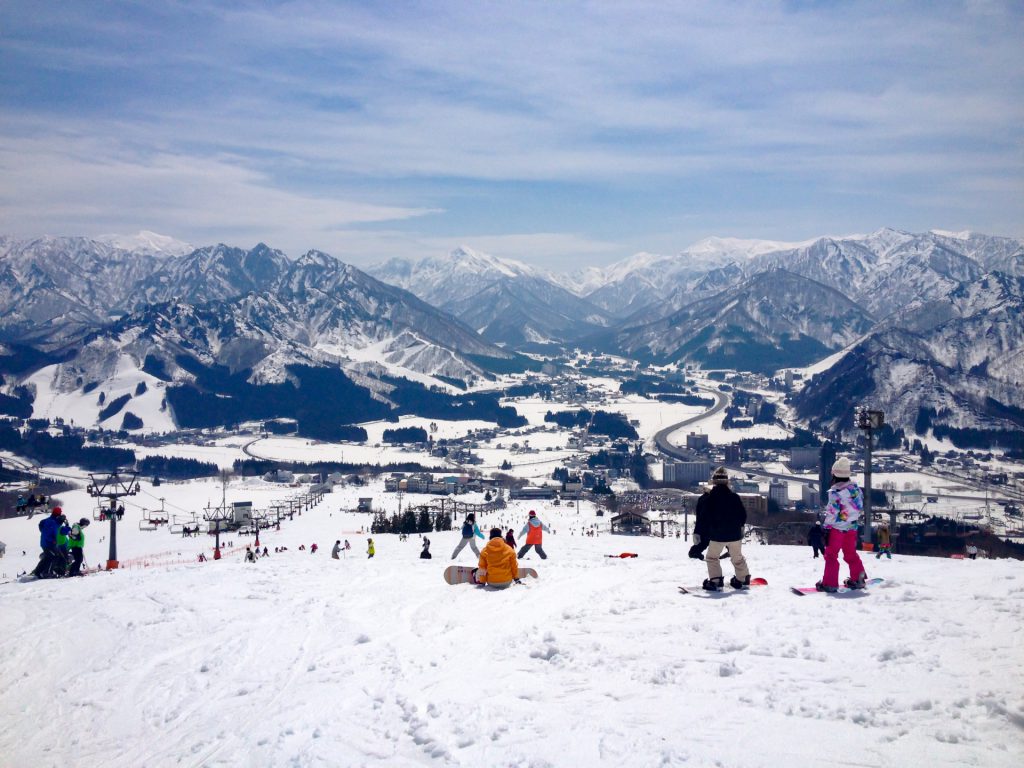 There are about 600 ski and snowboarding resorts in Japan, all with an average depth of about 1,500 m of snow every year. Naturally, out of all these resorts, it's hard to pick, so here's a list of the best ski and snowboard resorts, where you'll find Japan's best powder snow, as well as taking the neighboring city/town into consideration
1. NOZAWA ONSEN SKI RESORT
Nozawa Onsen Ski Resort (野沢温泉スキー場) is said to have some of the best powder snow in Japan. It's located in Nagano prefecture in an area which receives considerable snow every year, making it a reliable ski and snowbording destination, as you can be sure there will be snow.
Nozawa Onsen was one of the locations which hosted the 1998 Nagano Winter Olympics, which is a serious quality assurance. It's a good destination for beginners as well. It has courses for all levels. For pros, this is also a very good spot. There is a good network of off piste ski courses, so if skiing or snowboarding surrounded by trees, in a more natural state, this place is for you.
Before Nozawa Onsen became a ski resort town, it attracted people for its onsen (Japanese natural hot springs). Not only can you ski, when you are done, you can enjoy a free (yes, free), soothing bath in one of the many bathhouses around the village.
Check out our article "Nozawa Onsen: Ski And Snowboard in The Best Hot Spring Paradise"!
Nozawa Onsen Ski Resort Info
One Day Lift Pass – Adult ¥4,800 ($43) / Child ¥2,200 ($20) / Senior ¥3,700($33). In off seasons: ¥2,700 Adult.
2. KAGURA SKI RESORT
Kagura ski resort (かぐらスキー場), or, Kagura snow resort is located in Nigata. This ski resort is well known as one of the latest-opened ski resort as it's open until the end of May, in general. Due to its huge area, one of advantage to ski in Kagura ski resort is you get to try different types of ski slopes, depending on your level. Also, the family zone where ski slopes are relatively flat allows families with kids decide to come to Kagura ski resort.
There are two base stations: Mitsumata station and Tashiro station. From both stations, there are large gondolas capable of carrying 100 people to the top at once. At Kagura ski resort, the highest altitude is 1,845m and it's split into three mains area: Kagura area, Mitsumata area, and Tashiro area.
Echigo-Yuzawa Station (Jōetsu Shinkansen)
One Day Lift Pass – Adult ¥4,700 ($42) / Child ¥3,800 ($34) / Senior ¥4,200 ($37).
Half-Day Lift Pass – Adult ¥3,500 ($32) / Child ¥2,600 ($23) / Senior ¥3,000 ($27).
3. SHIGAKOUGEN SKI RESORT
Shigakougen ski resort (志賀高原スキー場) is the generic name of 18 ski areas. They are divided into four main zones. It's one of the biggest ski resorts in Japan! The ski area ranges from 1340m and 2307m in altitude and thanks to its scale, you'll never be bored. In fact, it's impossible to visit all through a day.
Despite its size, 52 lifts and gondolas provide efficient connection and you can use the free shuttle buses between ski areas. If you want to skiing for a couple of days, Shigakougen ski resort is one of the best options!
Shigakougen Ski Resort Info
One Day Lift Pass (Regular season) – Adult ¥5,000 ($45) / Child ¥2,500 ($22) / Senior ¥4,200 ($38).
One Day Lift Pass (In off season) – Adult ¥4,200 ($38) / Child ¥2,100 ($19) / Senior ¥3,800 ($34). 4 Hours Lift Pass – Adult ¥4,200 ($38) / Child ¥2,100 ($19) / Senior ¥3,800 ($34).
RENTING SKI AND SNOWBOARD EQUIPMENT
Chances are, if you've come all the way to Japan, you're an avid skier or snowboarder and came with all your gear. If you did not, or are not an avid skier or snowboarder with all the gear, worry not. Everything you may need can be found. Ski resorts will have loads of shops, independent, or brand shops where you can rent everything from the skis and poles, boots, and ski wear. As we ourselves did not have any of the gear, save from pants and jackets we borrowed from a friend, we rented out everything else, including gloves, goggles, and hats. Check the image below for an idea of the prices to expect (¥100 = ~ $1).
The basic equipment you'll need to ski is a set of skis, boots and poles, those will cost you around ¥4000 ($36). To snowboard, you'll need a snowboard and boot sets for the same price. However, you'll also need a jacket and pants, which together will cost about ¥2500 ($22).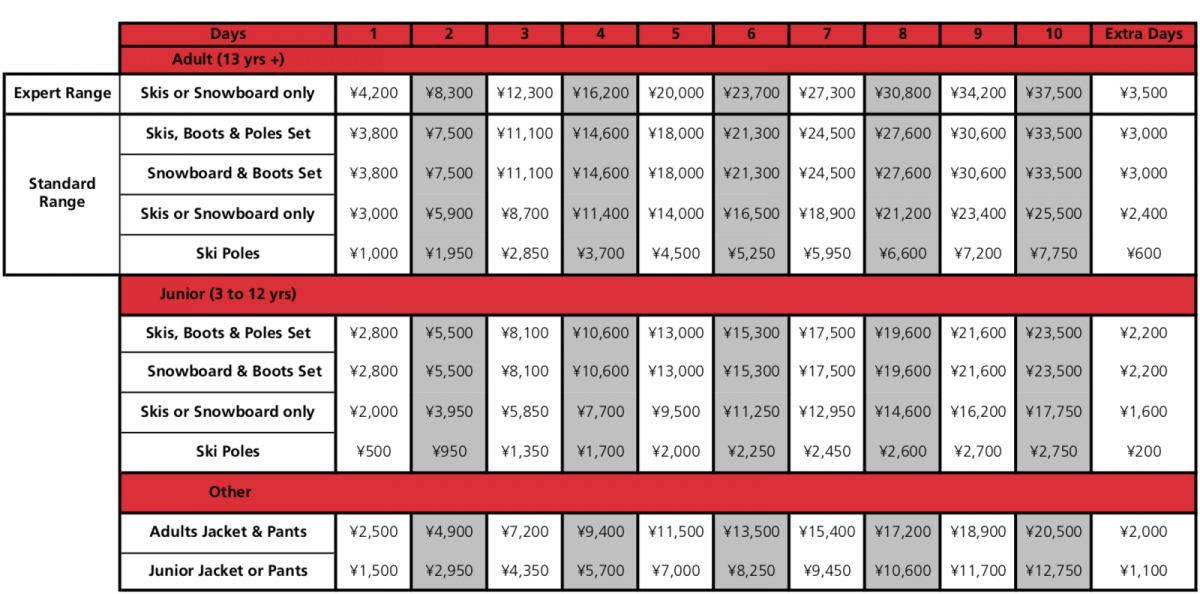 ITEMS YOU MAY NEED TO BRING YOURSELF TO SKI OR SNOWBOARD
While the skis, snowboards, boots and outerwear required to ski or snowboard will most definitely be available at rental places near or on the resort, certain items may not.
Goggles (you will need these to not damage your eyes from the reflection of the sun on the white snow).
Gloves (you also definitely need these to protect your hands from the cold).
A warm hat.
A neck warmer.
Thermal clothes and a jacket to put under the ski jacket, especially in winter.
Others: suncream, cold meds, tissues for runny nose, a change of socks and underwear, something for muscle sore (skiing is a lot of fun, but a heck of a lot of muscle exercise), etc.
THINGS YOU SHOULD KNOW BEFORE SKIING OR SNOWBOARDING IN JAPAN
This is a list of useful tips and things you may want to consider while planning your ski or snowboard trip.
BOOK A LESSON IF YOU'RE A BEGINNER
As mentioned above, especially if you're not accompanied by a seasoned skier, you should book a lesson. Skiing and snowboarding can be extremely dangerous, and you should at least know the basics before you wander off on your own.
GO SKIING ON WEEKDAYS
Weekends can be really crowded. If you'd rather not have to ski or snowboard down the slopes while having to worry not to run into other people, go on a weekday.
LIFTS/GONDOLAS ARE SOMETIMES ONLY FOR GOING UP
We had the misfortune of going up a gondola and finding out the course it takes you to was way too difficult. When we tried to take the gondola back down, we were told they only go one way. Don't let that happen to you. Only get on if you're sure you're ok to ski down wherever it leads you.
THINK ABOUT LUNCH
We had the misfortune of going up a gondola and finding out the course it takes you to was way too difficult. When we tried to take the gondola back down, we were told they only go one way. Don't let that happen to you. Only get on if you're sure you're ok to ski down wherever it leads you.
HAVE A MAP OF THE RESORT COURSES
Make sure every member of your party has a map. If you get separated everyone should be able to navigate and find their way, which is difficult without a map, as ski resorts will not always have clear signposts.
CHECK THE WEATHER
Needless to say, skiing in the rain is not pleasant, and I'm sure you would like to avoid it. Check the weather forecast for the days you are planning on skiing. On the day, check the resort webcam to see it in real time.
STAY SAFE WHILE SKIING OR SNOWBOARDING IN JAPAN
Ski resorts are made with safety in mind. In addition, they have lifeguards and emergency equipment on the ready in case anything were to happen. However, be aware. Skiing, and snowboarding can be extremely dangerous, so be careful, make sure not go out of the designed path, especially if you are not a high level skier or snowboarder. In addition, it's important to know the emergency numbers:
110: emergency call to the police
119: Fire, ambulance, and emergency rescue.