While probably everyone in the world knows what karaoke (カラオケ) is, it's a little known fact that the world famous drunken activity was invented in Japan. In fact, karaoke is a combination of the Japanese word 空 (kara, empty), and orchestra (oke). Karaoke is a major part of Japanese culture and a favorite destination for everyone from teenager on weekends to young adults during a night out, and even work groups after a drinking event.
In Japan, and much of eastern Asia, there are large karaoke chains where groups of people can book a fully equipped booth for a few hours to fulfill their karaoke needs. These often come with food and drink menus, side rooms with billiard and other activities.
If you're in Japan, you should definitely look into trying karaoke, Japan style. If you've seen Lost in Translation, you should already have an idea what it's like. Here below is all you need to know about how to karaoke, where to go, and what to expect.
HOW TO KARAOKE
Once you've decided on what karaoke parlor to go to and are at the premises, the rest is really simple. It of course depends on the specific place, but they are more or less the same. Because Manekineko is the cheapest, that's where we went.
BOOK A KARAOKE ROOM/BOOTH
This is self-explanatory. Once you enter the karaoke parlor, simply head towards the desk, and book a booth based on how many people you have. There they'll usually ask you how long you want to stay, how many you are, and what drink and food plan you'd like.
Many karaoke parlors will allow you to book in advance.
PICK YOUR SONG AND SING YOUR LIFE AWAY
Once in the room, you'll have a tablet with all the song selections, there you can search for available songs, and queu them. Generally you'll have two microphones. In addition, there will often be a phone and a food and drink menu order from without having to leave the room.
HEAD TO THE COUNTER WHEN YOU DONE AND PAY
Once your time is up, head back to the desk, give your ticket, and pay your bill. Make sure not to go over your time! You'll normally get a phone call reminding you about the time 15 minutes before the end.
THINGS YOU MAY NOT KNOW ABOUT KARAOKE IN JAPAN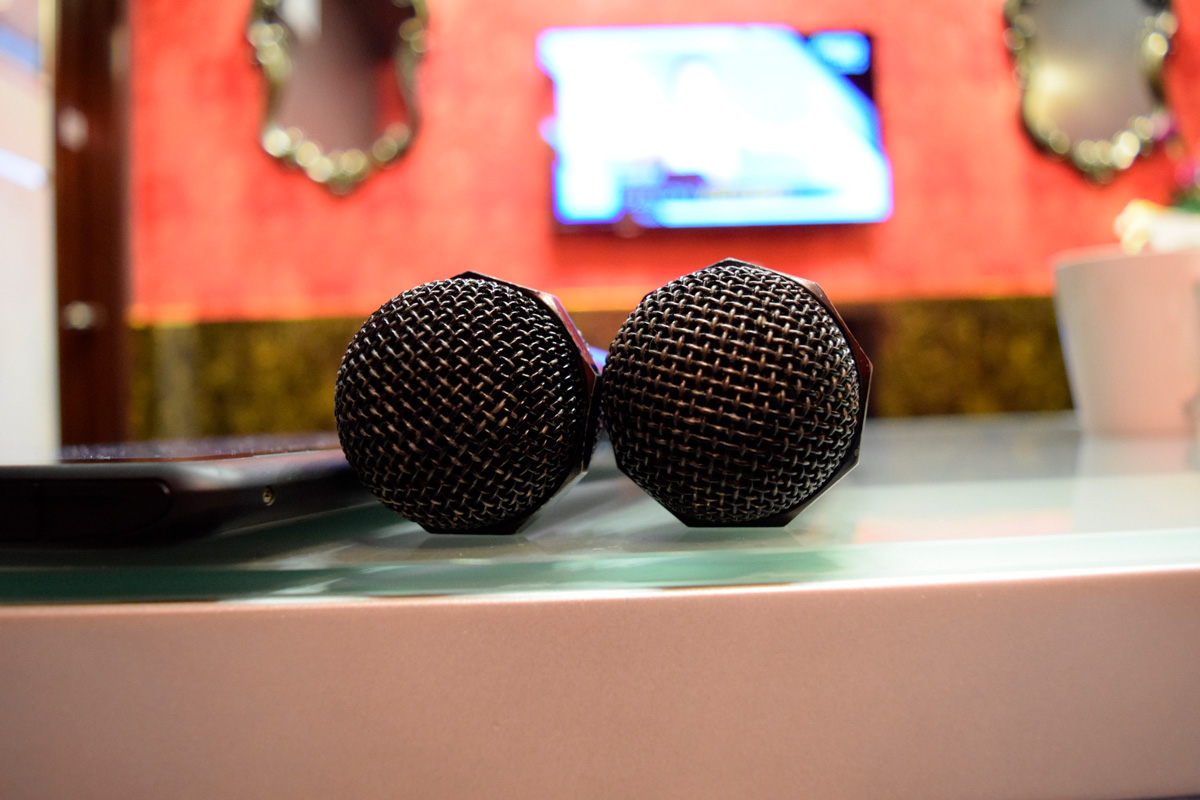 Although you may be familiar with karaoke in your country, in Japan it's a completely different animal. Karaoke is so ingrained in pop culture and to a sense so evolved and refined that there may be some differences.
1. THE JAPANESE WILL SING WITH CONFIDENCE EVEN WHEN THEY SUCK
Whether you are good or not at singing, the karaoke parlor is a judgement free zone. You are there to sign to your heart's content, so go at it, regardless of your skills. A common tactic with those who have especially awful voices is to just sign loud. If anything, you make up for the sonic atrocity with your enthusiasm.
2. KARAOKE ARE OFTEN DESTINATION WHEN YOU'RE NOT SURE WHERE ELSE TO GO
When a group of friends are out drinking or eating (which in Japan usually also involves drinking), and want to stay out a bit longer, they will often go to a karaoke before heading home. In other cases, when you've missed your last train and decide to wait for the first train home, most karaoke are open 24/7 and will give you a warm place to wait. There you can either sleep until first train, or if you feel energetic sing until the sun is up.
3. KARAOKE ISN'T ONLY FOR YOUNG PEOPLE
Although karaoke parlors are generally filled with young people, and before nighttime with high schoolers even, it's not uncommon for older people to go there. You'll often find people in their 50s, and beyond their 60s there, especially after they've been out with friends or work colleagues.
4. THERE IS A GAME MODE
Most karaoke systems will include a game mode, a la Rockband. It'll show you the proper pitch for the song, and you have to try to hit the pitch as best as possible. At the end you get a score, and if it's high enough, you might end up on the highest score list (old arcade vibes). It's a fun way to do karaoke, especially if you and your friends are looking for some competition.
5. SOME PEOPLE GO ALONE
There's this hilarious and relatable Netflix animated series called Aggretsuko in which Retsuko, an anthropomorphic red panda is a seemingly regular company worker by day, but then goes the karaoke alone to let out all the accumulated anger of the day and goes all out signing death metal. This is not uncommon. Some will go to the karaoke alone. Either because they enjoy singing and do not need company, or they had a long day and need to let some steam off, among other reasons they may have.
6. YOU NEED DRINKS AT THE KARAOKE
Noticed I've used the word "need"? I meant to. If you're like me, you need at least a couple glasses of liquid courage in order to let loose and sing properly. Then once you've let loose, you sing so much you'll die of thirst. If you go to Manekineko, you can bring your own drinks. At other places, they have a drink menu. I'd recommend getting the all you can drink menu (nomihodai in Japanese). For a set price, it allows you to have unlimited drinks during your karaoke session. You can generally choose to have alcoholic nomihodai (which will come with non-alcoholic drinks too), or non-alcoholic only nomihodai.
WHAT SONGS ARE THE MOST POPUKAR IN JAPANESE KARAOKE
These songs change all the time based on what's out at any given time. But worry not! Whatever English language song is popular at the time will likely be available. The top songs generally include a mixture of Japanese pop (that includes the currently hype anime songs), and US top 40.
Here is the list of the current most popular foreign songs (as far as April 2019).
And here is a list of the most popular anime songs (as far as April 2019).
WHAT KARAOKE PARLOR TO GO TO
In Japan, especially in large cities like Tokyo, you can find at least one karaoke parlor in almost all neighborhoods. Most of these are from the major chains we'll through below.
The selection of songs, and equipment is pretty much the same in all karaoke parlors, as they all use either the Joysound (jp.) system or DAM (jp.). The main difference will be the services that come on the side, and price.
Most karaoke parlors will have a "free time" option. This means from a certain time, usually late at night, for a fixed price, you can stay as long as you want, until the closing time. This is usually not available when there are many people waiting.
MANEKINEKO
If you were to ask most Japanese people, or foreigner's who've been in Japan for a certain number of years what the best karaoke is, Manekineko will more often than not be the answer. Part of the reason is simply the price. It's the cheapest of the chains.
There are over 500 Manekineko throughout Japan, so if you're looking for a cheap karaoke parlor, it's very likely there is one not too far from you.
The biggest advantage to Manekineko, and why I'd personally recommend it, is that they allow you to bring in your own food and drinks. Other karaoke parlors do not allow that. At Manekineko, you have to order one item per person at your arrival, and then you're free to consume whatever you've brought with you. However, note that the first time you go to a Manekineko, there is a 200 yen ($2) registration fee.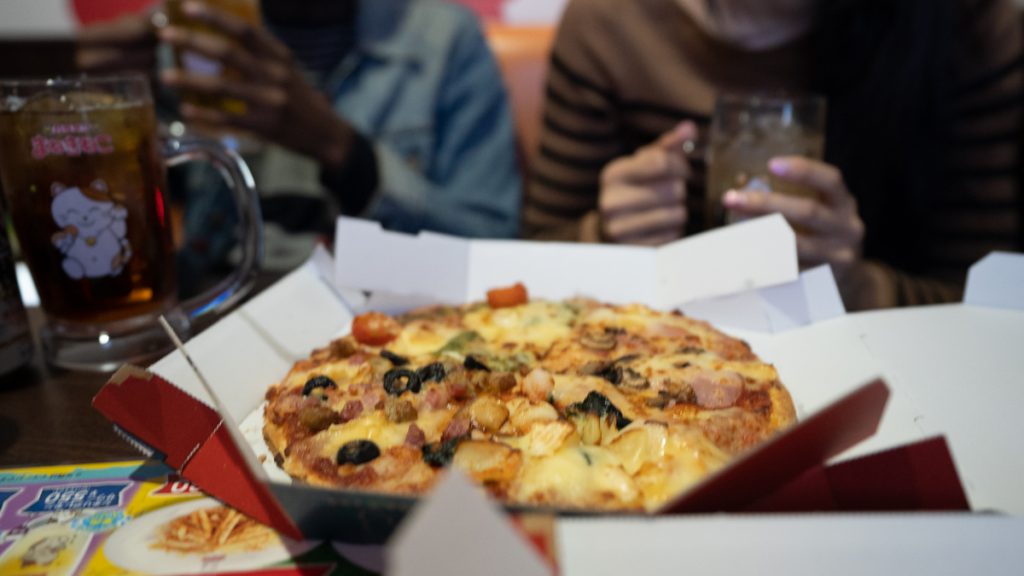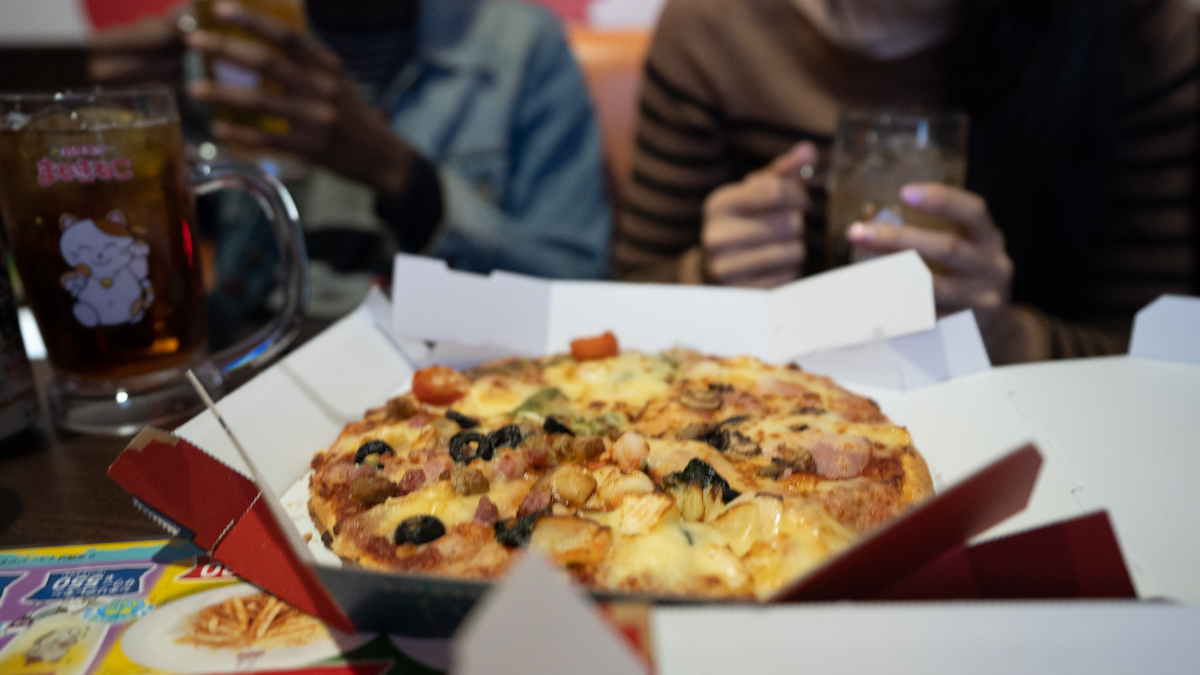 Advantages: cheap as longer as you stay long. You can bring your own food and drinks. Open 24/7.

Disadvantages: Tiny rooms. No free wifi
GOOD VALUE PLAN / COUPON
Here are the price plans and coupons that you might want to know about (valid as of March 2019).
*These might change, so double check on the website before goin.
1. MORNING PLAN: 朝とく
From opening time to noon is when the cheapest karaoke plan is offered: Asa-uta (朝うた). For room charge, it costs 10 yen per 1 person.
Terms and conditions
You have to order one food or drink item (as usual).
This applies after one hour. It will not apply if you stay under that time.
You have to enter the karaoke before 10:59 am.
The price does not include tax.
In some rare cases, some Manekineko do not offer this plan.
2. MAFU PLAN: まふ
From 18 pm between Sunday and Thursday, university students can take this plan, called Mafu (まふ). It's a free-time service with free drink bar and costs only ¥300.
Terms and conditions
This service is offered only on weekday nights. (*There are exceptions such as before a public holiday)
In general, all students have to install the Karaoke Manekineko application and show their student card.
Everyone in the group has to be a students to select this plan.
When it's crowded, you may have to wait longer than the general customers.
This service is for limited seasons.
3. FAMILY PLAN: まねき DE 家族割
This service starts from in April 2019. If you are with the family: grandpa, grandma, father, mother and kids, you can use the Maneki-de-Kazokuwari (まねき de 家族割) plan. With this plan, it's free for kids under junior high school age.
Terms and conditions
You have to be a family: grandpa, grandma, father, mother and kids.
In general, there is no specific time limit, however, in some cases, you may not be able to use this plan due to city ordinance.
You cannot use this plan during a special season.
3 kids maximum for each parent and grand-parent.
You cannot use this plan in addition to other promotions.
In general, you need to install the Karaoke Manekineko application.
Rarely in a few Manakineko, the plan might differ a bit.
FIND YOUR NEAREST KARAOKE MANEKINEKO
To find your nearest Karaoke Manekineko, please type simply the words "karaoke manekineko" on Google map or check out the official website.
KARAOKE BIG ECHO
Karaoke BIG ECHO (=カラオケ ビックエコー) is run by Daiichi Kosho Company which sells the Karaoke machine: DAM Series. "LIVE DAM" is said to be best karaoke machine, providing the highest sound quality to simulate a real live concert experience.
In fact, compared with other Karaoke parlors, the basic price is a bit higher but the facilities tend to be better. If you search for the type of karaoke room you see in movies, or you are demanding about high quality sound, Karaoke BIG ECHO is where you should go.
To use Karaoke BIG ECHO, you have the choice of being a member or not. It depends on how long you want to stay in the karaoke but compared with members, non-members have to pay about ¥100 more per 30 minutes. As far as memberships, there are two choices: application member (through the app) or card member. The former is free but the latter costs ¥500 so if you have a smartphone, you definitely should be a member through the application.
What I like about Karaoke BIG ECHO is you the availability of free wifi and borrow a mobile charger if you need. You ask for the wifi password, and for the charger at the reception.
The logos "Karaoke Entertainment BIG ECHO" and "Karaoke Entertainment ビックエコー(=BIG ECHO)" are a bit different. The latin alphabet logo is for their moreluxurious parlors which offer various food menus and nicer rooms, etc. The logo with Japanese characters is for parlors meant more for students and feature a large variety of drinks. Also, there is a student promotion and free-time plan.
It all depends on individual shops but Karaoke BIG ECHO provides various concept rooms such as live stage, elegant, kids, lighting, etc. Here is a video of the live stage.
Advantages: Themed rooms/classier rooms (not everywhere). Free-wifi. High sound quality

Disadvantages: Expensive
GOOD VALUE PLAN / COUPON
Karaoke BIG ECHO doesn't provide many coupons but if you live in Japan and have a membership with some services, you can get a decent deal. (checked in March 2019).
*The promotions may change so please check them on out the official website before going.
1. COUPON
Here is a coupon which is valid until the end of May 2019. If you don't choose the free-drink option, the room charge will be discounted by 10% in your total bill. If you choose the free-drink service, the room charge will be discounted by 5% in your total bill.
As I've mentioned above, this coupon is valid until the end of May 2019. However, you may be able to find a new coupon on this website (only in Japanese) so please check it out if you go to BIG ECHO after the above coupon is no longer valid.
Terms and conditions
At the reception, please show the coupon(on a mobile phone is ok too).
This coupon can be used once for one group/person.
In some karaoke Big echo, the percentage of promotion may be different.
You cannot use this coupon for "party-course" and in addition to other coupons.
You can use this coupon for a free-time plan.
2. MEMBERSHIP PROMOTIONS
If you live in Japan and have a JP Yucho Bank card, EPOSE card, AEON card or JAF Membership card, you can take advantage of 30% off deal or more for drinks etc, so don't forget to show those credit cards if you have one!
Furthermore, if you are a member of dPOINT or Daily Plus (by Yahoo!), you can get a different deal so please check out their website before going to BIG ECHO.
FIND YOUR NEAREST KARAOKE BIG ECHO
To find your nearest Big Echo, simply type "karaoke big echo" on Google map. You can check out the official website but it's only in Japanese so Google map will be more helpful.
JANKARA
If you won't stay in Kanasai area: Kyoto, Osaka, you probably won't have a Jankara (ジャンカラ). This karaoke parlor can only be found in Kansai and is the most popular karaoke parlor there.
For kansai people, karaoke is synomymous with Jankara. Most Jankara are open 24/7 and you can bring your own food/drink in all Jankara. One of the best things here is the all you can drink service, even for those staying as little as 30 minutes.
Jankara is a pretty unique karaoke parlor. For example, "Super Jankara (スーパージャンカラ)" is made with the concept "a luxury space for adults" and although it costs a lot due to high-quality services, they even have a bouldering room (There are only four Super Jankara)!
In addition, Jankara Sennichimae-ten in (=大阪・千日前店) is called "Zyoshi-kara (女子カラ)". Zyoshimeans girls and kara is short for karaoke. As you can guess now, Zyoshi-kara is targeted at women and all rooms are very "girly". There are many themed rooms and you can even borrow the amenity goods for free.
Like in Karaoke Big Echo, there is free wifi and you can borrow a mobile charger if needed. There's even a DVD/Blueray player. Again, when you need them, ask at the reception. However, for the DVD/Blueray player, you need to reserve it on the website or call them to book it. Here is the reservation page (only in Japanese).
For Wifi, choose the "Jankara" network and put the password "81813850".
Advantages: Themed rooms, cheap (for the normal room). You can bring your own food and drinks. Open 24/7

Disadvantages: Only in the Kansai area
GOOD VALUE PLAN / COUPON
On the Jankara website, there is a page for coupons but it seems like they are changing each month. Unfortunately, they are all in Japanse, so just show this page at karaoke reception and ask if there is any coupon that you can use. In Japanese, "何か使えるクーポンはありますか? (Nanika tsukaeru coupon wa arimasuka?)"
*The service may change so please check them out on the official website before going.
1. JANKARA MEMBERSHIP PROMOTION
In Jankara, it's not an obligation to be a member. However, if you're a Jankara member, you will receive many coupons and pay the member price, which is much cheaper than the non-member price. Generally, you receive a 50% off coupon each month. In addition, the more often you go to Janakra, the points called 'Janpoint' you get, which you can use to get a discount. It's free to be a Jankara member, so why not?
2. MEMBERSHIP PROMOTIONS
Like in Karaoke BIG ECHO, you get a special membership deal with an EPOSE card or JAF Membership card, you can get 10 – 20% off.
Moreover, Daily Plus (by Yahoo!) also offers you to get the different deals so please check out its website (in Japanese) before going to Jankara.
FIND YOUR NEAREST JANKARA
On the official website in English, you can easily find your nearest Jankara, or again if you prefer to use Google Map, just type "Karaoke Jankara".
OTHER KARAOKE PARLORS
I've recommended the karaoke parlors which in my opinion are best. However, there are many other options.
JOYSOUND
KARAOKE KAN
In Tokyo, Karaoke kan is the most common karaoke parlor. The signboard (like on the image) is pretty remarkable. In general, rooms are pretty small but tidy. If you become a member, you pay 25% less. The cost is generally low and the free-time plan during the day is around ¥1,000 (* This plan isn't offered every Karaoke Kan and the pricevaries). For more information, please check the official website (Only in Japanese).
For fans of the movie Lost in Translation, this is the chain they went to in the Karaoke scene. More precisely, the one in Shibuya's Dogenzaka district right after the famous Shibuya crossing.
KARAOKE BAN BAN
Karaoke Ban Ban (カラオケバンバン) is considered one of the cheapest karaoke parlors, especially for students and elderly people. Although this is not true of all Karaoke Ban Ban, many Karaoke Ban Ban are open 24/7 very early in the morning and allow you to bring your own food and drinks like in Manekineko.
All Karaoke Ban Ban have the free-time plan and its plan for during a day continues until 8 pm. In addition, the free-drink-bar is offered for all the times.
To end, you may wonder which karaoke system is better, DAM or JOYSOUND. This depends on what you prioritize. If music quality is what you want, DAM is for you. If you want as many songs as possible, then JOYSOUND. In the past, JOYSOUND was miles below DAM when it comes to sound quality, but since, a new system called X-Leben has been started to provide qualitity on par with DAM.
SO, WHICH KARAOKE PARLOR SHOULD I GO TO?
As I've pointed out before, as far as the song selections and general karaoke setup, they're pretty much all the same. But the when it comes to the art of karaoke, that's not all you need. So check the differences in price, whether they have rooms large enough for your group of people. They generally have rooms reserved for large groups (party rooms for 20 people and up, as well), but individual parlors might not have them. If you'd like to organize a bit of a party, or say a birthday and would like pizza and cake, then definitely go for Manekineko. If you want to stay as long as possible, consider going at the free time hours. Otherwise, if you and your friends are just randomly up for a night of karaoke and singing to your heart's content, then your local karaoke should do. Don't forget to bring your student ID if you're a student, there may be student discounts.
DON'T FORGET TO BRING THESE ITEMS WHEN GOING TO THE KARAOKE
When you go to the karaoke (becuse you will, you have to), as in any establishment which is open late nights and serves alcohol, you should bring.
Student ID (for potential discounts)
Regular picture ID with birthdate and full name
Food and drinks (if going to Manekineko)
It's a good idea to check ahead if you need a membership, and if you can do it online/on a phone app. That way you can do it before you get to the premises, and won't waste time signing up upon arrival.
In addition, the places that have self service drinks will often have ice cream. I like bringing in things that go well with ice cream like rhum.