If you are fan of Japanese anime, you definitely know or have at least heard of Attack on Titan (Shingeki no Kyojin, in Japanese). The most suprising aspect about Attack on Titan is that te world famous anime series is based on the works of Hajime Isayama, who is extremely young for the popularity of his manga, which is also his very first published series. Hajime Isayama is usually called "Isayama Sensei (master Isayama)" among Japanese fans.
I'm a huge fan of Shingeki no Kyojin so this time around, I want to share with you all about Hajime Isayama. To begin with, I explain what is Attack on Titan and especially why it's such a hit in Japan. Also, a "Shingeki no Kyojin exhibition (=進撃の巨人展)" will start for a limited duration, so I'll go through the details. Moreover,  as Japanese, I want to share all the hidden stories about Hajime Isayama from his interviews. Ready to dive into Hajime Isayama's world? Let's go!
Attack on Titan (Shingeki no Kyojin, in Japanese), is a manga, which led to an anime series, a live action movie, and several video games, as well as light novels. While Japan has produced millions of manga and anime , Attack on Titan has managed to distinguish itself as one of the best series anime and manga series of the 21st century. If you come to Japan, you'll notice how Attack on Titan merchandise and derivatives are quite literally everywhere. Additionally, the popularity of the characters makes it one of the most cosplayed series if you go to events such as Comiket.
The manga has sold over 76,000,000 copies as of April 2019 and has already crept up to number 19 in the ranking of most sold manga ever in Japan (One Piece being number one). Attack on Titan is translated in 18 languages and sold in 180 countries.
What's more, Atack on Titan will be Hollywood, too!
ATTACK ON TITAN: THE MANGA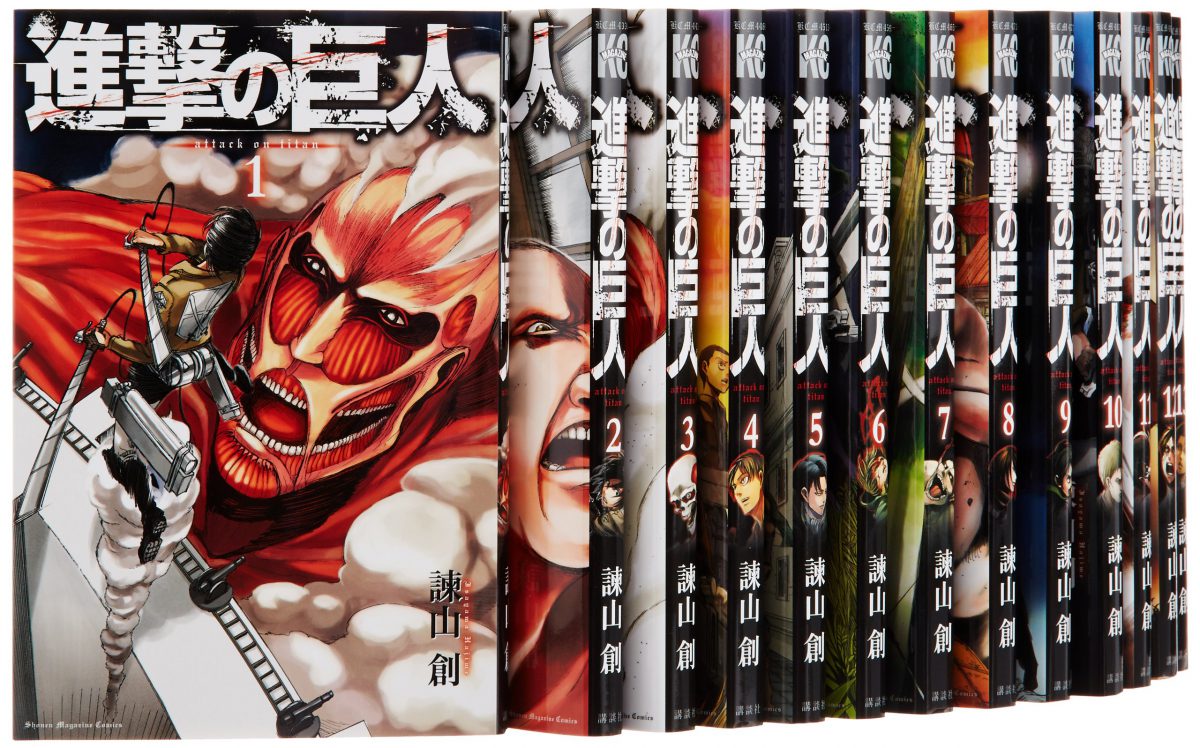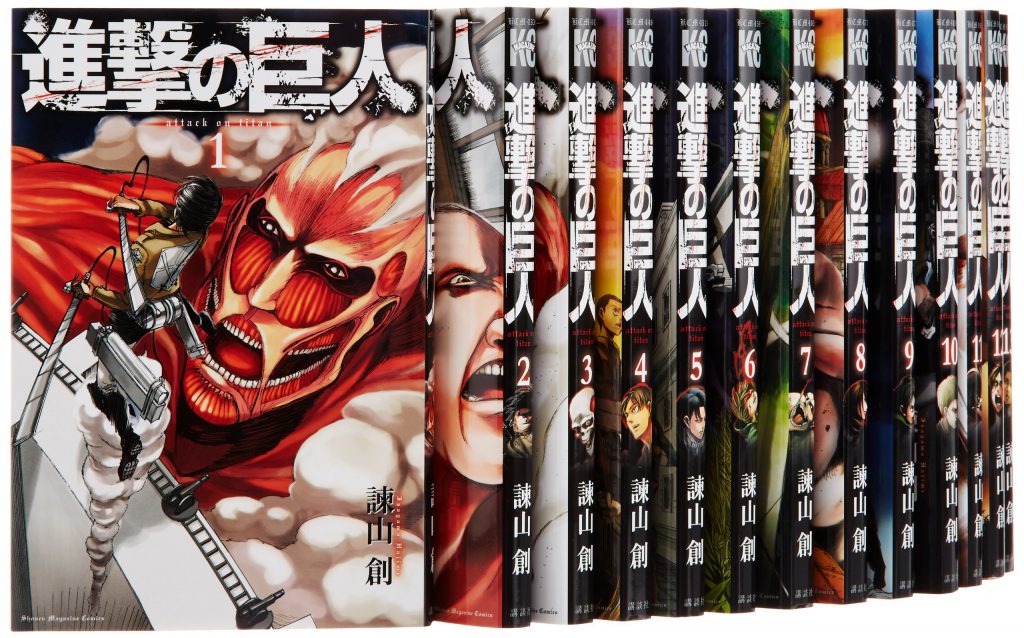 Attack on titan is a monthly shonen manga which currently has 24 volumes and 116 chapters (chapters 115 and 116 will be included in volume 25). The manga is  both written and drawn by Hakime Isayama and is the orignal work on which the anime is based one.
Additionally, there are four spin-off manga series to date:
"Attack on Titan: Junior High" (parody series) by Saki Nakagawa
"Attack on Titan Before the Fall" (prequel) by Satoshi Shiki (Riot, Kamikaze)
"Attack on Titan: No Regrets" (Levi Ackerman's origin story) by Gun Snark and Hikaru Suruga
"Attack on Titan: Lost Girls" (two volumes focusing on Mikasa Ackerman and Annie Leonhart) by Ryosuke Fuji
ANIME SEASON 3 OF ATTACK ON TITAN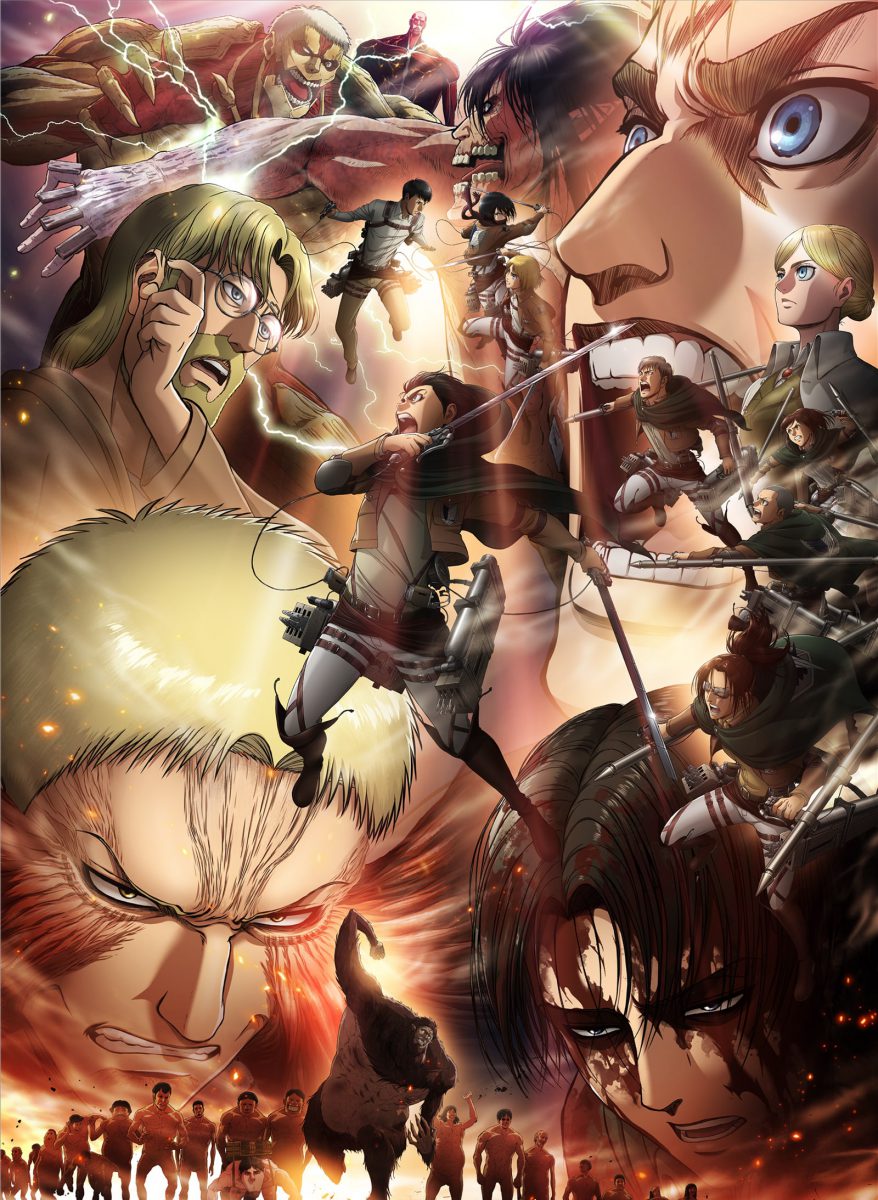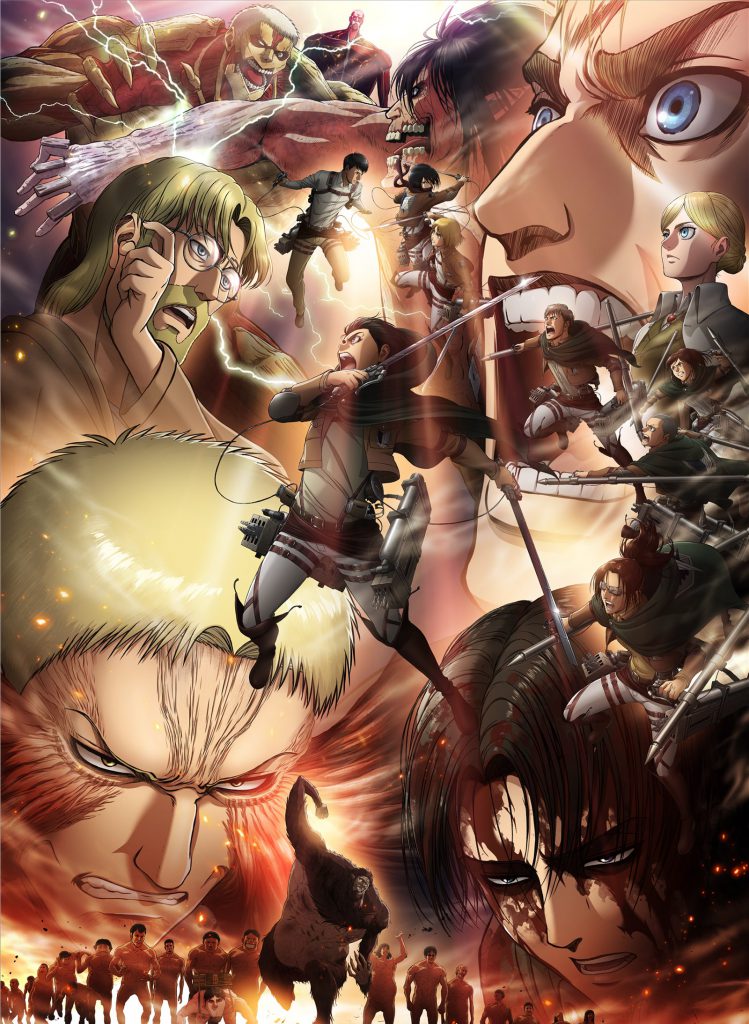 I cannot tell you how long I've been waiting for the third season of Shingeki no Kyojin and finally it restarts from the 28th of April in Japan. They are back!! Season 3 will run on NHK Sougou at 24:10. If you don't live in Japan, check out this link to figure out where to watch it.
To avoid spoiling the story for those who haven't yet watched Attack on Titan 3, I'll simply instruct you to watch it. However, here's a quick summary of the main plot: the battle between humans and titans continues, and sacrifices will be made. If you've never watched the series, check out season 1 and 2 first.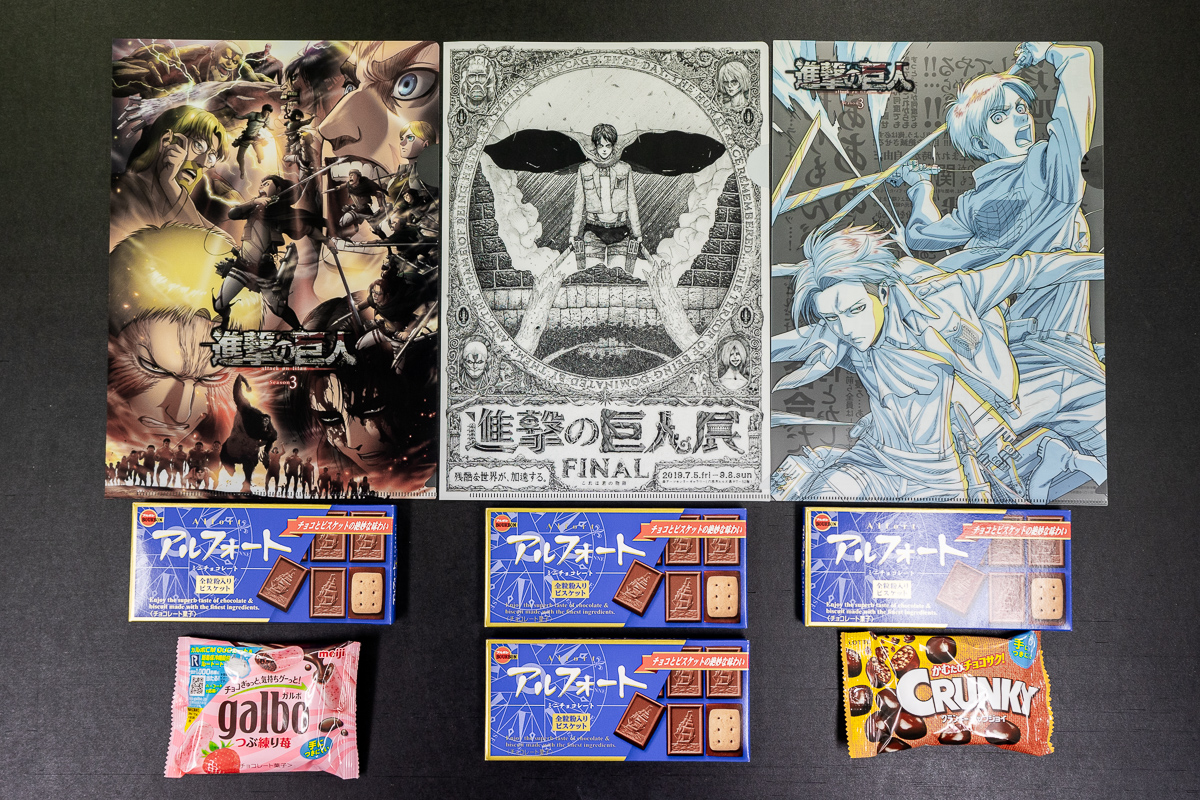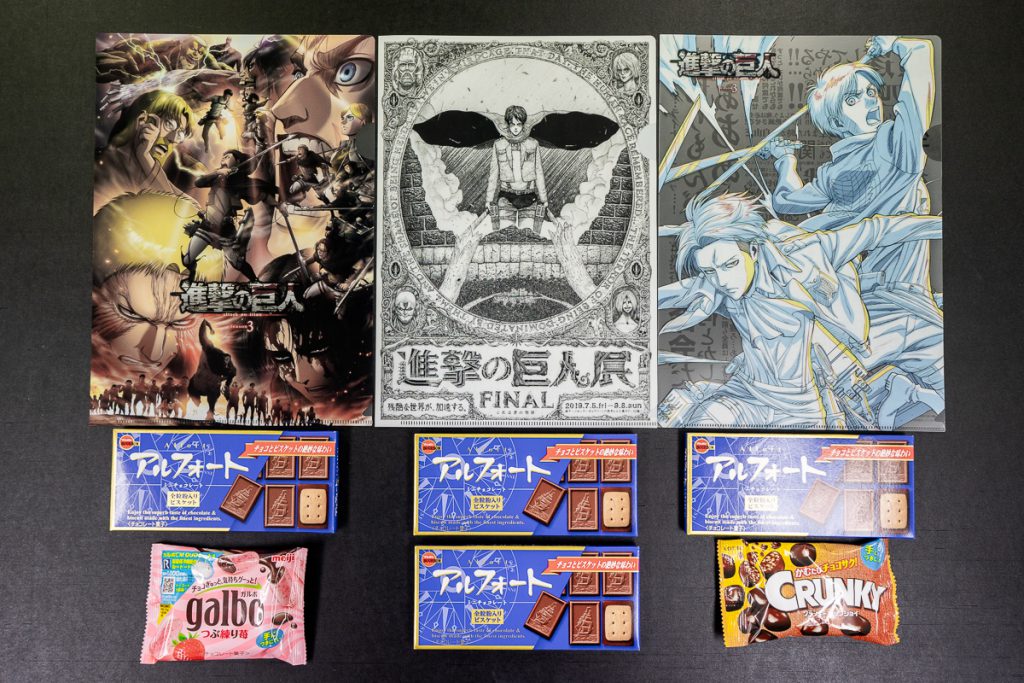 When Attack on Titan starts the new season, there is always a huge promotion due to its popularity. For example, at the 7-eleven convenience store, we could get 1 clear plastic folder if we bought 2 determined chocolates. When I found it, I bought 6 chocolates to get all 3 folders. In fact, one day after the promotion starts, all folders are gone from most of 7-eleven. 
Like the manga, the Attack on Titan anime has enjoyed a lot of success, thanks to a few factors. First, because of the voice cast. Here is the list of voice actors for the main characters.
Eren Yeager = Yuki Kaji (Todoroki Shoto from My Hero Academia)
Mikasa Ackerman = Yui Ishikawa
Armin Arlert = Marina Inoue (Momo Yaoyorozu from My Hero Academia)
Levi Ackerman = Hiroshi Kamiya (Trafalgar Law from One Piece)
Erwin Smith = Daisuke Ono (Sebastian Michaelis from Black Buttler, Jotaro Kuji from Jojo's Bizarre Adventure)
Hange Zoë = Romi Park (Edward Elric from Full Metal Alchemist and Full Metal Alchemist: Brotherhood, Temari in the Naruto universe)
Jean Kirstein = Kisho Taniyama (Tatsuya Himuro from Kurono no Basket)
Annie Leonhardt = Yu Shimamura (Akiko in Bugo Stray Dogs, and Pricess Zelda in The Legend of Zelda: Skyward Sword and Breath of the Wild)
Sasha Braus = Yu Kobayashi
Krista Lenz = Shiori Mikami
Connie Springer = Hiro Shimono (Dabi from My Hero Academia)
Reiner Braun = Yoshimasa Hosoya (Fumikage Tokoyami on My Hero Academia, Otabek Altin on Yuri!!! on Ice)
Bertolt Hoover = Hashizume Tomohisa
Ymir = Saki Fujita (Elena from the Street Fighter series)
During the premiere for the Shingeki no Kyojin movie, Kamiya, who plays Levi admitted this in front of Hajime Isayama and the audience 
Hiroshi Kamiya is one of the most popular voice actors but even for him, voice acting for Levi gives him so many pressures. 
The second factor is the anime production team. The Attack on Titan anime is made by WIT STUDIO which is a subsidiary of IG Port created by producers of Project I.G in 2012. It's directed by Tetsurou Araki, who is known for making Death Note and Guity Crown. He has brought his team from Guilty Gear to work on the Attack on Titan anime adaptation. The character design team is led by Kyouji Asano who previously worked on Ghost in the Shell: Stand Alone Complex nad Guilty Gear.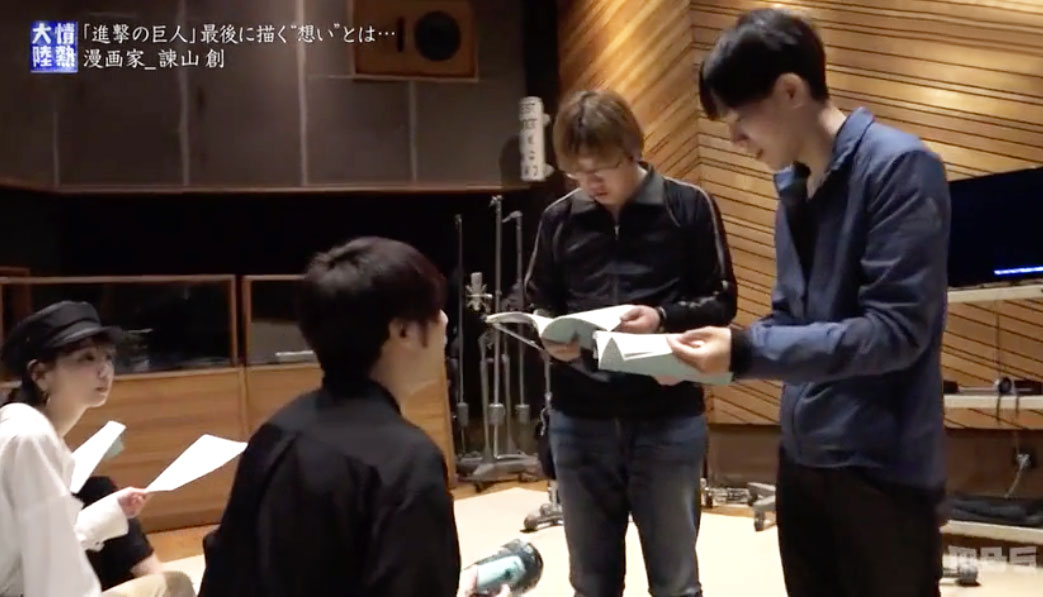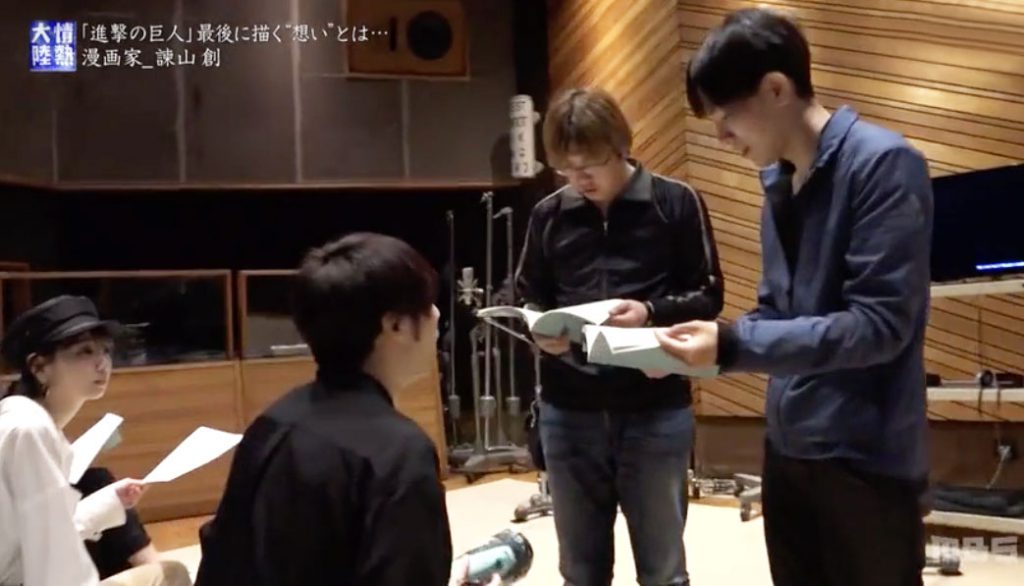 For Hajime Isayama, anime means a lot. In an interview, he explained
When manga are adapted into anime, everything is generally the same. However the Attack on Titan anime changes certain details, such as making the story more chronological, while the manga often jumps through timelines.
Carefully working through both visuals and story are what makes Shingeki no Kyojin rise in popularity.
SHINGEKI NO KYOJIN EXHIBITION 2019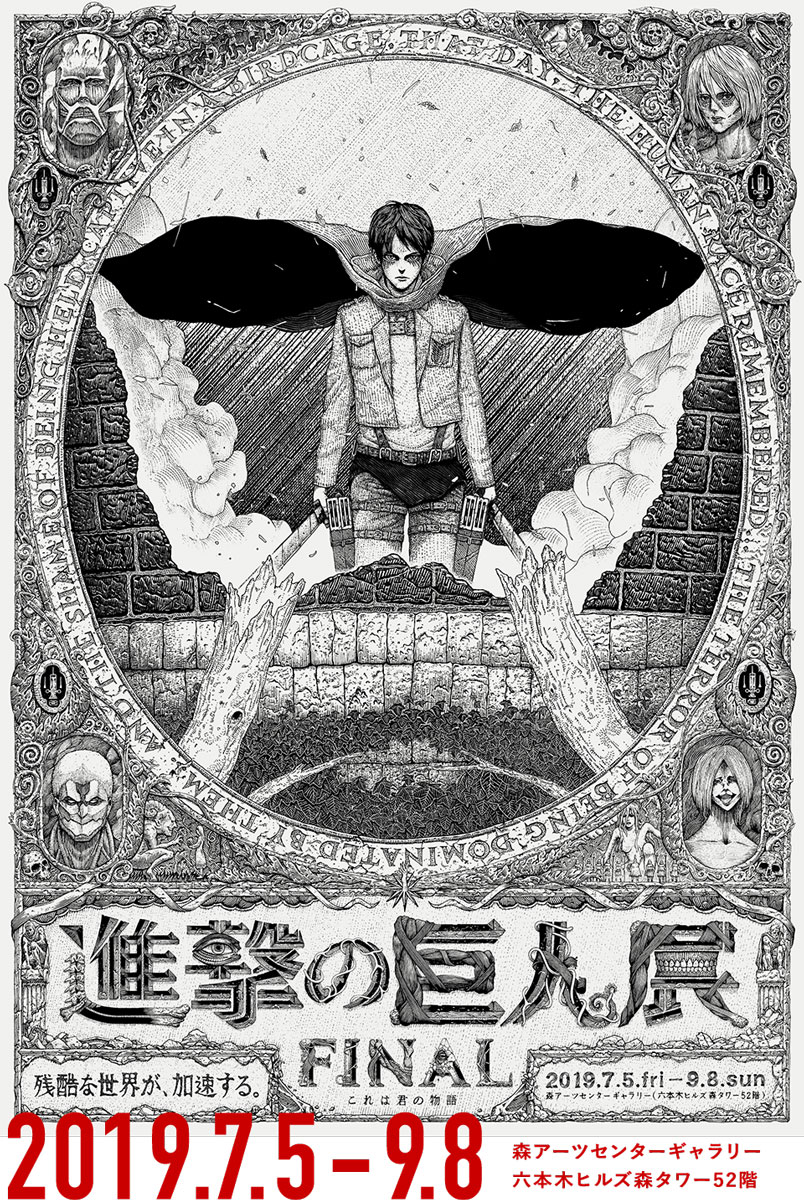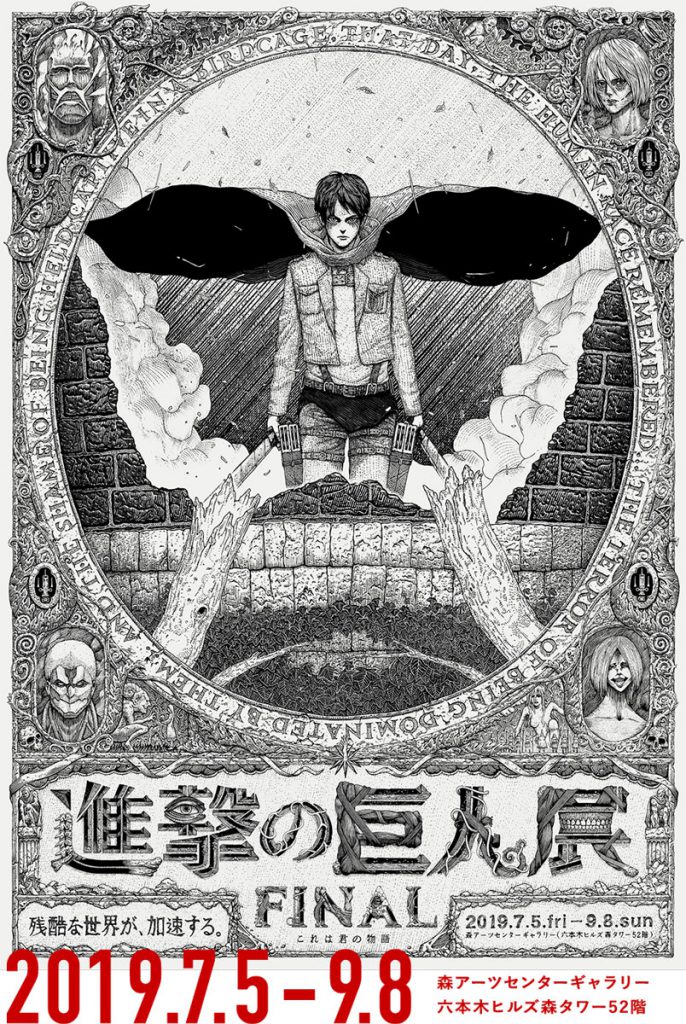 Good news! From the 5th July to the 8th September, there is an exhibition "Shingeki no Kyojin-ten FINAL (=進撃の巨人展 FINAL)" at Mori Arts Center Gallery at Mori Art Museum on the 52th floor of the Mori Tower in Roppongi, Tokyo. It's said the 'final' Attack on Titan exhibition. If you are in Japan while it's running, you have no excuse not to go.
The ticket are available on the internet. However, it's all in Japanese and it's a bit complicated to get a ticket from here, I simply recommend you buy a ticket on the day at the museum.
Shingeki no Kyojin-ten Info
10:00 – 20:00 (Last admission = 19:00) Schedule: 5th July 2019 – 8th September 2019 *prior term: 5th July 2019 – 7th July 2019 (This prior term ticket is already sold out.)
Roppongi Station (Hibiya Metro Line, Oedo Line)
Adult = ¥2,000 (USD $18) Junior High School or High school student = ¥1,500 (USD $13) *Need to show a student card From 4 years old to elementary school student = ¥1,000 (USD $9)
SHINGEKI NO KYOJIN THE REAL AT UNIVERSAL STUDIOS JAPAN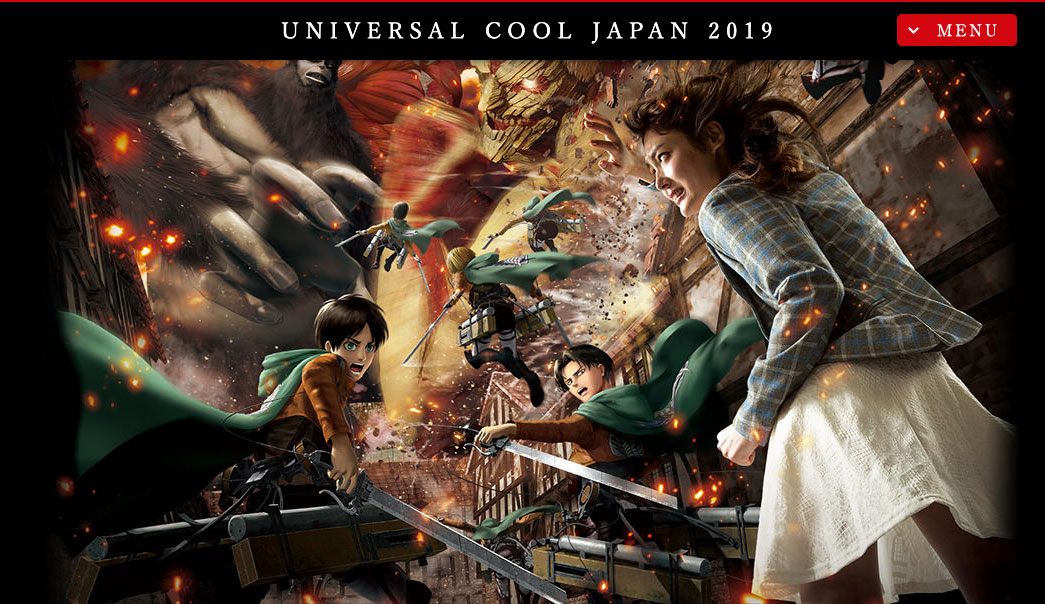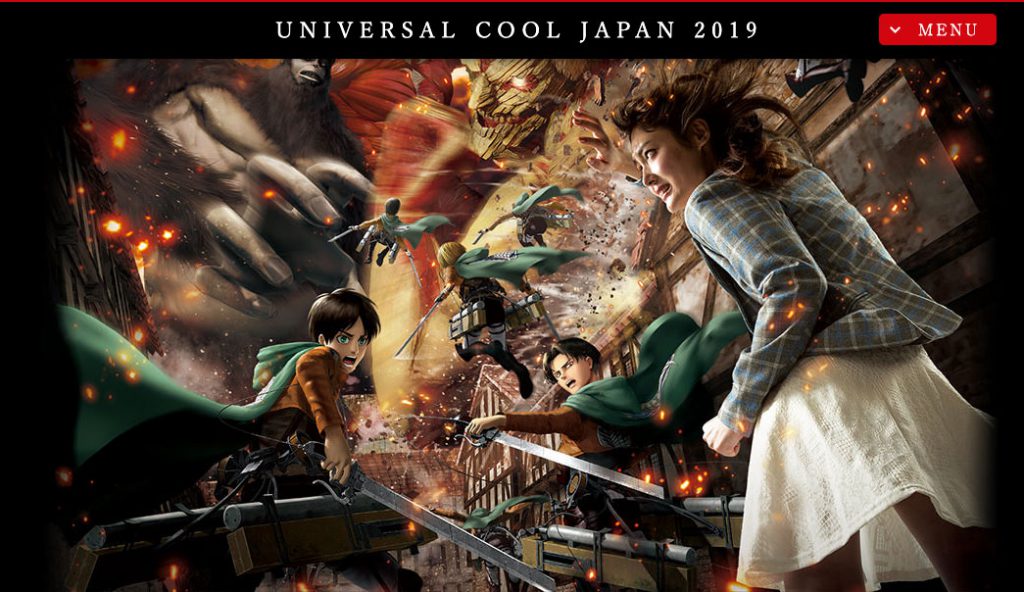 Between the 31th of May 2019 and the 25th of August 2019, a new 3D live theater called "Shingeki no Kyojin THE REAL" will be held at UNIVERSAL STUDIO JAPAN (USJ) as one of the "Cool Japan 2019" projects. It's a mixture of 3D video, real characters (voice actors), and special effects so by attending, you will see a realistic fight between human and titans.
"Feel the thud and breathing. Counterattack to the despair."
Here is a promotional video of Cool Japan 2019 at USJ.
Shingeki no Kyojin THE REAL was held in 2017 with a lot of success. Like last time, "Clone-oid" will be made which is the world's best human reproduction technology. This time, Erwin and Levi will be the ones.
*You need to buy a "Cool Japan Express Pass 1 – Shingeki no Kyojin Special" to see those clone-oid.
Here are some pictures of the last Shingeki no Kyojin THE REAL. If you are a big fan of Attack on Titan, you must go! You will feel like you dived into the real Shingeki no Kyojin world. Don't forget to check all the items which are sold only in USJ.
To go to Shingeki no Kyojin THE REAL, you'd better buy an extra ticket called "Cool Japan Express Pass 1 – Shingeki no Kyojin Special". It allows you to book the time of entry in order to not waste your time waiting in line. Also, you will be able to see Erwin's and Levi's clone-oids.
You can buy a ticket on the day at USJ but there should be an online sale option eventually, but it's unfortunately not yet been made available.
Moreover, there's not only "Cool Japan Express Pass 1 – Shingeki no Kyojin Special" but also other combination tickets to see  as many Cool Japan 2019's as possible, so don't forget to check other options before buying a ticket.
Shingeki no Kyojin THE REAL at UNIVERSAL STUDIOS JAPAN Info
31th May 2019 to 25th August 2019.
Universal City Station (JR Yumesaki Line)
1 Day Pass Adults ¥7,400 (66$), Children ¥5,100 (45$30) 2 Day Pass Adult ¥13,400 (119$), Children ¥9,000 (80$)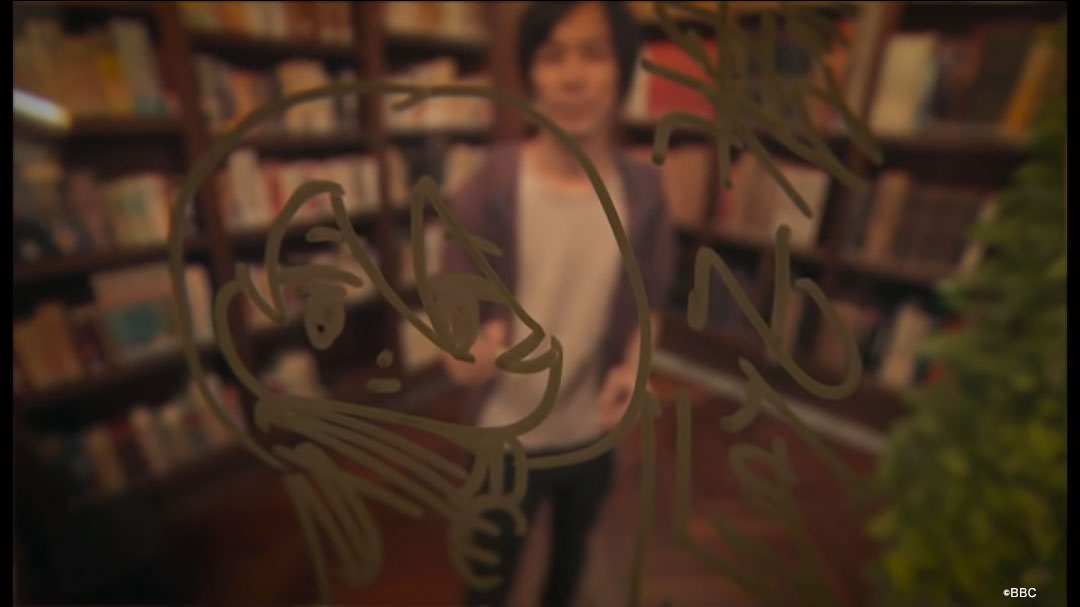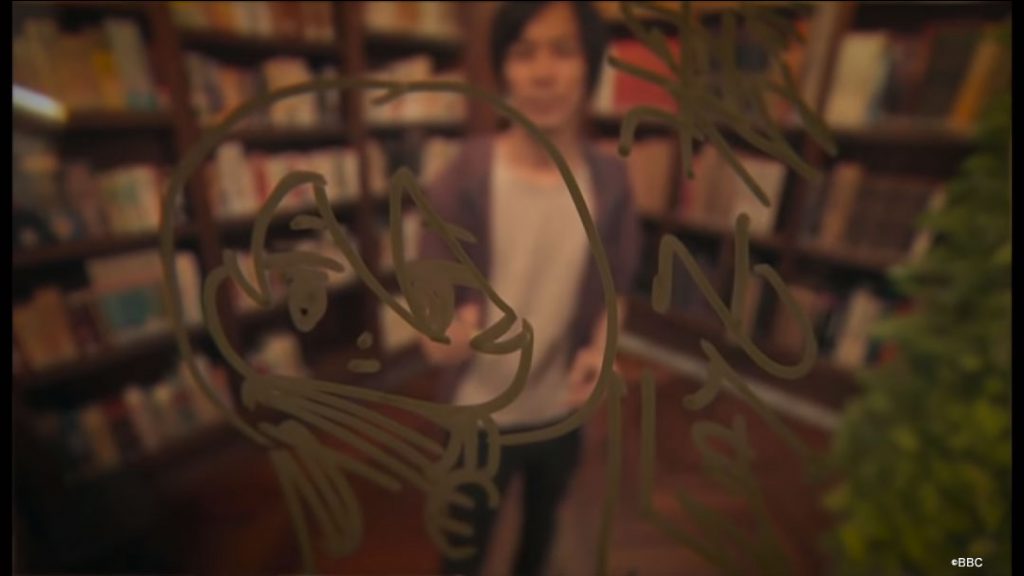 Isayama sensei is treated as a hero in Japan. Here's all about Hajime Isayama.
BIOGRAPHY OF HAJIME ISAYAMA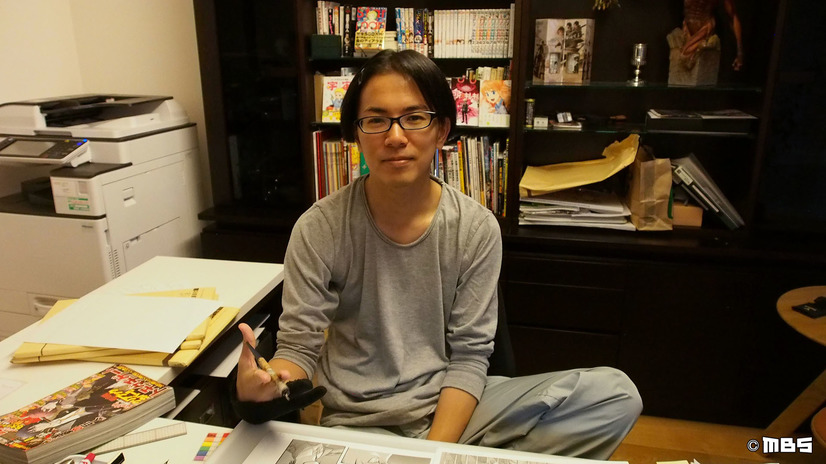 In general, Hajime Isayama isn't someone who shows up on the media or TV a lot. So even in Japan, he was surrounded by mystery. However, on the 18th of November 2018, he was in the very famous TV show "Zyounetsu Tairiku (情熱大陸)" a show where they invite experts in various fields, Isayama, naturally was there as an experk manga artist., etc ). Heroshi Kamiya (who voices Levi) was also invited on another episode. First of all, let me talk about Hajime Isayama's biography.
 Brith: 29th August 1986 (only 33 years old now in 2019 April)
Hometown: Hida, Oita Prefecture
Height: 173 cm
Weight: 47 kg
Personality: very modest
His favorite manga: Jojo's Bizarre Adventure
His favorite idol groups: Momoiro Clover Z, Denpagumi.inc
Annual income (alleged): ¥1,600,000,000 = USD $14,333,000
Hobby: gaming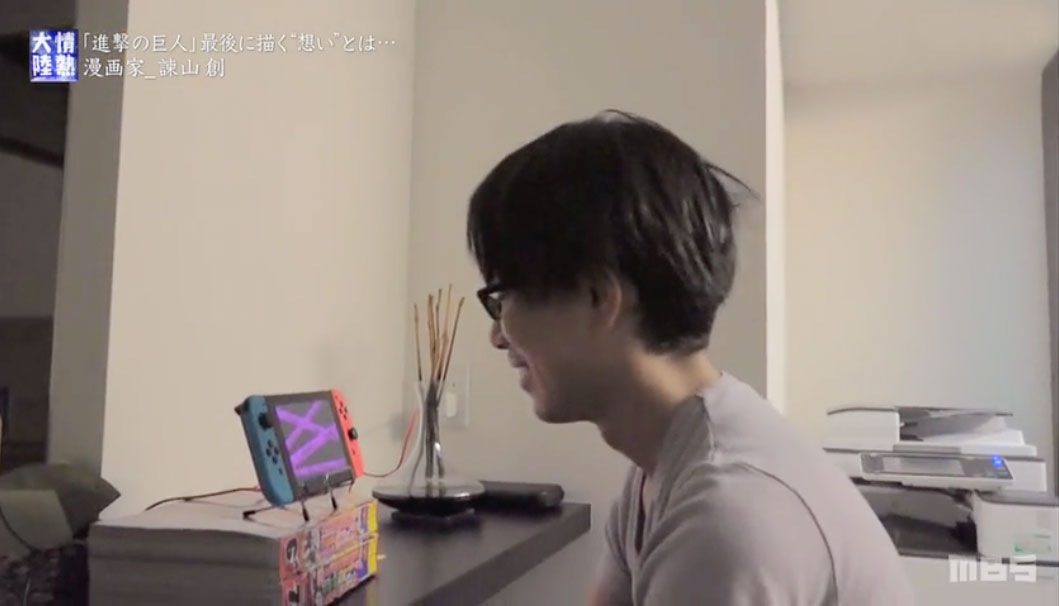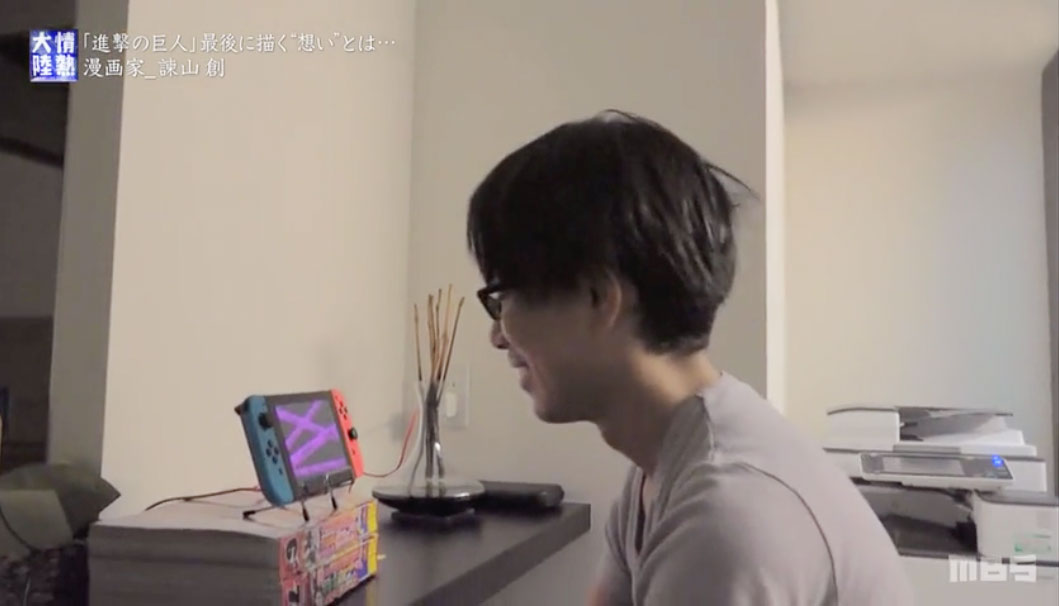 On the 31st of December 2018, Hajime Isayama revealed that he got married!!!!!!!!!! No one knows who his wife is so many Isayama fans are curious about her.
"YOU CANNOT BECOME AN ANIMATOR"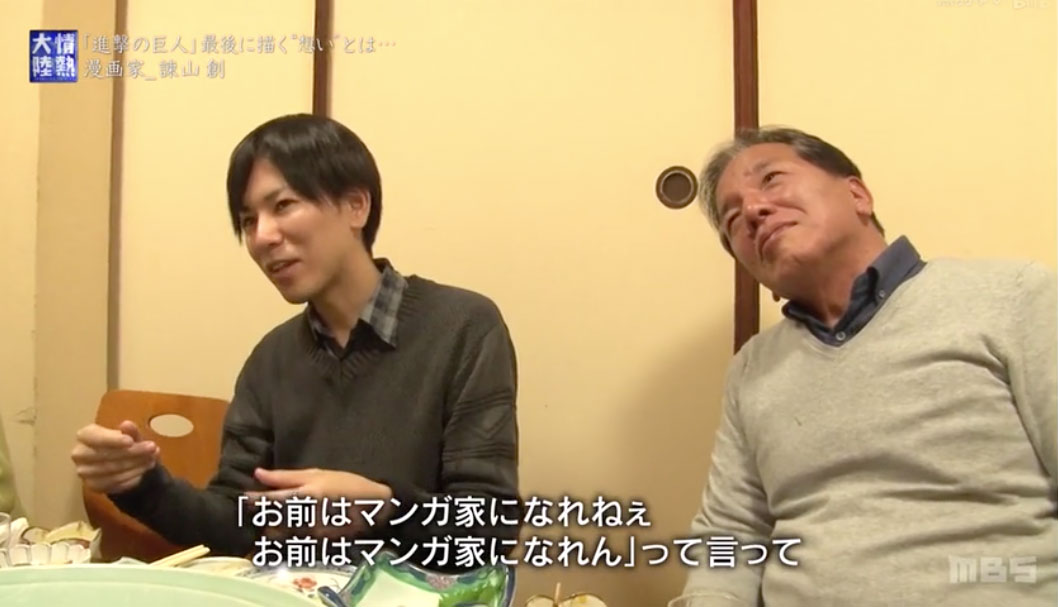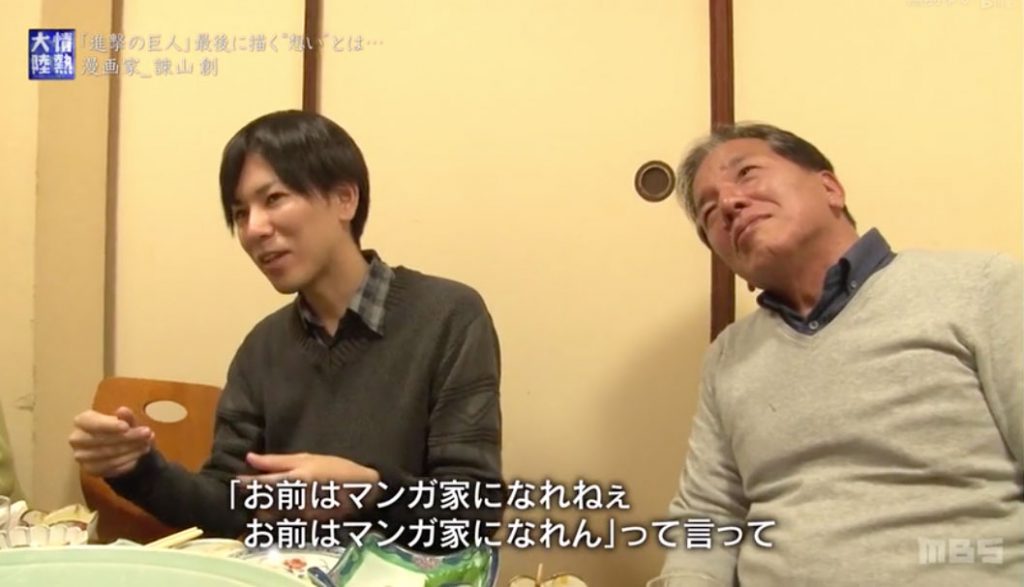 Hisayama grew up in Oita, in the Japanese countryside. He dreamed of becoming a mangaka since his high school days. However, due to his characters, he didn't dare tell his parents at the time.
However, one day. The accident happen. His father found the manga drawings which  Isayama left on his desk and it said: "You cannot become a mangaka. You cannot be a mangaka. " As everyone knows, he didn't give up his dream.
After graduating from Hita Rinko Senior High School, he decided to go to the Kyushu Designer Gakuin. He told his parents that he wants to be a designer, not a manga artist. Regardless, he selected the anime department.
SHINGEKI NO KYOJIN IS BREAKING MANY MANGA AND ANIME RECORDS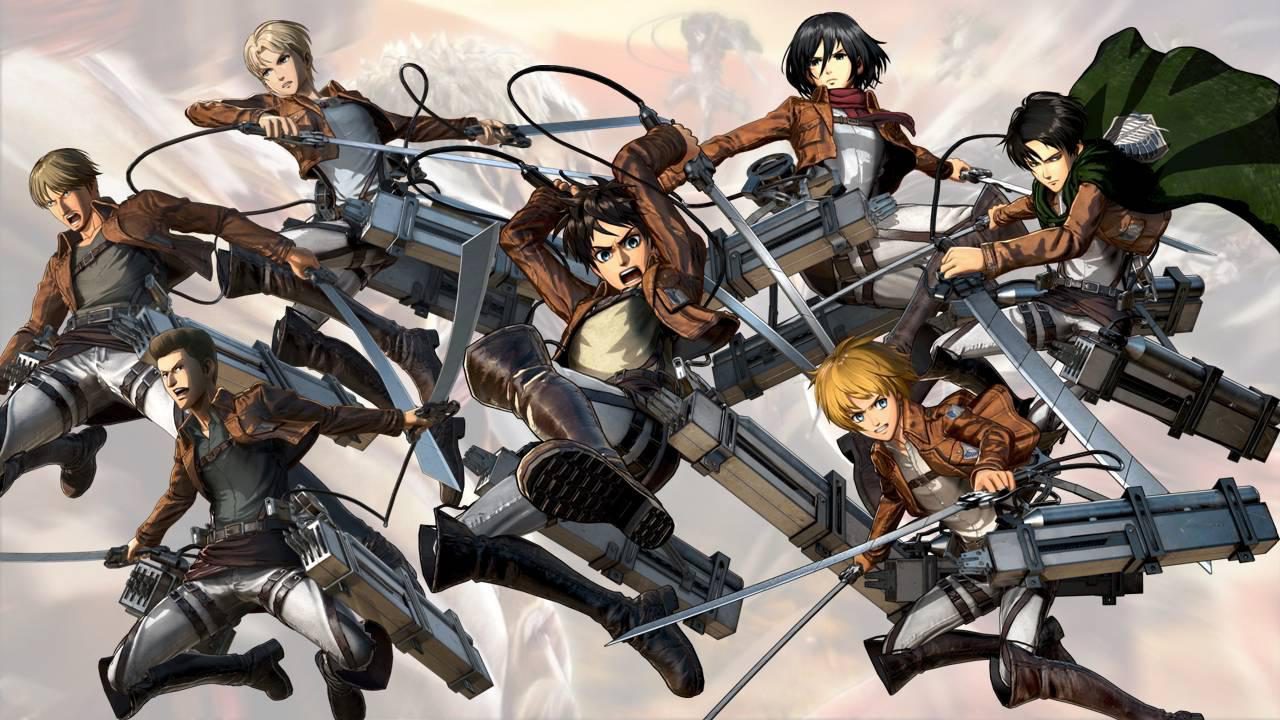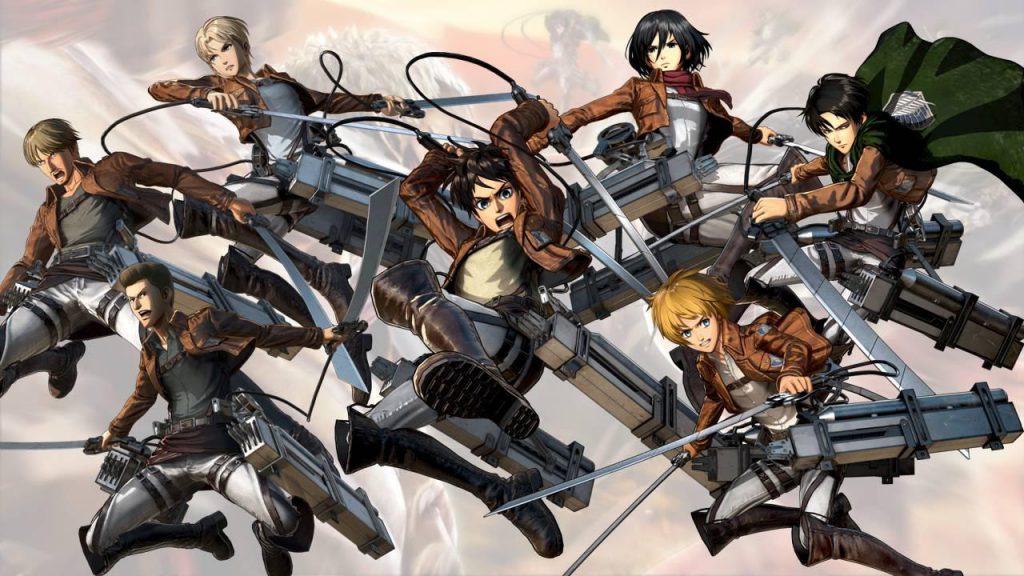 After graduating from college, Hajime Isayama decided to move to Tokyo. There, he worked on drawing manga at an internet cafe while working partime to live. in 2006, when he was 19, his very first manga, Attack on Titan won the Magazine Grand-Prix (MGP) awards by the publishing giant Kodansha. From then, he decided to fully dedicate himself to manga and got himself into the spotlight.
Since 2009, Shingeki no Kyojin has been published serially in Bessatsu Shonen Magazine. In 2011 he further won the 35th Shonen category of the 35th Kodansha Manga Awards, and was nominated for the 4th annual Manga Taisho awards, one of the most prestigious Japanese manga awards, as well as the 16th annual Tezuka Osamu Cultural Prize.
Again, I must say… Winning with your very first manga isn't normal. So this is why it's said that Hajime Isayama is turning the anime and manga world upside down.
During an interview on NHK TV, his father confessed,
THE PERSONALITY OF HAJIMA ISAYAMA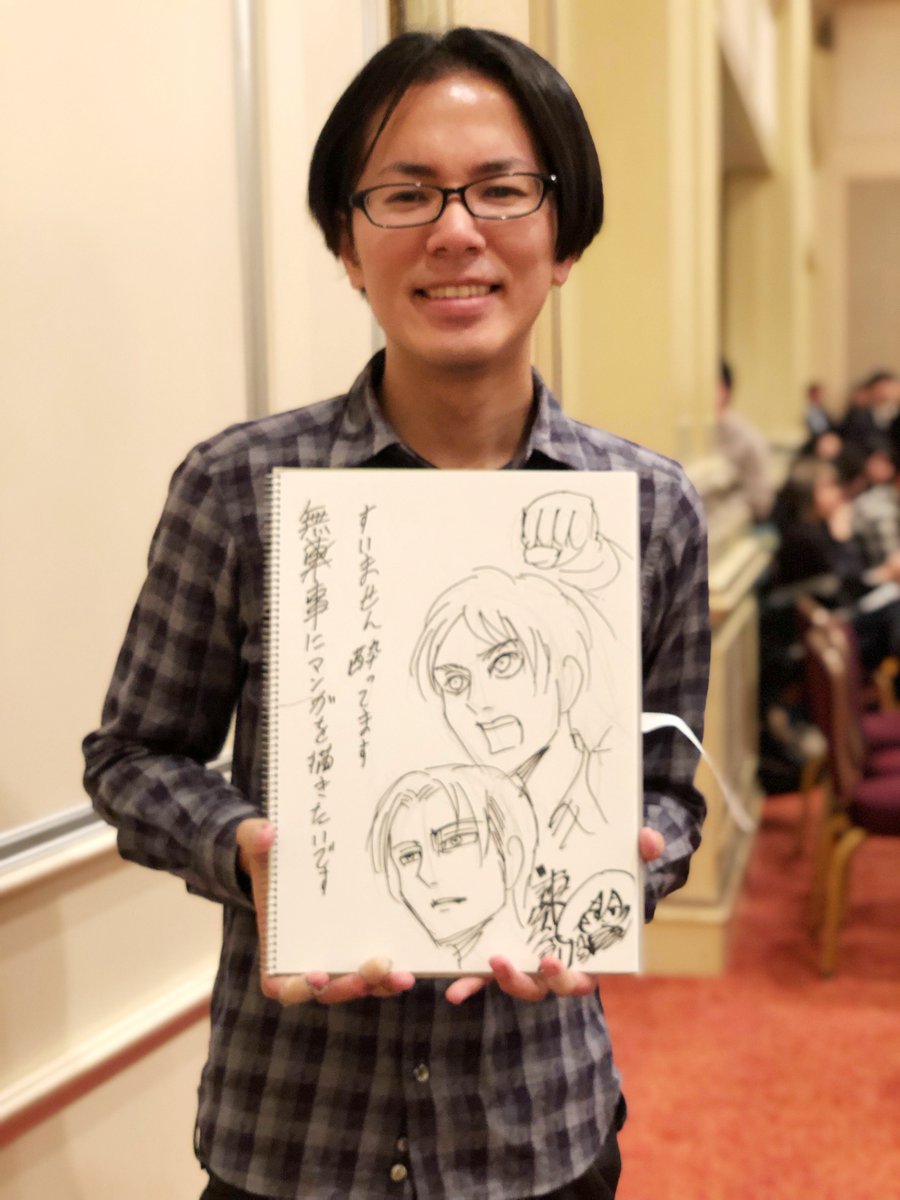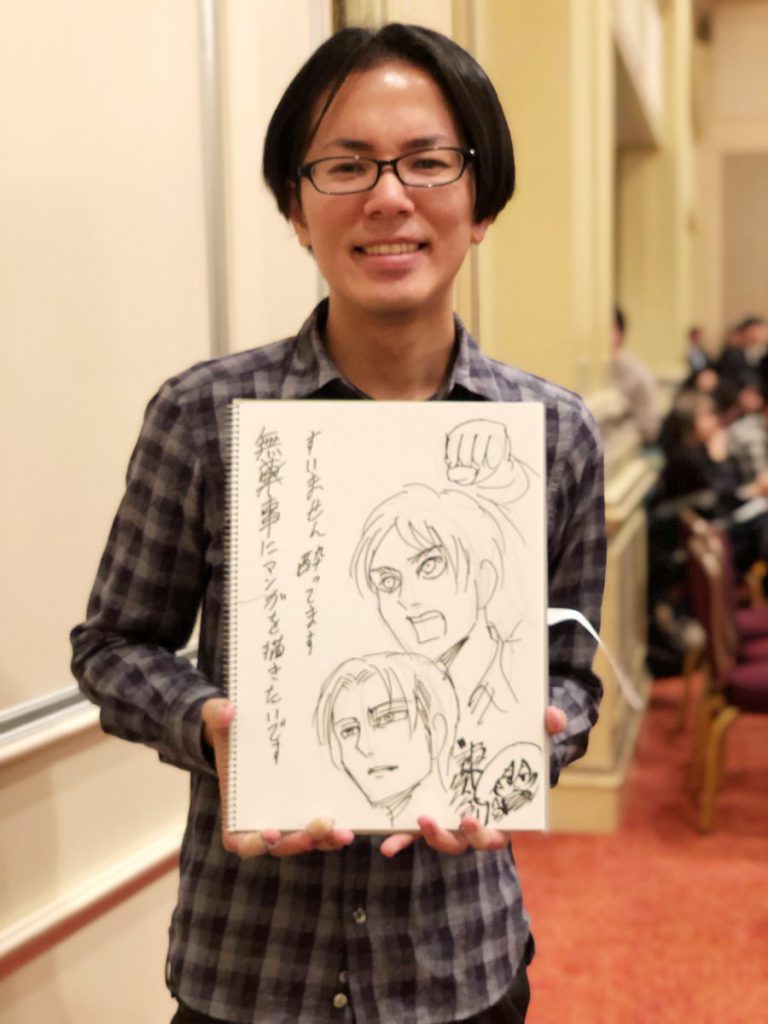 Hajime Isayama's dream came true: being an animator! Now let's talk about his personality. So is he optimistic? Is he conceited? Despite your imagination, he is actually super modest. 
Because he became a local star in Oita, people from the city often ask him to draw things for them, for their walls for instance. He's said to always kindly comply, In his official blog, he even often promotes local businesses including restaurants.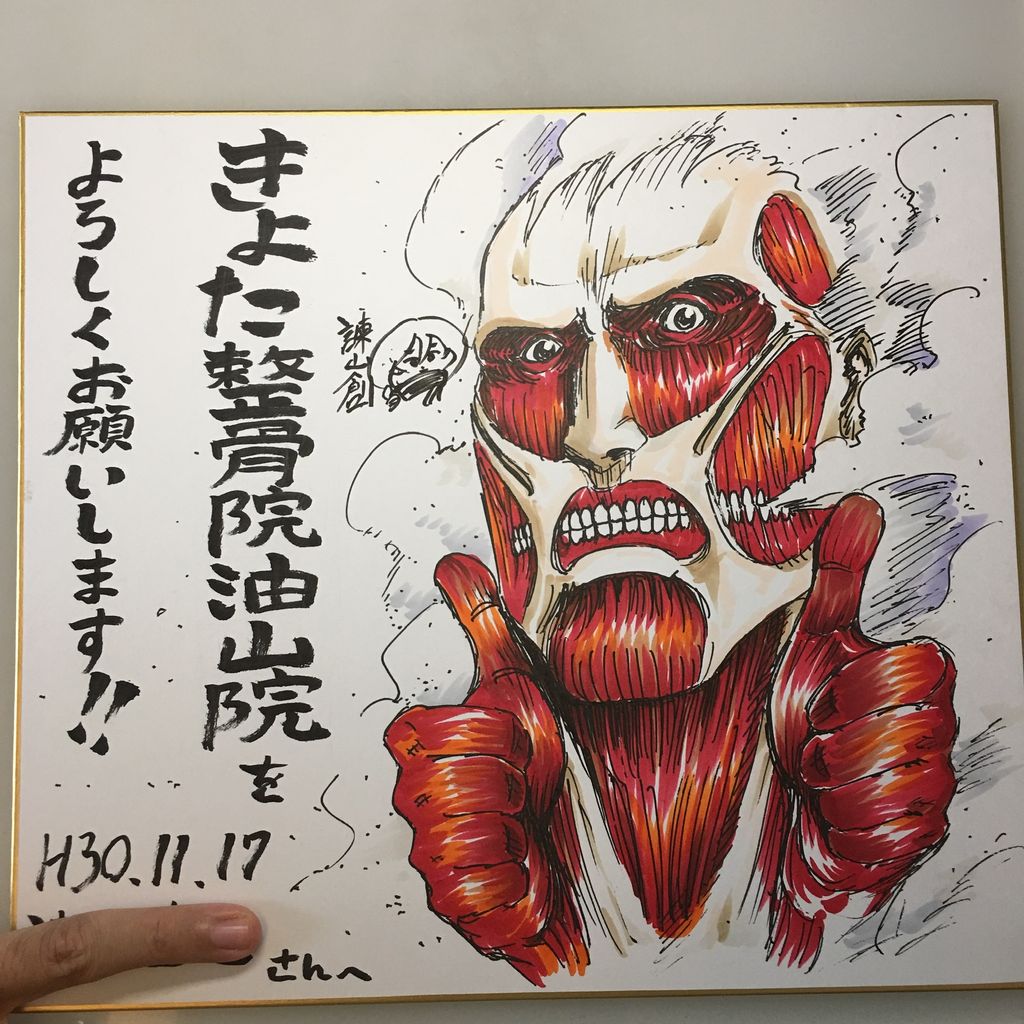 Hajime Isayama sometimes holds  autograph signings in his hometown of Oita. He is very eager to promote his beloved town.
One of the reasons why Hajime Isayama is very respected by so many people is his modest behavior. If he goes and checks how the voice acting is going on for the Attack on Titan adaptation, he always brings a box  of food and says
In Japanese culture, we bring something when we are invited to show our thanks. But it's not normal for someone like Hajime Isayama to do so this way.
In his blog, I don't know how many time he repeats again and again "thank you".
In a TV interview on the 3rd of March 2018,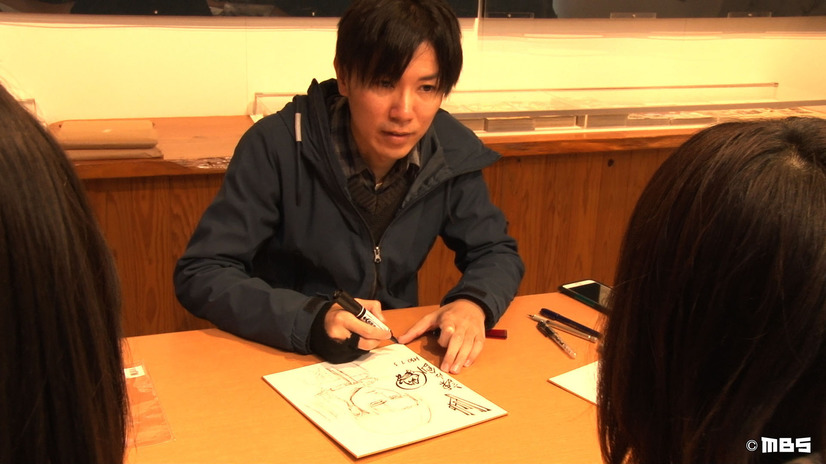 The way of Isayama sensei's draws character is very special. He uses a lot of lines over characters. Among Hajime Isayama fans, it's called "Isakaya sen (=Isayama line)"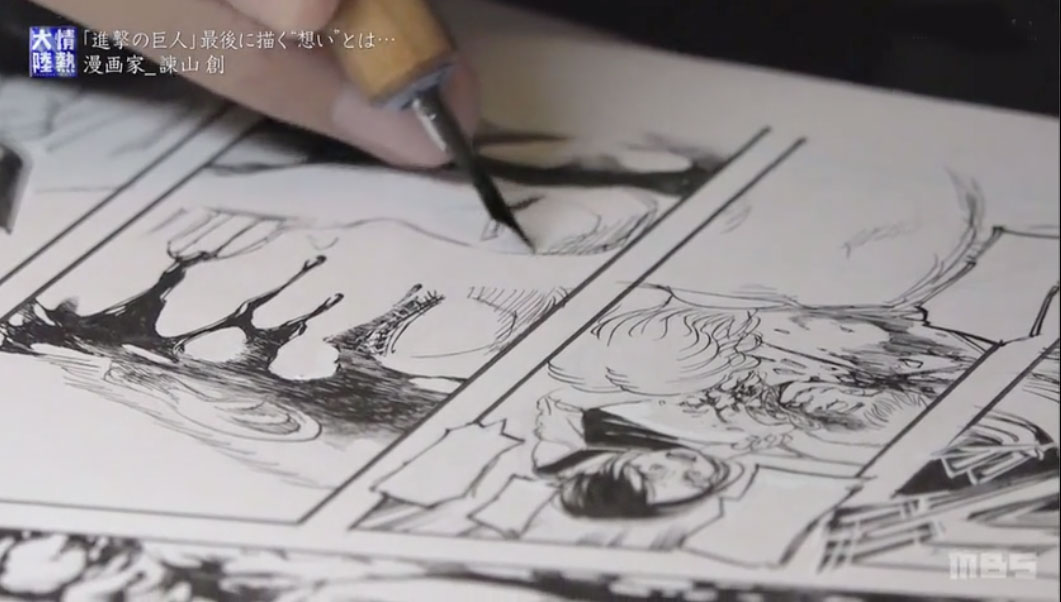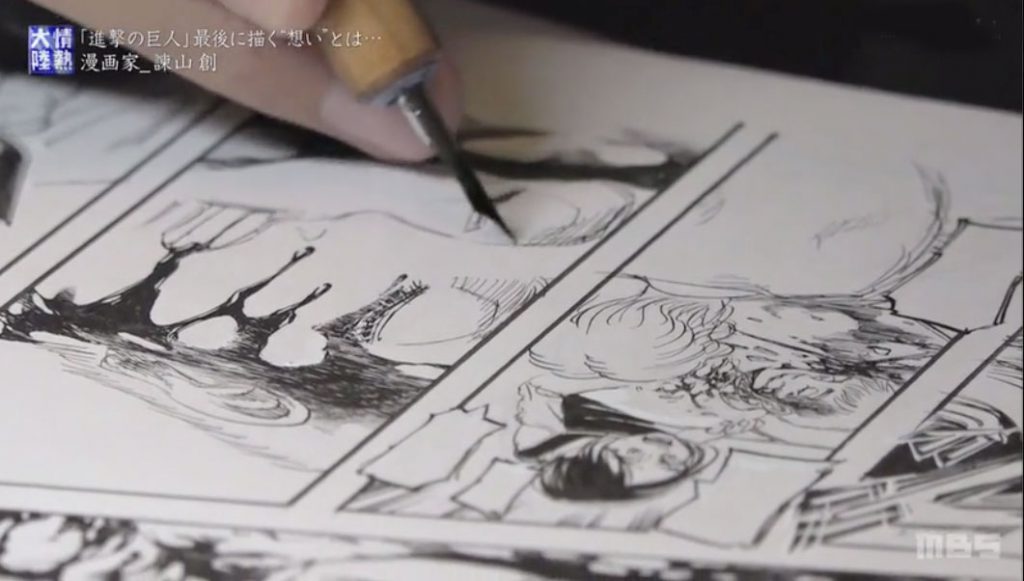 The chief editor of Koudansha explained.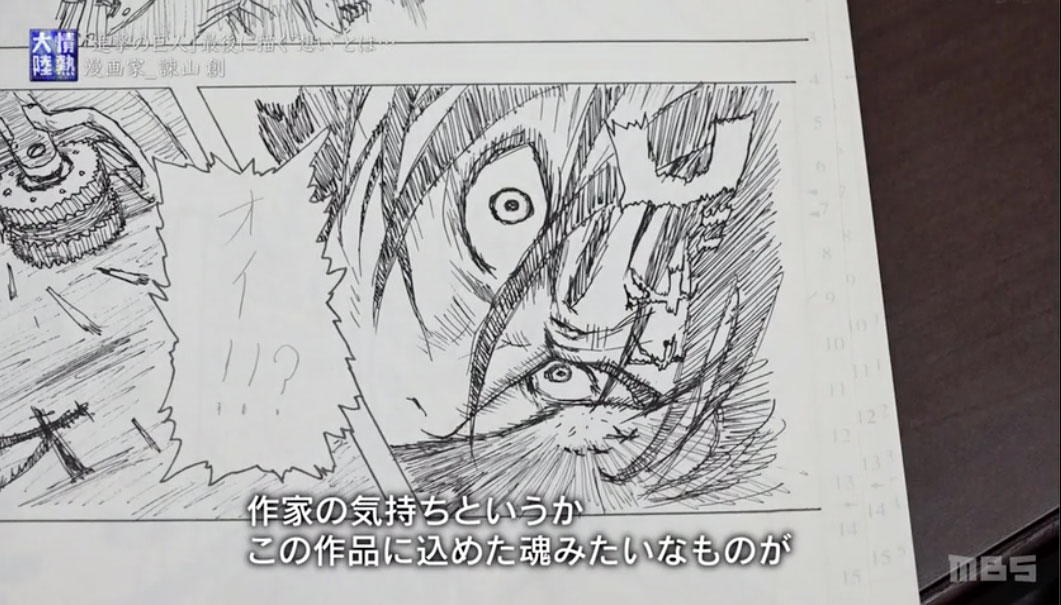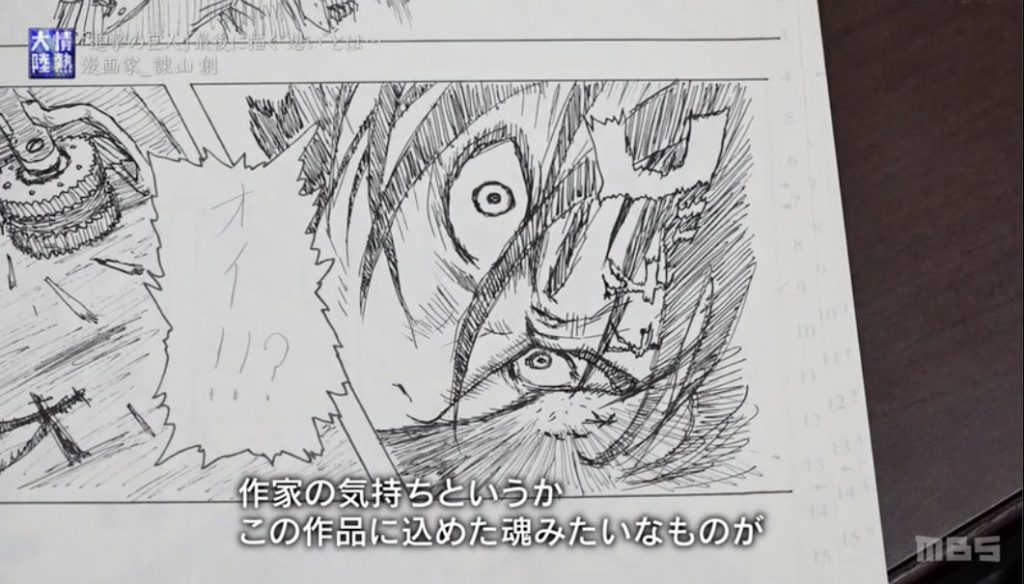 In a TV interview, he mentioned that ​
During the interview of "Zyounetsu Tairiku", Hajime Isayama showed the drawing of characters in front of the camera for the cover page. As you can see, even though he didn't have to draw the character's entire body because some parts could be cut when it used as the cover image, he felt the need to draw it. This is how he is.
MAKING NAMES FOR THE MANGA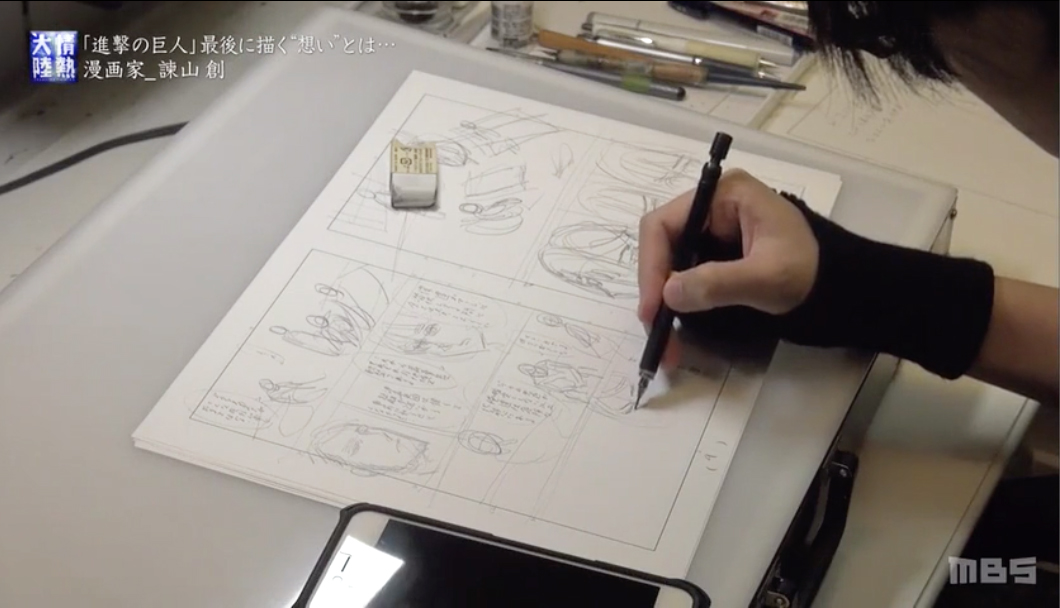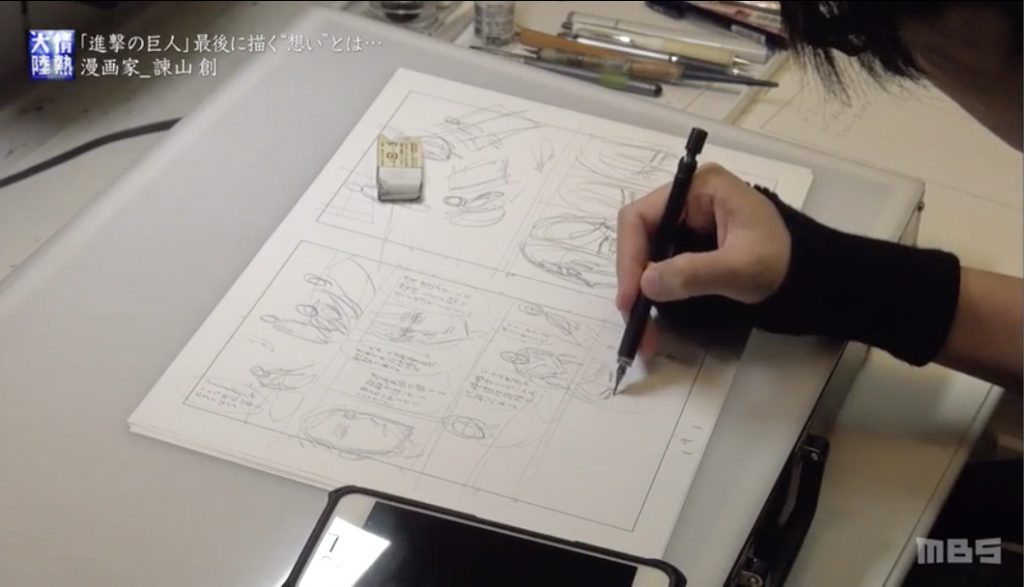 Names are rough drafts including the segments, lines, positions of characters and dialogue of the chapter. Once the editor and the manga artist agree on the name, the author can start a final draft. Making the name is one of the things Hajime Isayama struggles on most of the time.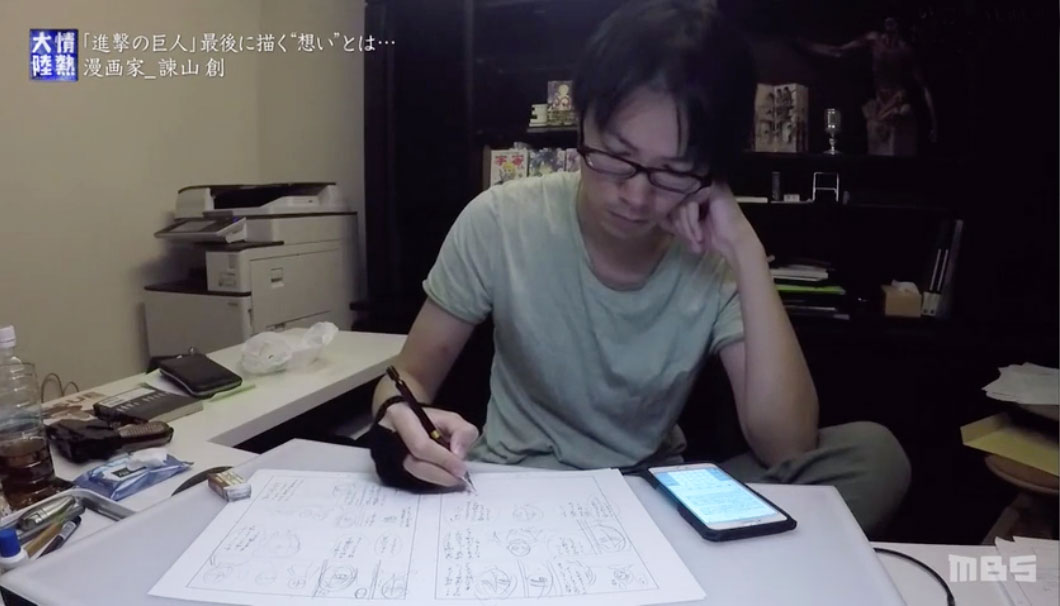 I will make you more familiar with Hajime Isayama. He confessed that he hasn't been good at Kanji (Chinese characters) since his childhood. Every time when he writes lines on paper, his smartphone is next to him.
WHY HAJIME ISAYAMA STARTS TO WRITE ATTACK ON TITAN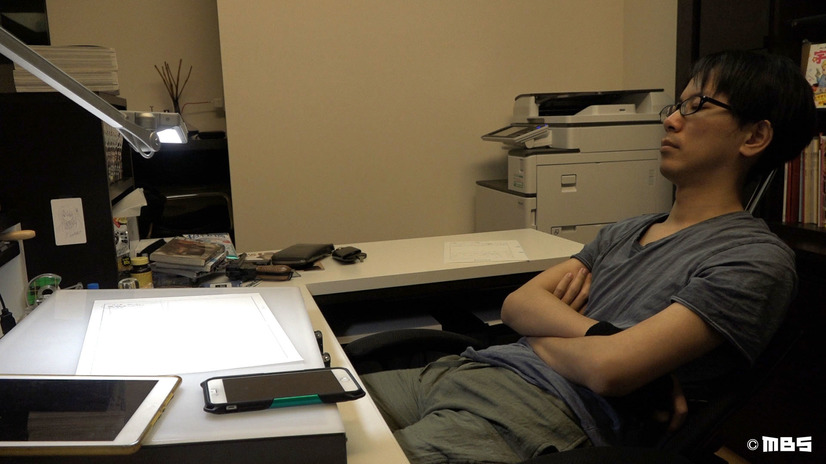 How Hajime Isayama came up with the idea for Attack on Titan? In an interview, he answered, 
[Minor spoilers] In Attack on Titan, the storu begins with titans trying to destroy the wall which protects the country from the outside world. For Hajime Isayama, the country in which the manga and anime are set is his hometown. He always dreamed of seeing beyond the wall (his hometown) and exploring more of the world. As you can see, his hometown looks just like Wall Maria.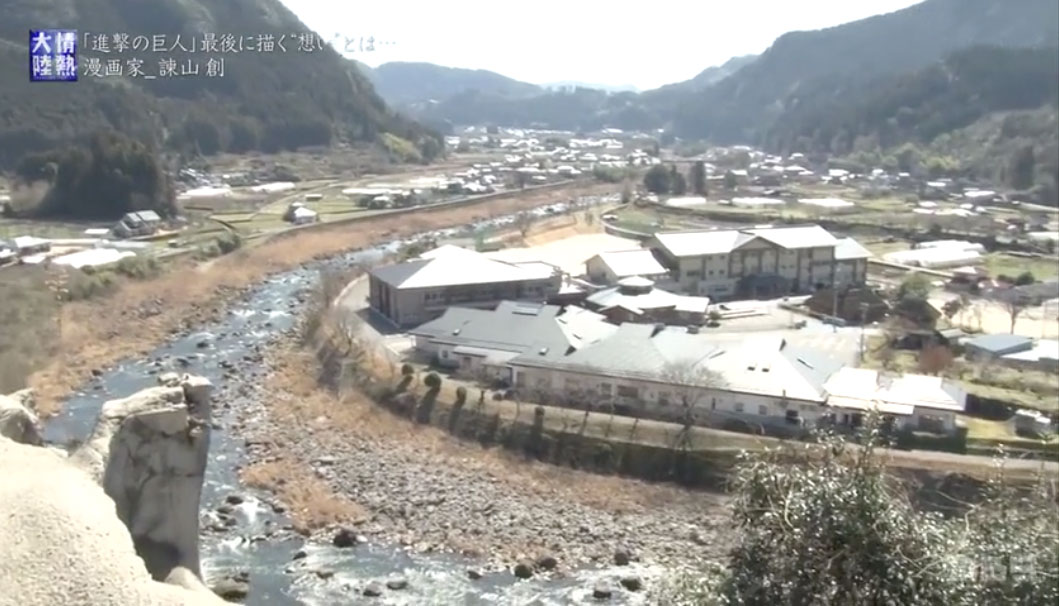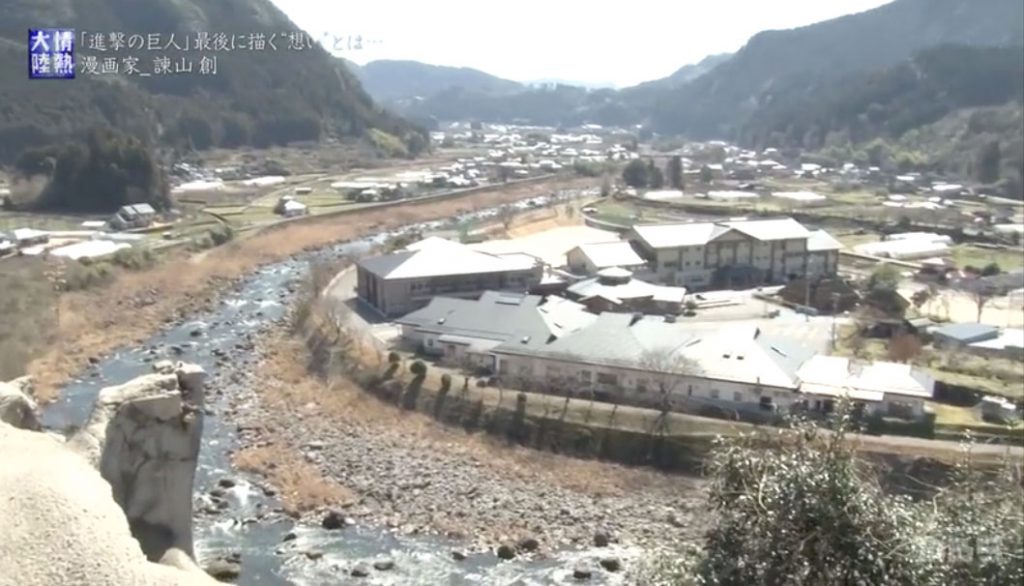 In his TV interview on the 3rd of March 2018, he admitted 
ATTACK ON TITAN WILL END…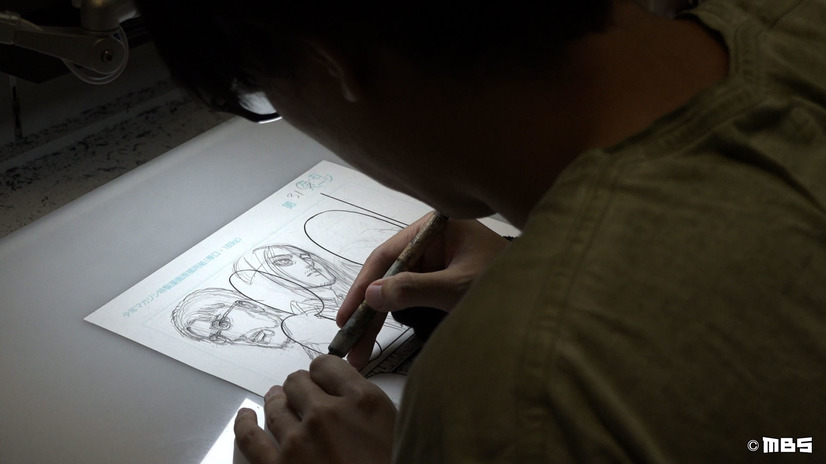 Anytime a manga starts, it must end, someday. At the end of 2018 in an interview, he said
He has been working so hard through many, many all-nighters working for years.
For him, there is no time circulation in daily life, in a way. He sleeps when he needs. He eats when he eats. Breakfast? Lunch? There is no category, he said. 
Finally, Hajime Isayama showed the last panel of Attack on Titan. He said there is a change he'll change it but for now, this image comes up on his mind.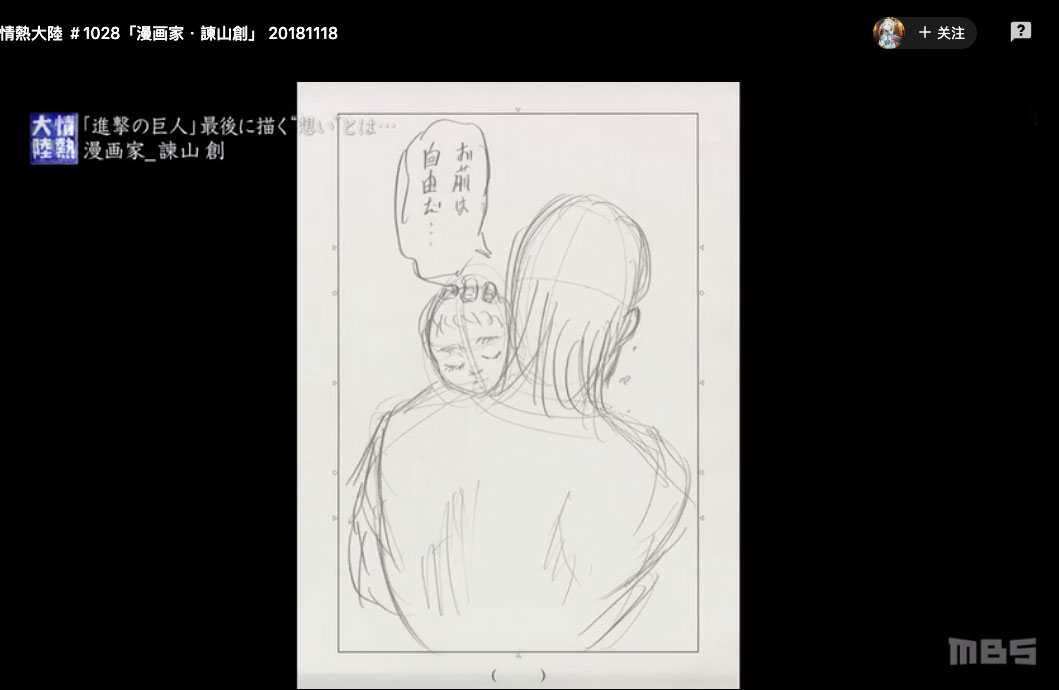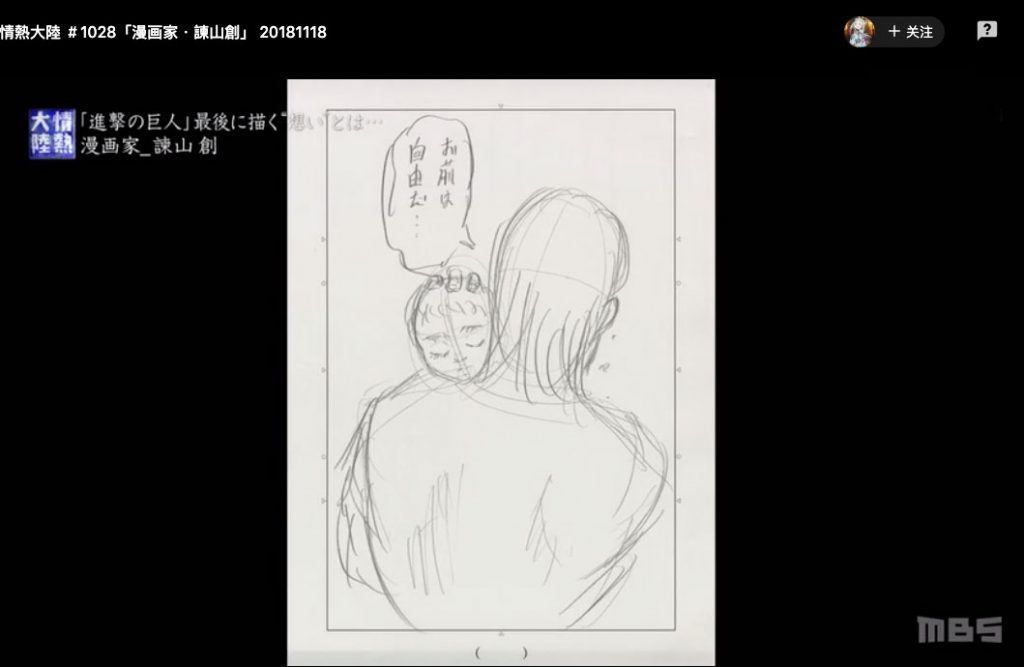 SHINGEKI NO HAJIME ISAYAMA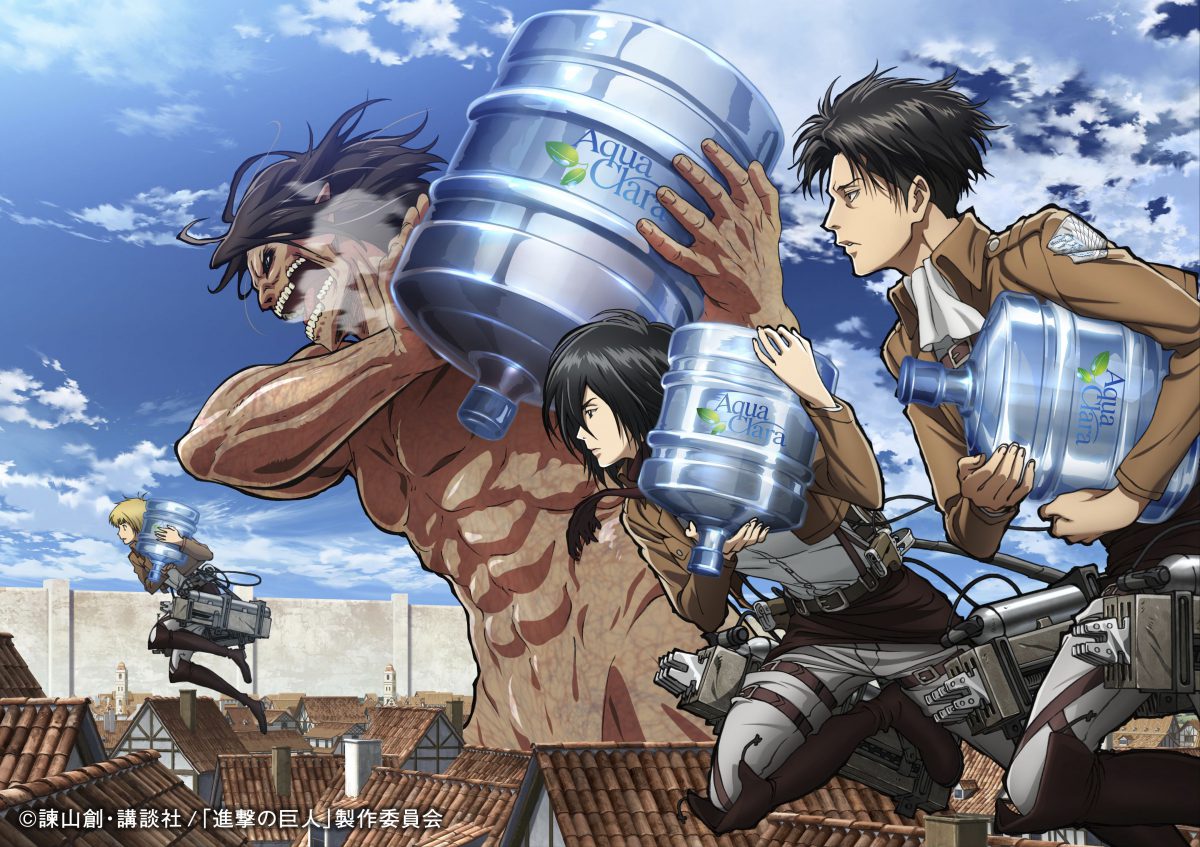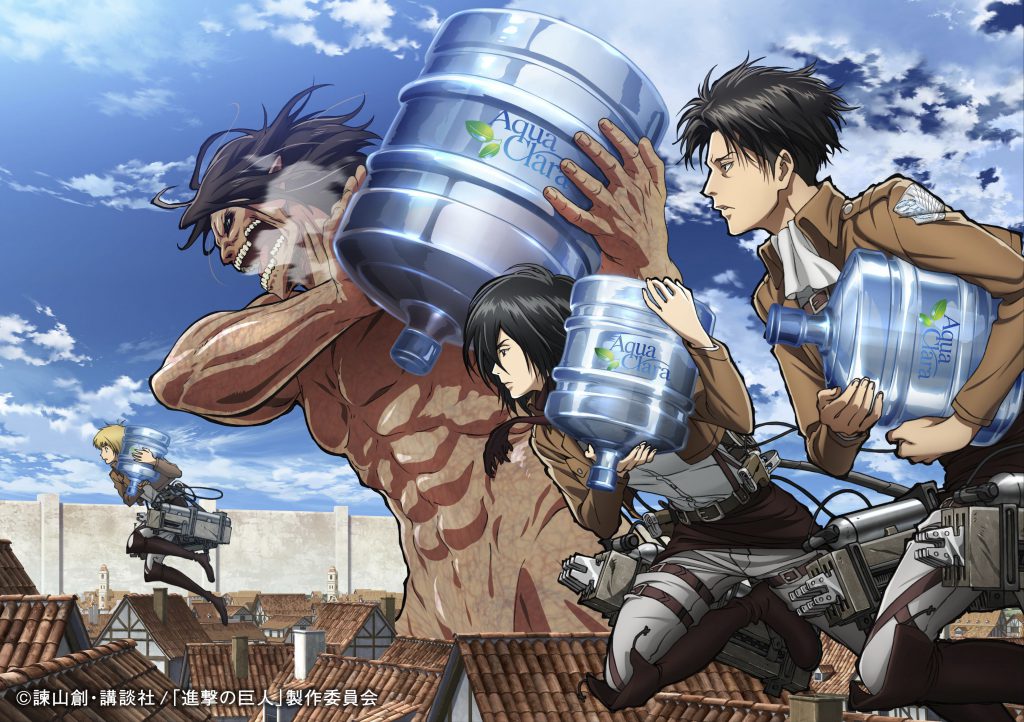 It's very common that most of the Japanese manga artists are very 'special' but personally, I found that Hajime Isayama is very modest and very down to earth. His manga career will be a Shingeki (breakthough).