Worldwide, of all animated works, 60% are Japanese anime. That's a huge number. Long gone are the days when anime was a niche thing that few had the privilege of enjoying. Gone are the days when accessing them was painful, and you had to use illegal means to watch your favorite animated series. Anime is a serious industry, and makes serious money. In 2017, the Japanese anime market surpassed 2 trillion yen ($18.8 million), and distributors have opened up to the rest of the world. Anime is recognized as one of the most exportable Japanese products, and as such, is distributed, and licensed overseas. It's available in masse through services like Crunchyroll, Netflix, Hulu, and Amazon Prime. There has never been a better time to be an anime fan.
However, the current anime hype, while amazing in terms of accessibility, means that an obscene number of anime are release every quarter. New anime come out every season, Fall anime in October, Winter anime in January, Spring in April, and Summer in July. And every season, Japanese anime studio bless us with more anime that we can afford to watch. Too much anime, not enough time. On top of that, while every season has a gem or two, many anime are of terrible quality, and usually are just another Isekai.
Here, I'm trying to make your life easier. Some anime, out of all the countless anime out there, are must watch. There's no way you can know all of them, and I probably missed some that I don't know myself. However, I've been watching anime since childhood, and religiously since early middle school. Decades later, I've seen hundreds, some good, some bad. I've selected those whose quality I can vouch for, of different genres, so you know what to watch.
If you're new to the anime genre, or know someone you're trying to get to like anime, this is a good reference, as I pinpoint what good "introduction" anime there are. So here are must watch Japanese anime, loosely grouped by genre!
JAPANESE ACTION ANIME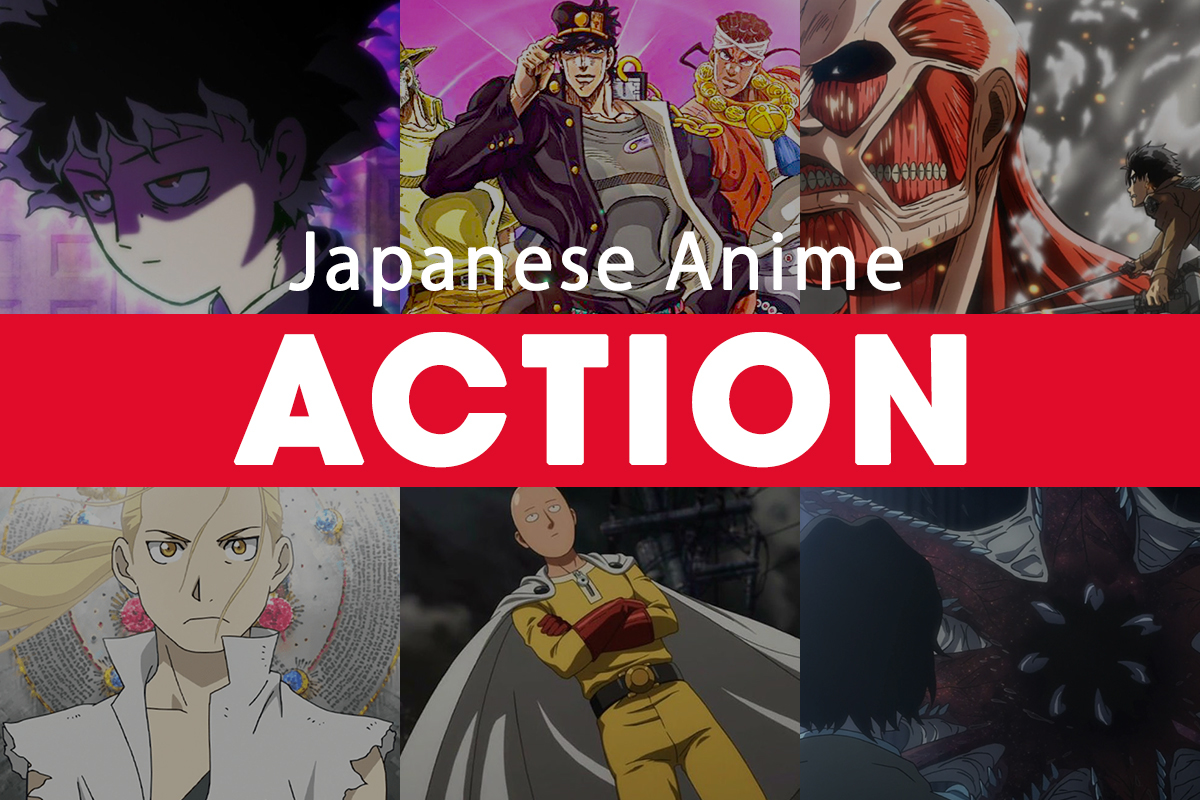 The Action genre is one that allows Japanese animators to take full advantage of the limitless medium. Japanese action anime come in all shapes and colors. You'll find fluid and fast-pace ones, slow and methodical ones, family friendly ones, and gory, bloody R-rated ones. Here is a list of six action packed Japanese anime series, each made in their own style, that I think everyone should check out.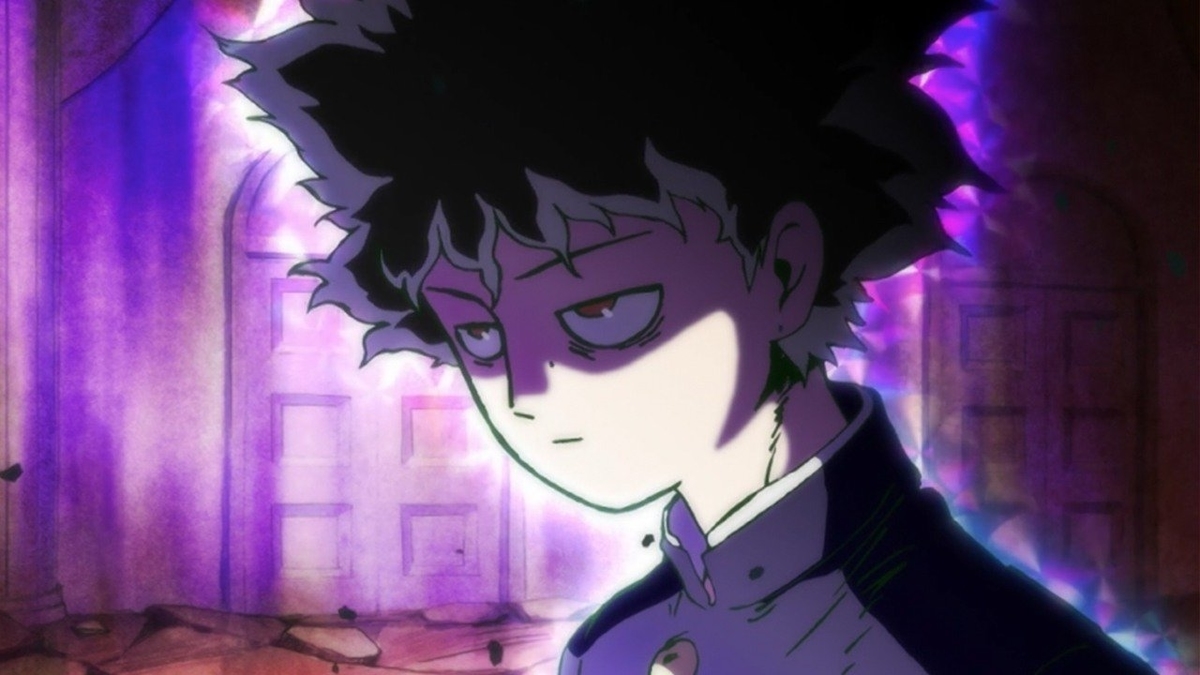 Shigeo Kageyama, nicknamed Mob (background character in Japanese slang), is an average, unnoticeable middle school student with immense psychic powers. Aware of his destructive ability, he lives in constant fear of losing control. To learn to control his power, he has gone to work as an assistant for Reigen Arataka, a con-man who fraudulently claims to himself have psychic abilities and exploits Mob's powers for money. While he strives for a regular life, his powers threatened to explode sooner or later as he encounters other espers.
WHY IT'S WORTH IT
I have a confession to make. When Mob Psycho 100 first came out, I only watched the first episode, and then pushed it aside for future viewing, which never came. I slept on it, and in hindsight, my life was significantly less pleasurable. Only this year (2019) a week before the second season was about to start did I pick it back up, and I'm glad I did.
Mob Psycho 100 caused me to reach levels of excitement I did not know laid dormant within me. From the beginning of the opening of each episode to the end of the ending, it's nonstop hype, humor, action, and even at times philosophical. There aren't many Japanese anime I know of that are 25 episodes, where every single one is good. Do yourself a favor, stop whatever you are doing, and go watch it right now.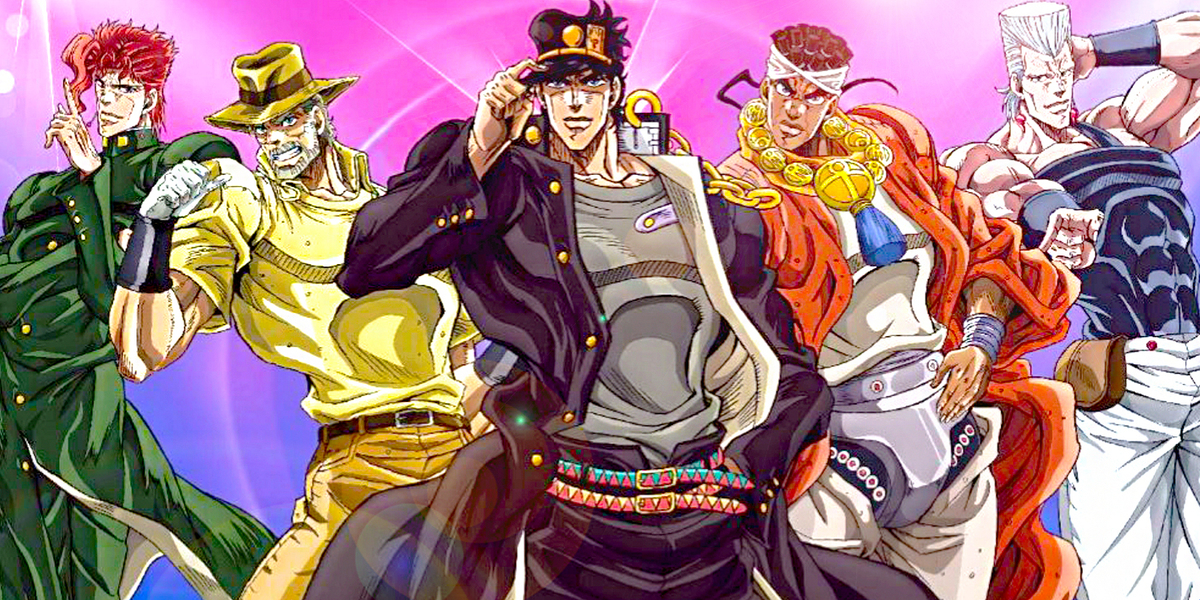 JoJo's Bizarre Adventure tells the story of the Josestar family, as its generations fight off supernatural beings using the power that they possess. The story follows multiple members of the Joestar family over the years, who always have a name that can be abbreviated as "JoJo".
WHY IT'S WORTH IT
Memes. That is all.
Jojo's has to be the Japanese anime to have provided the best memes in amount and quality, in the history of Japanese anime history. It's so over the top, and so addictive, while still making sure to have a great story, great characters, and hype, jaw dropping fight scenes.
Jojo's is split up in "parts", from the manga, each being its own season in the anime adaptation. Part 1 is mainly introductory, and nowhere near as good as the other parts, in my opinion, while still remaining pretty decent, and providing a taste of the hilarity, craziness, and action that is to come.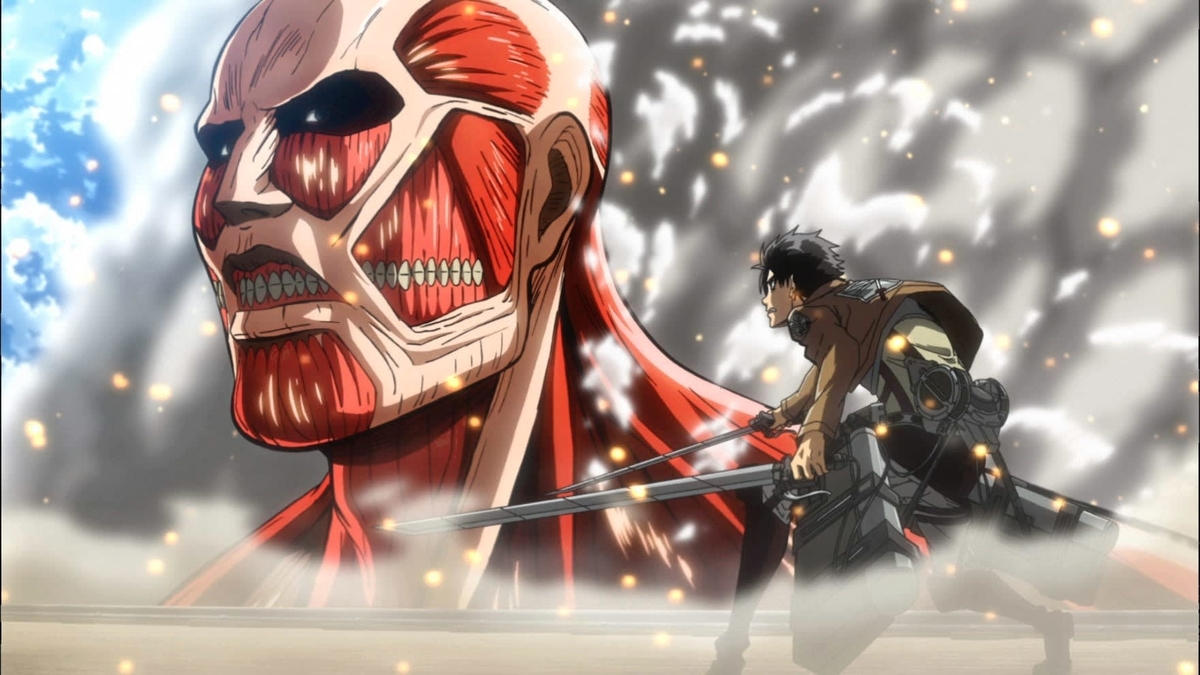 Centuries ago, mankind built a series of fortified walls to protect themselves from the titans – giants who feed on humans, not out of necessity, but for pleasure. The walls have allowed the survivors of the titans to live in safety for a hundred years without a titan encounter. However, all of that changes when a colossal titan, abnormally large, breaches the wall thought impregnable. This was the resumption of human's struggle for survival.
Living in the district of Trost, where the titan attack took place, and suffering a personal loss, Eren Yeager vowed to enlist into the Survey Corps a military unit that fights the titans, and dedicate his life to their eradication.
WHY IT'S WORTH IT
Attack on Titan has truly become a modern classic, at least in terms of its success and longevity. Attack on Titan came out in 2013, which was, and this is an understatement, and underwhelming year when it comes to Japanese anime. It was the series to see that year.
One problem I have with most anime, especially those where fighting, war, or violence are an essential part of the story, is the unrealistic survival rates of characters. Attack on Titan gets that right. A la Game of Thrones, not a single character is safe (except for the MC, can't exaggerate either). The world of Attack on Titan is unforgiving, and any mistake, or just bad luck will cost you your life. This is what makes it exiting to me, you never know what will happen next.
There are currently three seasons of Attack on Titan. While you may not like the first season, please keep going. It gets better every season, and the latest one is great, with even better to come in the next season (those you read the manga know).
If you'd like to learn more about Attack on Titan and the original manga's author Hajime Isayama check out our article!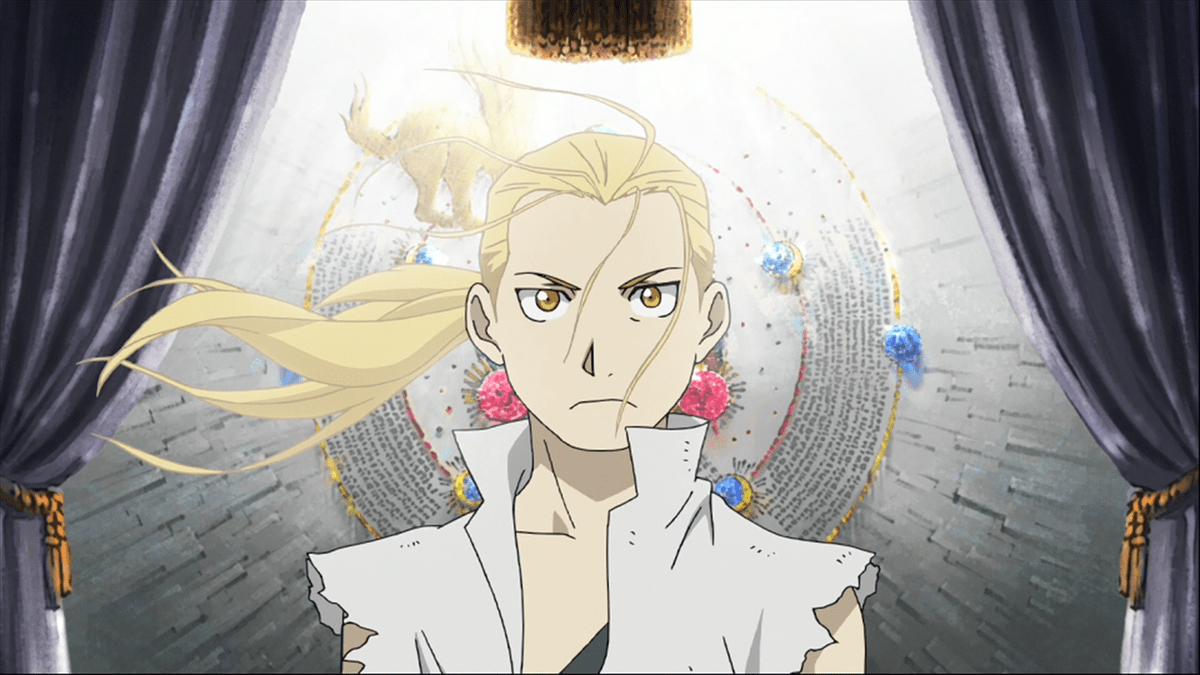 "In order for something to be obtain, something of equal value must be lost". Such the Law of Equivalent Exchange upon which alchemy is based. Brothers Edward and Alphonse "Al" Elric learn it the hard way, after they attempt the one forbidden act of alchemy – human transmutation, in an attempt to revive their dead mother. They price for attempting this was heavy. Ed lost an arm and a leg, and Al, his entire body, and only survived after Ed desperately bound his soul to a suit of armor.
Desperate to get their bodies back, Ed become a state alchemist, and gains the title "Fullmetal Alchemist" for his automail, metal limbs replacing his lost ones. After years of research, they conclude that the Philosopher's Stone, a mythical object that has the ability bypass the Law of Equivalent Exchange, is the key to what they seek. In their search for the stone, allied to military Higher ups such as the Colonel Roy Mustang, they find themselves entangled in a nationwide conspiracy as they learn about the true nature of the Philosopher's Stone, and of their country's hidden, dubious history.
WHY IT'S WORTH IT
Fullmetal Alchemist: Brotherhood is a reboot of a previous Fullmetal Alchemist anime, both based on the same manga by Hiromu Arakawa. It was made to more closely follow the original source, and, while I absolutely loved the original FMA, Brotherhood is superior. Not only is the story better adapted, being newer, its animation is a massive improvement on the original one.
Fullmetal Alchemist is one of the series that everyone who is into Japanese anime has watched in the early stages of their journey. I actually saw the original one on TV when it was airing on French channel Canal+. The premise and world it creates suck you in, while not being Tolkien-like, it still delimits itself from conventional shonen with its complexity and ambiguity. In addition, it probably has the best cast of characters of anime anime of the same type. You find yourself rooting for almost a dozen different characters who are not the MC, and are actually affected by deaths.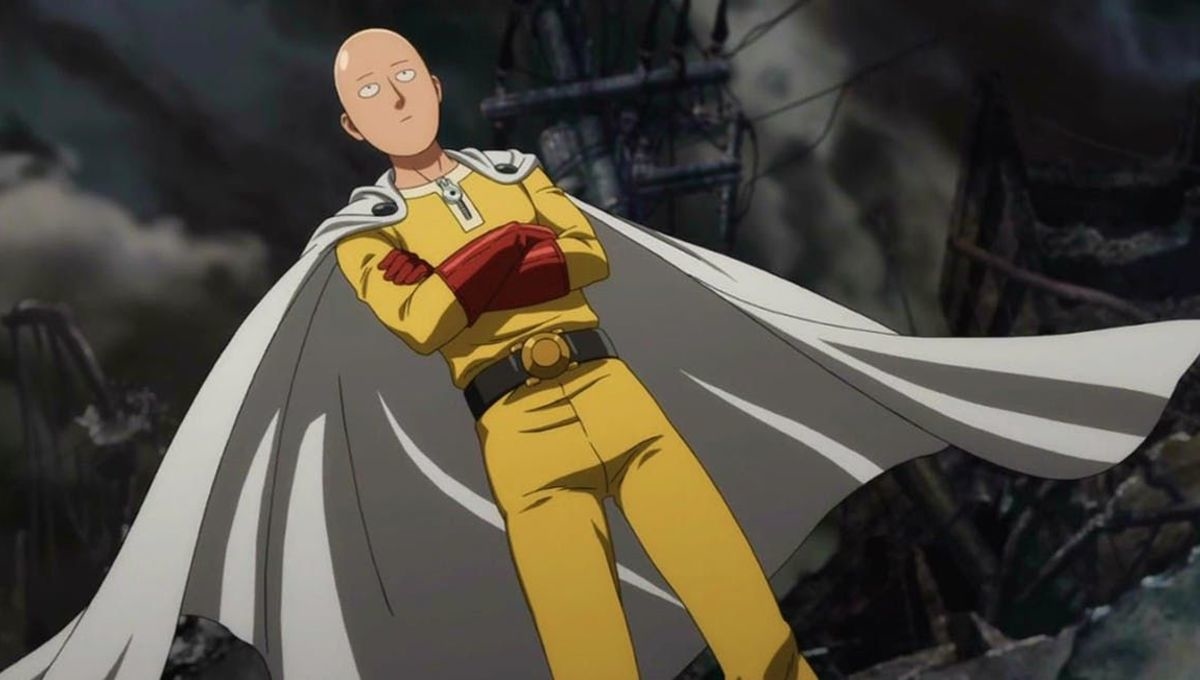 After deciding to become a hero, Saitama undergoes an intensive training regimen of 100 push-ups, 100 sit-ups, 100 squats, and 10 Km running, seven days a week, for a period of three years. As a result, he has lost his hair, but also become so inhumanly strong that he is capable of killing every single monster he meets with a single punch. The problem, however, is that he is now extremely bored, as fighting never poses a challenge.
After seeing what he is capable of, 19-year old cyborg Genos asks to become his disciple and proposes they join the Hero Association so their deeds are recognized. Unaware that he was supposed to sign up and surprised that no one actually knows of him, and of the times he has saved various cities, Saitama agrees, starting his official career as a hero.
WHY IT'S WORTH IT
One-Punch Man tells somehow simultaneously provokes antagonistic feelings to the viewer. On the surface, it's an hilarious series which parodies the superhero and shonen genre sand pushes their tropes to the maximum, with gorgeous, water-fluid action animation (praise Madhouse). Once the story advances though, we start to notice and empathize with Saitama's unique situation. One might think being overpowered is great, but it's a source of torment for the hero, who can find no joy or challenge in fighting.
There are currently two seasons of One Punch Man. Each is made by different animation studio. The first season is made by Madhouse, who in my opinion are the best Japanese anime studio at the moment. The second season is made by Japanese animation studio J.C Staff. The drop in quality is very noticeable.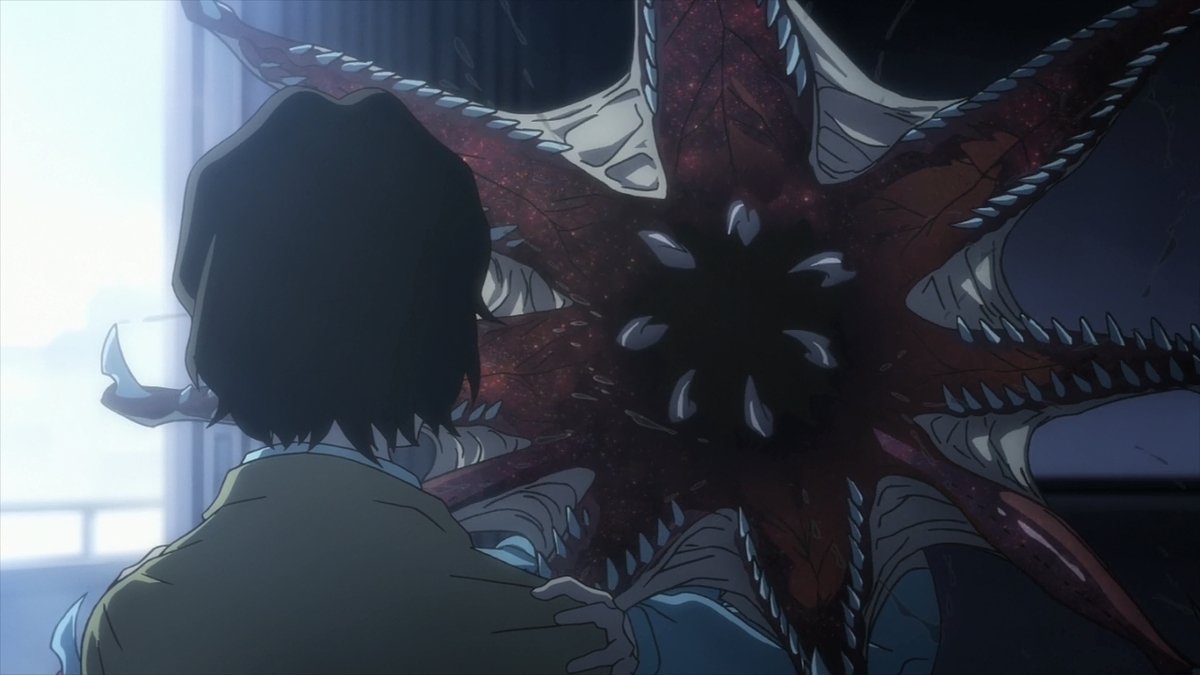 One night, strange creatures called Parasytes appear on Earth from space and take over the brains of human hosts. One Parasyte crawl into 17 year-old high schooler Shinichi Izumi's but fails to reach his brain as Shinichi wakes up. The Parasyte, instead takes his right arm. As both retain their separate personalities, they eventually learn to co-exist and eventually form a strong bond, with the Parasyte taking the name Migi (right, in Japanese) because he is on Shinichi's right arm.
Others were not as lucky as Shinichi, and Parasytes are now roaming the earth, hidden, but often attack humans. As they encounter these Parasytes, who attack them as soon as they realize Shinichi still have full control of his brain, as his knowledge of the Parasytes is detrimental to their survival. Using their unorthodox situation to their advantage, they battle Parasytes who attack, and sometimes willingly attack Parasytes themselves, as Shinichi wants to get rid of them to protect other humans.
WHY IT'S WORTH IT
Parasyte is one of my favorite Japanese anime of the 2010s. I had read the manga a few years before the anime came out. I sat down and started reading it, and did not get up until I was done, save to go to the toilet.
Parasyte is based on a manga from Hitoshi Iwaaki which was serialized between 1988 to 1995. The animation team decided to change the setting to current-day Tokyo, Japan, with all the modern tools we know and love, including cell phones, the internet, etc. While this may sound strange, it was done almost seamlessly and did not change anything from the rest of the story. While I have to admit, the premise is not spectacularly novel, the execution is what makes Parasyte stand out among Japanese anime in the 2010s. It does a great job at blurring the line between good and evil as the plot advances, and demonstrate humankind's innate survivor capacity.
The fight scenes here are pretty shorts. No Dragon Ball like fights dragging over 10+ episodes, and we get a better perception of the characters mortality to a point of paranoia. I have to point out, it can get pretty gory, viewer discretion is advised.
NEW TO JAPANESE ACTION ANIME?
For the gentle souls that are new to the wonderful world of Japanese anime, or perhaps are looking to dive into the medium, out of the bunch, I'd recommend starting with Fullmetal Alchemist: Brotherhood. The series combines light-hearted humor with darker themes, all in a well crafted world, with great, relatable characters. It's the most likely out of the list to please a wide range of taste, since you might not have yet developed a preference. In addition, it's a long-ish series, while not being overly long (*cough* One Piece *cough*), allowing you to binge watch it, while not having to suffer through long, useless filler arcs.
JAPANESE SPORT ANIME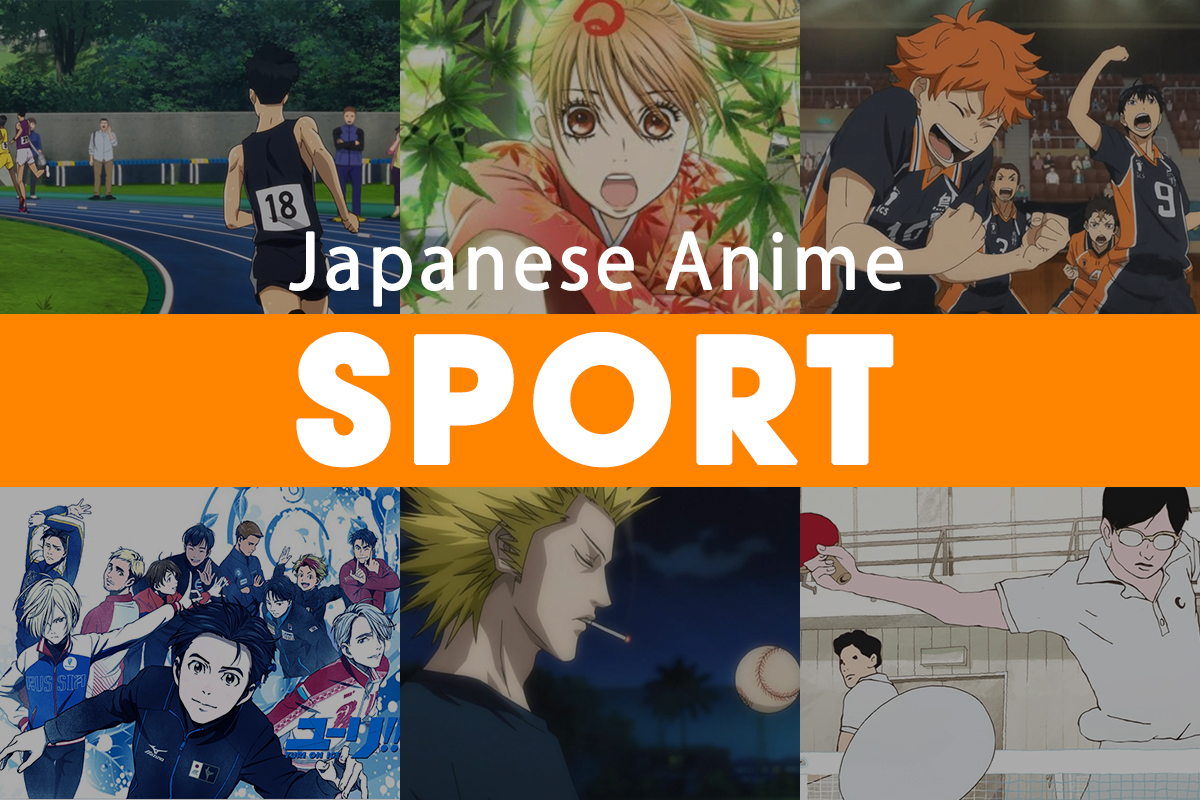 Sports anime are the most underrated by most, me included. Over the many decades, some of the greatest gems of Japanese anime have been sports anime. Ashita no Joe in the 60s-70s, Touch in the 80s-90s, and many in the 2000s and 2010s. In short, there some very good Japanese sports anime, and one shouldn't skip them because they might not like sports. So many of them are so much more than that. The sport aspect is often the premise used to bring about other elements, such as coming of age stories, romance, or even a plain and simple "surpassing your limits" type series. Here are six sports anime series, I think are well worth the watch.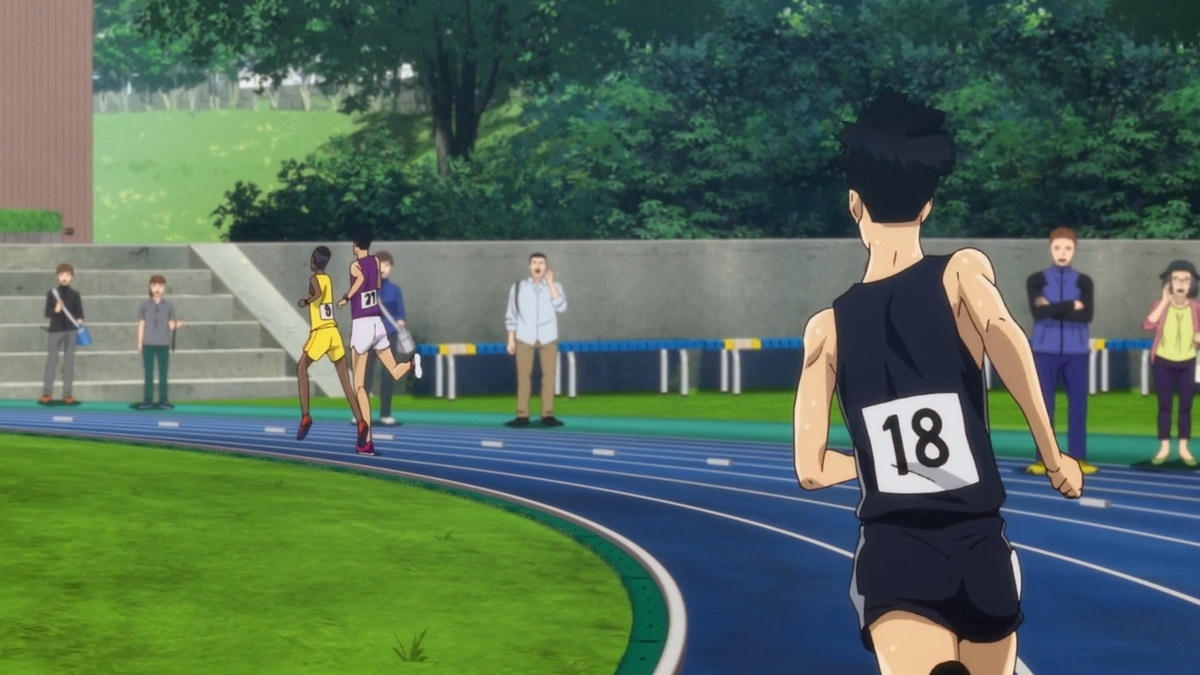 Former elite runner Kakeru Kurahara is chased away from a convinent store for shoplifting. Escaping his pursuer, he runs into Haiji Kiyose, a student from his university, and a runner as well. Haiji persuades him to move into into the Chikusei-sou, a beat-down apartment building where he, along with eight other students reside. Having recently lost all his apartment deposit at a mahjong parlor, Kakeru accepts the offer.
During Kakeru's welcoming party, Haiji reveals to the group that the apartment is actually a dormitory for the Kansei University Track Club, and that all residents are unbeknownst to them, all technically members. He tells them his goal is to participate in the Hakone Ekiden, one of the most prominent university marathon races in the country. The competition deadline is only months away, but none of the inhabitants are interested in competing, and none, except for Haiji and Kakeru have experience in running. Will they be able to realize Kakeru's ridiculous place and run in the Hakone Ekiden?
WHY IT'S WORTH IT
Run With the Wind was one of my favorite anime of 2018-19. It's a series I feel is massively underrated. It's literally a show about a bunch of dudes just running. That's it. Yet somehow, it's so beautifully executed. The animation is outstanding, and on par with Japanese anime movies.
The running is essential to the story, but the most important role it plays is bringing the different characters together. The most important part of the story is actually the characters, their relationships with each other, and their development throughout the series.
Again, the animation is gorgeous. The moments of the characters look so natural and fluid, their animation convey and their emotion as clearly as the animators want you to see them. The sound is decent, nothing out of this world. But the OP is quite nice.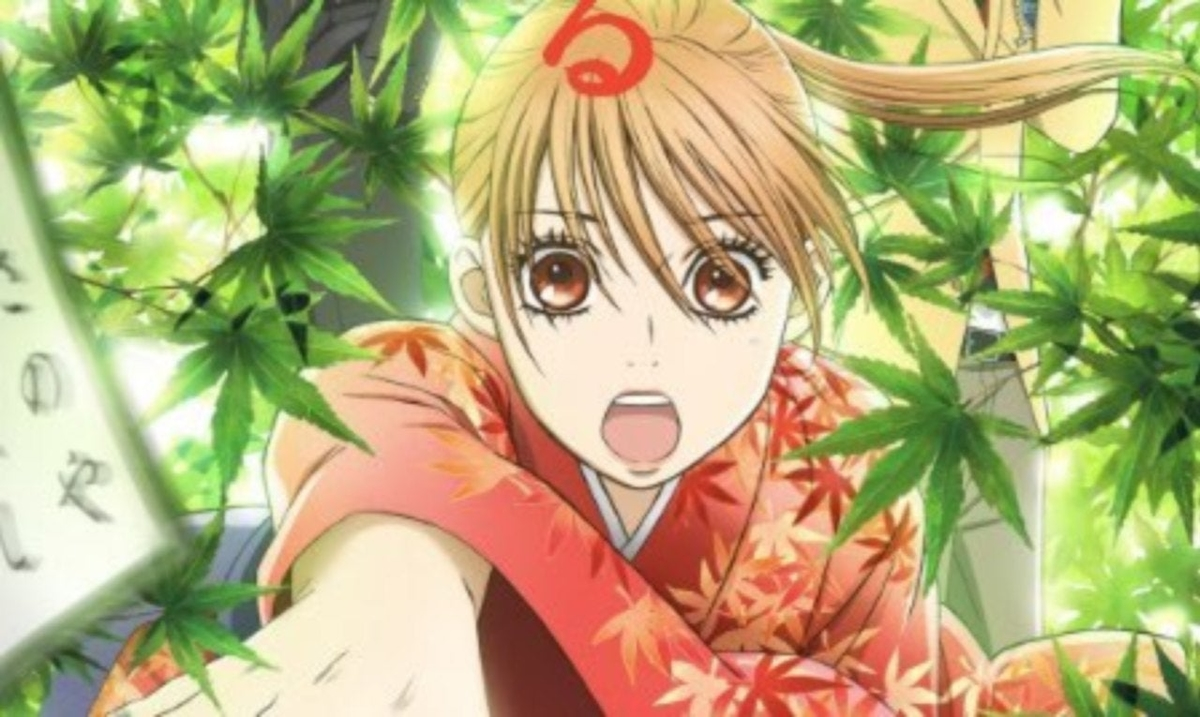 Chihaya Ayase is a tomboyish girl who mostly goes about her day supporting her sister in her modelling career, but with no drams of her own. Her contentment with her life changes when she meets Arata Wataya, a transfer student in her elementary class. He introduces her to competitive karuta, a card game which is both physically and mentally demanding. Impressed by Arata's passion, she falls in love with the game, and along with him and her other friend Taichi Mashima, she joins the local club.
In high school, she has grown into a prominent kurata player and sets her sights on the national championship. First, she must bring together a team for her local high school.
WHY IT'S WORTH IT
First things first for the incoming complaints. Yes, it's a sport. Moving on. Chihayafuru is adapted from the manga by Yuki Suetsugu. It has over the years won the prestigious Kodansha Manga Award, as well as the Manga Taisho. In addition, it was directed by Morio Asaka, who has directed other slice-of-life-y classics like Nana.
Chihayafuru has a unique charm, albeit it's very simple plot-wise. It's about a student journey through trials and tribulation, determined to reach their goals. The characters are the best thing about this series. They seem true and relatable. They are never perfect and have virtues and flaws. The romance is not overdone. It's a constant, background, understated point, which makes it even more realistic.
The pacing of the show could be a bit quicker, some of the progress between characters relations can be painfully annoying to watch as they move extremely slowly, but there is progress, which again, adds to the realism.
Chihayafuru is a great watch after work or school, when you want to relax and be mesmerized by the bizarrely perfected monotony of the series.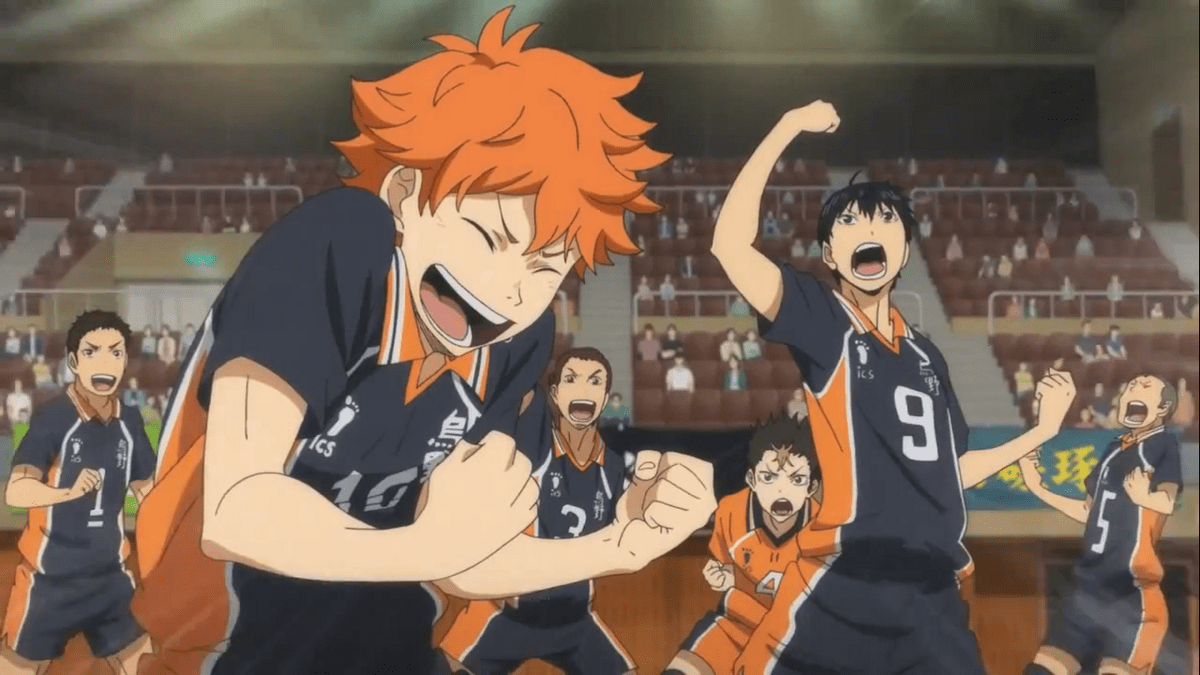 After watching a volleyball championship game featuring the ace "Little Giant", small-sized Shouyou Hinata is inspired to revive his middle school volleyball club. Surprisingly, the team makes it to a tournament, but they are battered after their first game and disqualified. Hinata vows to train and surpass Tobio Kageyama, the "King of the Court" who had totally dominated them during the match. After graduating from middle school, he joins the Karasuno High School volleyball team, where one of his teammates is none other than Kageyama, his sworn rival. Together, they form an unlikely duo.
WHY IT'S WORTH IT
If I'm honest, Haikyuu!! Is my least favorite out of the bunch, it has this shonen battle-esque feel about it that I love to hate. Nonetheless, it is still a very good series. If you are into hype, action-packed series, you'll like this one more than the others.
In addition, it's made by Production I.G, so you know the animation is solid. It's really satisfying actually. Unlike some cheaper, less well animated shows, where the action is not fully animated and there will be freeze between movements, this one is really fluid. The entire movement is shown. No lazying around.
All in all, it's a solid show.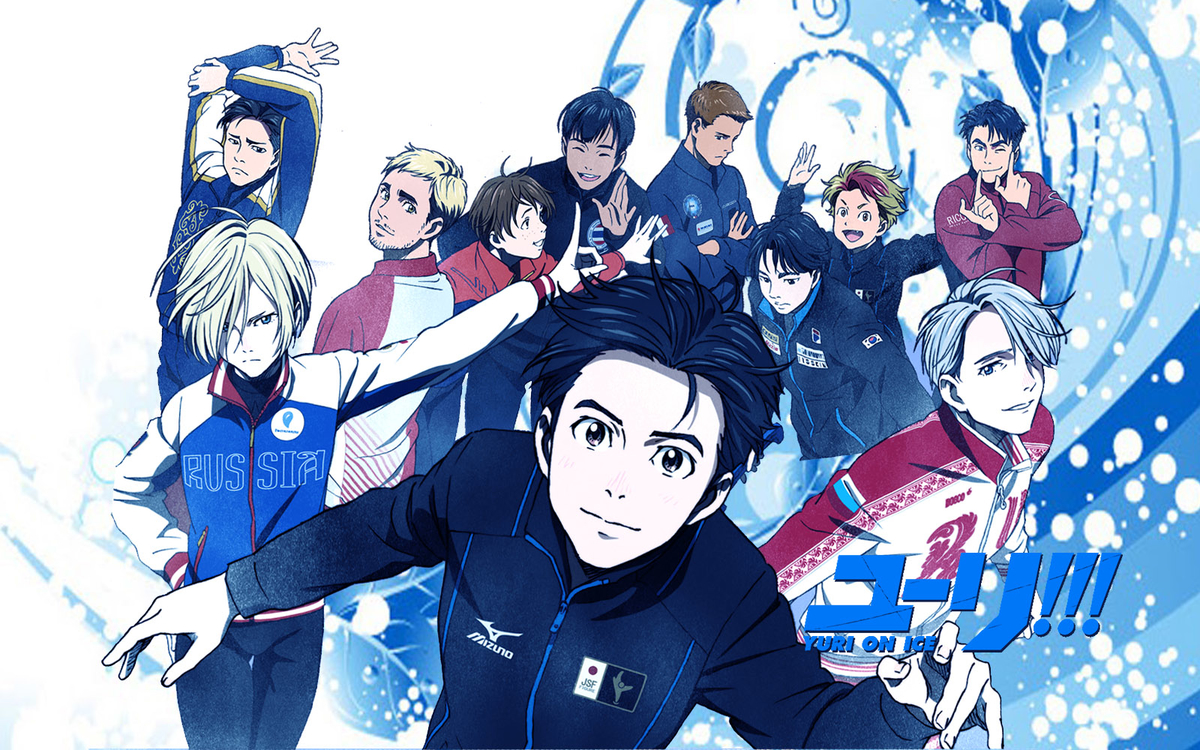 Carrying the hope of the entirety of Japan on his shoulders, Yuuri Katsuki, Japan's most promising figure skater returns to his family home to hide away from his crushing defeat at the Grand Prix Finale. At 23, he is closing in on his window for success, and his eating habits and metabolism already put him at a disadvantage.
One day, a video of him performing a routine executed by five-time world champion, Victor Nikiforov is upoloaded on the internet and goes viral, making him an online sensation. Following this even, Victor himself suddenly appears uninvited to Yuuri's house and proposes that he become his mentor. In his journey to rise to the top however, he must compete with Yuri Plisetsky, the rising star from Russia who ambitions to win Victor's tutelage by beating Yuuri.
WHY IT'S WORTH IT
While the story of Yuri of Ice is basic at best, and follows some of the same shonen-esque tropes I detest about Haikyuu!!, the animation alone makes me forgive it all. It is 12 episodes of pure eye candy. The movements, the backdrops, the individual hair, the piece of dust rising from the ice as its being skated over, all of it is sublime.
Yuri on Ice is a yaoi sports anime, which is used in Japanese to describe series (of any medium) with boy's love elements, and while not everyone may be comfortable with that, don't let it make you shy away from this beauty of a series.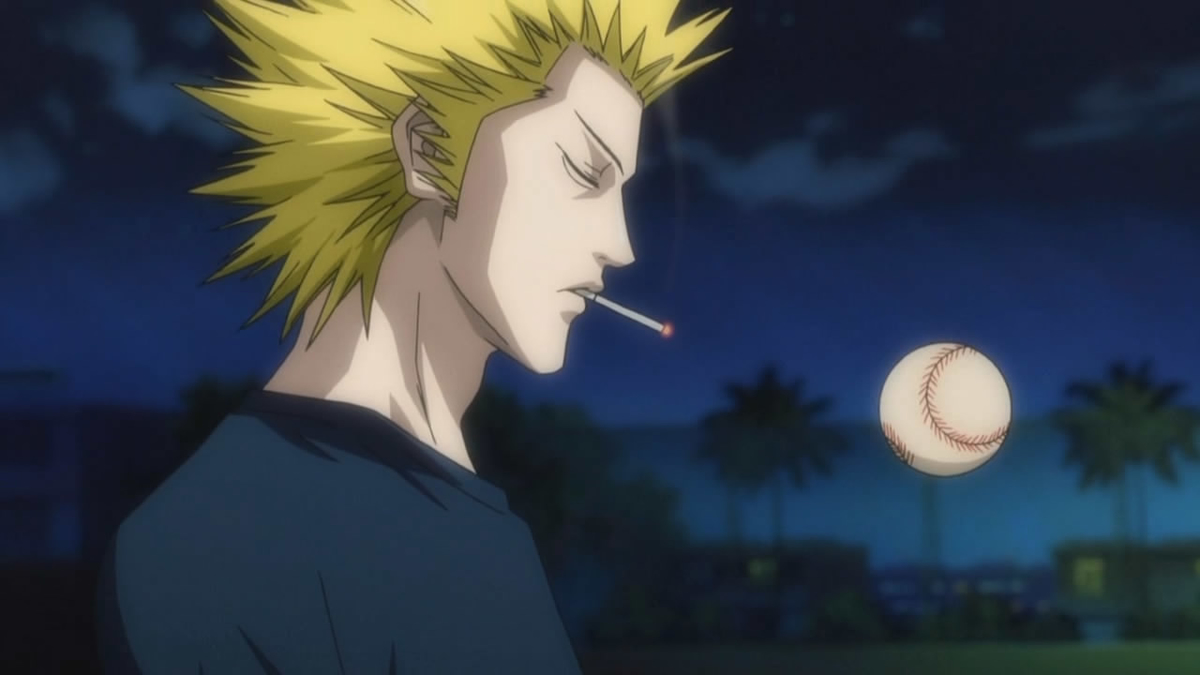 Baseball legen Kojima has won just about every individual award as a cleanup hitter for the Lycaons. He's never however acquired the title of champion. Yearning for the elusive title, he opens a training camp in Okinawa. There, he is introduced to a high-stake game being dominated Toua Tokuchi, a very talented pitcher, but a gambler at heart. He loses a fortune agains Toua, but eventually wins and enlists hum to the now struggling Lyacons. Instead of a salary, Toua demends that he receive five million yen for each out, and lose fifty for each point lost.
WHY IT'S WORTH IT
One Outs if much different from the other series of the list. For those who are fond of gambling-based series like Kaiji and Akagi, One Outs is that, with baseball. The characters have an obsession for winning. So much so that it becomes painful to watch them. While I preferred Kaiji and Akagi, One Outs also has its clever moments, and it's fun watching Tokuchi wiggle his way out of the impossble, but sometimes, it becomes a bit too predictable and tiring. Nonetheless, it's a great alternative to sports anime. Something different from the normal shonen sports series and well entertaining if taken at face value.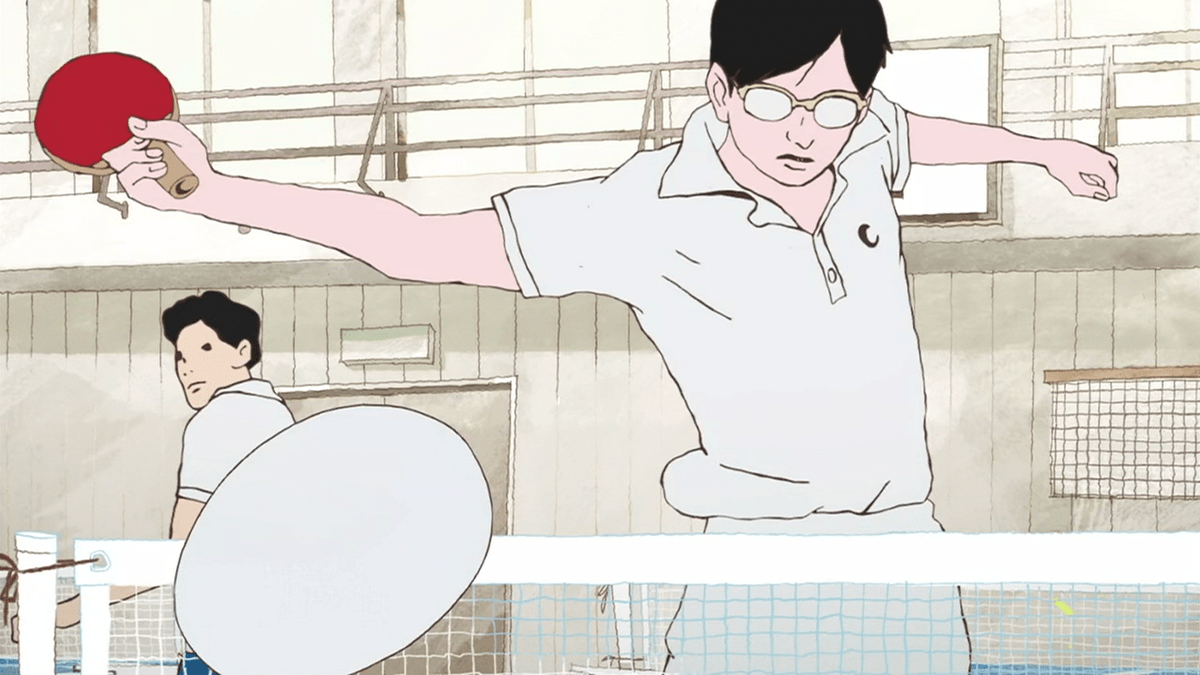 Makoto "Smile" Tsukimoto and Yukata "Peco" Hoshino have been friends since childhood despite their contrasting personalities. Smile is quiet and reserved; Peco is loud and energetic. Both play for the local table tennis club and both are extremely skilled at it, although Peco, through his personality always has the edge in games between the two. The club coach, however, noticing Smile's talent tries to push him to show more ferocity.
WHY IT'S WORTH IT
Ping Pong the Animation is a masterpiece. Not a sports anime masterpiece, a Japanese anime masterpiece. Don't @ me. Ping Pong is one of the best coming of age stories to have graced us in recent years. Each of the characters we are introduced to, through ping pong, each have their personal struggles, which are masterfully illustrated during matches, as merge into visual poems and soundtracks curated to each character's musical themes.
The animation and art are the icing on the cake. They use distinctive elements which Masaaki Yuasa has used in his previous works (The Tatami Galaxy, for example). It's as if the page of a manga themselves came to life, with split screen effects used often. The action sequences during game are beyond fluid and look almost biological. Some might find it weird at first, especially if they are used to traditional animation, but as soon as your eye gets used to it, you truly appreciate the masterpiece that it is.
NEW TO JAPANESE SPORT ANIME?
If you're new to Japanese anime or looking for something to suggest to someone new to Japanese anime, I'd recommend you give Chihayafuru a try. It's a great introduction to the medium in the sense that it show's that anime is not all insane action and fanservice, especially for someone coming in with presuppositions. Instead, Chihayafuru is a wholesome coming of age story, laced with romance, growth, and moments of cuteness. And, bonus points for having a quality award-winning manga to turn to once you've finished the anime.
JAPANESE SF ANIME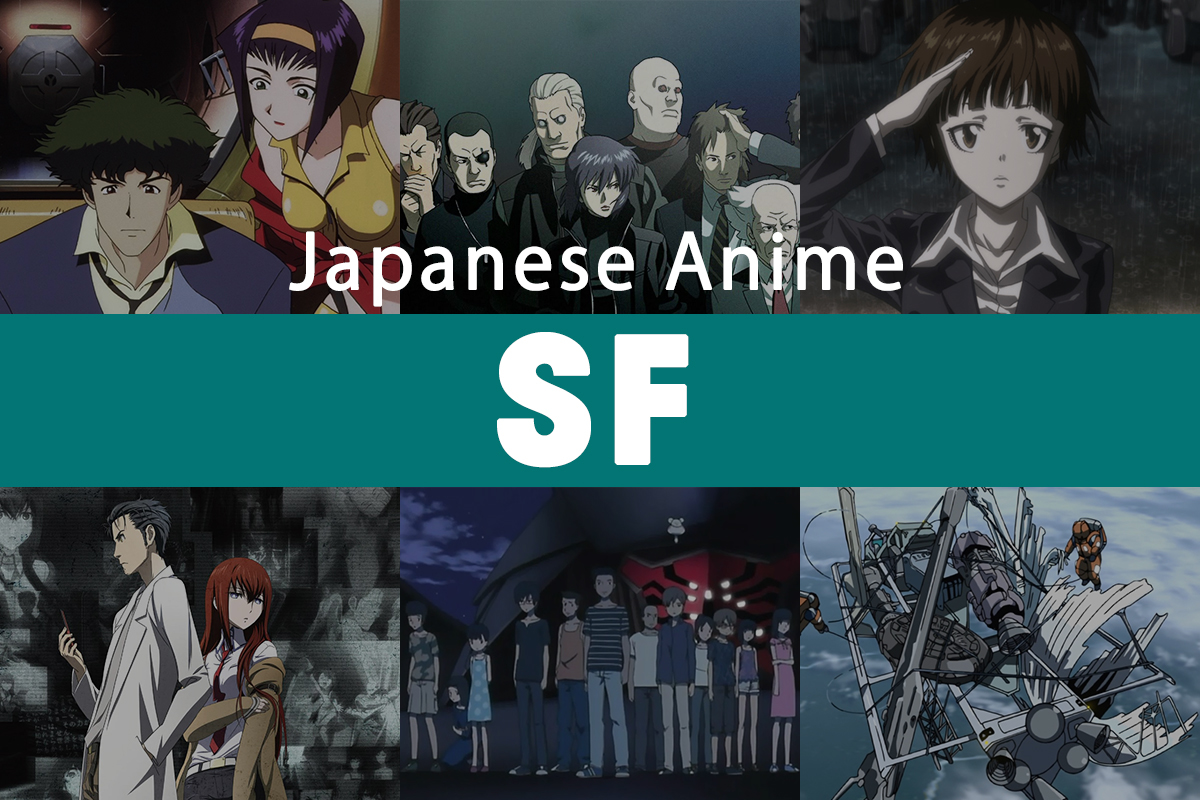 Science fiction is a personal genre of mine, not just when it comes to Japanese anime. I gobble up sci-fi TV series, movies and novel as fast as life allows me to. The following Japanese anime are all set in sci-fi settings, though, interestingly, they are all set in a not-so-distant future. But all are different in their focus. There are some for all taste, whether you want an action based series, a deep philosophical series, or even one about the everyday lives of people in a sci-fi settings, the six Japanese anime series below you must watch.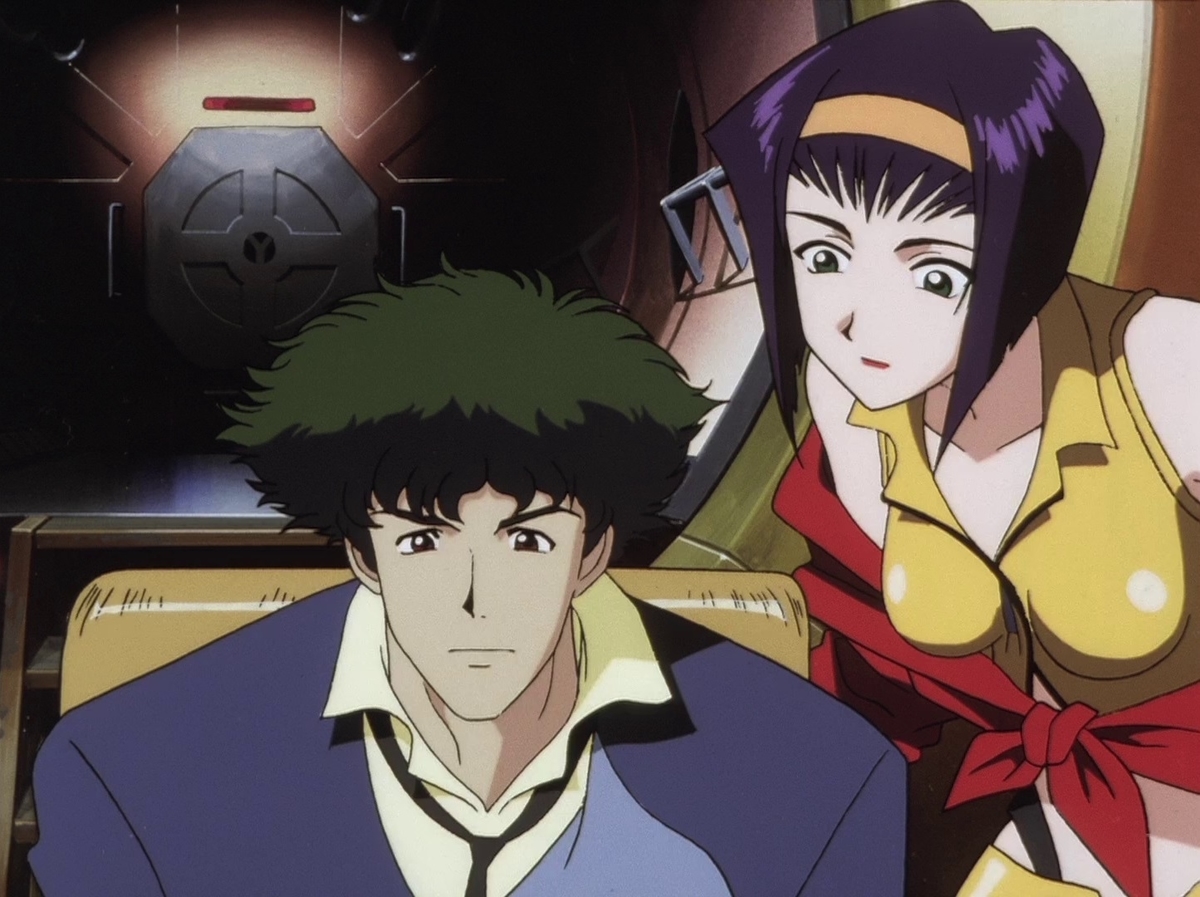 In 2071, 50 years after an accident that left the surface of the earth inhabitable, mankind has managed to colonize all the terrestrial planets of the solar system. Attempting to cope with the rising crime rate, the Inter Solar Police System (ISSP) set up a system where contracted bounty hunters (known as Cowboys) chase criminals and turn them in for a reward.
Mike Spiegel a Jet Black form a team of bounty hunters. Over time they are joined by members they meet in their travels: Faye Valentine, who has lost her memory, Ein, a super-intelligent Welsh Corgi, and Edward Wong, a boy who is a computer genius. The series follow their travels as they go after criminals, with each character's dark past slowly being unveiled and catching up on them.
WHY IT'S WORTH IT
Cowboy Bebop is probably one of the most beloved series in all of Japanese anime. It's in most people's top 3. Cowboy Bebop does an amazing job at mixing up different things at once. At the same time, it's a Star Wars-like space opera, a comedy, an action series, and at times a very emotional one.
Each episode, or "session" sees them go after a bounty or are tied to the past of the characters, while some are just there as a buffer to lighten the mood of the anime, which is best described by the term "tragic".
The art of Cowboy Bebop is nothing special, the animation scenes are decent but not mind-blowing (keep in mind this is a 1998 series). I do however really like the character design, as I tend to like more "realistic" looking characters in anime. The music though, the music! Shinichiro Watanabe, who has a few more series in this article, likes to theme his series after music. Cowboy Bebop is themed after Jazz. It works so well. The upbeat, action packed, space opera vibe of Cowboy Bebop and Jazz are a match made in heaven.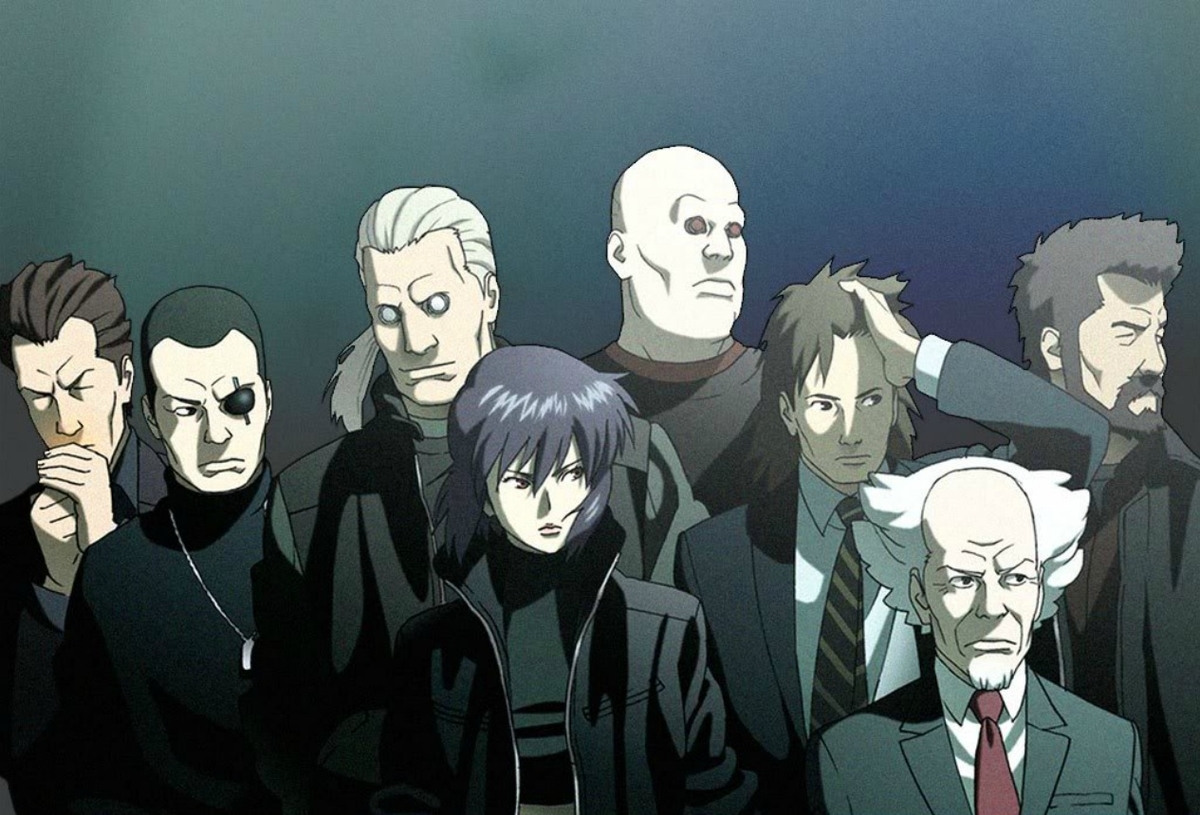 In the year 2030, technological advancements made it so many have become cyborgs, some with simple cybernetic enhancements, while others have fully prostatic bodies and a "cyber brain". As a result, the lines between the physical and cybernetic worlds have been blurred. The nature of cybernetics and the physical world's interactions have however made it so criminals can take advantage of technology, and at times hacking, to commit crimes.
In Niihama Prefecture, the Public Security Section 9 a special-op task force made up of former policer detectives and military officers investigates various crimes, often leading to cases and clues on corruption in multiple branches of the Japanese government
WHY IT'S WORTH IT
The Ghost in the Shell IP is one of the most influential ones to have come out of Japan's animation studios. Especially the animated movie which came out in 1995. Ghost in the Shell has been cited as a major source of inspiration all the way in Hollywood, including for the movie The Matrix.
This series, like the famed, beloved movie, is based on the manga of the same name by Masamune Shirow. The original movie, and its sequel (there are only two Ghost in the Shell movies I'm willing to acknowledge) deal a lot more with the society and philosophical consequences of cybernetic enhancements, and the cyber brains, asking questions like "what is really human?", or characters questioning whether their memories are truly there, or maybe they were implanted, and other questions which become more and more relevant, as AI in our own reality is rapidly evolving. The series also has such aspects, but does it in a way which is interesting, especially compared to many Japanese anime. Characters don't just sit around and have insanely deep philosophical questions which are not realistic for people to have. Interesting ideas are brought forward, especially as some characters doubt their existence and actions, and can be truly depressed and insecure, but never at the detriment of the action. Kind of like in real life, where you might have the same issues, but never really have time to sit down and make a whole speech about it, as you have to go about life.
The animation is superb, especially taking into consideration that it was made in the early 200s.Some of the CGI can be a bit dodgy, it's usually really well made. Production I.G has always pushed boundaries when it comes to animation in Japan, and that's what they did with GITS: Stand Alone Complex.
For me, the best part is the music. Yoko Kanno is truly a gift to humanity. We do not deserve her. The blending of sounds and genres is pure bliss.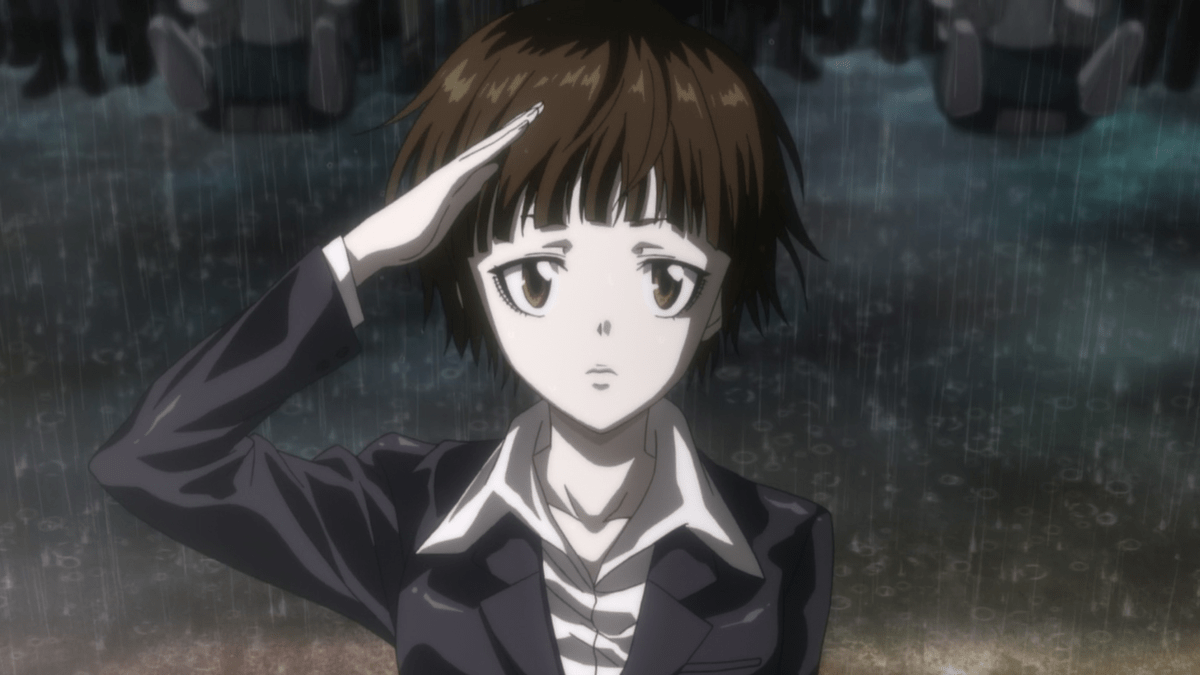 In the 22nd century, Japan enforces the Sibyl System, a network of psychometric scanners that evaluate the minds of people. The results from the scan is called the Psycho-Pass. When the Pyscho-Pass shows a high Crime Coefficient Index, meaning the individual has a high likelihood of committing a crime, beyond a certain threshold, they are hunted down and arrested, or sometimes killed by police officers. "Enforces" are the elite of these police officers equipped with "Dominators", guns that can only be used on individuals with a Crime Coefficient Index beyond the acceptable threshold.
Akane Tsunemori is new in the Enforcer world, working alongside veteran Shinya Kougami. She quickly learns that the Sybil System is not as reliable as she thought. Throughout the series she struggles with her will to enforce justice, with what justice truly means, and if the Sybil System truly is a force for justice.
WHY IT'S WORTH IT
Psycho Pass asks an interesting question: At what price comes security? For the sake of avoiding crimes, is it really "good" to arrest and punish people, for crimes they haven't (yet) committed, or may never commit? The Psycho Pass which seems like a perfect system at first soon becomes questions by the characters, and the many ethical problems linked to it are brought about. Both arguments can be made though. The good of the many can outweigh that of the few. Psycho Pass portrays both arguments through the characters, and sometimes through a single character, and they face an internal struggle to come to terms with their own actions.
My issue with the anime, is that it sometimes addresses these issues in a somewhat pretentious, and superficial way. It does a great job at bringing about these issues, and make you think about them, which you might not have otherwise, but I feel like it's mainly in a "be scared of tech" way.
Otherwise, very well made anime. The animation is by Production I.G, so very good, and it ran in Noitamina, which pretty much never airs poorly produced Japanese anime.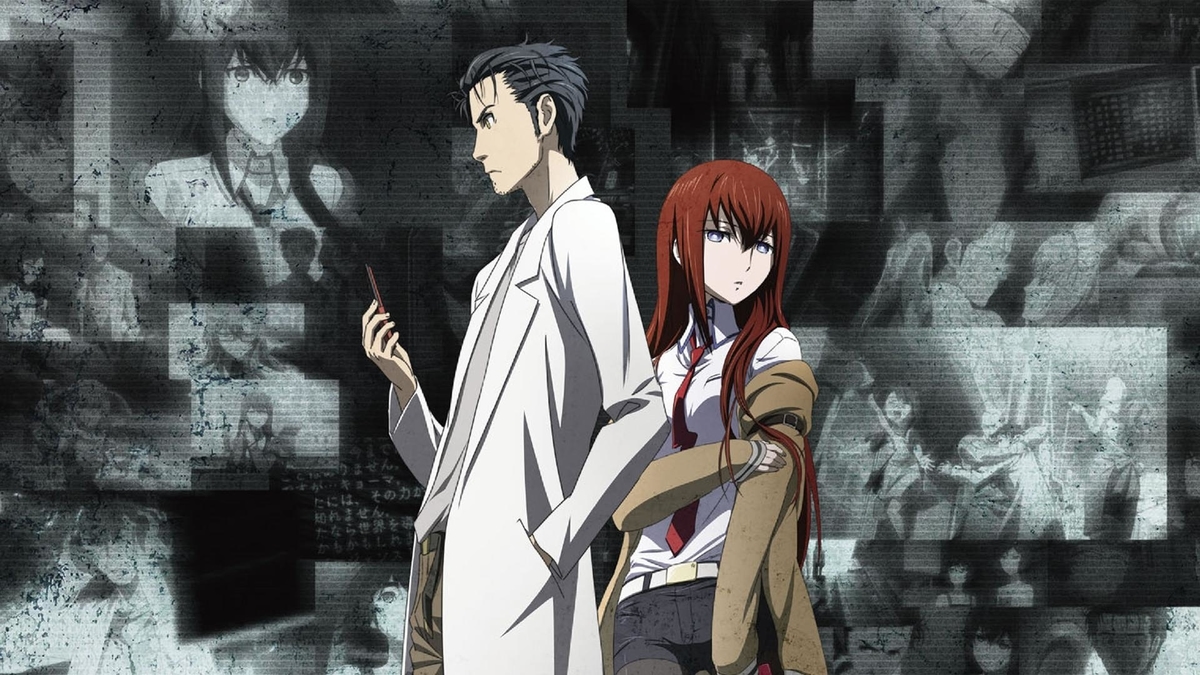 Set in Akihabara, Rintarou Okabe, a self-proclaimed mad-scientist runs a "future gadgets" lab out of his old apartment with his lab members. There they partake in the invention of prospective futuristic inventions. One of their most promising inventions, the "Phone Microwave" which they've been tweaking, has the bizarre ability to transform bananas into gel.
After extensive tinkering with the Phone Microwave, to their surprise, the phone seems able to send emails to the past, while altering history. SERN an powerful research organization which has also been researching time travel learns of the device marking the start of a series of unfortunate events.
WHY IT'S WORTH IT
The story of Steins;Gate is well thought out, and well executed (if you're willing to overlook some plot holes). The narration, at least, top notch. Some of the revelations throughout the story will leave you speechless, as you learn about some of the subplots, and truths hiding under the surface. In addition, it brings out interesting psychological and philosophical themes, which while not extensively commented on, give the watcher the opportunity to look them up later and read up on them. The character development, is also extremely well done. All the issues on the plot are limited to that. The protagonist's development was orchestrated masterfully.
As far as the animation, the first episode is a beauty. But throughout the show, it's smooth, and the colors are somehow pleasing. I quite like the lack of vibrance. Soundwise, it never stood out to me, meaning it can't be any special. But overall, it's a very good show, well worth a watch, with a very do-able 24 episodes.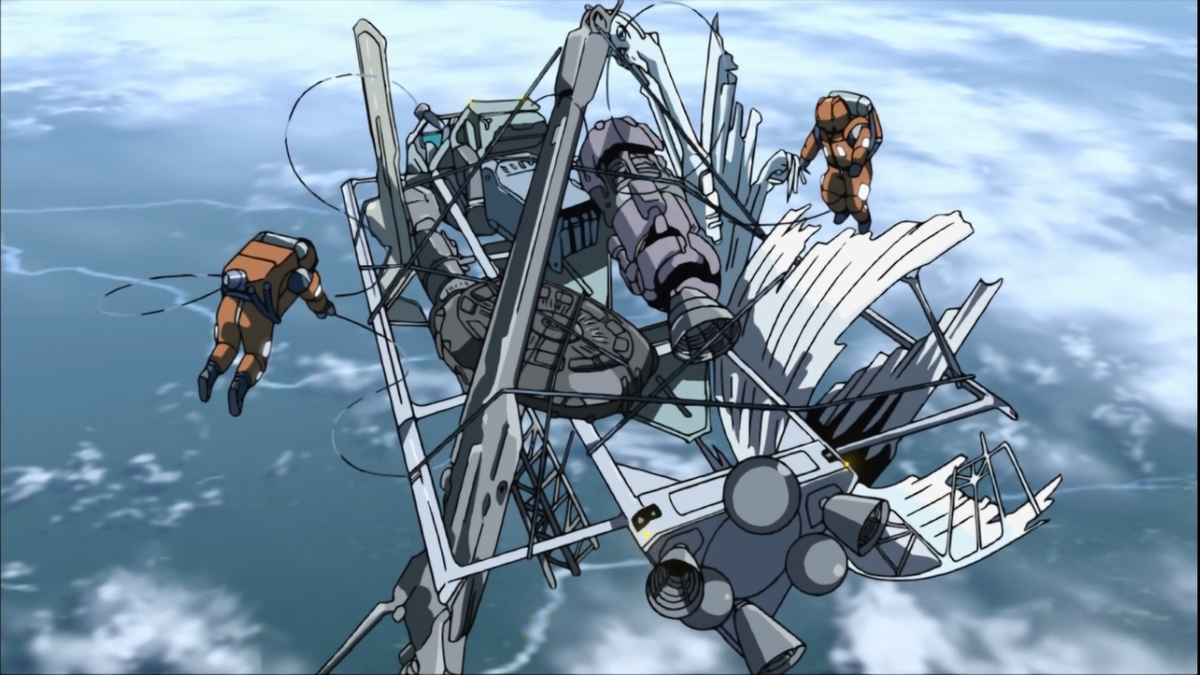 In the year 2075 humanity is no longer a single-planet species. Through technological advancements, humankind has colonized the moon, and normalized space-travel. As a result, outer space has been commercialized and large conglomerate have been formed to take advantage of this market. The advent of the space era unfortunately means a lot of space waste is produced. This debris can lead to terrible consequences if a ship were to collide with it.
Ai Tanabe, who grew up wanting to work in space joins Technora Corporation as part of the Debris Section, whose role is to remove dangerous debris orbiting the Earth and Moon.
Ai's dreams are quickly shattered when she discovers the state of the Debris Section, the laughing stock of Technora Corporation. It is understaffed, underfunded, and depends on an inadequate spaceship dubbed the "Toy Box" to do its job.
WHY IT'S WORTH IT
Planetes is adapted from a manga of the same name by Makoto Yukimura, who is one of my favorite mangaka, and currently working on the newly adapted Vinland Saga (as of the time of writing), which is on its way to becoming a modern classic.
Planetes is not your conventional sci-fi. It's a "hard" science fiction, where it tries to be as scientifically accurate and logical as possible. It focuses on the lives of the ordinary people, not those at the top of the food chain. It's a realistic interpretation of what life in the future could be. It's a coming of age slice of life story using the vastness of space as a backdrop.
Contrary to many other slice of life series, the stakes here are real. Space is unforgiving and death is not a far-off scenario. In addition, the characters here are adults, although sometimes they are childish, as us all, but they do deal with adult issues and themes. Their job is brutal, they aren't especially popular, they spend their time off smoking, drinking, dating, etc. Imagine a well written sitcom set in space in the future, and written by someone obsessed with scientific accuracy, that is what Planetes is. Few Japanese anime, in my opinion have taken accuracy to such a level. It reminds me of the Mars Trilogy by Kim Stanley Robinson, in a way.
The characters feel real and relatable, they are written to be so. Their problems are adult problems you could see yourself having, were you orbiting in space.
The animation and sounds are perfect complements to the meticulousness of the story. Nothing over the top. All well weighted to be as real as possible, and to evoke the adequate feelings of fear, hope, and whatever everyday issue characters are having.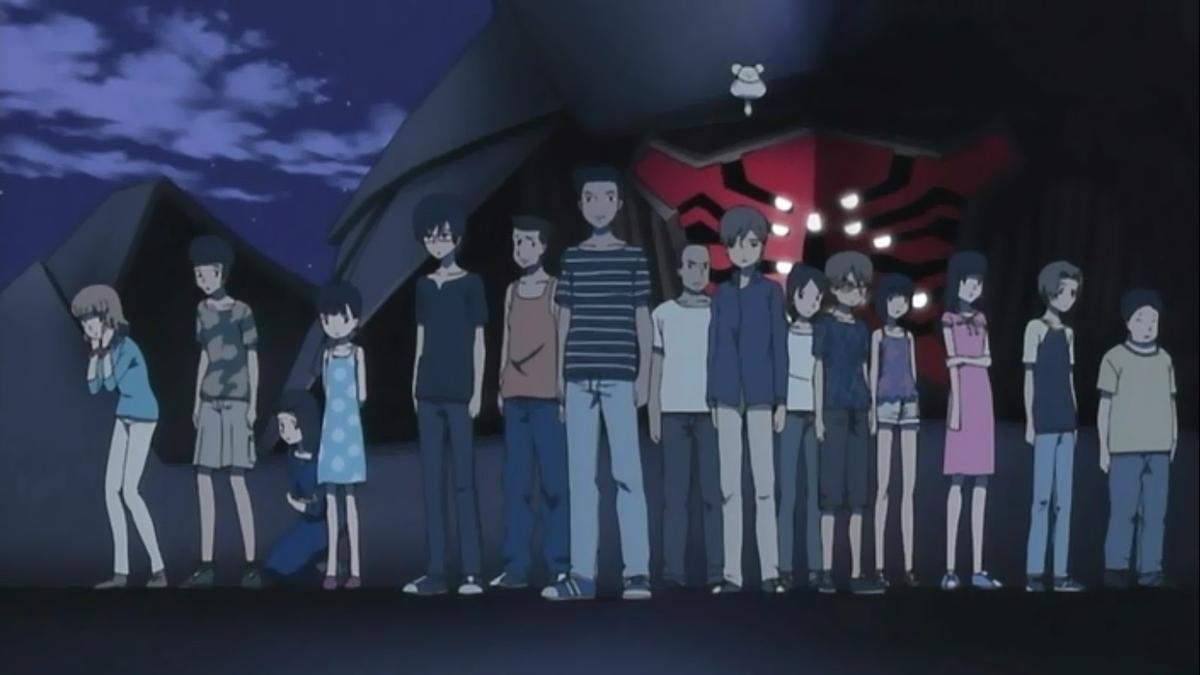 A group of 15 children on a summer camp find a cave at the beach which drastically changes their lives. Inside the cave, they find a hide-out with computers and a strange man named Kokopelli. Kokkopelli proposes they participate in a game in which they save the earth from 15 giant monsters, with the help of a giant mecha. They agree and sign the contract, and are granted the mecha, which they name Zearth.
As soon as the contract is signed, everything turns into a twisted nightmare. They must each pilot Zearth one at a time to defeat the very real monsters, and with no option to cancel the contract.
WHY IT'S WORTH IT
While technically a mecha, Bokurano favors the personal drama over the action side of the series. Each episode focuses on a single character, showing their "real life" problems, going from parental issues, to friend's deaths. You watch it hopelessly rooting for the characters' lives to get better. Bokurano is a truly sadistic experience concerned with humanity's worth in the infinite universe.
The characters are truly the strong point of this story. They aren't the regular teenage heroes, empty of emotions, happy-go-lucky, scared of nothing archetype. They are real. They have real life problems, have personas which can be explained by their environment, and react as should children to the massive scarce and responsibility they are given.
The art and sound are exceptional. So much detailed about the story can be picked up from visual and sound cues. The design itself, is nothing special. It's quite bland, as are the characters, but that somehow fits the aura of the series.
NEW TO JAPANESE SF ANIME?
For those new to Japanese SF anime, or trying to get someone into the medium, my recommendation has to be Cowboy Bebop. It's so easy to sit down for the first episode, and not get up until the end of the 26th.
The story is fun, yet tragic, and the characters are so likeable. I feel somewhat sorry for those who didn't watch it growing up, as so much of it has been ingrained as part of my identity having seen it at a younger age.
If you like Star Wars, this will give you a similar feel, and in my opinion, much better characters than the sometimes-one-dimensional ones the mythical saga has given us.
JAPANESE MYSTERY ANIME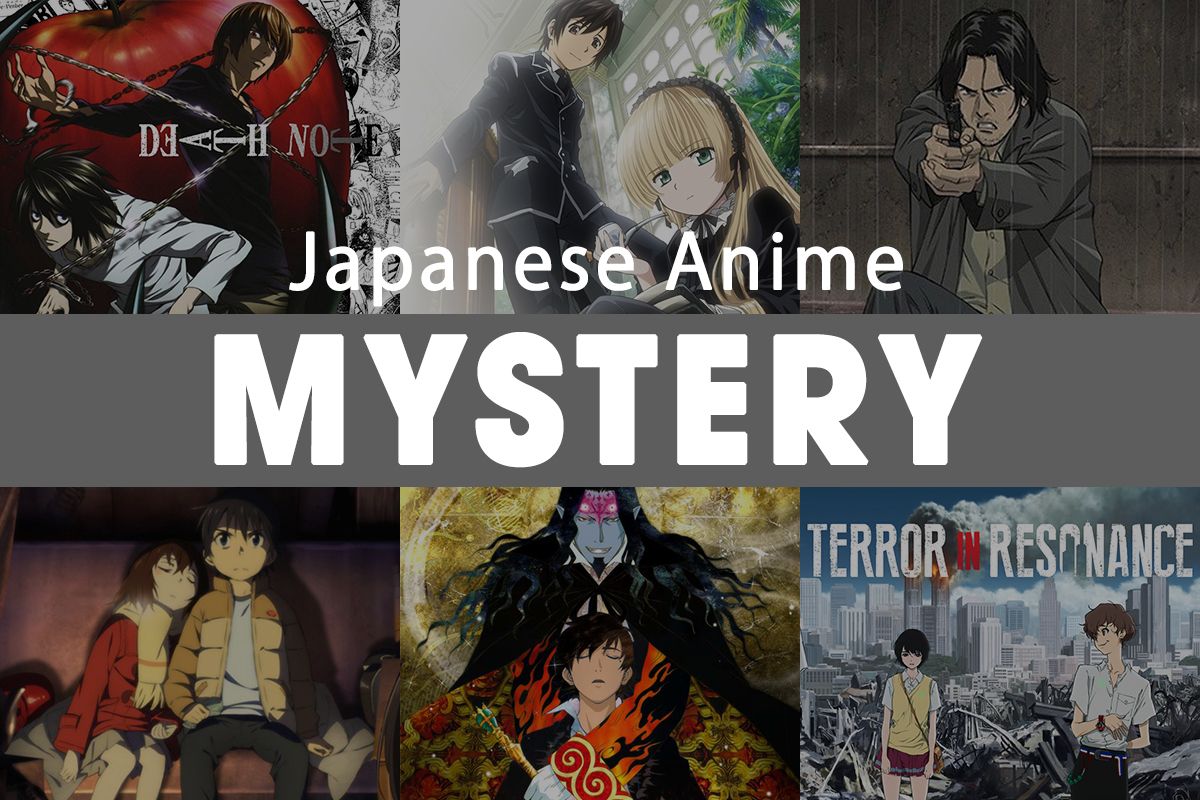 The mystery genre is one of the least tapped in in the Japanese anime industry, in my opinion. It's really sad, considering the many manga that could serve as source material. For this section, I've tried to mainly focus on series that keep the audience guessing what will happen next, and that aren't too obvious, as well as having a logical reasoning behind the solution to whatever mystery is being solved.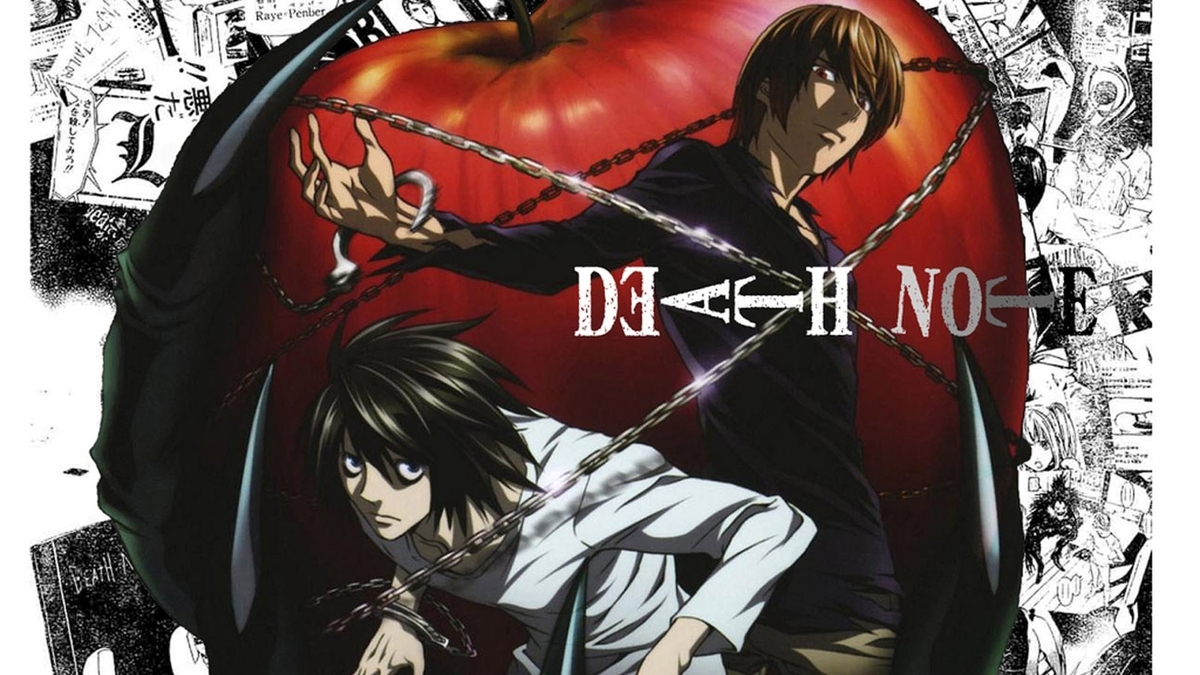 "The human whose name is written in this note shall die". That is the first rule written on the Death Note found by Light Yagami, an intelligent high school prodigy. Frustrated with the state of the world, Light immediately tests it on a criminal. When he finds his experiment has worked, he soon realizes the amount of power he holds with the Death Note.
Using his new power, Light decides to forge a new world, void of crime and criminals, where he would be would be worshiped as a god. However, the police quickly realize a serial killer is targeting criminals, and call on to L, the mysterious and anonymous world's best detective. L and Light confront clash in an epic battle of wits where every single move must be carefully calculated, to find each other's identity.
WHY IT'S WORTH IT
Death Note was my first. No, not my first Japanese anime. Before I watched Death Note around 2006-2007 when I was an innocent 13-year old, I was already a big anime fan. Only then, maybe because of my age, I only cared about Naruto, Bleach, D.Gray-man, Saiyuki, etc. I spent a lot of my time outside of school watching all the shonen fighting anime I could find. Then I came across Death Note. It was life changing. I was suddenly interested in this series where they battle with their wits, instead of with their physical prowess and superpowers. It sparked my interest in other genres, and quickly, because of it, I came to outgrow Naruto and Bleach, until now, do not usually care much for the shonen battle genre.
Death Note manages to keep you on the edge of your seat throughout its 37 episodes, and especially for younger audiences, sparks an interest in certain Nietzschean philosophical ideas described in his 'Beyond Good and Evil Book'.
Especially for those who have a very limited idea of what Japanese anime is, Death Note is a must watch, and it will change your mind, or any bias you may have.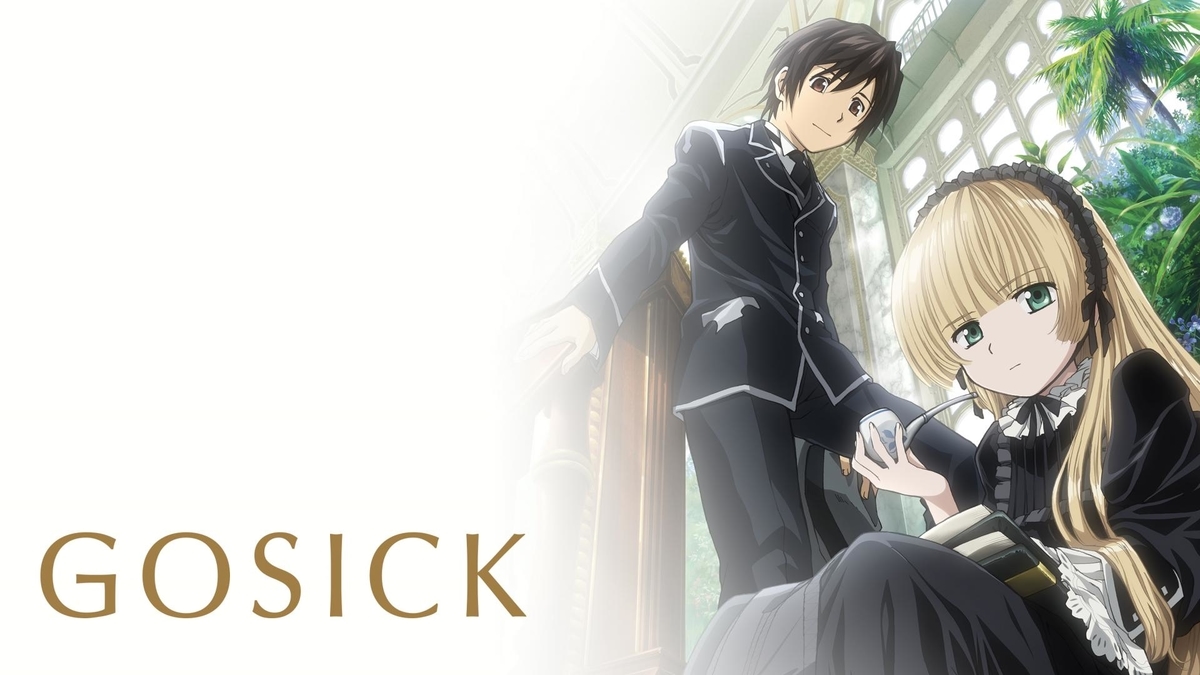 In 1924, in a small French speaking fictional country in Erope called Sauville, Kazuya Kuya, the son of a high-ranking officer in the Japanese army, is a student at St. Marguerite Academy. Urban legends and horror stories are popular with student's at St Marguerite Academy, and especially with Victorique, whom Kuya meets at the academy. Instead of coming to class, Victorique spends most of her days reading at the library or solving cases that had been elusive to even the most proficient detectives. Together, they get involved in different criminal cases, trying to solve them.
WHY IT'S WORTH IT
Never has a Japanese anime been so dark and painful, yet so charming. Gosick may seem episodic at first, but you soon realize that everything is subtly intertwined and by the end, it all makes sense. The world of Gosick is on edge, the prospect of war is never too far fetched, and perhaps, urban legends and horror stories help the students get away from reality.
Watching Victorique deconstruct and solve these mysteries in her methodical, logical way will keep you pressing the next episode button until you're out of sleeping time, and have to get up for school/work. In addition the interactions between Victorique and Kazuya can reach peak wholesomness.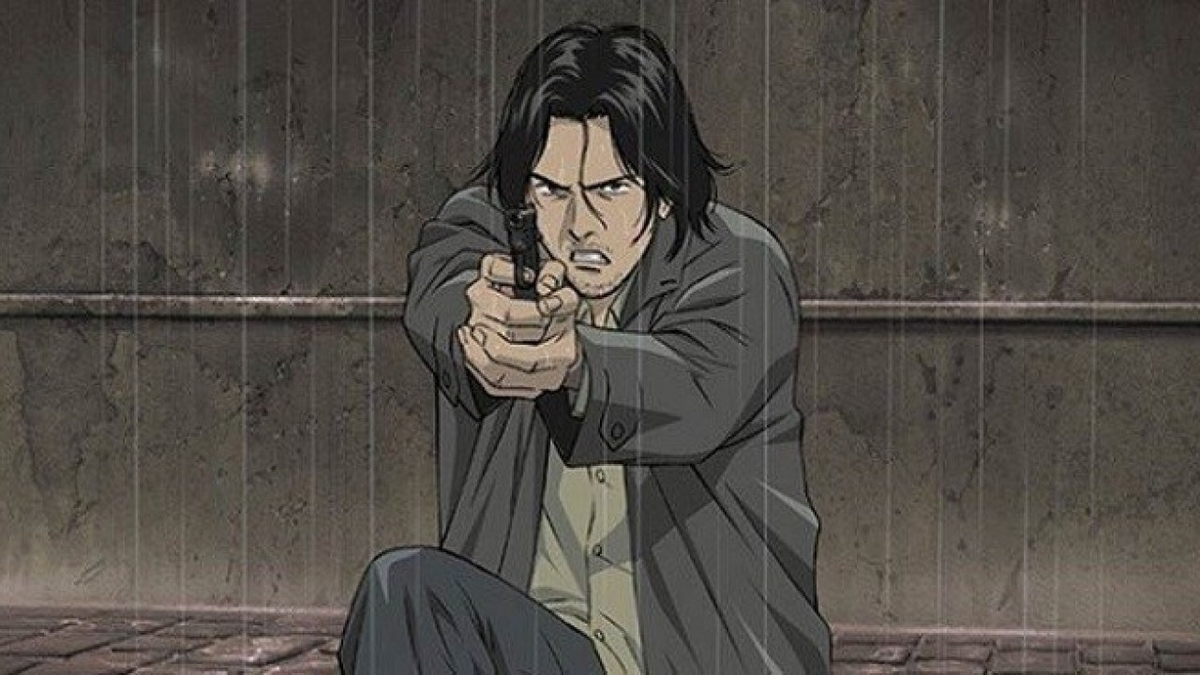 Dr. Kenzou Tenma is a Japanese neurosurgeon working in a hospital in Düsseldorf and engaged to the director's daughter. Tenma is well regarded and is rising up the hospital hierarchy very fast. However, one day, a patient changed everything. While preparing to perform surgery on a young boy, Johann Liebert who arrived in the emergency room with his sister, both in critical condition, he is ordered to instead perform surgery on the city's mayor. His refusal, and the death of the mayor leads to his fallout with the director, and the stalling of his career.
However, when the director, and other doctors on his way mysteriously die, he is suspected, then released for lack of evidence, and goes on to become the director of the hospital.
Years later, a criminal named Adolf Junker is brought to the hospital, and Tenma saves his life. Junker mentions a monster making him commit his crimes. Tenma, bringing a clock to Junker's room finds his two guards dead and a trail of blood belonging to Junker. Following the trail, he finds Junker in a building nearby with someone pointing a gun to his head. That person turns out to be none other than Johann Liebert, the boy he had saved nine years prior. He now embarks on a journey to stop the monster he created.
WHY IT'S WORTH IT
Monster is an adaptation of Naoki Urasawa's manga of the same name. Urasawa is my favorite manga artist, and a Japanese national treasure behind other manga such as '20th Century Boys' and 'Pluto'. Unfortunately, Not many of his masterpieces have ended up being adapted as anime. Monster is one of the exceptions.
I started reading the manga for Monster because I was told it's the "grown-up" Death Note. Being a huge fan of Death Note, and being an edgy teenager who liked to believe he had taste beyond his years, I had to check it out. Monster was amazing, but they were wrong. they are similar in some ways. The investigative parts are present in both, but Monster, being a bit more refined, and meant for adults and deals more with the personal struggle between good and evil, almost in a G.R.R Martin fashion.
The most impressive, though, is how meticulous Naoki Urasawa is with every aspect of the story. Nothing is left to chance, and nothing is overlooked. He has studied the history, geography, architecture, laws, and culture of the different places shown in the story, studied medical and police hierarchies, etc. Monster deals a lot, in a very show, don't tell way, with the East-West Germany dynamics. How the conflicting political dogmas affect the country both in a systematic way, and at a personal level, and how certain practices by the governments have long-lasting effects, some devastating.
Monster is truly a masterpiece, and not just within the realm of Japanese anime. The masterful storytelling of Naoki Urasawa was adapted to perfection by Madhouse and Masayuki Kojima.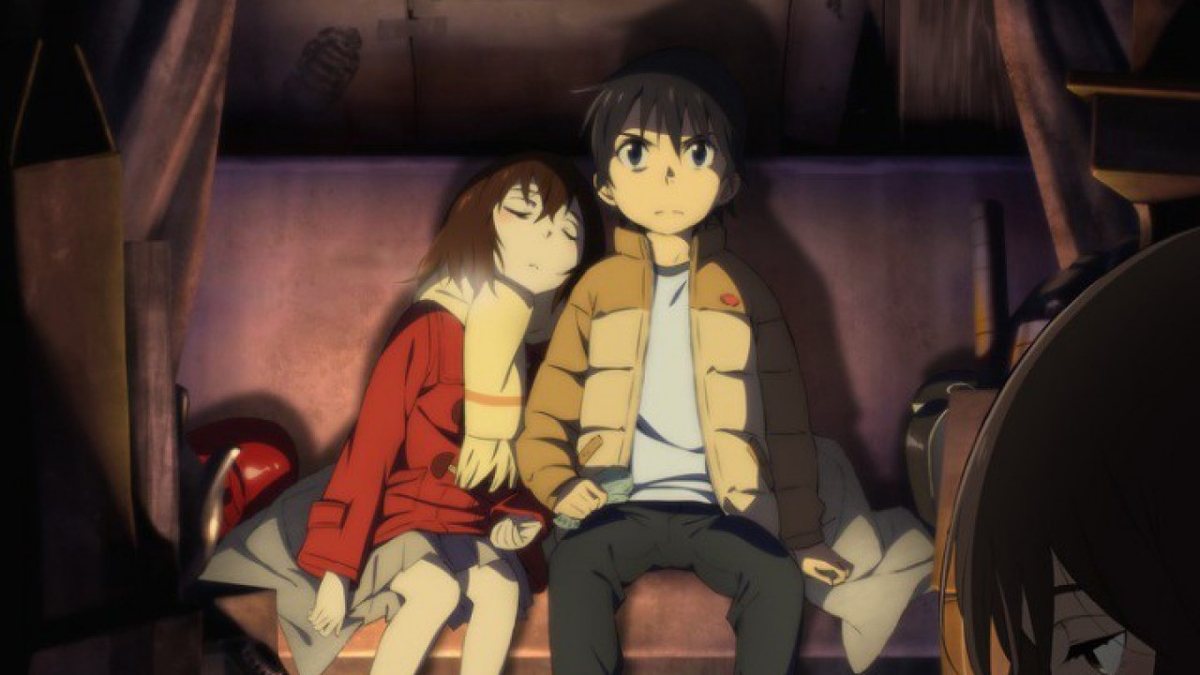 Satoru Fujinuma is a young manga author who somehow has an ability called Revival, which sends him back in time moments before a life-threatening event, for him to stop it from happening. When his mother is murdered in his home, he is sent back 18 years in time, when he was still in elementary school. This gives him the opportunity to try to prevent a series of kidnapping which took place while he was a kid, in which three of his friends disappeared.
WHY IT'S WORTH IT
Erased in one of my favorite series of the last five years. Every week all I could think about was what would happen next in the episode to come, and after watching that episode, I would then spend the following week thinking about nothing but Erased.
Erased is one of those series where you're constantly questioning everything that's happening, trying to pick out clues. And as the story progresses, things make sense. Mystery anime too often make up plot as they go without showing the logical progression to the consequence, almost as a cop-out, where the characters are randomly aware of facts that were never presented to the viewer, almost as if they were made up on the spot by the writers without much thought or will to backup their story. Erased doesn't do that. All that happens has a basis on something that happened before.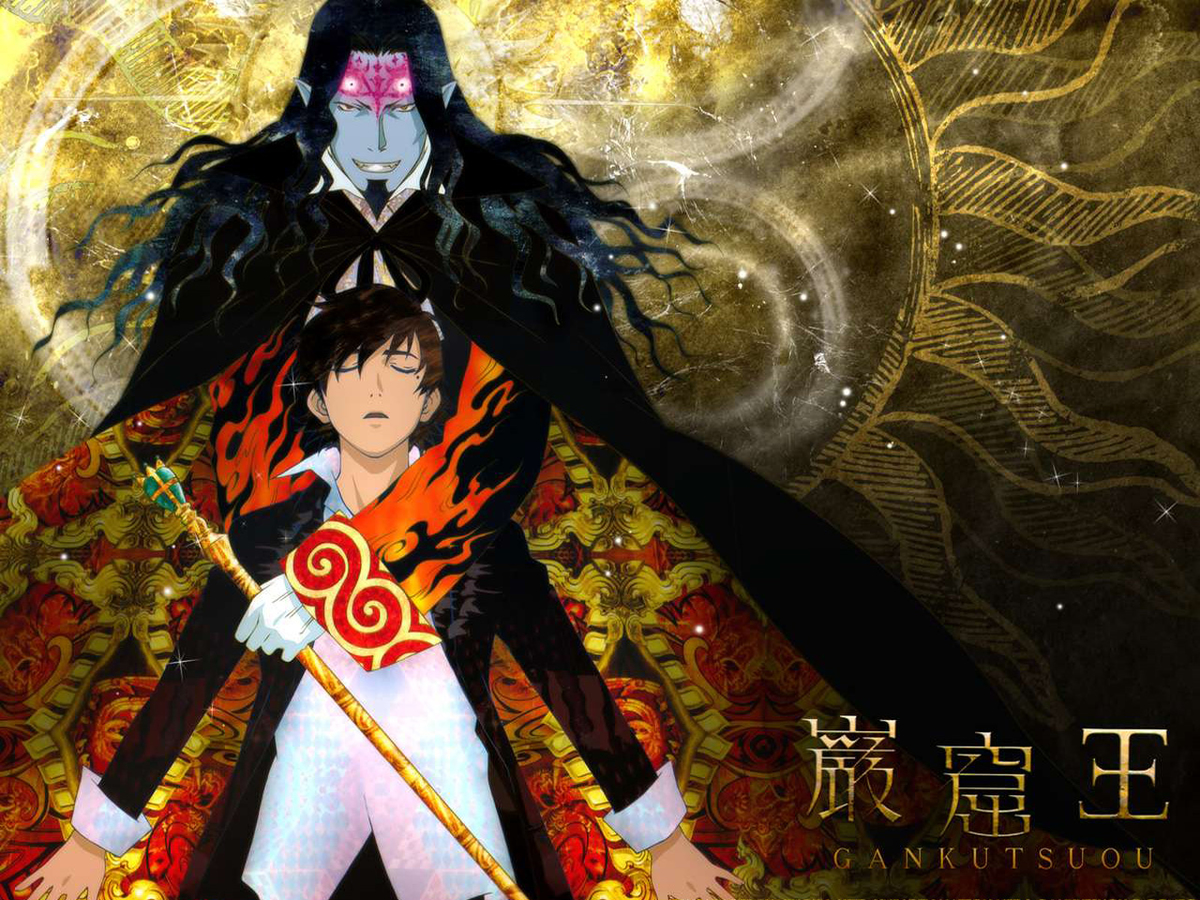 This is inspired by the novel by Alexandre Dumas. In the year 5053, French aristocrats Viscount Albert de Morcef and Baron Franz d'Espinay attend the festival of Carnival on the lunar city of Luna. While Franz is there solely for leisure, Albert is there to look for meaning in his life. At the Carnival, he meets The Count of Monte Cristo a self-made nobleman, whom he befriends and introduces to his country's culture. He soon learns that the count is intent on getting revenge on all those who have crossed him, involving Albert in his plots.
WHY IT'S WORTH IT
Gankutsou is gorgeous. That's what stands out the most. It's animation style is unlike any Japanese anime I've seen. Initially it can be a bit off-putting, but once you get used to it, you'll get to enjoy some of the best animation sequences in all of anime.
The story isn't bad either. It's based on a classic novel. However, in this case, it's set in a futuristic setting. Additionally, Gankutsuou starts in the middle of the novel, instead of the beginning. While it means a big chunk of the more boring parts of the novel were skipped, it also means a very important portion of it has been skipped, and viewers unfamiliar with the novel might be a bit at a loss.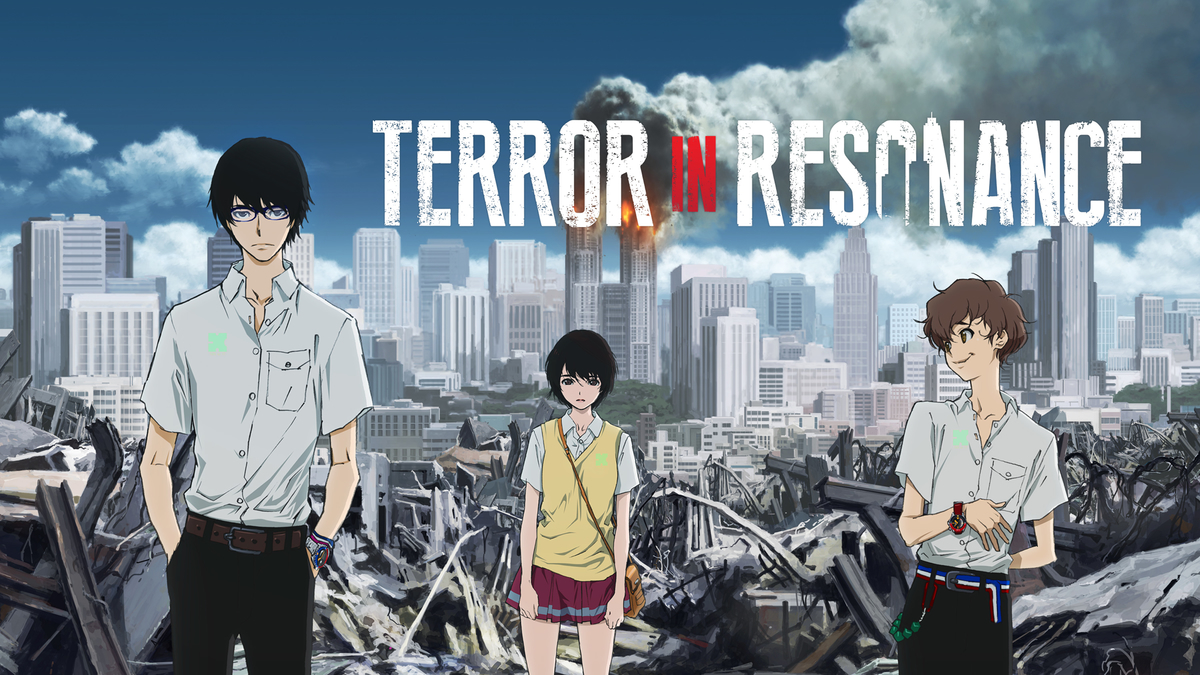 In an alternate reality, Tokyo is the target of a terrorist attack which left the city devastated. The only clue the government has to go by is the strange video uploaded on the internet six months later featuring two teenage boys you call themselves "Sphinx" and claim to be behind the attack. In the video, they threaten to cause even more destruction and challenge the police to find them. Unbeknownst to the government, Sphinx is made of two teenage boys, Nine, and Twelve, who should not exist, yet have decided to go on the offensive stir up chaos and destruction, in an attempt to hide the truth behind their existance. Caught in the middle of this struggle between Sphinx, and the police frantically and hopelessly trying to fight them, is Detective Kenjiro Shibazaki.
WHY IT'S WORTH IT
Terror in Resonance is part of the Fuji TV noitaminA programming bock, and they always have quality anime. The director, Shinishiro Watanaba is also behind classics Cowboy Bebop and Samurai Champloo, as well as other amazing anime like Kids on the Slope and Space Dandy. He is well known for his use of music in his work. While Cowboy Bebop was Jazz-centric, and Samurai Champloo was Hip-Hop-centric, this time composer Yoko Kano is marrying Ambiant, and Dream Pop, inspired by the Icelandic band Sigur Rós.
The show itself, as far the direction, is mighty fine. It manages to keep you intrigued, and creates this sense of tension throughout the length of the series. That married with the crisp animation is pure bliss.
At times, the characters can be a bit uninspiring, and the plot a bit angering, as far as how realistic it's supposed to be, yet not following anything close to reality when it comes to how the police, the government, and even the human mind works. But if you're forgiving of such things and accept early on that it is no Homeland and will derive from reality for the sake of entertainment, then you will be entertained.
NEW TO JAPANESE MYSTERY ANIME?
For the newcomers to the Japanese anime medium looking to start with just one, I'd recommend Death Note. Death Note is so ingrained in modern culture that many who claim to not like anime, will afterwards say they liked Death Note.
Death Note is in a way, a battle-less battle shonen. The fights are done with wits and scheming, instead of fists. It also majestically mixes realism with mystical aspects, with the Shinigami, and the powers of the Death Note, by giving them limited powers, and rules. It's not the Naruto style power where anything goes and characters pull out random planet-ending superpowers out of nowhere just for the sake of keeping the story going. The powers here are clearly defined, and the limits are known. Now it is up to the character's improvisation, deceptive, and manipulative abilities.
I believe it's a good introduction to Japanese anime because it's easy to watch. In fact, it's hard to not watch once you've gotten started. It requires brain power while watching, while not being ridiculously complicated or painfully trying too hard to be deep.
JAPANESE COMEDY ANIME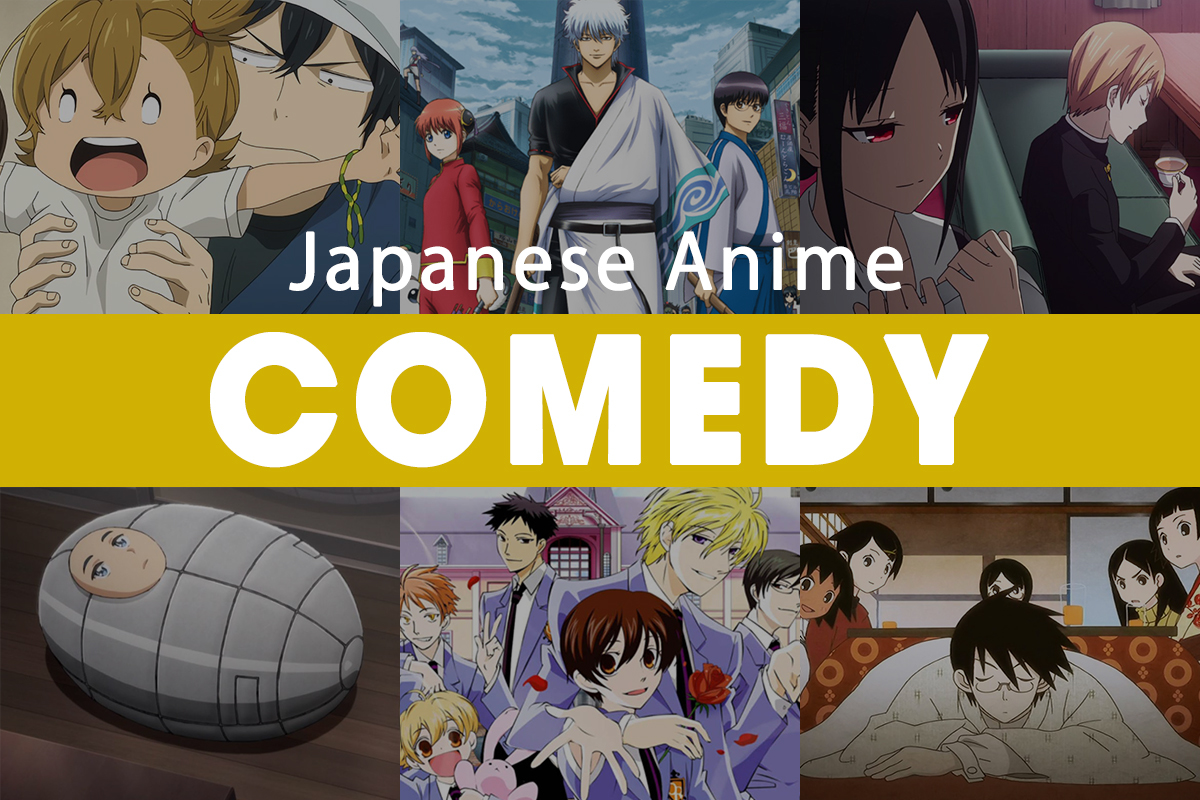 Japanese comedy anime are probably the most commonly made ones. There are heaps of them. And because there are many of them, there are many bad, very, very bad ones. But, there are also so very good ones. The great thing is that there are various types of humor, from sarcastic to slapstick, via dark humor and the purely over the top ridiculous. Whichever you're into, here are six Japanese comedy anime you must watch.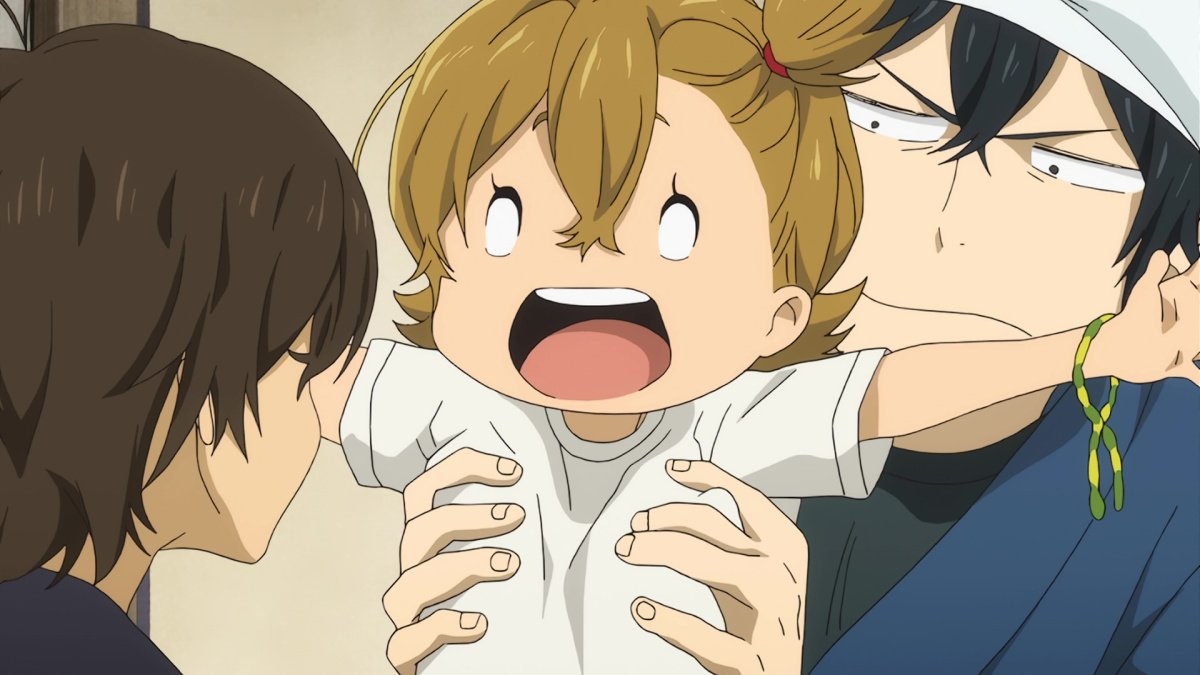 Young, up-and-coming calligrapher Seishuu Handa is also a narcissist and incapable of dealing with criticism. After a veteran calligrapher openly called his award-winning piece unoriginal, he lost his temper and lashed out. To punish him, while at the same time allowing to reflect on his character, his father sends him to the secluded Goto Islands, far away from Tokyo and his regular lifestyle. In this tight knit rural community, where his neighbors randomly barge into his house, and where everyone meddles into his business, he strives to come up with his own unique art style.
WHY IT'S WORTH IT
Barakamon kind of reminds me of home. It's weird that an anime set in rural Japan reminds me of a 2 million people strong African capital, but it does. The total lack of boundaries shown by Seishuu's neighbors strikes close to home. At times it's irritating, sometimes completely rude, but often, it also provides a sense of serenity and knowing someone always has your back. That's how the community in Barakamon seems to me. I just stupidly cheese through episodes looking at the bonds between characters.
If you're looking to just sit back, relax, Barakamon is perfect. It's a fresh breath of air, no nonsense anime, filled with hilarious situations.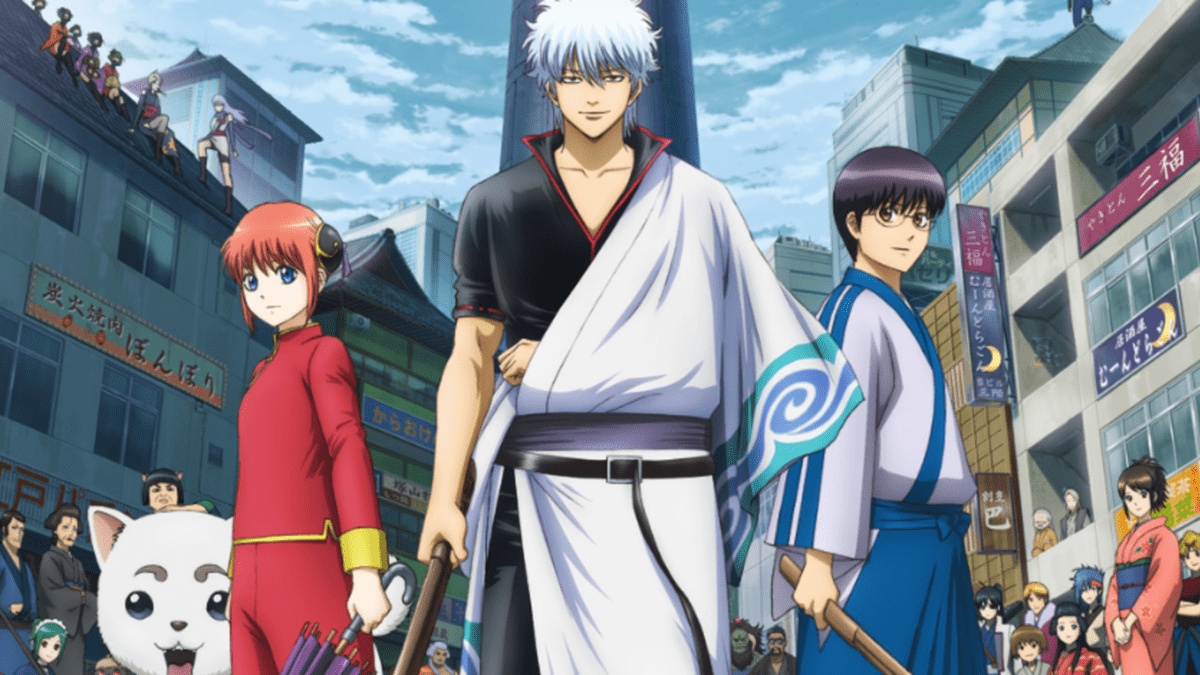 In an alternate universe where aliens invaded feudal Japan, leading to the rapid modernization of the country, but also lead to the prohibition of the sword, making the samurai obsolete. Ex-samurai Sakata Gintoki leads his life as a yorozuya where he runs errands and does odd jobs for a price accompanied by Shimura Shimpachi, the son of a former swordsman, and Kagura, an alien girl with inhuman strength and a limitless stomach. Together, and through their job, they often end up in unfortunate, and sometimes unbelievable situations in a changing Japan which is both futuristic, and old fashion, not to everyone's joy.
WHY IT'S WORTH IT
Alright, I know the 350+ episode count looks terrifying. I've avoided putting any long running series in all of our Japanese anime must watch posts, but I cannot, not include Gintama on this one. There is no such thing as comedy anime, without Gintama being mentioned. Gintama is ridiculously hilarious and is the anime I come back to when I have nothing else to watch but want something to watch when eating or trying to get a breather after a long day.
Gintama parodies and references many other anime, and aspects of Japanese pop culture. The more anime you would have watched, the more you can enjoy Gintama. And having spent a few years in Japan now, I go back to episodes I watched when I lived in the US, or in Europe, and they're better now than they were. And they were good. The first few episodes, while I still find them very good, are not up to par with the rest of the series, which, again, is absolutely hilarious. A few dope fight scenes added as bonus plus great character bonds and dynamics.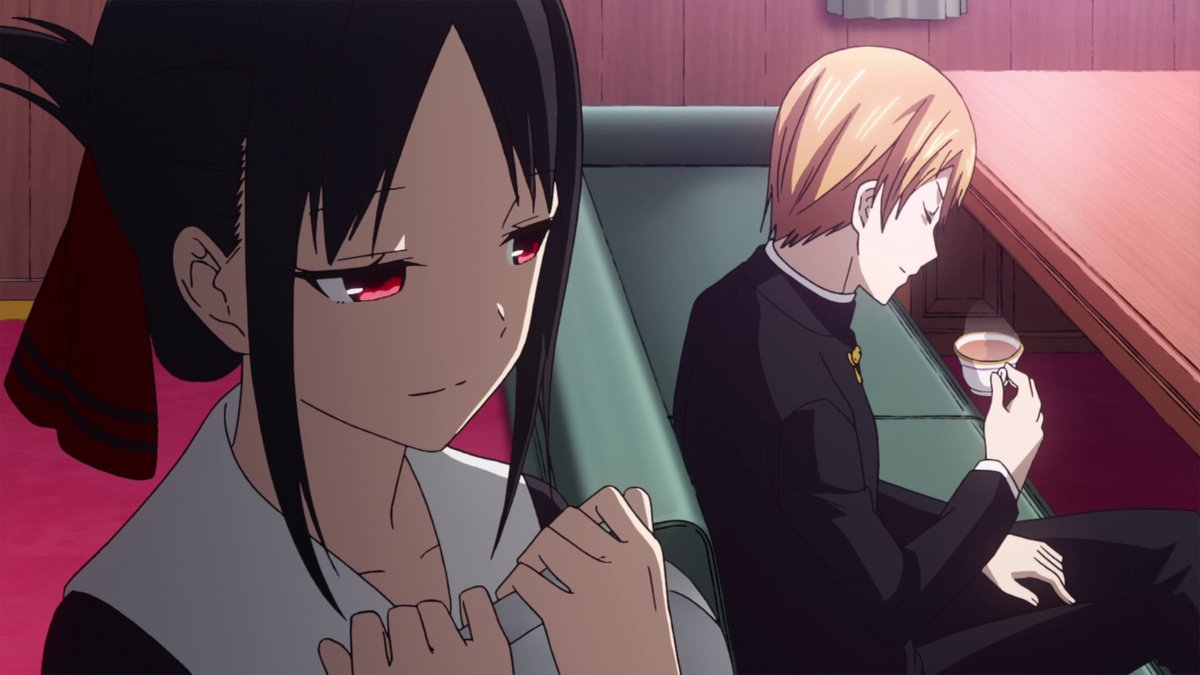 What happens when two overly proud, manipulative, and intelligent tsundere are in love with each other? At Shuchiin Academy, one of the most prestigious schools in the nation, Miyuki Shirogane and Kaguya Shinomiya are the student body's top representatives. Miyuki serves as the president, and Kaguya, the eldest daughter of the powerful Shinomiya family, and round about genius, serves as the vice-president. They are respected throughout the school and considered to be the perfect couple, and have feelings for each other. However, neither is willing to admit it. Instead, they engage in a war of manipulation and mind games to get the other to confess their feelings first.
WHY IT'S WORTH IT
Kaguya is so over the top and ridiculously exaggerated, yet somehow relatable. We're all little calculative when it comes to the early stages of dating. Some overthink how often they text, how fast to respond to texts, ask loaded questions to figure out whether to make your next move, "just happened" to be near their place and ask to hang out, when you're an hour away, still at home, etc.
Kaguya-sama is that and more. It's hilarious because of the unbelievable ways they go about dealing with their feelings, but also how wholesome it is, and cute in many ways. And beyond that, it's really well thought-out. All of their actions have been meticulously calculated, movies after have already been forethought, in a diligence that would be baffling even for thriller novel. It's almost Death Note: the romance.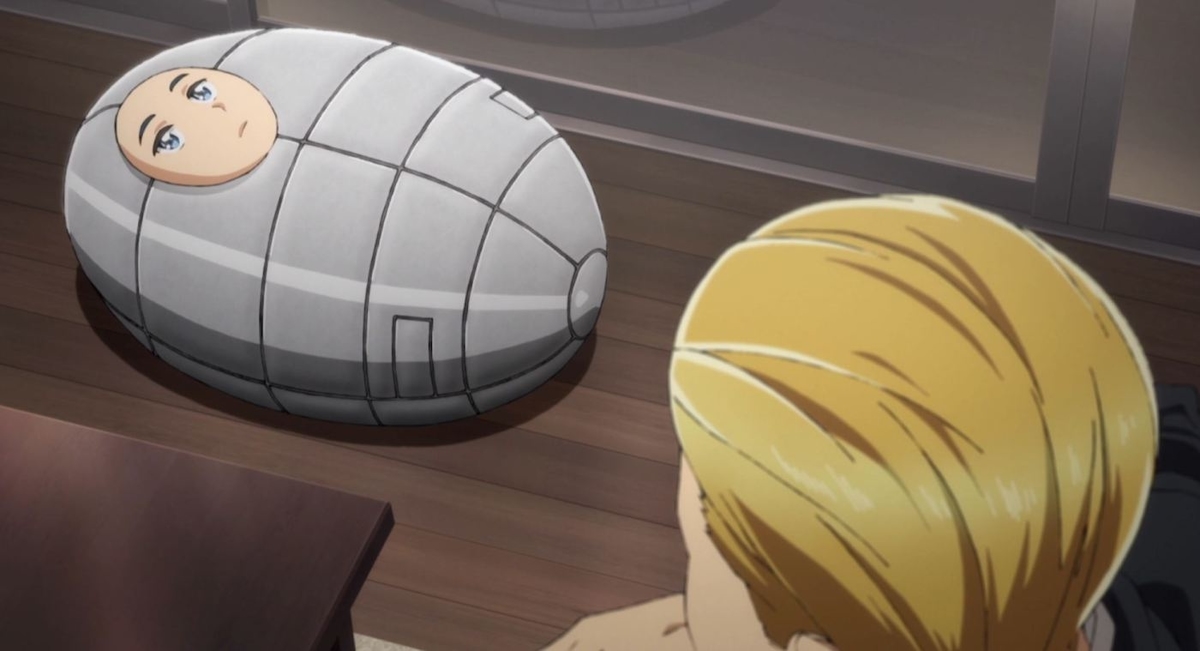 Nitta Yoshifuni, a yakuza member, and a vase aficionado is admiring the new addition to his extensive collection when an egg shaped object with a face suddenly appears out of thin air. After opening the capsule, a young, blue haired girl is revealed, who announces her name to be Hina. Hina, as it turns out has immense psychic powers, but is also a lazy, gluttonous, and overall poorly behaved child. Over time, as she stays with Nitta, he unknowingly finds himself becoming Hina's caregiver and parent.
WHY IT'S WORTH IT
2018 had some really good anime. Nonetheless, of all the Japanese anime of that year, my favorite is Hinamatsuri. Hinamatsuri has given me feels, made me laugh out loud, made me sad, made me relate to character's issues, hopes, aspirations, happiness, etc. The humor just feels real, instead of engineered. It's not in your face, it arises from the situation, from character's reactions you could see happen in real life, instead of completely absurd things.
The plot sounds absolutely ridiculous. When I first watched it, I was looking forward to absolute trash, fingers on printscreen ready to send out absurd parts of it. Instead, I was pleasantly surprised and discovered one of my current favorite Japanese anime, and the amazing running manga it's adapted from.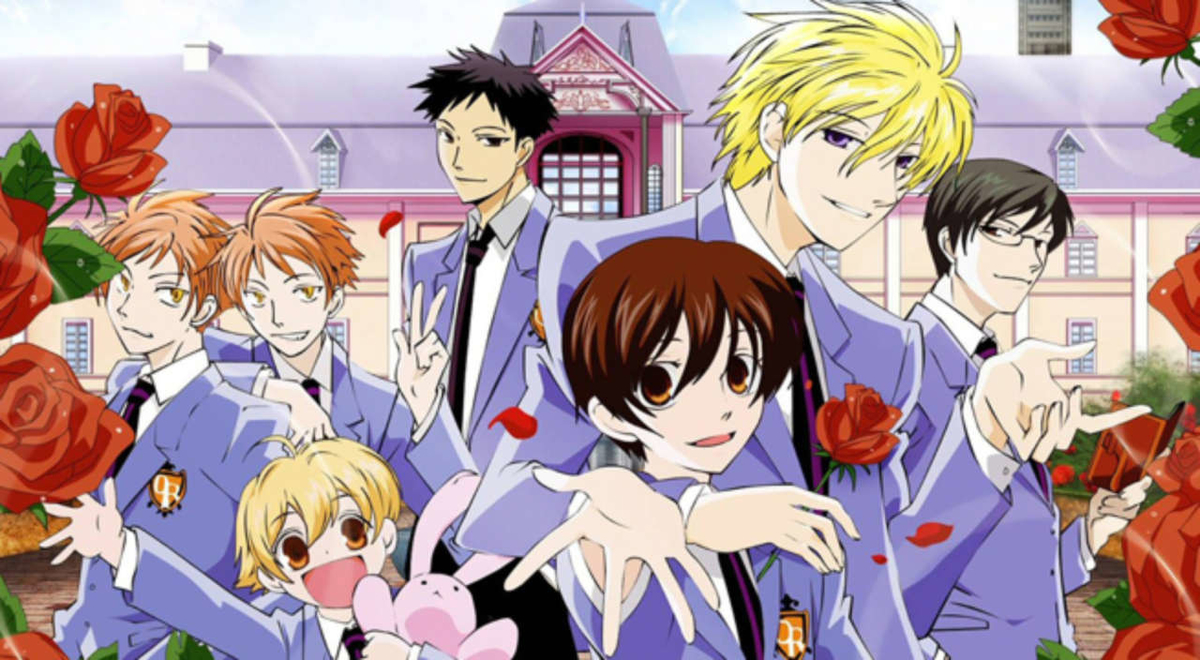 Haruhi Fujioka is a bright, scholarship student at the prestigious Ouran High School where the sons and daughters of the elite receive their education. Everyone comes from a family of status. Everyone, exdcept for Haruhi. One day, she opens the door to the Music Room n° 3 looking for a place to study, she unexpectedly finds herself inside the Oran High School Host Club, where the school's handsomest, and most elite boys, led by Tamaki, serve and entertain their female costumers.
Surrounded by the host, and trying to get away, she accidentally breaks a vase valued at eight million yen, and forced to become the group's errand boy to pay back her debt.
WHY IT'S WORTH IT
I think I was in middle school when I first watched Ouran High School Host Club, at the peak of my battle shonen fandom. I did not expect to enjoy. I did enjoy it. It's nothing spectacular as far as the story, but they do a good job at parodying other shojo manga tropes and characters, and remain very funny.
It's just the perfect amount of episodes to marathon on a weekend when you have nothing to do, and I for one think everyone should.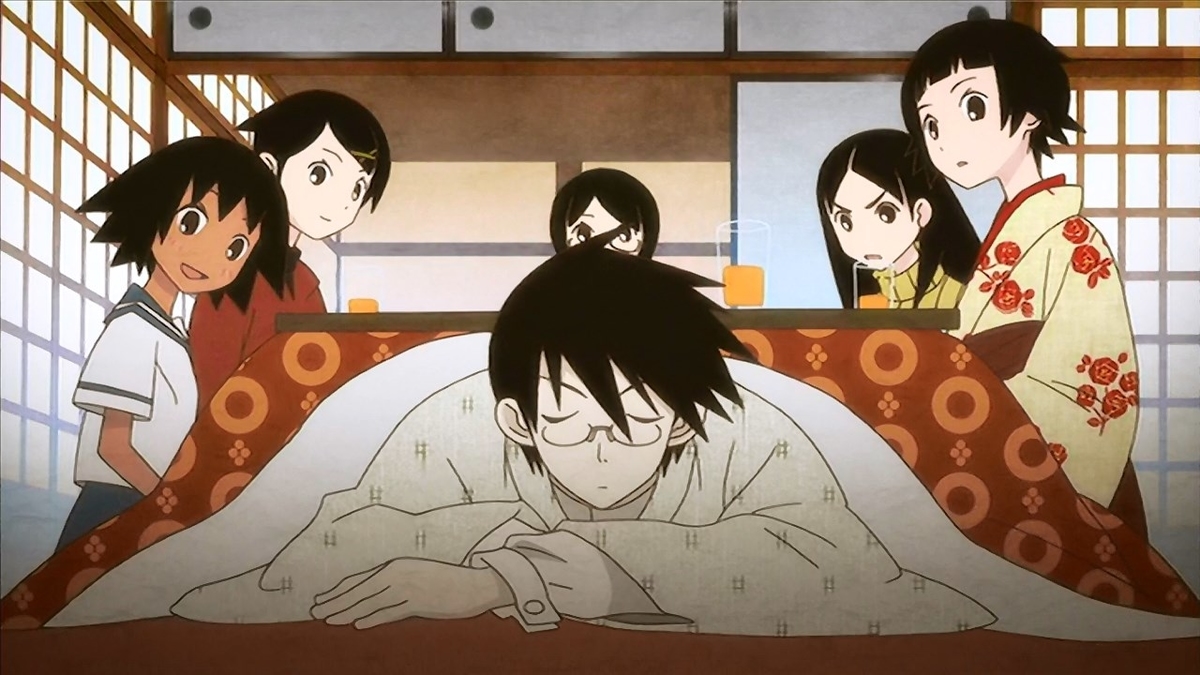 Nozomu Itoshi is a high school teacher who falls into despair at the slightest bit of adversity, even leading to failed suicide attempts. This comedy series is a satirical slice of life, commentating on various aspects of Japanese life, culture, and mental health.
WHY IT'S WORTH IT
Dark humor lovers, don't worry, I did not forget you. If you like to laugh at the darker, more frightening subjects, this one is for you. Sayonara Zetsubou-sensei is similar to Welcome to the NHK! in that they are part of very few Japanese anime that do not shy away from revealing and discussing the less wonderful parts and issues of the country. Japanese anime based in reality tend to only portray one side of Japan, this one doesn't.
In addition, the art is somewhat unconventional and the animation's quality makes up for the somewhat hectic story and characters. Seemingly random imagery and reels are thrown at us, in a chaotic, yet controlled manner, by what has to be a mad genius of a lead animator.
NEW TO JAPANESE COMEDY ANIME?
If you're trying to get into Japanese comedy anime, or are trying to get someone else into anime, I'd recommend Hinamatsuri. I myself have made everyone I know, including those who aren't into Japanese anime, to watch Hinamatsuri, and almost all have end up being as obsessed with it as I am. It's only 12 episodes, will give you a proper laugh, and some feels, even.
JAPANESE DRAMA ANIME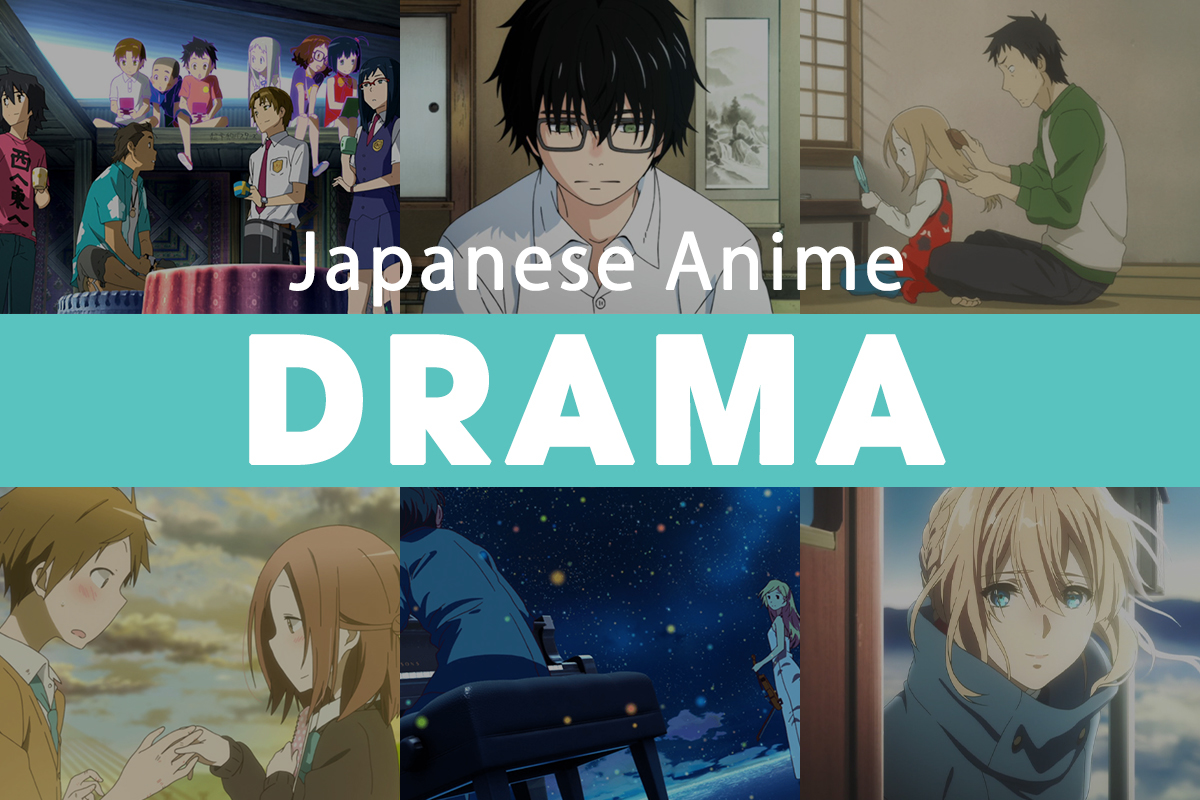 Pretty much every story has its share of drama, Japanese anime are no different. The definition I used of drama to pick anime series for this section is those where personal struggles, either with themselves, with others, and with what life has brought upon them are the main focus. That is to say, anime where almost all is stripped down to the point where inter- and intra-personal relations are at the forefront.
The following Japanese anime are not necessarily tearjerkers (although I'm sure they will be for some), but I think they put a great deal of effort in connecting with our own humanity. Done well, we should empathize with the characters trauma, be angered by their misdoings, and take joy in their happiness and growth.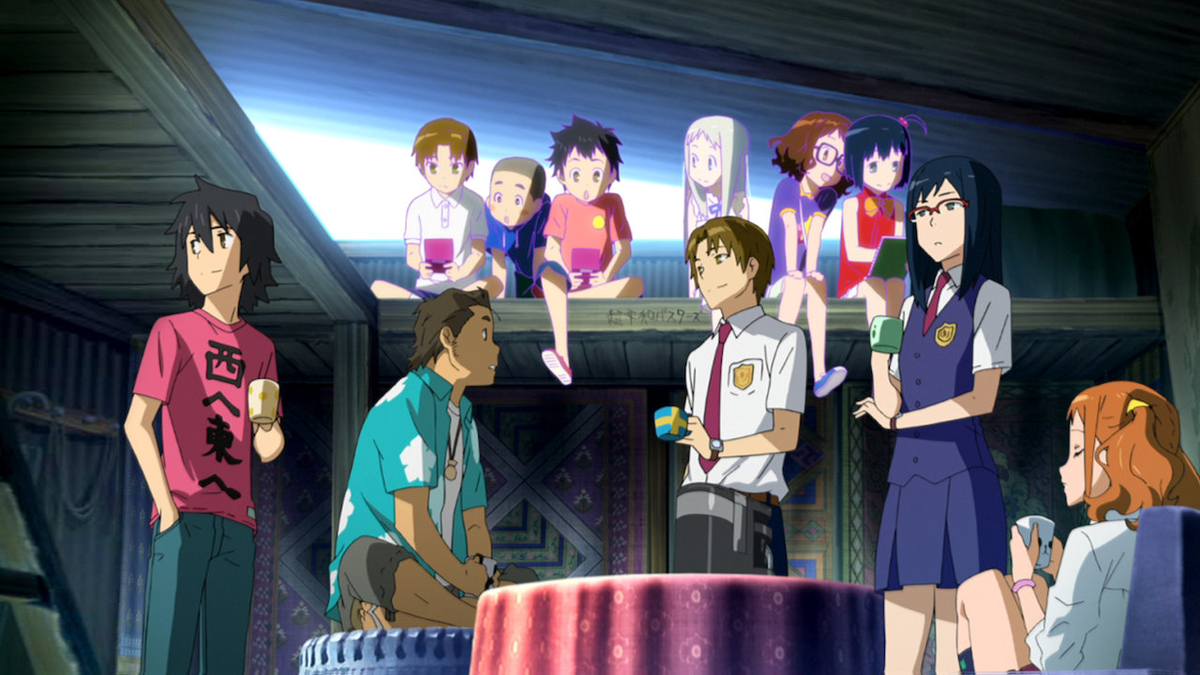 A group of childhood friends drift apart after Meiko "Menma" Honma, one of them, dies in an accident. Five years later, while they are all in High school, Jinta, who used to be the group leader, lives as a recluse and does not attend high school. One day, the ghost of Menma appears to him. Menma asks that he grants her wish, which she can't remember, but without which she can't pass on to the other side. After passively helping her, believing her to be a hallucination, he finally decides to get the group back together to help him find out what the wish is.
WHY IT'S WORTH IT
Anohana is based on a two volume serial novel by renown anime screenwriter Mari Okada who is responsible for dozens of Japanese anime series composition and screenplay, including one of my favorites: Lupin the Third: The Woman Called Fujiko Mine.
Anohana elicits such a real, and bittersweet feeling in you. Anime of pretty much all topics have been made over the years, a lot of them joyful, others sad, but I can't think of many that deal with the grieving process. How does one recover from a sad episode? There's this viral image around the internet saying something along the lines of: "One day you and your childhood friends played together for the last time and you didn't know at the time". Anohana starts up with that premise, and how Menma who had died before that happened, actually saw it happening in real time. It's also a masterful, and hopeful commentary on our desire that those who die truly are by our side, either directly, or just by living through us in our memories and actions.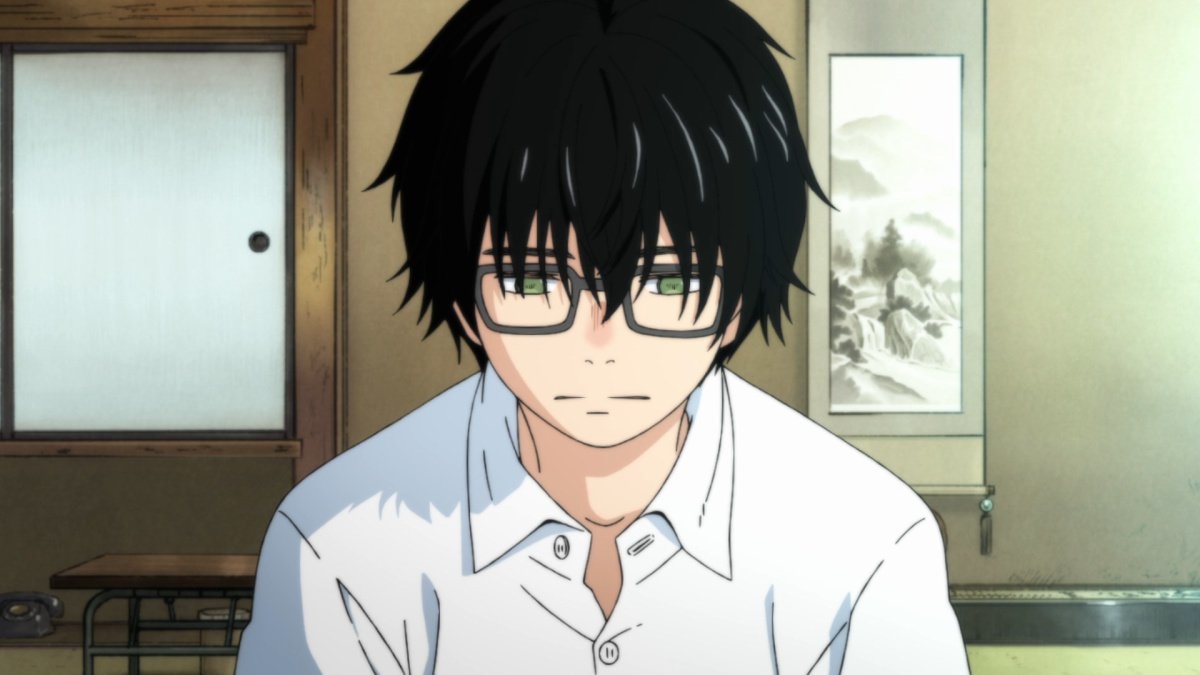 Rei Kiriyama is one of very few elite shogi players in Japan, having been a professional player since middle school. Now 17 years old, and unable to bare the pressure put on him by the shogi community and by his adoptive family, he moves to an apartment in Tokyo on his own, but as a result of his personality and his reclusiveness, he is shunned in school, and in the shogi community.
After arriving in Tokyo, he meets sisters Momo, Akari, and Hinata, who live with their grandfather who owns a wagashi shop. The sisters, sharing with him a similar experience with family tragedy, bond with him quickly, and Akari strives to help him out of his loneliness, and his poor lifestyle habbits.
WHY IT'S WORTH IT
March Comes in like a Lion adapted from the manga of the same name by Chica Umino. Umino is an award winning mangaka behind Honey and Clover, one of the most popular manga of the 2000s. March Comes in like a Lion discusses some of the same themes, dealing with the later stages of the teenage years and the struggles on learning to become an adult.That means all that come with it. How to deal with expectations put upon you by society and those in your immediate surroundings, and how to deal with romantic feelings and dating.
March Comes in like a Lion is one of may other melodramatic Japanese anime out there. But it feels real and relatable, and we all know someone like Rei. Rei is hurt, and relies on only himself to go through his hurting. He is shy and blames himself for all the bad that happens to him, although he has every right to blame the world, his lack of luck, and the adults around him, but instead blames himself.
The story is a bit slow at the start, but over time it really draws you in, as you start the understand the different bonds between Rei and the different sisters, and how they are each in their different way an outlet for him to deal with his issues. All that, espoused with art that is truly pretty to look at, and Bump of Chicken music, which is always welcome.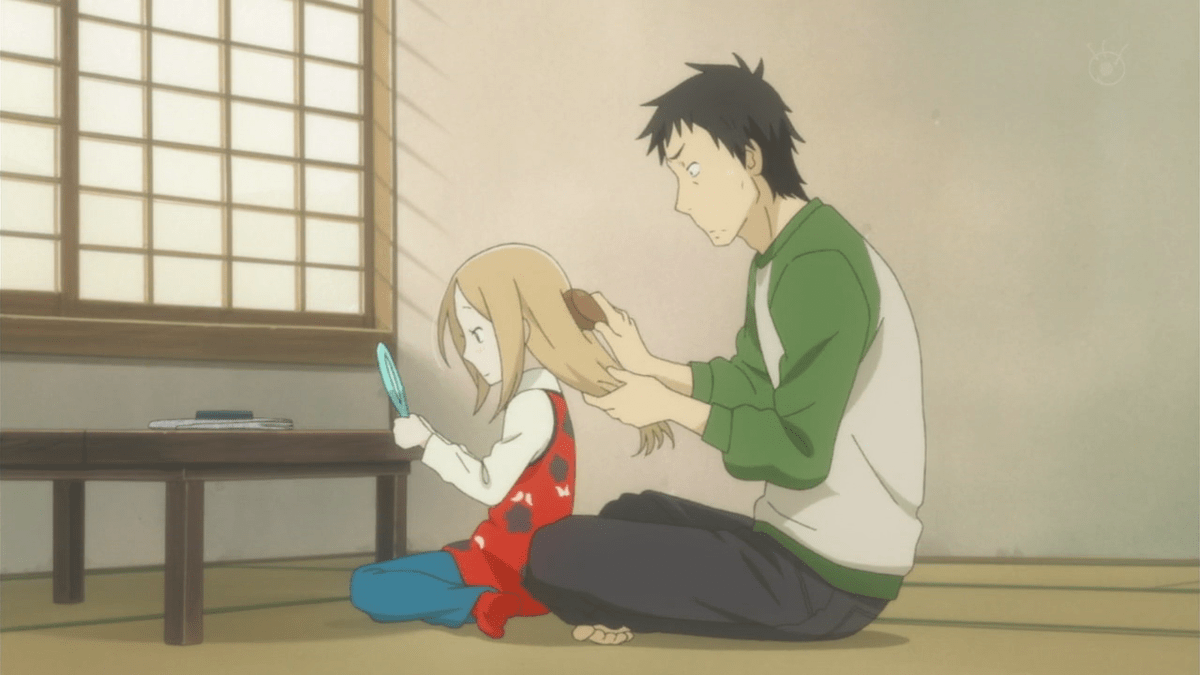 30-year-old Daikichi Kawachi lives a monotonous, aimless salaryman life. After his grandfather passes way, he returns to the family home to pay his respects. There, he meets Rin, a mysterious girl who as it turns out, is his grandfather illegitimate daughter.
Considered a shame to the family, and ostracized, no one is willing to take in Rei, leading Daikichi, angered by their lack of empathy to declare he will adopt her. From then on, Daikichi journey's unexpectedly through single fatherhood, with no prior experience.
WHY IT'S WORTH IT
I pretty much watched Bunny Drop in one sit-through, and just sat there with the biggest, most ridiculous cheese across my face. A big, dumb smile from ear to ear. Bunny drop manages to avoid all the gimmicks you see on similar Japanese anime, and instead gracefully entertains you through character relationships, and aura of innocence, and creates this feeling of warmth as you watch.
It's very similar to the manga Yotsuba&! which is this extremely wholesome series about a father and his daughter. Bunny Drop gives me the same vibe. You see Daikichi, who has no experience with kids at all, but just through being a great person grows into a father, almost as Rin herself grows. Especially as the episodes pass and you them growing closer and closer, and the "aww moments" intensify, it really develops as a feel good type of watch.
Special props to the voice acting. Ayu Matsura's performance of Rin could not have been better. It perfectly portrays her innocence.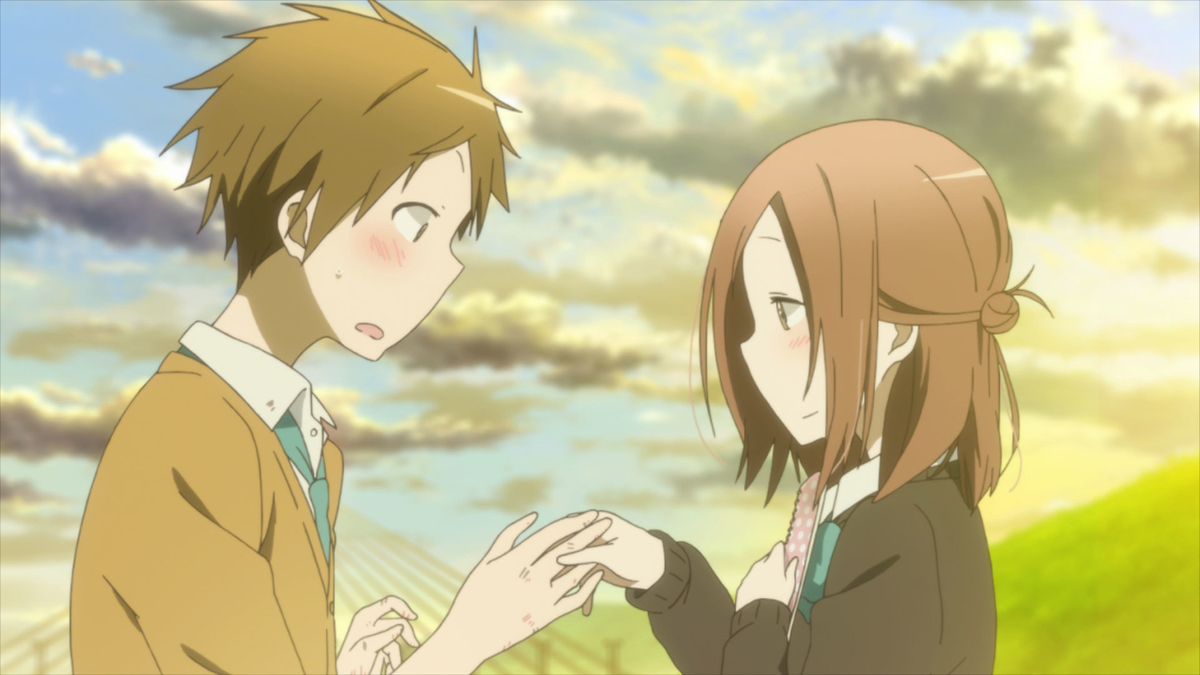 Yuki Hase had always been silently watching Kaori Fujimiya whom he notices is always alone and doesn't seem to have any friends. One day, he works up his courage and asks her to become his friend, only to be brutally rejected.
Later on, after fiding her eating lunch alone on the school roof, he decides to go up and have lunch with her every day. As the days pass she begins to open up to him, until around the end of the week, when she starts pushing him away. Eventually, she confesses to him the reason behind her coldness towards everyone. Every Monday, Kaori loses her memory of all friends and people excluding her family. As a result, she secludes herself to avoid hurting people around her.
Yuki then vows to go to her every week, and ask her to become his friend.
WHY IT'S WORTH IT
Although I far prefer Bunny Drop, One Week Friends achieves a similar feeling of wholesomeness and shows the good in human nature. I do have a few things that I disliked. Mainly how generic the story is. I feel like the exact same story of a girl losing her memory on a specific day and boy trying to break the cycle has been overdone. It's unfortunate they didn't go a different route. In addition, there isn't really an ending. It pretty much just runs out of episodes. There is no closure.
Beyond that, it is still a really well made Japanese anime, that will give you all the fuzzy feelings, and some laughs, if that's what you're looking for.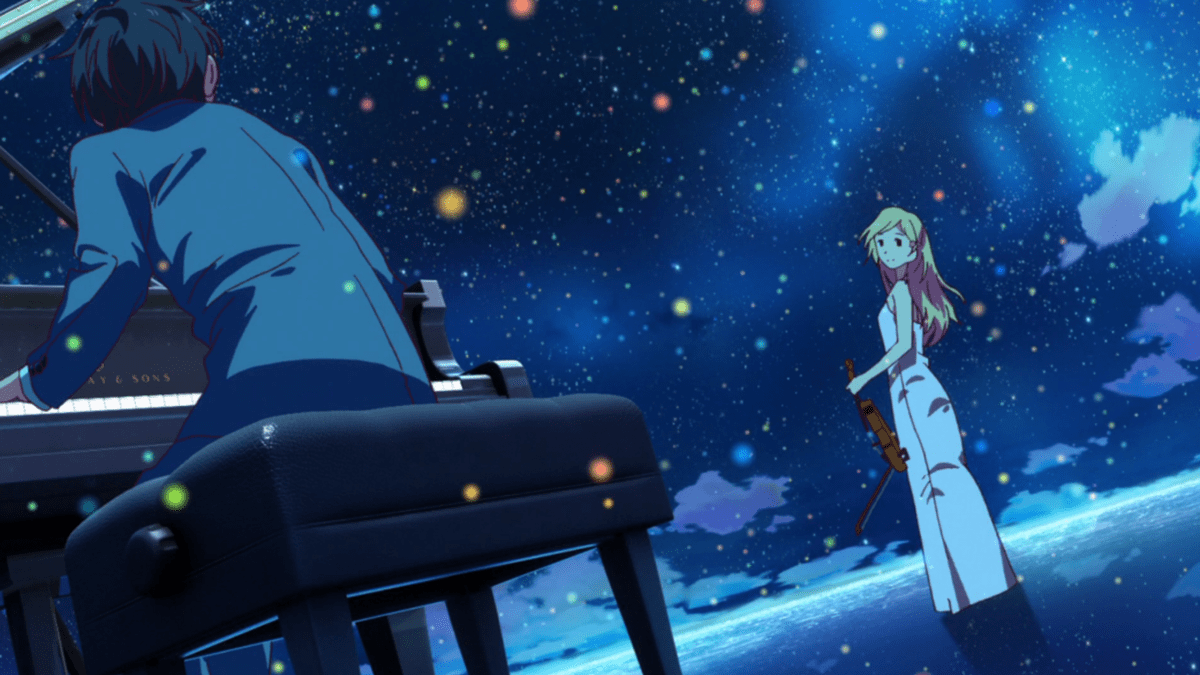 Piano prodigy Kosei Arima has become famous among child musicians, winning countless competitions. But after his mother suddenly passed away, he went into a mental breakdown during a recital. Since then, he is unable of hearing the sound of his piano when he's playing.
Two years later, he Kosei has yet to touch a piano, and lives a banal life with his friends Tsubaki Sawabe and Ryota Watari. Until one day, he meets Kaori Miyazono, a free-spirited violinist, who helps Kosei back into the world of music, and takes him out of his rigid, metronomic playing style.
WHY IT'S WORTH IT
Every new season I watch the first episode of just about all the shows whose plot does not look like a complete waste. When the first episode of Your Lie in April came out, I sat down, ready to watch just another cute-ish high school romance story where they like each-other, but act like they don't, until the end when they stop acting like they don't, and the anime is over.
Now, I won't lie. The story is cliched in other ways and after the first episode you can pretty much tell how the series will plan out. Additionally, I felt nothing for the characters. I did feel for Kosei's experiences and what he went through. The flashbacks showing the struggle, the abuse is went through were a welcome serious note and conversation on real-life issues, just I think the characters could have been improved. The evolution, though, I thought was well handled. How they change over time and how they respond to environmental/societal inputs was well done.
Overall, the animation and the sound, especially bring up the quality way up. Maybe it is to be expected that a music-centered anime have good music, but boy did they nail it.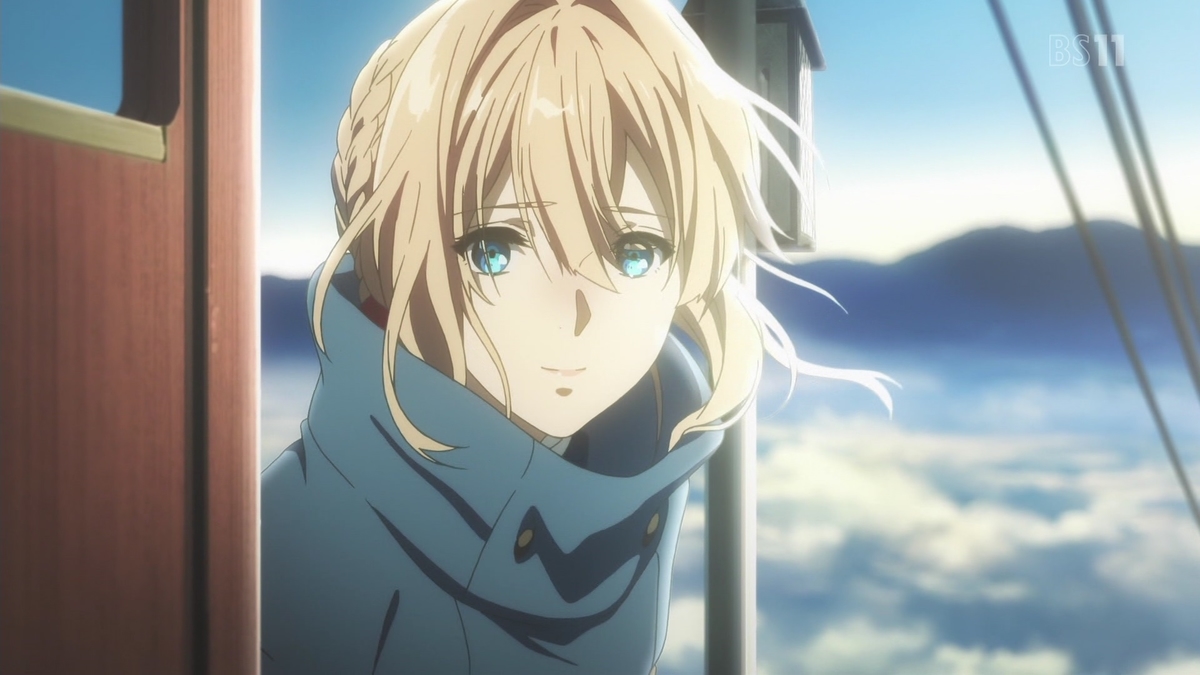 After four years of conflict, the Great War has finally come to an end. While the continent of Telesis is slowly recovering from the war, Violet Evergarden, a young girl raised with the purpose of fighting is recovering from injuries sustained towards the end of the conflict.
She starts a new life working at the CH Postal Service while recovering. There, she comes across an "Auto Memory Doll" who are hired by people to write their ideas and feelings into words. She decides to work as one, amused by the notion of impacting the lives of her clients, all the while finding her place in this new world.
WHY IT'S WORTH IT
When budgeting for an anime, Japanese studios have to decide how the animation quality will vary by episode. In battle shonen anime, often in a multi-episode fight arcs, big portions of the arc will be sacrificed and often have subpar animation (though these days, only Pierrot will literally poorly animate them), and then on the last showdown of the fight, the final push through, the animation becomes orgasmic.
Violet Evergarden, perhaps thanks to it being funded by Netflix, discarded that whole principle. Thirteen out of 13 episodes are orgasmic. This Japanese anime is so damn gorgeous it's ridiculous. It's like 13 Makoto Shinkai movies shrunk to a regular 20 min anime format. I'm lost for words just remembering it. Every time you pause it's a potential background picture.
Violet Evergarden is made by Kyoto Animation, who in recent years have had a reputation for creating pretty, well animated Japanese anime series and movies. And this one stands over all.
Violet Evergarden is quite melodramatic. It shows the everyday life, and everyday actions of Violet as she does her work. As Violet meets new people and grows from her experiences meeting them, the episodes make you smile, they make you weep, they give you hope in humanity. I love how subtle it is. Many did not like it because "nothing happens". I disagree. A lot happens, it's just conveyed more through emotions, music, ambiance, and not always through physical actions. You owe it to yourself to watch this visual masterpiece.
NEW TO JAPANESE DRAMA ANIME?
If you're new to Japanese anime, or know someone that is, I'd recommend Bunny Drop out of the list. It's the quintessential anime drama. While some series are pure sadness and sorrow, with Bunny Drop, you always see the light at the end of the tunnel. Sometimes, it's good to be naive and take in the message conveyed in Bunny Drop that there are good people out there, and that hope is around the corner.
It's 11 episodes of daftly smiling at the innocence and wholesomeness that the interactions beween Daichi and Rin have over the episodes, and when it ends, there's a void inside you. But the journey is well worth it.
JAPANESE PSYCHOLOGICAL ANIME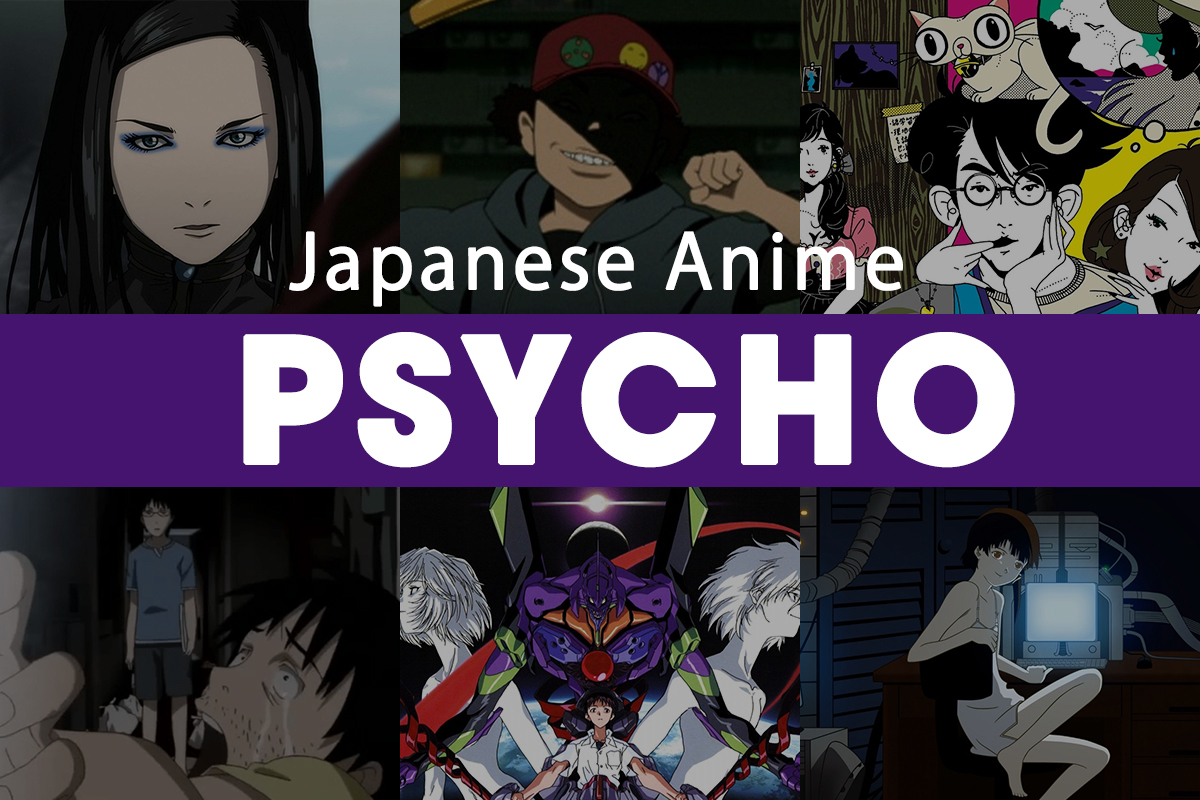 Japanese anime has given us over the years some of the best psychological series, especially thanks to the limitless possibilities provided by animation vs live action. These vary from societal commentaries, to science fiction and others, but all are brilliant and must watch series.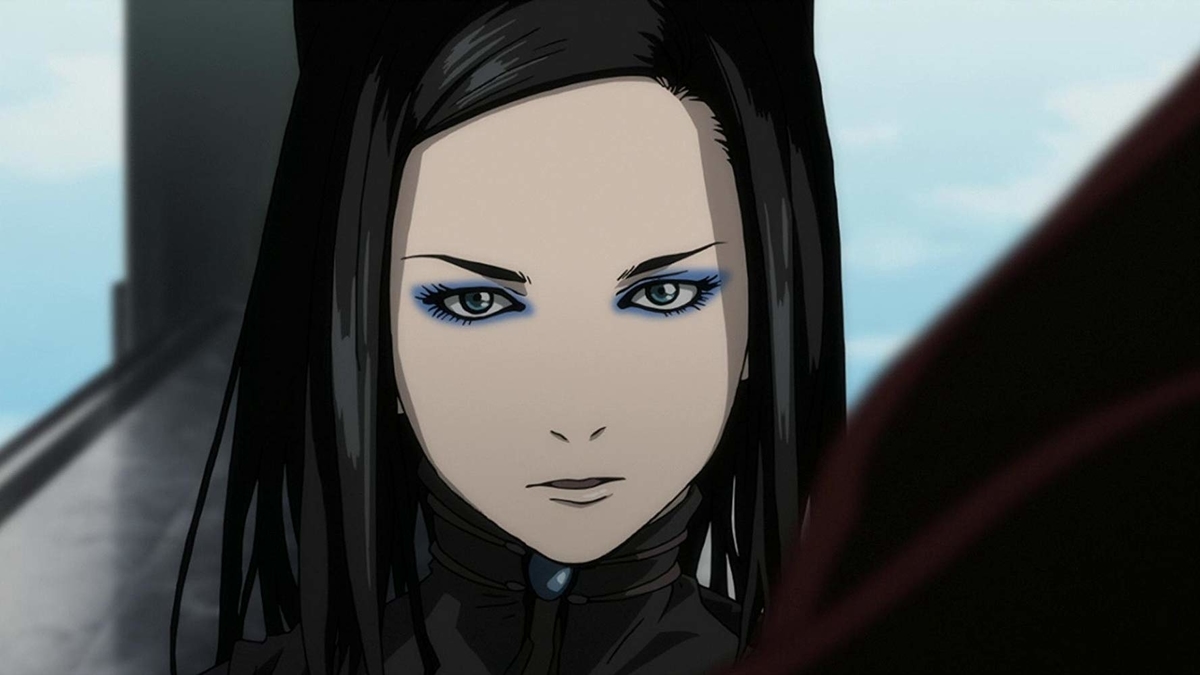 Romodeau is a futuristic domed city, built to protect its inhabitants following an ecological disaster thousands of years ago. There, humans and AutoReivs, androids, live together in a dystopian future under a total management system.
Following a string of murders committed by Robots and AutoReivs infected with the Cogito virus which leads them to become self-aware, Re-l, granddaughter of Romodeau's mayor, and her AutoReiv partner Iggy are sent out to investigate some of the murders. Her investigation quickly turns into a conspiracy as she uncovers some of the darkest secrets of humanity.
With Iggy, Vincent Law, an AutoReiv specialist, and Pino, a child AutoReiv, they team up to dig deeper into the mysteries of Romodeaux, as well as the beings called Proxies, which the city is conducting secret experiments on.
WHY IT'S WORTH IT
Ergo Proxy has a bit of a rep for being pseudo-intellectual while below the surface it is nothing but design. As far as I'm concerned, it's simply another episode of people unable to accept the fact that an anime can not only have a great, layered story, with great visuals to go with it. Edgy stuff has to look edgy.
Ergo Proxy is tells the story of a protagonist who has started a journey, not only to find out the truth about the society she lives in, and her organization, but also about her self. Who she truly is, and what that means. Along with that, especially if you get ahold of the remastered version, you get a sublime, fluid animation, with great designs.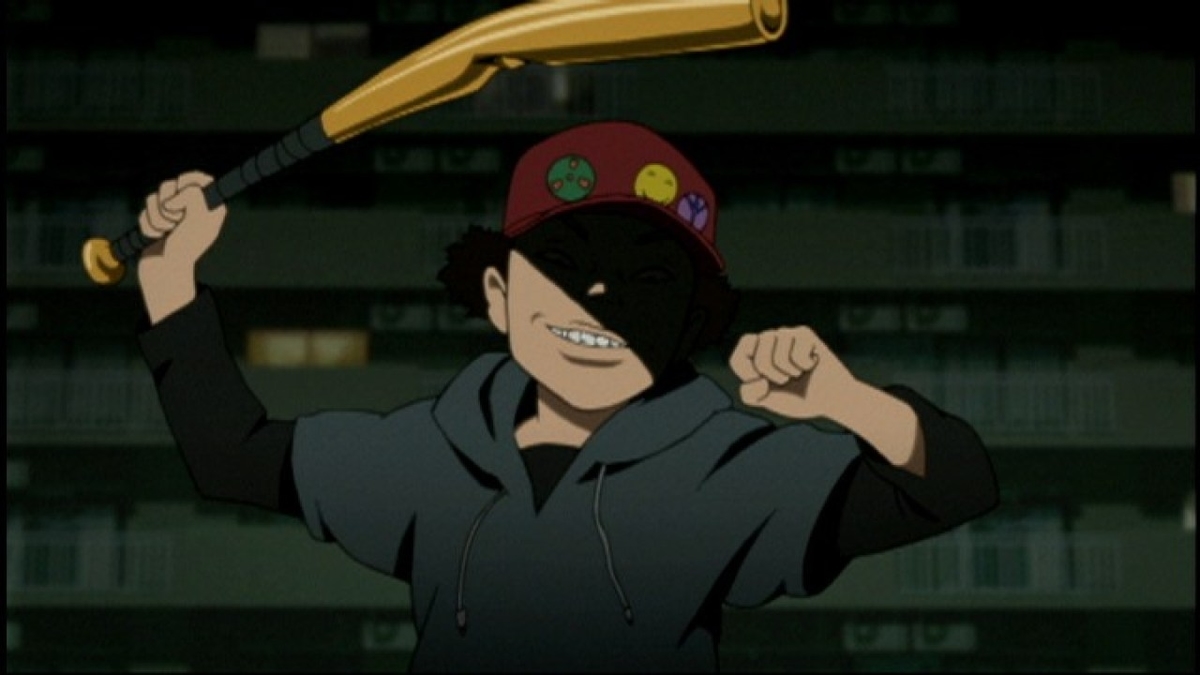 The infamous and elusive Shounen Bat (Little Slugger) roams around Musashino city in his roller blades, and carrying a golden baseball bat, terrorizing the netizens. His first victim is Tsukito Sagi, a timid character designer is first suspected of being behind the attacks. The only one who believes her is her pink stuffed animal.
As the attacks multiply, detectives Keiichi Ikari and Mistuhiro Maniwa are charge to investigate the assaults and find the perpertrator. However, as more people are beaten down by Shonen Bat, news of the assailant whose motives are unknown start to spread, causing a mass paranoia.
WHY IT'S WORTH IT
Satoshi Kon is one of my, if ot my favorite Japanese anime directors. Although he is more known for feature films like Perfect Blue, Tokyo Godfathers, Papirka, and others, he has also made Paranoia Agent, a series.
Satoshi Kon's work all meld reality with the character's perception. The lines between what is real and what is simply the result of the character's psyche are blurred. We get to experience, through the animation sequences what they feel, how they think, and how that plays with the universe around them.
Paranoia Agent is no different. As a watcher, you yourself feel paranoid and start questioning everything. Is Shonen Bat really real? Is it all in their minds? Who is really trustworthy and who isn't? These, and more questions go through your mind as you watch Paranoia Agent.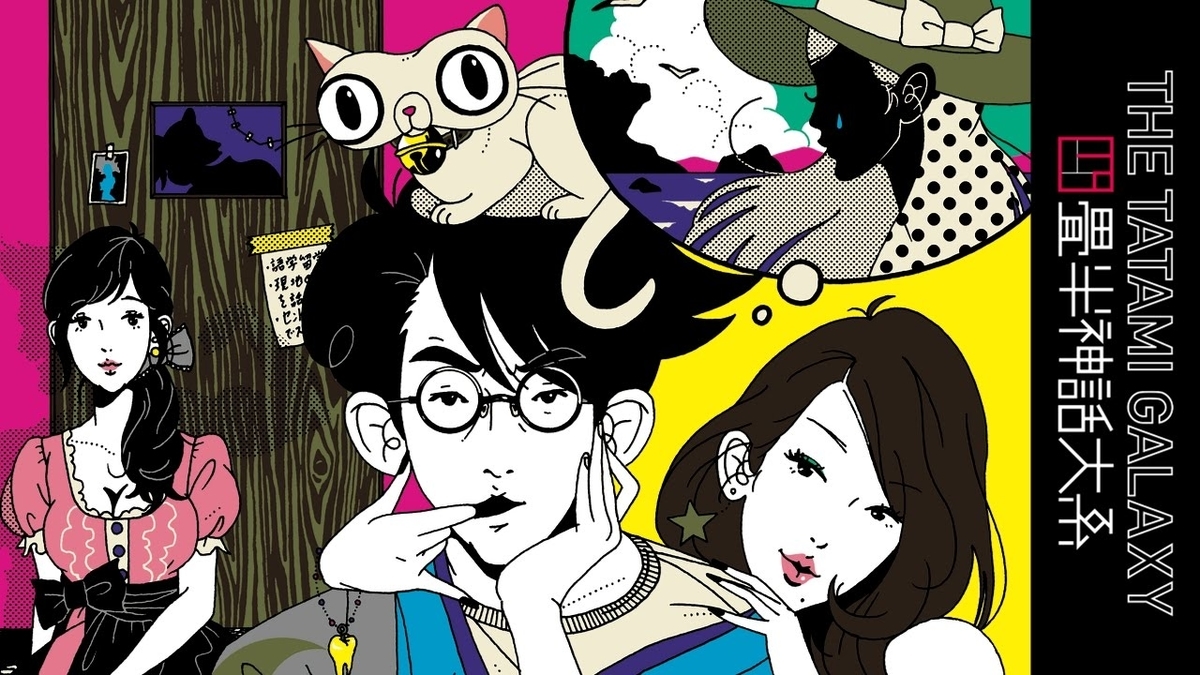 The story follows a third-year student at Kyoto University whose name is unknown. One night, at a ramen stand, he meets a strange character with an eggplant shaped head, who referred to himself as the god of matrimony. This encounter leads him to ponder upon his first two years of university, most of which he spent with his friend Ozu bitterly breaking up couples.
Determined to make the most out of his remaining years, he sets out to ask out Akashi, an upperclassman, but ends up not going through, leading the student to regret how he spent his years prior. Suddenly, he is sent through time and space, in an alternative universe at the beginning of his college years, giving the student another chance to live a worthwhile university life.
WHY IT'S WORTH IT
The Tatami Galaxy hits close to home. Who doesn't, at any point in their lives wonder if they've made the most out of the last however many years? Especially if you're twenty-something, nowhere near ready to adult, you'll relate to the themes in this Japanese anime. The Tatami Galaxy is not so much about the main character and the secondary characters. They are very well fleshed out, and well developed, but the main character is us, in essence, and the secondary characters are not themselves, but what quality they represent to the main character. A certain character may represent failure, for example.
Along with the intriguing, and relatable story, The Tatami Galaxy's artstyle is unorthodox, but artistically beautiful. The sequences brilliantly combine a great palette, with animation transitions that are masterful.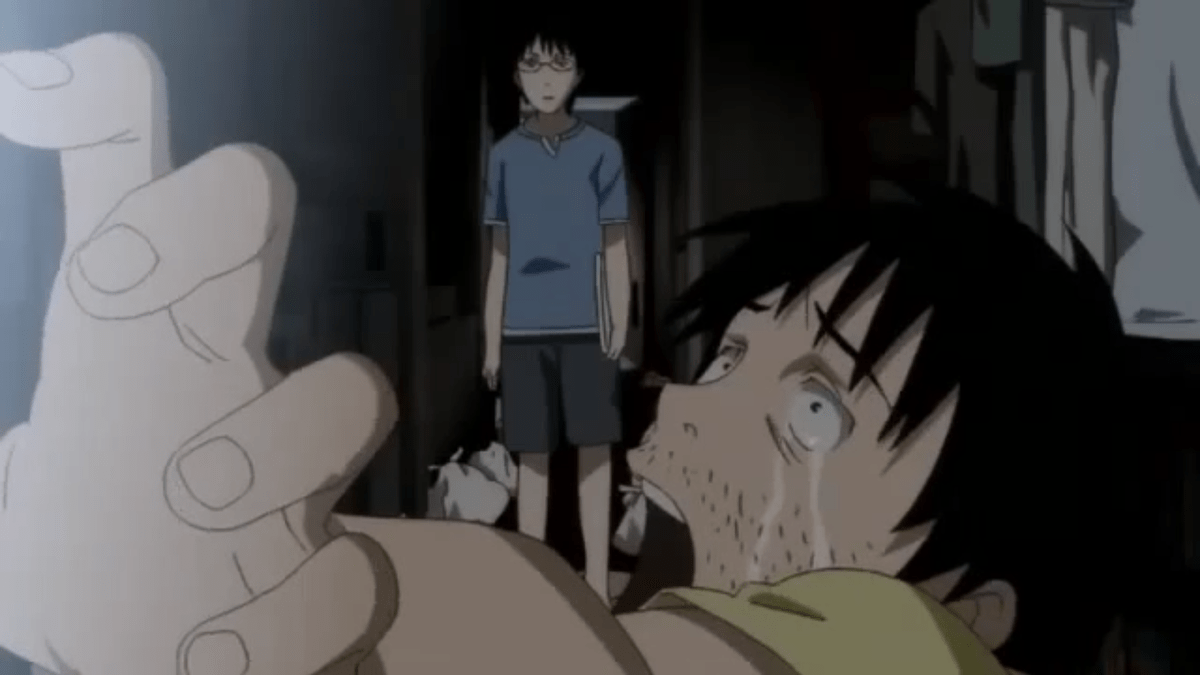 Tatsuhiro Sato is a university dropout who lives as a hikkikomori (shut-in). In his isolation, he has come to believe in a certain number of conspiracies, including in one that an evil organization, the NHK (Nihon Hikkikomori Kyokai) is behind his hikkimori status.
This series discusses various mental health issues and Japanese society, as Tasuhiro struggles to escape from his lifestyle, and deals with life changes brought about by Misaki Nakahara, a mysterious girl he has mysteriously encountered, who is set on helping Tatsuhiro stop being a hikkikomori.
WHY IT'S WORTH IT
Welcome to The NHK! shows another great role that anime can have in Japanese society. Beyond being just entertainment, anime can reach a wide audience with an ease that live action may not be able to. Welcome to The NHK! discusses various mental health issues, while not demonizing them, in a country where many are under-educated on the subject, and some flat out ignore their existence.
Beyond that, it's also a damn good show with very funny moments. The dynamics between Tatsuhiro and Misaki, and especially how their relationship develops, and how they both help each other go through their own problems, is one of the most layered and interesting I've gotten to see.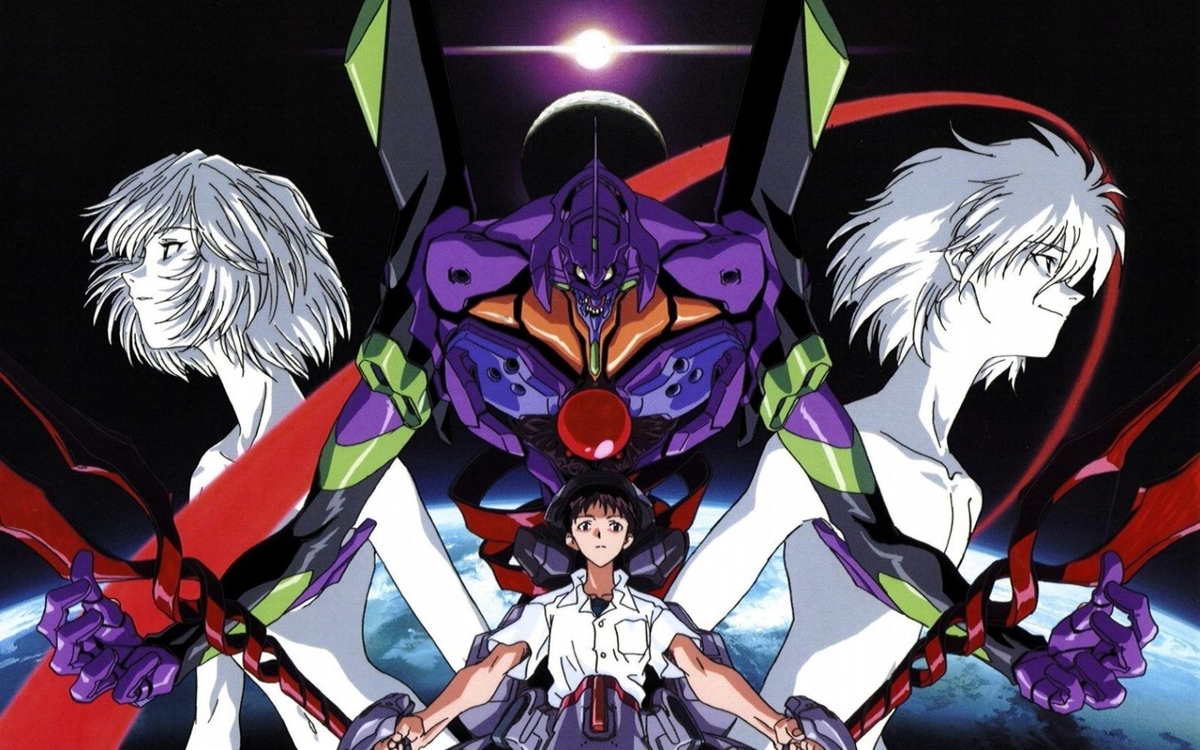 In the year 2015, fifteen years after the Second Impact, a global cataclysm, high schooler Shinji Ikari is called for by his estranged father, Gendo Ikari. Gendo is the director of a special paramilitary force called Nerv who are tasked with defending the world against the Angels, giant beings foretold by the Dead Sea Scrolls. The only way to defeat Angels' force-fields is by using Evangelions, giant bio-machines which are synchronized to the nervous system of pilots, who must be children.
Once at the premises, meeting his father for the first time in 14 years, Shinji is asked to pilot the robot and defeat the Angel, changing the life of the shy, psychologically troubled boy, as the fate of the world is placed upon him, and the other pilots, as secrets behind the Angels, the Evangelions, and Nerv's true purpose unfold.
WHY IT'S WORTH IT
Ask a group of people what the greatest Japanese anime ever, and more often than not Neon Genesis Evangelion will be mentioned by a near majority. I won't argue whether it is or not, but I will argue it is one of the greatest series, animated or not, that I have seen.
I have watched Evangelion many times in my life, at different stage, age-wise. At a very young age, when It used to air on TV, it was this decently cool Japanese anime with giant robots and fights, but nowhere near as cool as Ranma 1/2, Dragon Ball and whatever else I should be watching at that age. Then later as a teenager trying to be edgy and having spent a couple years watching literally every anime on the face of the earth and developing a snobbish taste. It was this mindblowing Japanese anime that was too complicated for normies to understand and was the best thing in the world. Now, as a 25 year-old, I have just finished rewatching it, with the Netflix rerelease. Now, I notice much more, and I'm not the pretentious teenager I once was. While the story is great, there is much more. The cinematography, I'm just realizing, is amazing as well. The angles, the shots, how they draw the characters to show their emotions, the random sounds from the surroundings, etc. The sheer amount of attention paid to every detail is astounding.
Whether or not you think you like anime, you owe it to yourself to watch Neon Genesis Evangelion.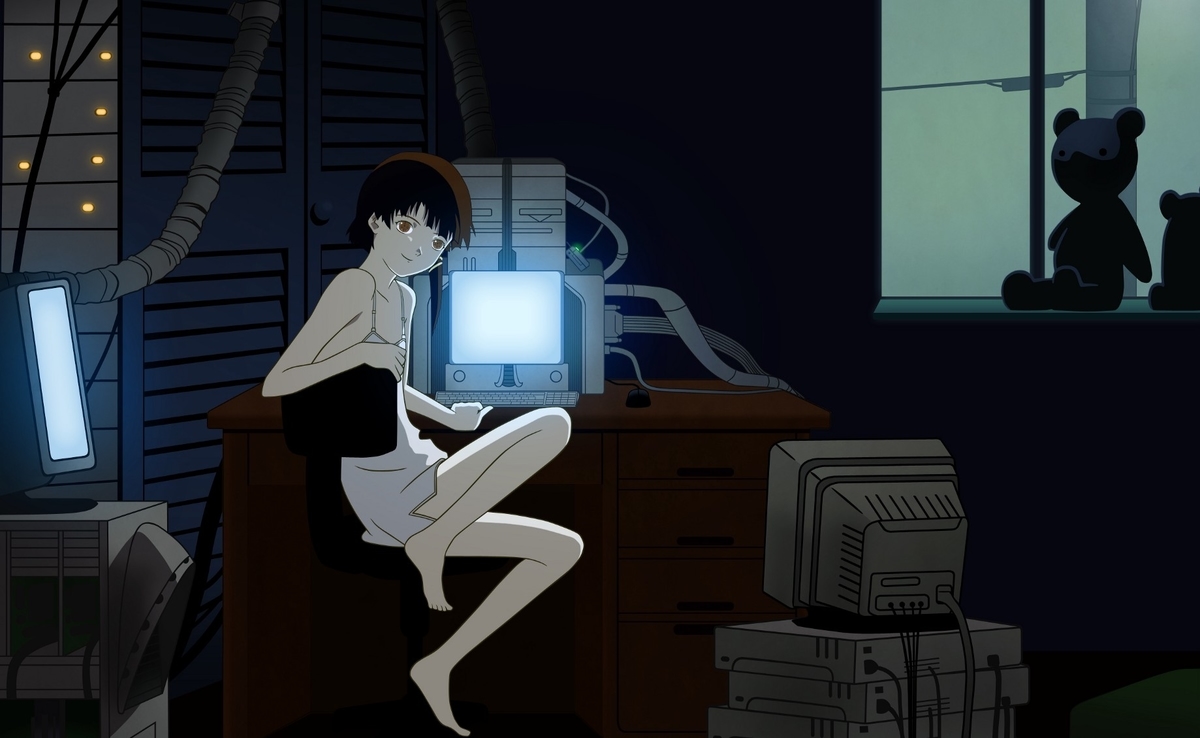 Lain Iwakura, an introverted 14-year-old, along with many of her female classmates receives a disturbing email from Chisa Yomoda, another classmate who had recently committed suicide. Lain, a technophobe goes against her hatred for technology to open the email, which leads into a virtual world known as the Wire. There, Lain begins to encounter cryptic mysteries, and starts being followed by Men in Black who question her and somehow know details about her life that even she ignored.
As the boundary between reality and the Wire are blurred, Lain is subject to surreal experiences leading her to question her own identity, and the veracity of her perception.
WHY IT'S WORTH IT
It might take a couple watch-throughs to properly enjoy Serial Experiments Lain. There are a lot of themes, which are very subtly presented. Including some which are very current, especially with human-machine interactions, with the advent of AI, and social media platforms.
Graphics-wise, it didn't age very well, but then not much did from that era. However, it's still very well animated, and can be a bit spooky. If you're looking for something to watch where you can't just shut your brain off and want something that might give you a bit to think about, this is definitely your best bet.
NEW TO JAPANESE PSYCHOLOGICAL ANIME?
This is a tough one. Some of these can give you a proper headache if you're not in a proper mood to watch them. Never try to watch Serial Experiments Lain in a long flight.
I'd recommend newbies to the Japanese anime medium give Neon Genesis a try. It's one of the most beloved, and most influential series in anime history, as well as one of the most controversial. In addition, thanks to now being available on Netflix in multiple languages, it is one of the most accessible anime out there.
JAPANESE FANTASY ANIME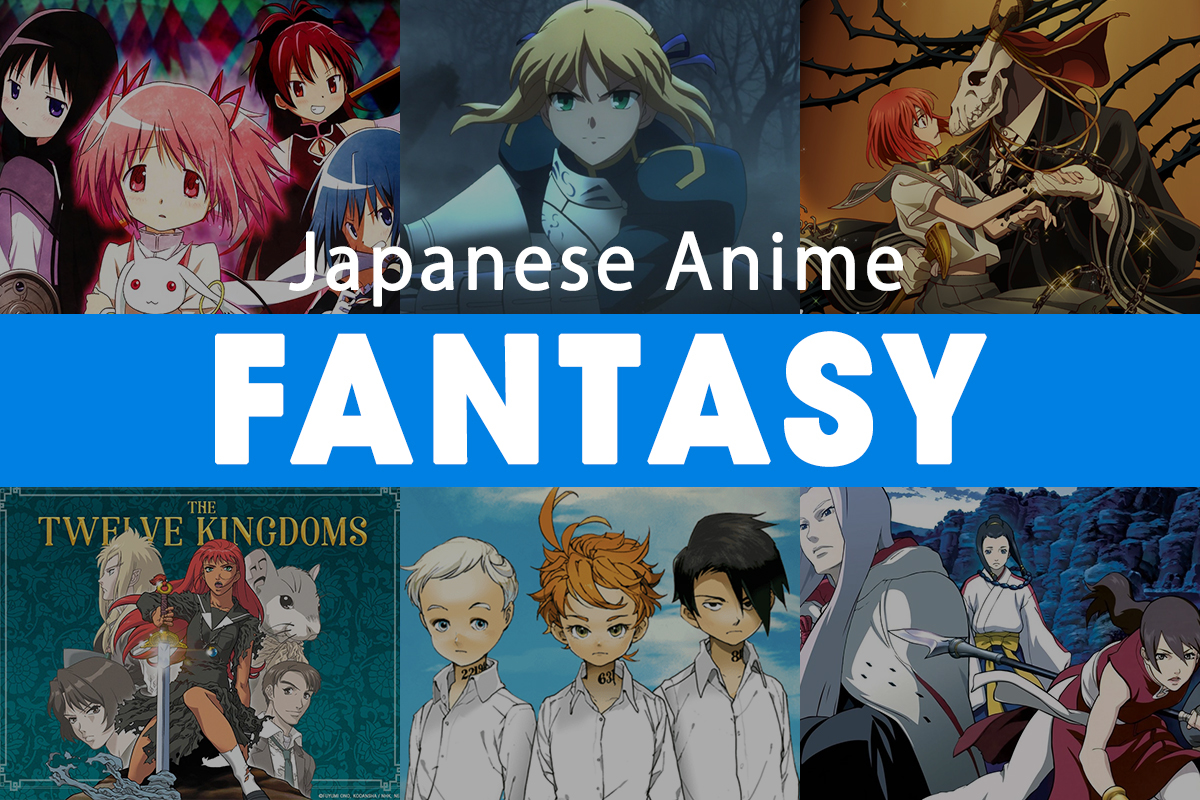 The Fantasy Genre in anime was the hardest one for me to define. A lot of Japanese anime, have fantastical elements. Instead I tried to focus on those where that is the element most important to the story. There are various types of such fantasy Japanese anime. Some are light-hearted romantic stories, others are action based. There are also dark fantasies, where it's not all about cute fairies and spirits. Some of the most important manga/anime to come out of Japan are dark fantasies. Here is my best attempt at a varied, quality assured list of fantasy Japanese anime.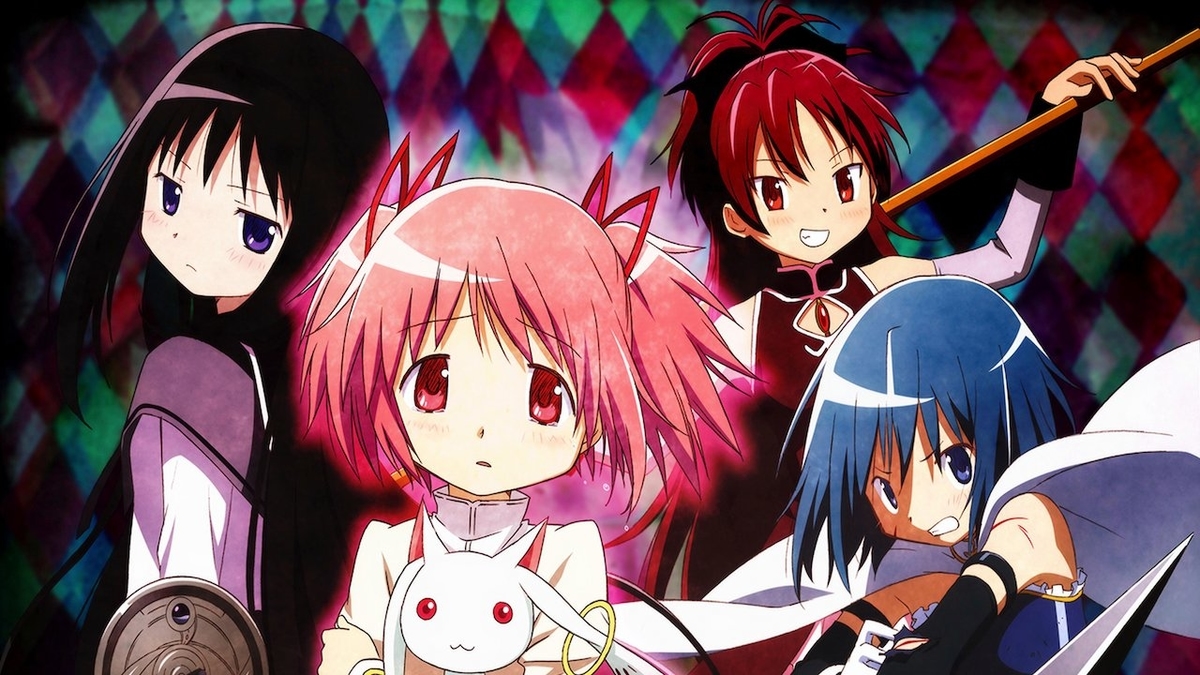 Madoka Kaname and Sayaka Miki are regular middle school students, leading regular lives, until one day, they encounter Kyuubei, a cat-like creature. Kyuubei offers the girls to grant one wish they may have, in exchange for them to agree to become magical girls and fight off witches. Homura, a new transfer student, and a magical girl herself tries to stop Madoka from making the contract. They later on meet Mimi Tomoe, their senior student, who also is a magical girl, who offers to take Madoka and Sayaka with her on witch hunts so they may see firsthand what the true nature of what it is to be a magical girl.
WHY IT'S WORTH IT
Puella Magi Madoka Magica is one of the best cases for the "don't judge a book by its cover" saying. Especially in the 90s, Japan produced a lot of Mahou Shojo (magical girls) anime. Those are usually about a young girl who through some reason or another is granted magical powers, usually by some magical creature. Madomagi (short name for the anime) takes that concept and asks: what if that really happened, what would be the more likely scenario? The answer is that magic would likely not be a cute inconsequential thing. Powers would be scary, and not always used for good.
Madomagi goes really dark, really fast. Throughout the series there are enough twists and turns to keep you interested, with just enough foreshadowing that there is a logical following, while not ruining the experience. It's in my opinion, one of the best anime of the 2010s.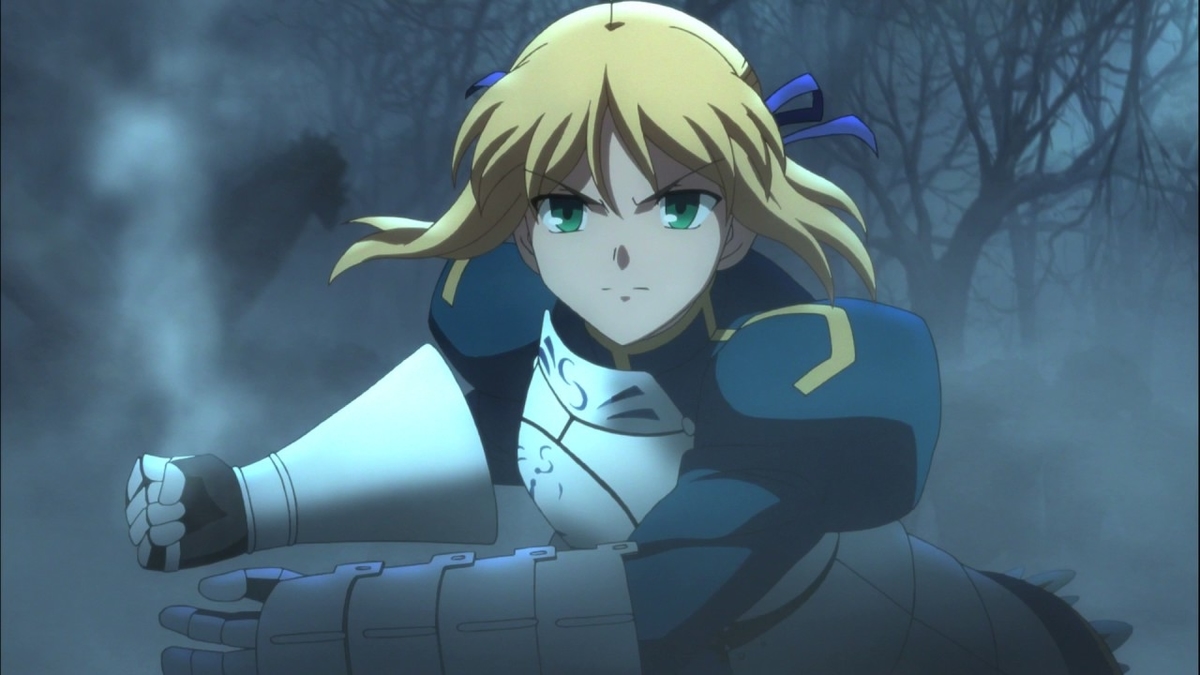 Centuries ago, the Einzbern, Matou, and Tosaka families founded the Holy Grail War, a contest in which seven mages each summon one Heroic Spirit fight in a battle royal for the Holy Grail, which grants a wish to each member of the winning duo. The story begins with the Fourth Holy Grail War.
Determined to win this time, the Einzbern family enlist the notorious "magus killer", Kiritsu Emiya, promising their only daughter Irisviel as part of the contract. Kiritsu, accompanied by his servant Saber, is thrown in a ruthless battle against the other six contestants and their servants. He soons finds out his fiercest rival to be the priest Kirei Kotomine, who vows to pursue Kiritsu.
WHY IT'S WORTH IT
The whole Fate thing is a mess. I refuse to keep up with it, with all it's different series of games, novels, anime, OVAs, movies, each set in some other timeline, reality, some being an alternate ending of the same timeline, some being pure random moe inventions meant to be fanservice, some I've no idea even exist, etc. It's a mess. However, I must give props where props are due. Ufotable managed to make me gobble up Fate/Zero. The animation is pure bliss.
Unconventionally for Japanese anime, the first episode is 50 min long and acts as a way to setup the world, the characters, the factions, and an introduction to the Holy Grail War. The story, I think is a bit messy, but still makes sense, but the animation and fight scenes makeup for all that.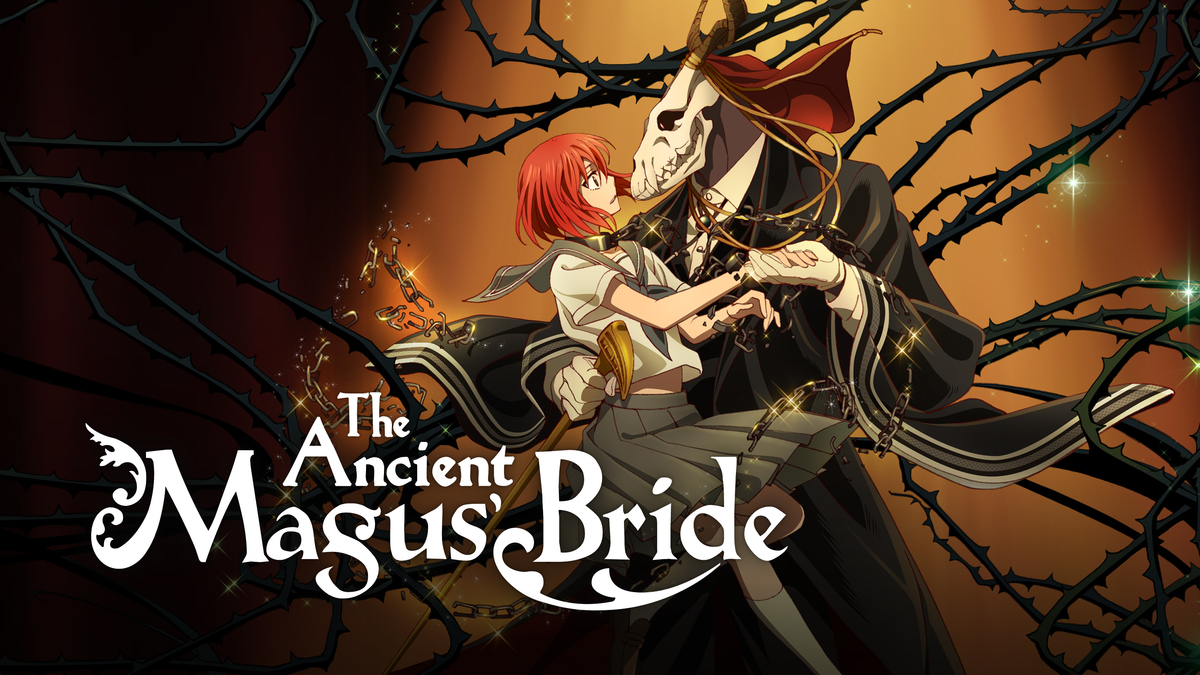 Ostracized by her family and by society for her socially unconventional behavior, 15-year old Japanese girl Chitose Hatori sells herself at an auction to have someone take her in and have a place to go. At the auction, in London, she is sold for five million pounds to Elias Ainsworth, a tall humanoid with an animal skull for a head. Elias is a magus, and leads Chitose to his home in rural England where she begins her life as his apprentice, and bride.
WHY IT'S WORTH IT
To be honest, I have major issues about the Ancient Magus' Bride story. It's full of holes, inconsistent, and the characters do not seem to be true to their own personalities far too often. HOWEVER, sometimes, even I am able to enjoy anime for the music, animation, and overall feel. And that is where this one delivers.
The art is second to none, as is the animation. The world is truly drawn beautifully. To go along with that is a mesmerizing use of sound. The melody and the ambient sounds create are able to create moods and make you feel things that makeup for the plot.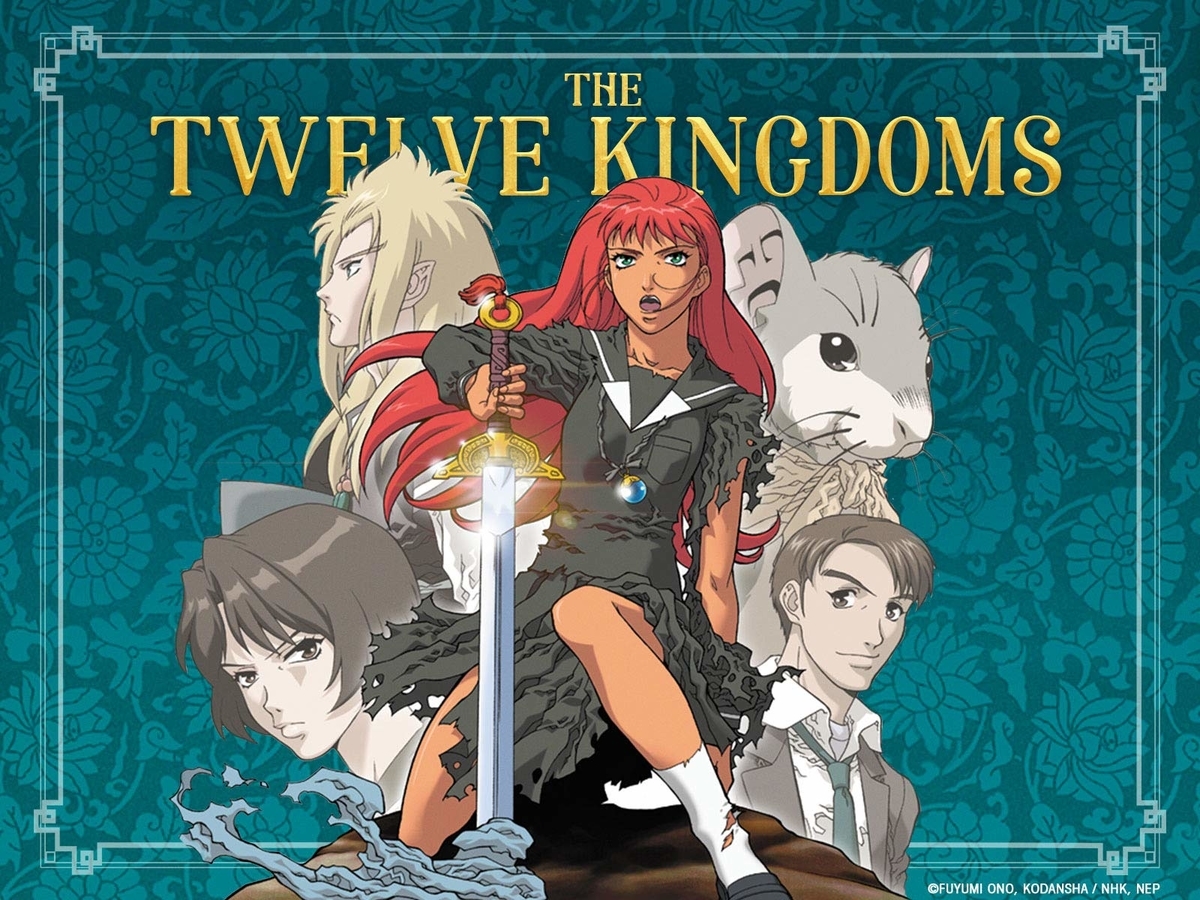 Youko Nakajima lives a normal life, and complies with whatever she is asked. She's a top student, is class president, and is a model student. However, because of her red hair, she is often ostracized and bullied.
One day, a man who claims to be from another world suddenly appears during her class and bows down to her, saying she is his master. Soon after, a group of youkai, otherworldly monsters appear and attack them. The mysterious man, Keike, manages to escape with Youko back into his own world, but dragged along two other classmates of her. Away from home, in another world, they have to learn to adapt and survive.
WHY IT'S WORTH IT
I have over the years developed a serious hatred for the Japanese anime studio that is Studio Pierrot. Far too often have they ruined adaptations with sub-par animation and pacing. They are the reason every single long running Shonen Jump series anime is way inferior to the manga.
Now that this is off my chest, my next statement is really hard for me to say, and come to grasps with. Studio Pierrot has made what is arguably my favorite anime ever (at least top 5). The Twelve Kingdoms is a fantasy masterpiece. If you like fantasy novels, where the world is complex, has its own rules, mythos, diversity of people etc, a la GRR Martin or Tolkien, this is the Japanese anime that comes closest to that standard of complexity that I have seen. It's actually adapted from a fantasy novel series, and it shows. The world is so complex. Every kingdom is different, the fantasy elements have very clear rules and limitations, the government hierarchy is clearly explained, how the real world interacts with the Twelve Kingdoms is shown well, etc. As far as I'm concerned, it's perfect.
Side note: the director, the late Tsuneo Kobayashi actually is also a traditional live-action movie director. This can be seen with the use of angles and pacing which you'd more expect in live action films that in Japanese anime.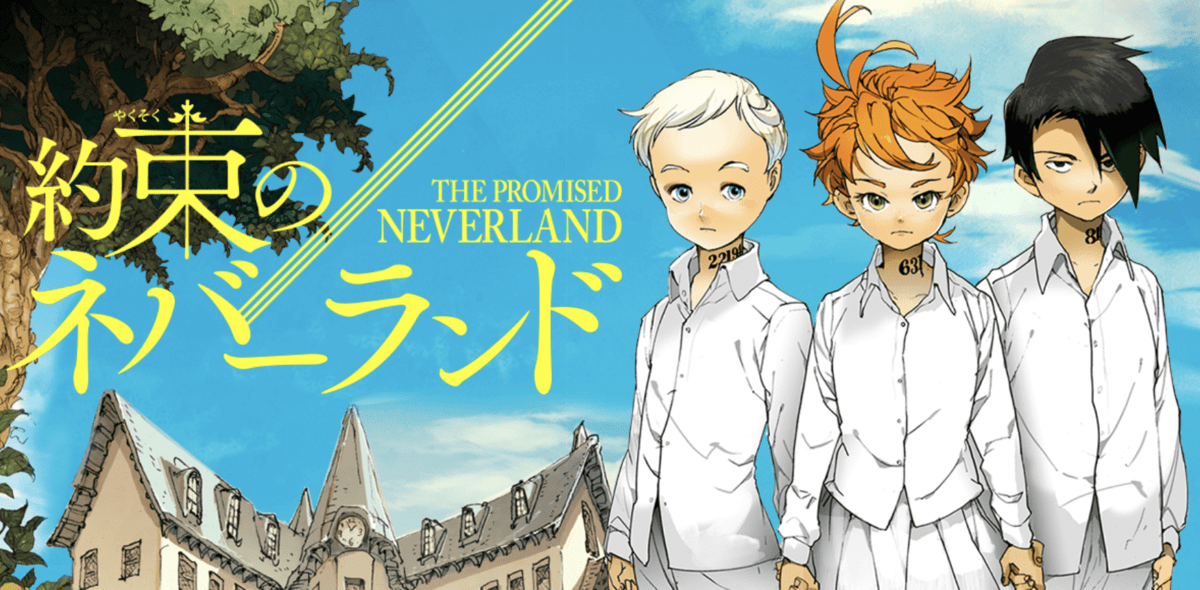 Grace Field House is home to orphans who live together as a big, happy family with their "Mama" Isabella who looks after them. Except for the compulsory daily test they must take, they are free to do whatever they want except venture outside of the orphanage barrier. Every few months, a child is adopted and sent to their new families, and have to say goodbye, and then are never heard from again.
However, after venturing outside of the orphanage, the three oldest siblings find out that their Mama may not be after all the loving caretaker they thought her to be, and that the orphans at Grace Field House are all destined to a cruel fate.
WHY IT'S WORTH IT
2019 has been mad year for anime. I don't remember the last time the gods of Japanese anime have blessed us with such a ridiculous amount of quality. In the last couple years I would find myself skipping some entire seasons. Not this year. EVERY SEASON has two to three BANGERS. The Promised Neverland was one of the first ones of the year. My god did the year start well.
It's hard to not spoil this Japanese anime, so I'll try to be brief. The Promised Neverland is as good a thriller as they come. You'll find yourself with roughed up nails from biting them out of the anxiety it will cause in you. While the animation could use a bit more work and brings down the overall quality of the show (and I'm being harsh), the music is absurd. The way the melody intensifies the story is perfectly done. Scary parts are made scarier, points of suspense are more thrilling, happy moments are more joyful. Perfect marriage of plot and music.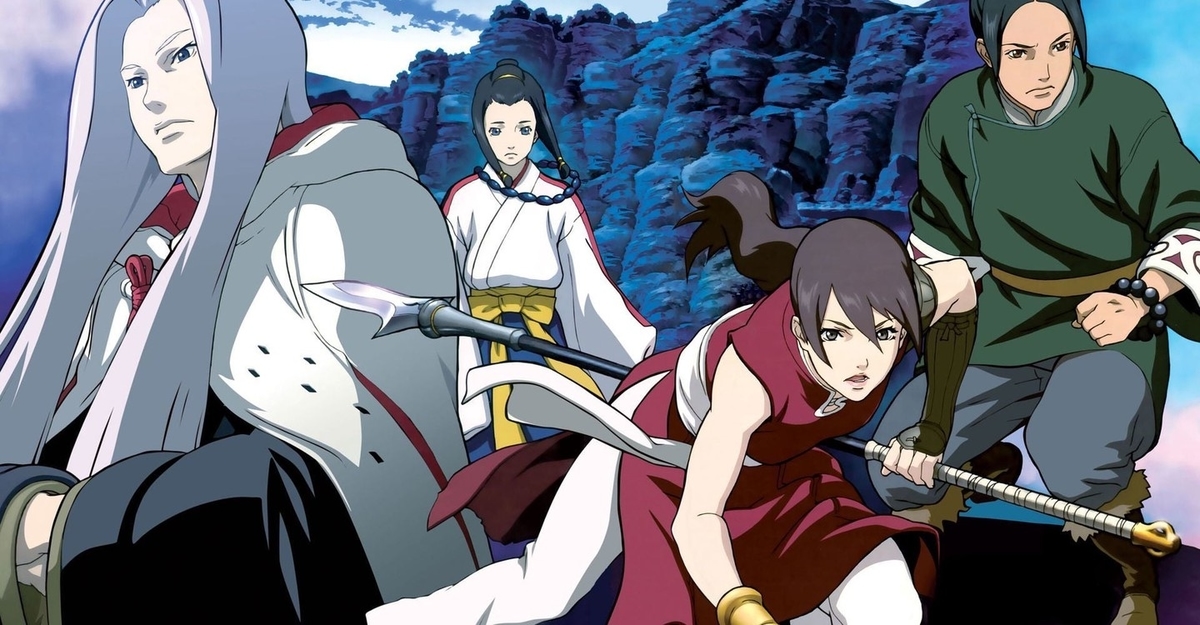 To atone for eight deaths she has caused in her past, Balsa vows to save eight lives. She serves as a body guard and wondering warrior, when on her journey, she saves Prince Chagum, and is tasked by her mother to protect him. His own father is after his life. Together, they go on a journey to evade the father's assassins, as we learn about Balsa's tragic past, and Chagun's connection to a water spirit, powerful enough to cause serious devastations.
WHY IT'S WORTH IT
Moribito is very Japanese, even for a Japanese anime. Those who've read Japanese novels or watch Japanese films will know what I mean. Not just based on its setting, but the overall atmosphere and focus. The focus is not on having an extreme depth of story, or insane plot twists. There's this mood created, almost a symbiosis between the music, the story, and the animation sequences, that all come together to created an anime where it's all about how it makes the audience feel. Even when not much is happening, I find myself absorbing the setting, the music, the expressions and imagining how the characters might be feeling.
The aforementioned characters are what truly make this special. This is the story of how people grow, change, for the better or for the worse, based on what life throws at them. We see them change from episode 1 to episode 26, and from mentions of what they had gone through before the story starts. This is actually the first Japanese anime I've ever purchased on my own, and I still watch the DVD set I have every few years, and still feel the attachment for these characters.
NEW TO JAPANESE FANTASY ANIME?
If you're new to Japanese anime, or recommending an anime to someone who is, I'd recommend The Promised Neverland. Why? Because it's quality, it just is. It also can appeal to everyone, no matter their taste. There's an aspect of thriller, with instances of humor, and the fantasy to bind it all.
I find these types of series appeal to most people who may have a negative idea of what anime is. It shows them how malleable the medium is. It shows them how it can produce an amazing series, and convey emotions through animation, art, and music, and The Promised Neverland does it better than most series.
JAPANESE MECHA ANIME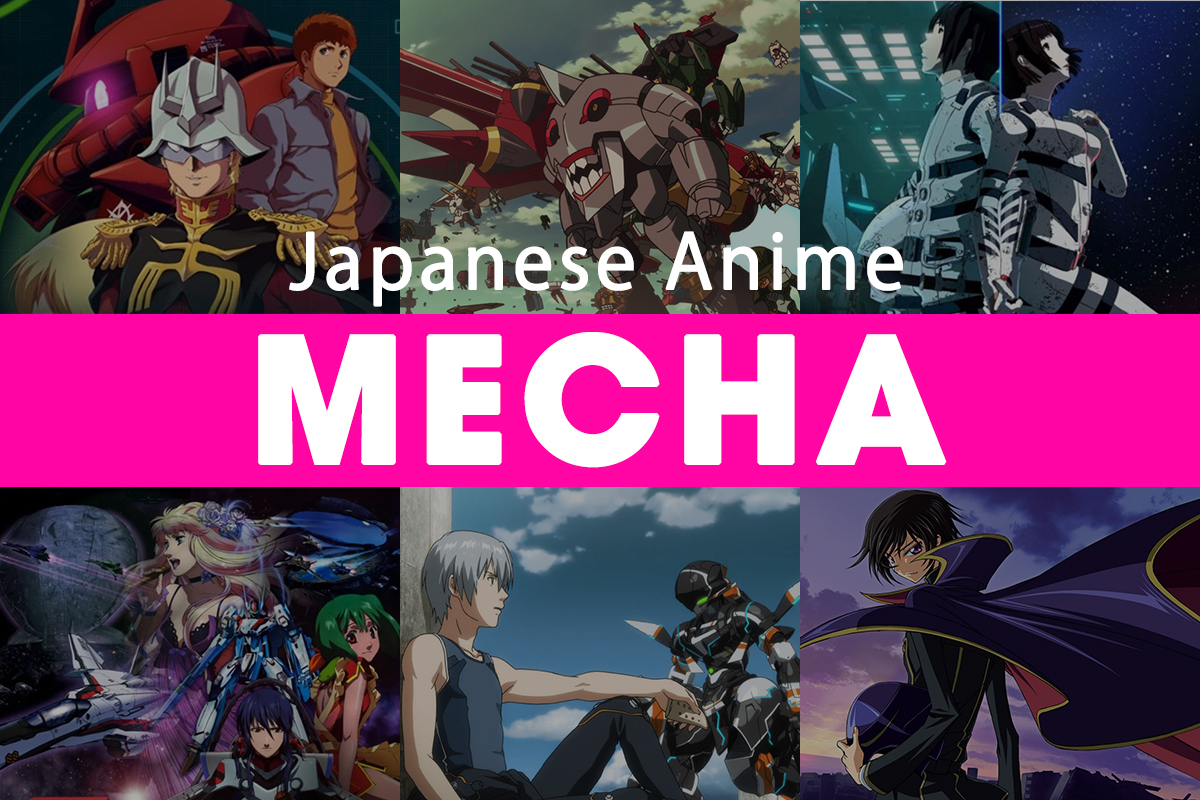 Mechas have been omnipresent in Japanese media even outside of anime. Japan has since the 20th century always been a country which looked to the future and was fascinated by technological advancements, useful or not, and mecha are a result of that mindset. While the heyday of mecha anime is long gone, and they no longer are the dominant force in Japanese anime, there are still quite a few being made, and quite a few of quality, as well.
The Mobile Suit Gundam franchise, which has been around since the 70s is still here, and produces at least one great anime per decade (although for the 2010s we were spoiled with two, arguably three), new IPs are being made, and some amazing manga are being adapted. The mecha genre is still here and going strong.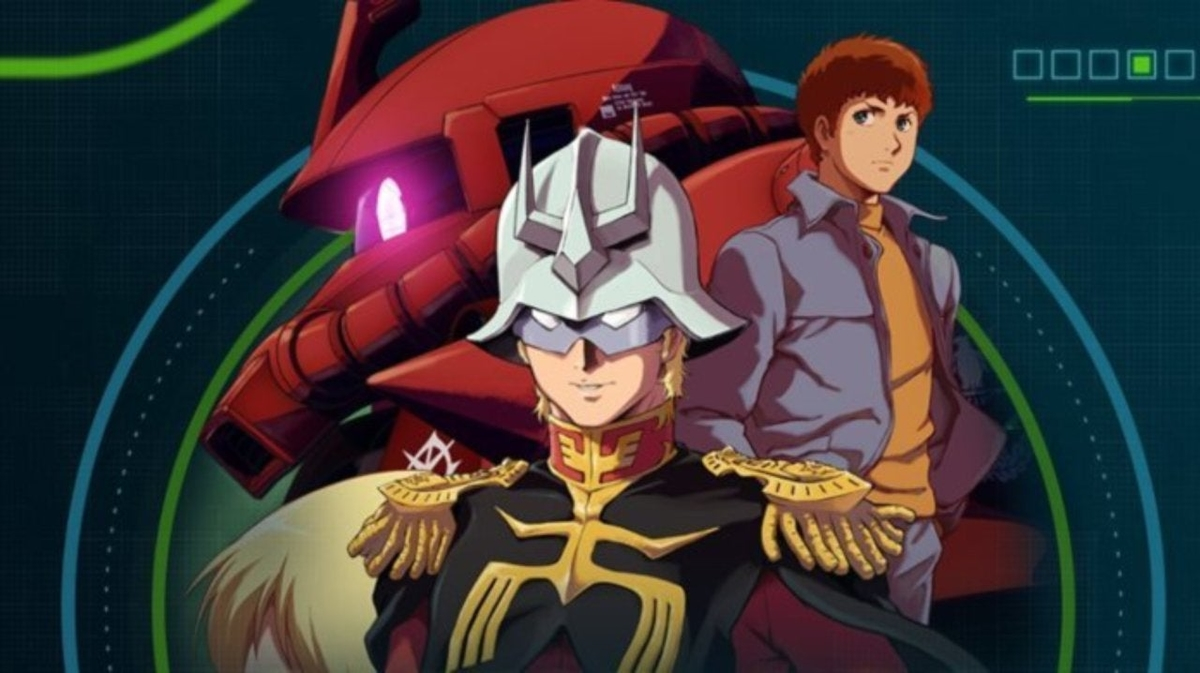 The year is Universal Centur (UC) 0079. The Earth Federation and Principality of Zeon, a nation of space colonist have entered the eighth month of their vicious war against each other. The story follows the crew of the White Base warship on their task to deliver the RX-78-02 Gundam mobile suite to Jaburo, the Federation base.
WHY IT'S WORTH IT
There are tons of Gundams made over the years since the first one came out, decades ago. Gundam is one of the most succesfull IPs in Japan and all over the world, and goes beyond anime. Gundam figurines sell millions of units every year, and movies, and OVAs have also been made of the iconic mecha series.
I was torn between recommending this one, or Gundam 00, which I really enjoyed back when it came out. I do believe this one is the best Gundam anime series, at least of the last few years. It actually closely follows the story of the original Gundam anime series, with some differences.
Not onl is it the best Gundam in recent years, Gundam: Origin is also one of the best Japnese anime (and manga) of the last few years. While serious overall, it also has a lot of quality comedic moments, and doesn't try too hard, the way many mecha do, which make the characters more relatable. Even in war, there are moments of laughter, and that is perfectly represented in this series.
One part that is less perfect is the 3D CGI. For the most part, it is well done, especially for the mechs themselves. However, there are times where the CGI is used in places I feel it should not, resulting in a clunky, visually insulting animation. Other than that though, the overall quality of the show makes up for it.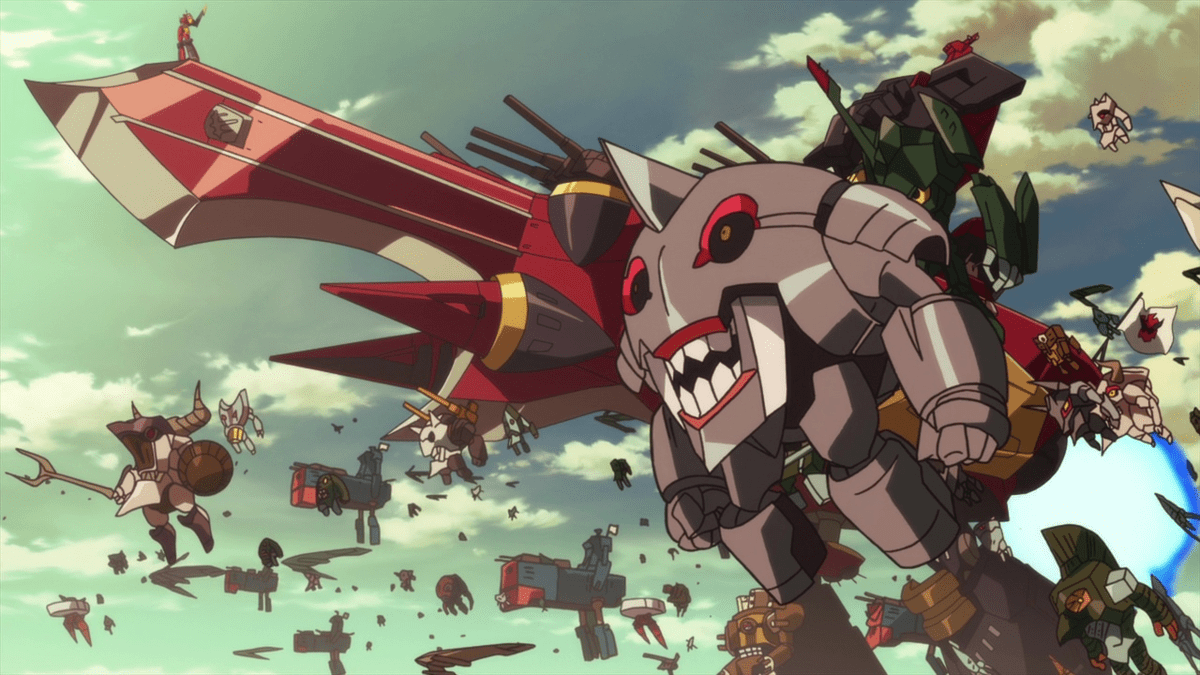 In a future where the Spiral King rules the earth, populations are forced to live in subterranean villages in constant fear of earthquakes. These are isolated from each other, and have no contact with the surface. Simon lives in the village of Jeeha where he works as a digger, whose job it is to excavate the earth and expand the village. His friend Kamina, is a delinquent who has aspirations to escape his oppressive life and reach the surface. One day, while digging, Simon discovers a mech robot buried inside. Soon after showing the robot, which they dubbed Lagann, to Kamina, the are forced to use it to fend off an attack from the surface, with the help of Yoko Littner who also came from the surface.
After succeeding in figting off the attack, with the village now open to the surface, the three of them go on together to explore it.
WHY IT'S WORTH IT
Gurren Lagann is probably the catalyst behind the formation of the Japanese animation studio Trigger (Behind Kill La Kill, Darling in the Franxx, etc.). A lot of the staff left Gainax and went on to create Trigger, and make anime in the same style as Gurrenn Lagann.
Gurrenn Lagann is an action-packed, comedic shonen anime which leaves you no time for a breather. The hype never stops. It's hilarious, at times cheesy, thrilling, and at times emotional.
The animation style is very colorful and a bit all over the place, in the same style as all subsequent Trigger anime. The fanservice can be a bit overdone at times, which can be off-putting, but if you're willing to look past that, it's a very rewarding experience.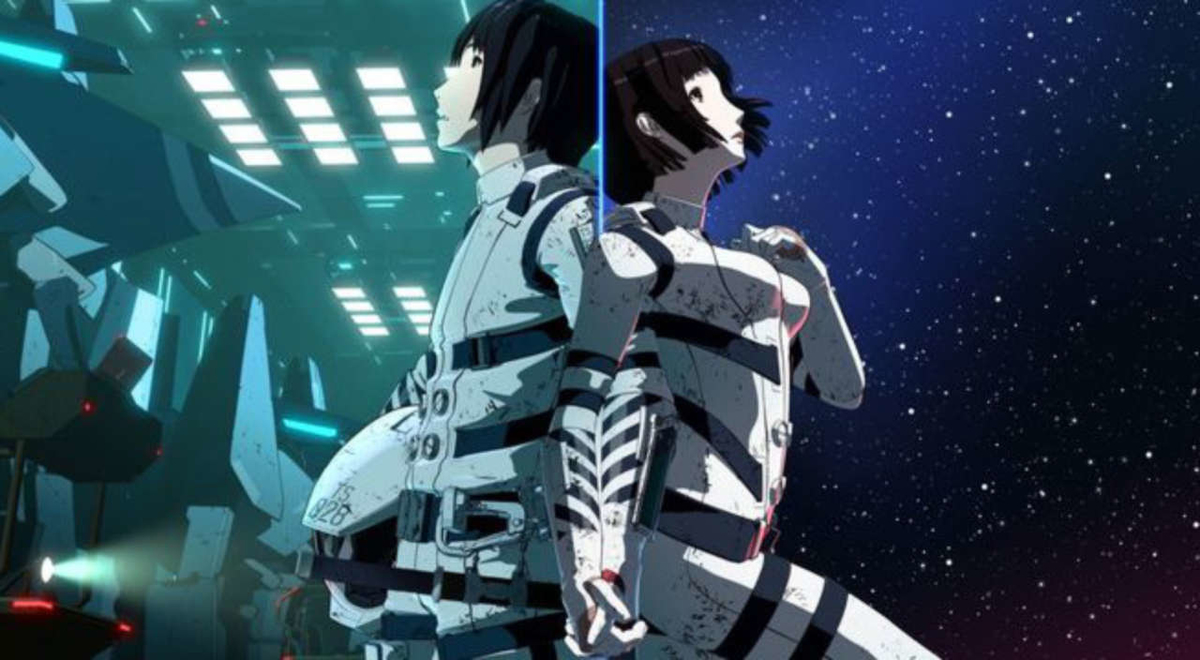 In 3394, a thousand ears after Earth had been destroyed by the shapeshifting aliens known as the Gauna, the remnants of mankind flee their pursuers aboard assive ships made of pieces of the plant. The Sidonia is one such ship, where the culture is based on what was Japan. There, advancements such as cloning, and genetic engineering granting humans photosynthesis, are the norm.
The story follows Nagate Tanikaze who had lived in the underground layer of Sidonia with his grandfather, isolated from everyone else, and training in a Guardian pilot simulator day in, day out to the point of master. After his grandfather died, he went up to the surface and was selected as a Guardian pilot, as the threat of the Gauna is once again looming on Sidonia.
WHY IT'S WORTH IT
Knights of Sidonia is adapted from the manga of the same name by Tsutomu Nihei. Nihei is one of my favorite manga artists, and is behind other works such as Blame! He studied at the Parsons School of Design in New York and worked in construction, two experiences he uses aptly in his manga. Gigantic architectural structures usually play an important role in his works, and Knights of Sidonia's ships are no different.
The story of Knights of Sidonia could have gone over the span of two seasons. But since it doesn't, it means there is never a dull moment. That however also means it is a bit rushed, and there are resulting plot holes. Nonetheless, the story is great.
The animation is where it truly demarks itself. Not to everyone's taste, KoS is made entirely with CG animation, which is still quite rare with Japanese anime. It takes of getting used to. I have my beef with CG in anime, and this one is no different. It looks clunk at times. Otherwise, the animation is gorgeous, especially for the "structural stuff" like the ship and the mechs, but again, the creator is a trained designer.
The sound effects pack a real punch. There's this meaty, satisfaction when things collide. The music is not bad, but not extraordinary, though.
If you want something a bit nontraditional, this is a sure bet, and it's easily accessible on Netflix.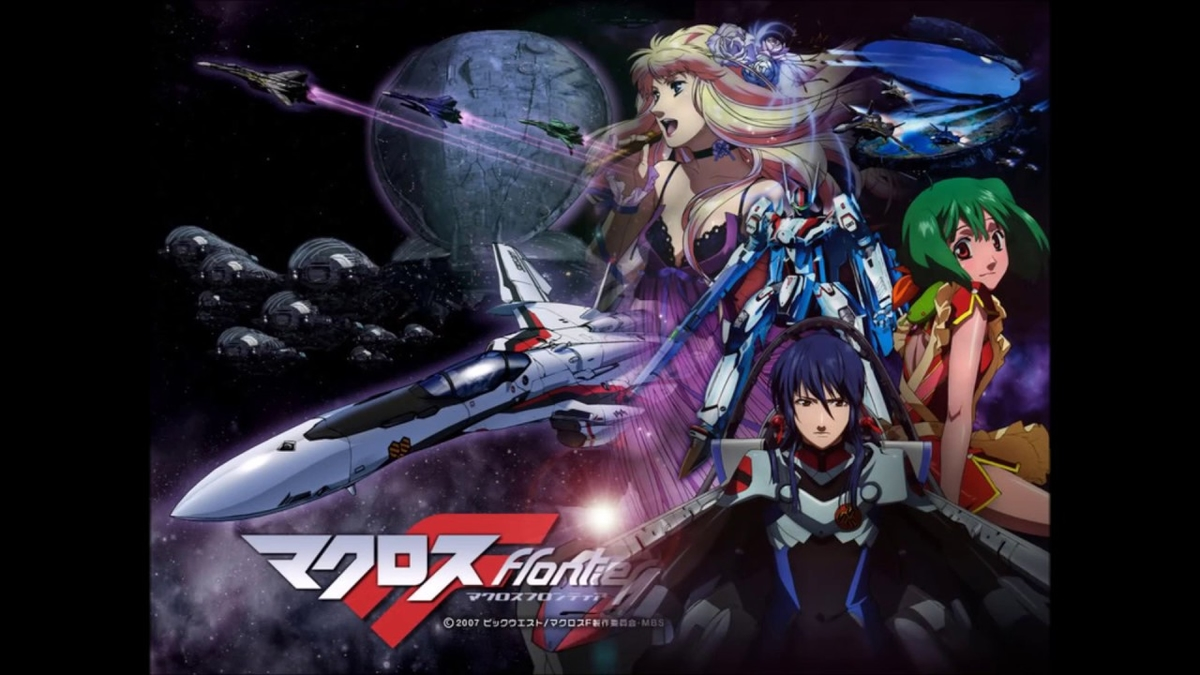 Following Earth's decimation after a war against a race of giants known as the Zendradi, humanity escapes on a fleet of space vessels called the Macross Frontier towards the center of the galaxy. Years later, as the distance between the Macross Frontier and the threat grows large and larger, life resumes as usual.
In 2059, Alto Saotome, a mecha pilot trainee and his mates prepare to accompany Sheryl Nome, a famous singer who has come to Macross Fronter for a concert. However, during the concert, the Vajra, a biomechanical alien species make a surprise attack, turning the city into battlefield. As the civilians evacuate, a girl named Ranka Lee is left behind and becomes the target of the Vajra fighters before being saved by Alto. Showing his skills in battle, Alto is subsequently recruited to help combat the new alien threat.
WHY IT'S WORTH IT
I watched Macross Frontier during while I was in high school, during the golden years of my formative anime watching career, when I watched ridiculous numbers of anime, developing both my portfolio, and my taste. I haven't gone back to revisit it since, but I remember high school Marcel absolutely loved it.
Along with Gundam, Macross is one of those decades old Japanese mecha anime franchises (known as Robotech in the U.S). Macross Frontier was actually released for the 25th anniversary of the franchise. Unlike Gundam, which has more political focus, Macross somehow blends space opera and idol culture. The story is not refined and exquisite, but it is enjoyable, and the fight scenes are great.
Along with that, is hype music going along action scenes. Music, is after all one of the focuses of the Macross franchise.
Statelight has unfortunately (in my humble opinion) not produced anything of worth since, but Macross is well worth a watch, especially if you're looking to binge watch something less edgy than the rest of this section.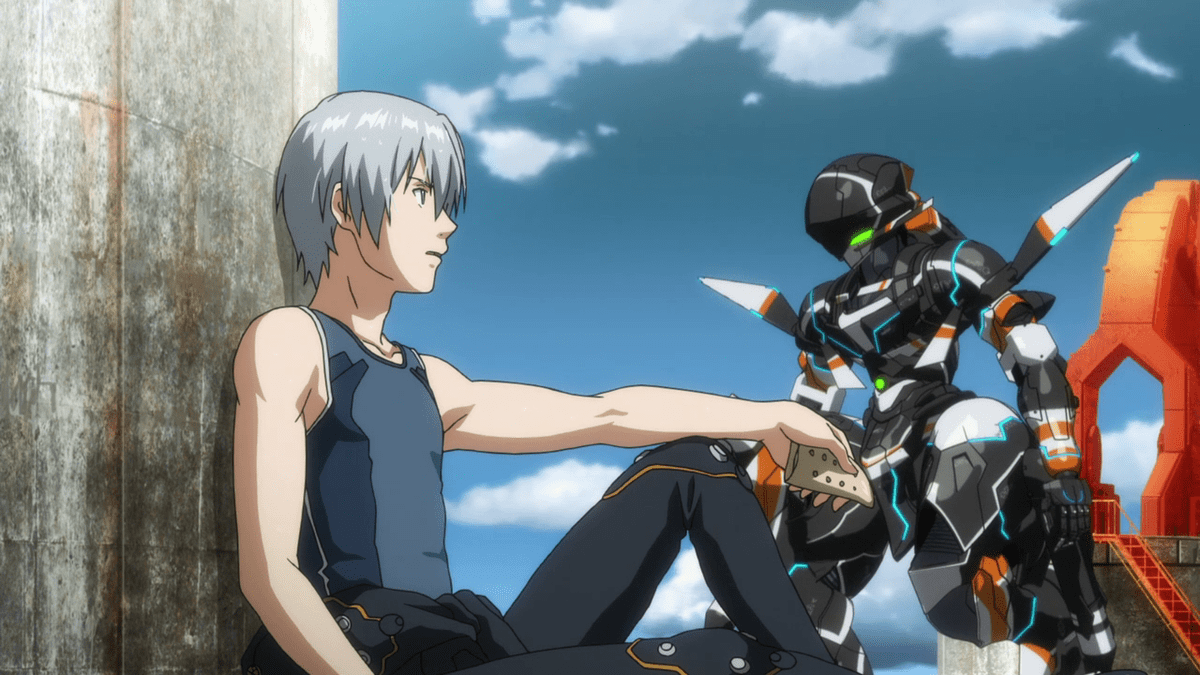 Humankind is on the brink of complete extermination and now drifts across space aboard the Avalon, a massive, technologically advanced space shift. There, mankind prepares to launch its last, desperate attack against the Hideauze, the alien race that has almost completely decimated it. During this battle, Ledo falls into a wormhole and lands into a place unfamiliar to him: Earth, the birthplace of the human species, which had been turned to ice long ago. He is saved by the inhabitants of fleet of ships that roams the flooded planet: The Gargatia. There, he learns to cope with the primitive technology, the less advanced people and their language, and find a way back home in space.
WHY IT'S WORTH IT
Gangantia, if I'm honest, is more of a slice of life than a mech action series. But that should not keep you away from it. In fact, it's very good at what it does. A lot of the seires centers around a single, major question: "what does it mean to be human?" Although Ledo is from a more advanced, space faring community of humans, despite the difficulty in dealing with the humans that remained on earth, and are more "primitive", we see how they accept each other as one and the same.
This Japanese anime is also visually very pretty, the character design is great, and the backdrops and jaw-dropping.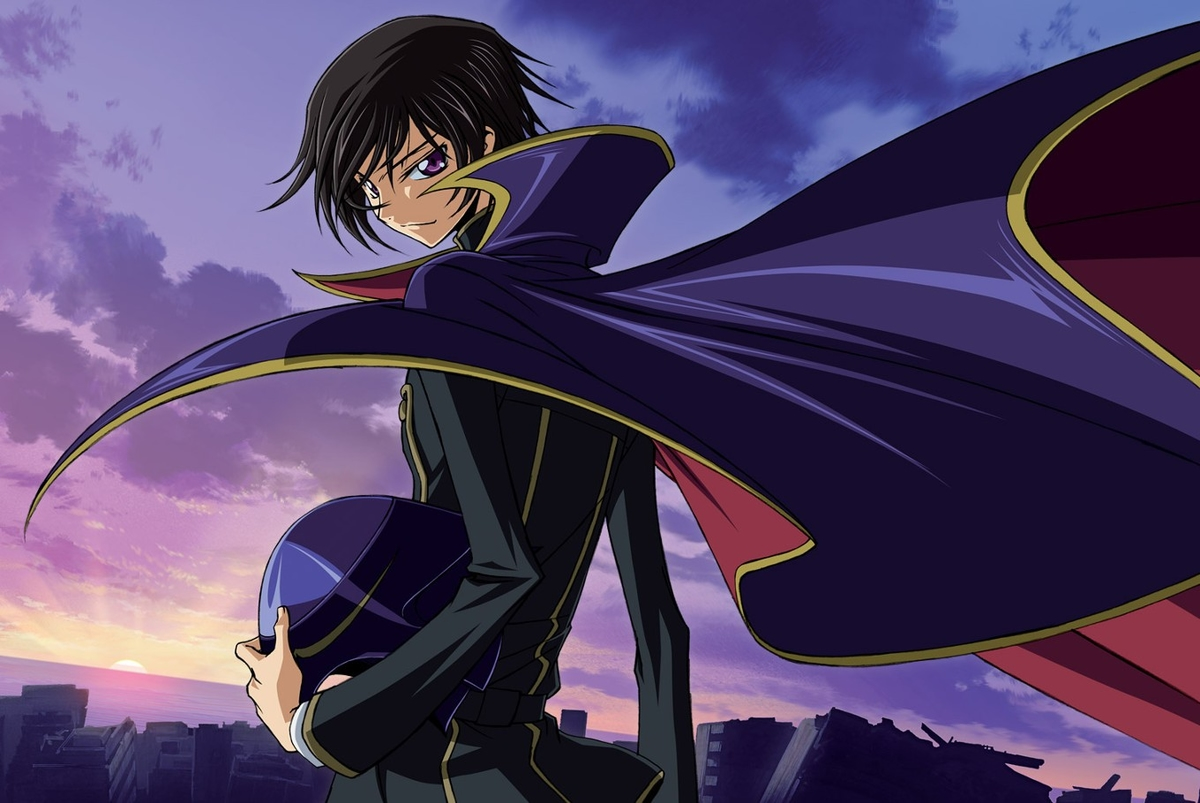 In the year 2010, the Holy Empire of Britannia in a campaign to establish itself as the world's dominant military nation started by conquering Japan using powerful mechs known as Knightmares. Renamed Area 2011, Japan is still home to significant resistance rebel forces attempting to regain independence.
Lelou Lamperouge, a Britannian student living in Area 11, who has grown up to hate the Empire, one day finds himself in the crossfire between rebels and Britannian forces in the aftermath of a terrorist attack. There he meets a mysterious girl who grants him the ability to control other people's actions and decides to use his power against Britannia to free Japan of its oppressor.
WHY IT'S WORTH IT
I'll be honest here. The only reason Code Geass is here is because I had to included it somewhere. I couldn't not include it, and the other places it would have fit were already filled out. I didn't lie though, it's in parts a mecha anime, with mecha, and even cool mecha fights.
Code Geass is an important series in the long, arduous path that one has to take to master Japanese anime fandom, somewhere after battle shonen, and before the hardcore stuff like Serial Experiments Lain, right around the Death Note zone. It is in fact, very similar to Death Note, in that strategy is of the utmost important in this series (although in this case, the strategy is usually only obvious to the characters themselves, and details are not clear to watchers, which I hate). While Code Geass is no House of Cards, it is still a fast-paced story full of twists and turns, with the right amount of character building, slow moments, humor, and often even cheese and over the top antics. The mechas seem to be there mostly to move the story along, and as a good delivery system of mass casualty to portray Britannia's oppression.
The animation while not mind-blowing, is very good (remember folks, this was made in 2006). The character design while a bit "weird" to some, is very characteristic of CLAMP.
Japanese anime & manga 101: CLAMP is an all-female team of Japanese manga artists behind works such as xxxHolic, Tsubasa Chronicle, and other revered classics of the otaku world.
As for the music, while the ambient sounds and effects are also just good, I still find myself yelling along to the opening everything a gentle soul plays it when at the karaoke.
NEW TO JAPANESE MECHA ANIME?
If you are new to anime, or looking for series to recommend to someone new to Japanese anime, I'd recommend Code Geass. I have yet to meet someone who has watched over 10 anime, and has not seen and enjoyed Code Geass. The reasons are simple. The story appeals to mass amounts of people, regardless what niche taste they might have. The story is good, while not too technical, but also not convoluted, and it's not all action. There is humor, there are feels, and there is even a bit of the ridiculous. In short, it's an anime for the people, regardless who the people is.
The English dub version is not totally awful either, if you'd rather not read subtitles.
JAPANESE HORROR ANIME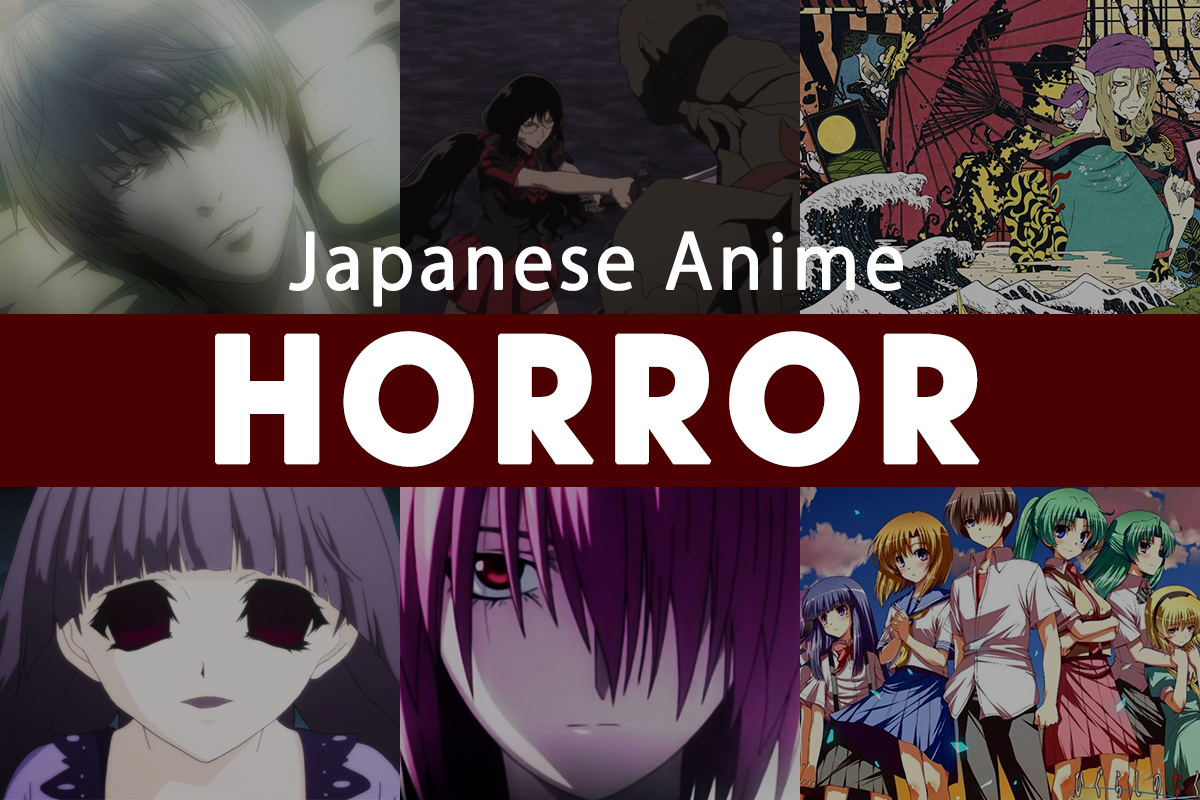 This is probably the hardest genre to recommend when it comes to Japanese anime. There aren't many scary anime, in the jumpy sense. There are anime which are gory, anime which will psychologically mess you up, and anime with dark fantasy themes, but they are not usually "scary". Now a few of them are scary, Higurashi When They Cry for example scared the life out of me. But, maybe because of cultural difference, the means used to scare are different.
So if you're looking for horror manga, here are six of them, varying from gory scary, to psychologically messed up scary, but all of which are very good, and will entertain you throughout.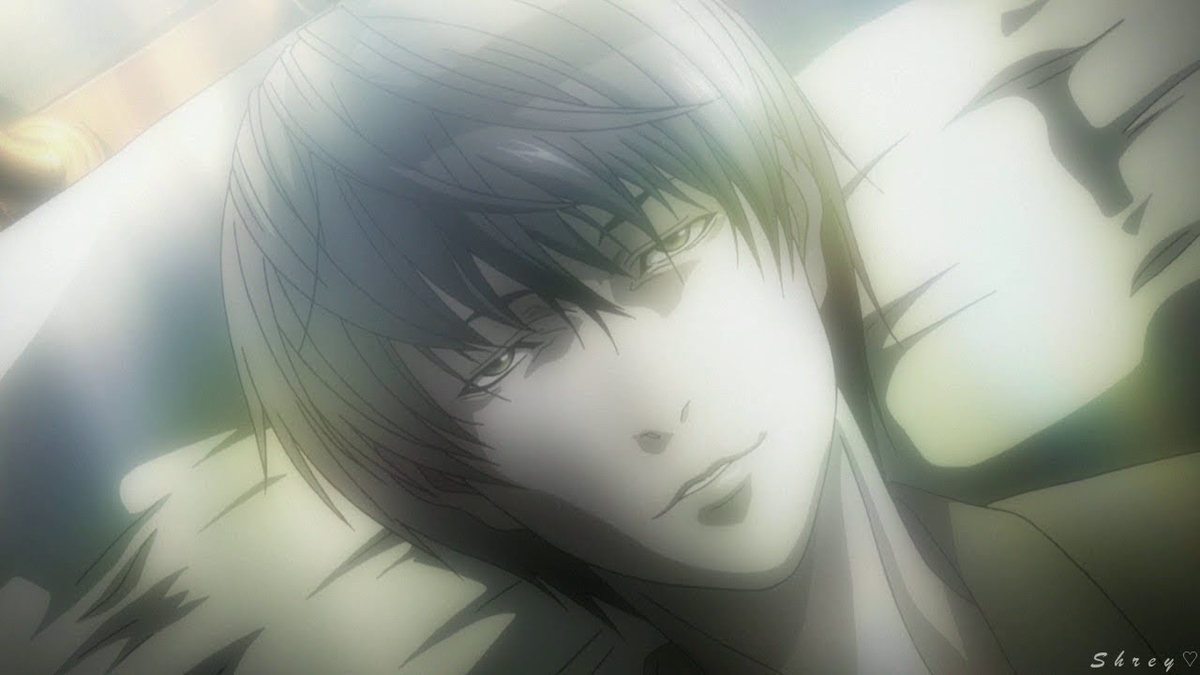 This series consists of adaptations of six modern classics of Japanese literature:
No Longer Human (Osamu Dazai): This story depicts the struggles of a high school student with feelings of being lost and alienated by society. It is told in four chapters each detailing a point of life as he descends into a cycle of depression and substance abuse.
In the Forest, Under the Cherries in Full Bloom (Ango Sakaguchi): This is a love story between a forest bandit and a beautiful maiden he abducts, and takes as his wife, set in the 12th
Kokoro (Natsume Soseki): This story explores the transition from the Meiji era to the modern one, through the friendship of a young man, and older one he calls "sensei". Through their relationship, the story explores the themes of isolation in the context of egotism and guilt.
Run, Melos! (Osamu Dazai): This is a modern retelling of the classic Greek Tale of Damon and Phidias. This story deals with the hardships of friendship. Melos deals with the feelings of betrayal for his childhood friend, who he has done everything for.
The Spider's Thread (Ryunosuke Akutagawa): Kanda is executed and lands his hell. Throughout his life, he was a cruel bandit. However, the Buddha Shakyamuni witnessed his one good deed while living – not stepping on a spider in a forest. Moved by this, Shakyamuni lowers the thread of a spider down to hell for him to climb up to heaven. Unfortunately, he isn't the only one trying to make his way up.
Hell Screen (Ryunosuke Akutagawa): Yoshihide is the greatest painter in the land. He receives a commission by a great lord for a folding screen depicting the Buddhist hell. However, Yoshihide can only paint things he has seen himself. His solution is to torture his apprentices to create the images he will paint, as destruction and insanity ensues.
WHY IT'S WORTH IT
Aoi Bungaku Series is a wonderful introduction to Japanese literature beyond the usuals (Haruki Murakami). Not often enough are Japanese anime based on novels instead of manga and short fantasy novels. This one introduces six of them. Though they are unrelated, there are protruding themes of desperation, self-assessment, and introspection.
Although, being only a few episodes, not all from the books can be covered, they did a good job at grasping the main plot and accompanying theme of each novel, and make you want to pick up the books.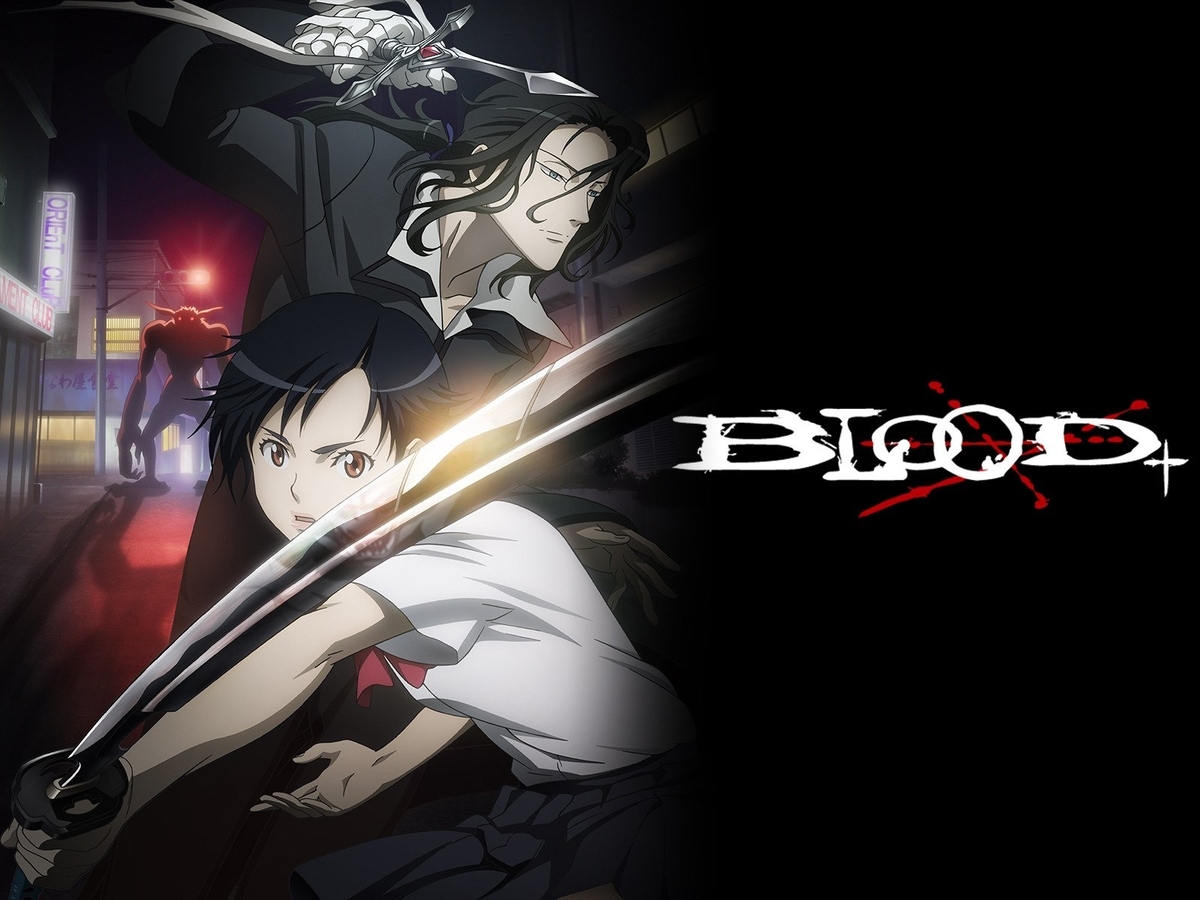 Saya Otonashi lives in Okinawa City with her adoptive family and lives a normal high schooler's life, except she is is an anemic amnesiac and has lost all memories beyond a year ago.
Her past however catches up with her when she is attacked by a Chiropterans, a bat-like creature that feeds on human blood. Just as she had given up hope, a man named Hajj appears and chases the creature away, then forces her to drink his blood. This causes her to go into a trance and kills the beast, using the power of her own blood.
Saya learns of an organization, Red Shield whose purpose is to fight off the various creatures which harm humans. She embarks on a journey traveling throughout the world to rid the world of Chiropterans and learn the truth behind her past.
WHY IT'S WORTH IT
Blood+ isn't really horror, to be honest. That is if you define horror as the "makes you jump out of your seat" type thing. It doesn't do that. It does however have gory components, dark fantasy components, and badass action and story.
I really like the character design. Proportions and faces are made to look a bit more natural. None of that oversize eyes type stuff. High schoolers actually look like high schoolers, not like elementary school students that are somehow 10 years older than they look. The following series Bloo-C does have more horror components though, but first you have to watch Blood+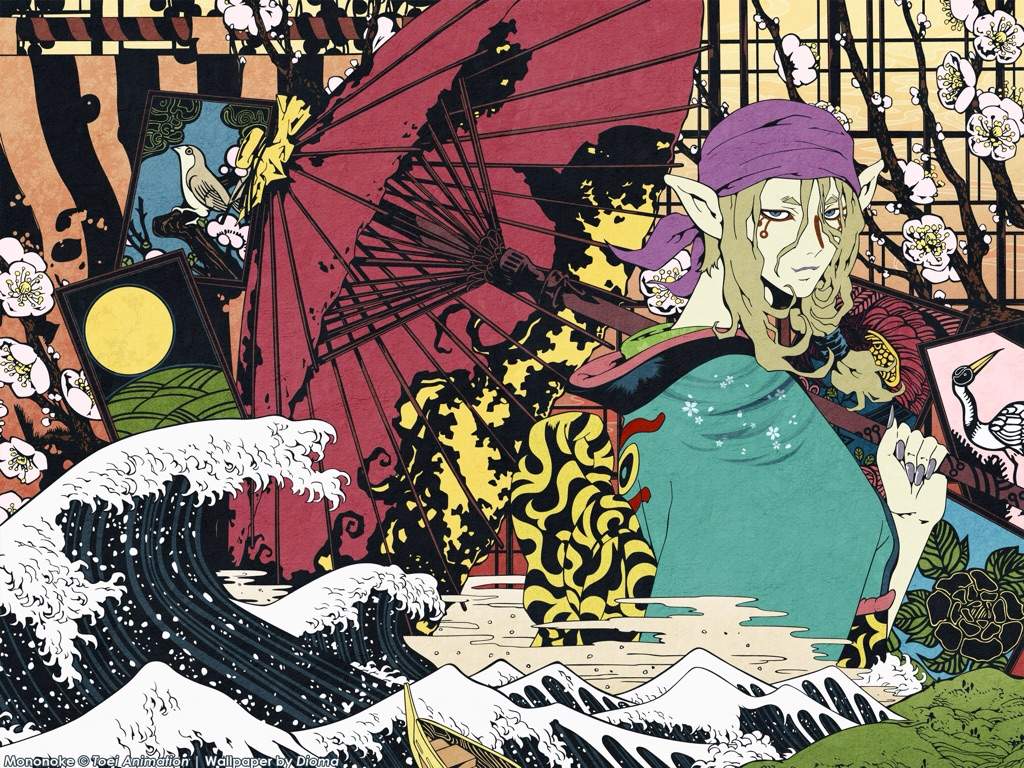 Mononoke follows a wandering character referred to only as the "Medicine Seller". The series is split in chapters in which the protagonist fights Mononoke, spirits that haunt the human world by feeding onto negative human emotions. The Medicine seller uses his extensive knowledge of the supernatural to deduct the spirit's Katachi (form), Makoto (truth), and their Kotowari (reason). Once he knows all of them, he can exorcise them with his sword.
WHY IT'S WORTH IT
The marriage of surrealist art and horror story in Mononoke is breathtaking. Mononoke achieves its horror more through psychedelia and the confusion of the senses. The mind distortion is what is truly terrifying. Humans like patterns and for things to make sense. Here, they do not make sense. You are led to believe one thing, only to be led to question that belief as the the episode or arc advances. It's truly uncomfortable.
The story is split into arcs, and the one from three to five, might be the best thing to have ever been made in Japanese anime. Mononoke is quite similar to Mushi-shi, which is one of my favorite anime, but engages the sense a lot more with the senses, while Mushi-shi engages with the intellect more. The animated art piece that is Mononoke is a must watch.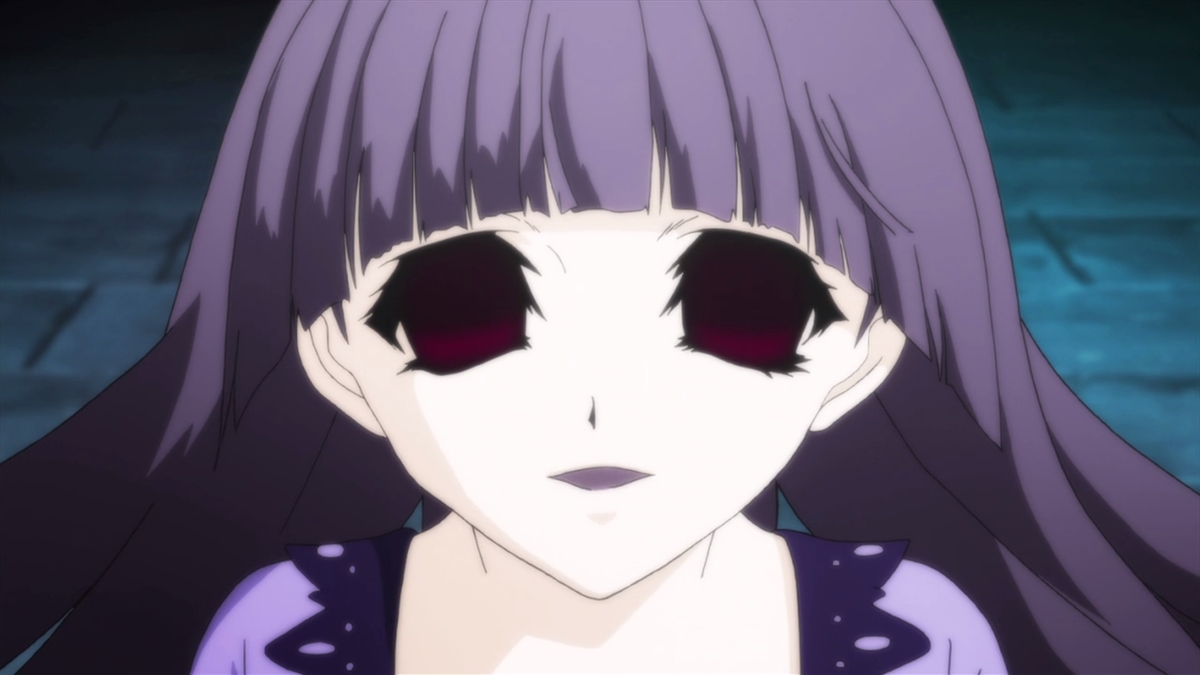 In summer 1990, in a small Japanese village called Sotoba, a series of mysterious deaths begin to occur. These deaths coincide with the arrival of a new strange family that moved into a long-abandoned mansion. Doctor Toshio Ozaki, the director of the village's hospital began to investigate these deaths, and eventually becomes convinced they are the work of "shiki", vampire like creatures. All the while, the protagonist, Natsuno Yuuki sees himself surrounded by death, and pursued by it.
WHY IT'S WORTH IT
Too often in modern pop cultures has the concept of vampires been ruined with poor characters, poor story, and over friendly vampires (Looking at you Twilight, and Vampire Knight). Especially in Japanese anime, where vampires are often protagonists in romantic shojo manga. Shinki, instead does not follow that cliché.
Shiki is really about human survival. It shows that when people are desperate, there is no limit to what they will do to save themselves. The lines between murder and the struggle of live are blurred. Why is a vampire feeding to survive worse than humans slaughtering countless numbers of animal to eat? Do they really have the moral high-ground? Shiki asks that question, and many more.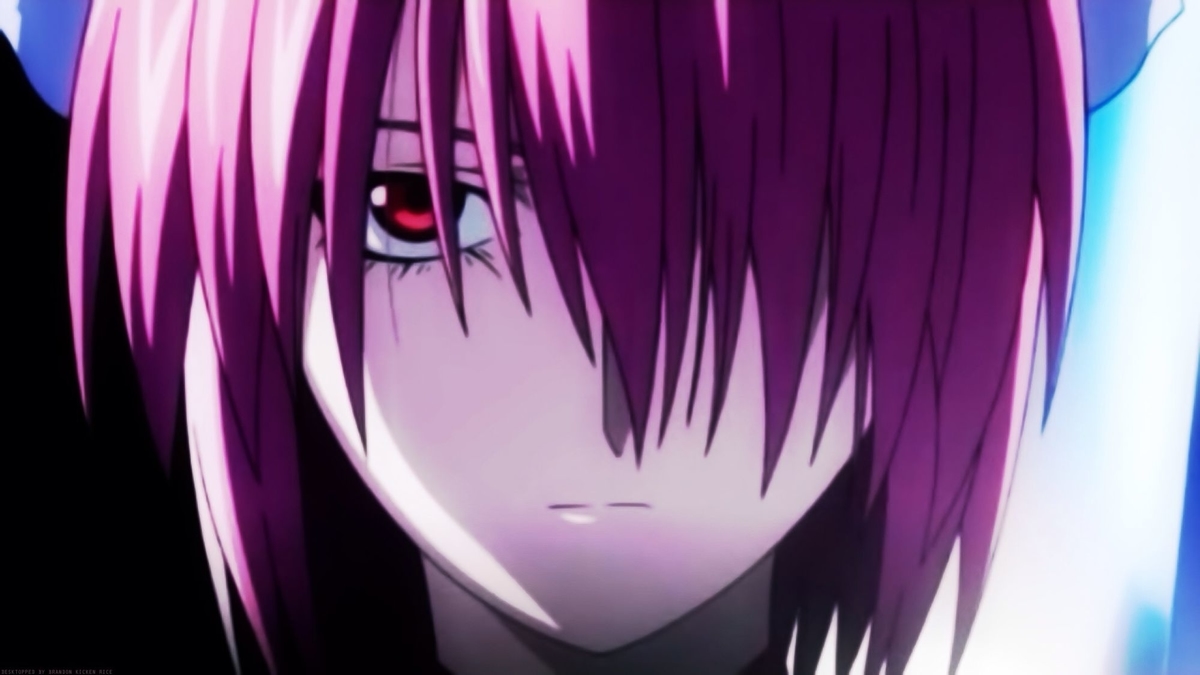 The Diclonius are a newly mutated species similar to humans. They however have horns, and more importantly, telekinetic invisible arms called Vectors. Lucy is one such Diclonius. She escapes from the facility where she was being kept a secret and was experimented on, while butchering everyone on her way, but was injured in the process. As a result, she developed a second Personality named Nyu. Nyu, unlike Lucy is a childlike, kind girl. Lucy is found by Kouta and his counsin Nya, who take her in, and become caught up with attempts by assault teams, and other Diclonius to recapture Lucy.
WHY IT'S WORTH IT
I think I watched Elfen Lied a bit too young. I was not ready for all the gore. Elfen Lied is weird in a sense. It switches from casual, cute slice of life anime, to gory, violent anime within same episodes. And each times, you're not ready. If you'd rather not see gore and dismemberment, you should stay away from this anime. If you're into that sort of stuff, definitely watch.
Another note, the opening, is absolutely sublime. They display visuals based on the paintings of Gustav Klimt, accompanied by music from the composer Hugo Wolf.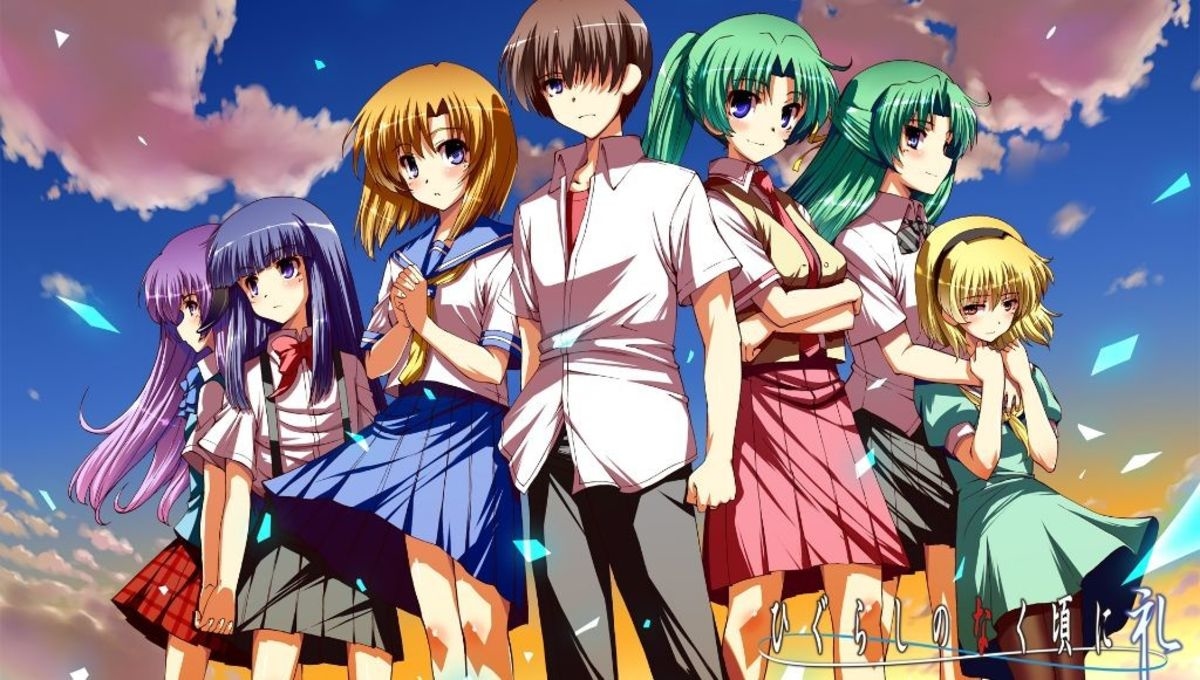 The story takes place during June 1983 in the fictional village of Hinamizawa, population 2000. Keiichi Maebara has recently moved to the village and become inseparable with his new classmates Rena Ryugu, Mion Sonozaki, Rika Furude, and Satoko Hojo. Hinazawa is a seemingly quiet, peaceful village where not much goes on. That is until the village festival, in celebration of the local god, Oyashiro. Keiichi learns that for the past four years, one person goes missing, and one is murdered every year on the evening of the festival. Keiichi becomes interested in the events surrounding the festival and the god it celebrates. The story is split in arcs, each having an alternative version of the story, where Keiichi and his friends are involved in different ways.
WHY IT'S WORTH IT
Higurashi When they cry causes massive paranoia. Everyone seems so cute, likeable, and nice. But as you watch, you know you can't trust anyone. Each arc has an alternate story, where the killer might be different, and you can almost never tell. It's one of those where you're screaming at the MC to run, knowing he won't hear you, but you do anyway.
Higurashi When they cry is based on a doujin visual novel, with multiple storylines and endings, which is where the arc format comes from. For more on what doujin is, check out our article on Comic Market.
NEW TO JAPANESE HORROR ANIME?
If you're trying to get into Japanese anime, or trying to get someone else into it, I'd recommend to watch Aoi Bungaku series. I say this because it's not only an introduction to anime, but also to Japanese literature. It's less fantastical, and more rooted in reality. Almost a live action movie, but animated.
I also love the way it's animated, it's aesthetically pleasing on the eyes, playing with lighting, shades, and angles, as making great use of facial expressions to show emotions and thoughts.
WHERE TO WATCH JAPANESE ANIME
Access to Japanese anime is better than ever, and getting better every year. Where/what you can access of course depends where you live, but here is a general overview.