From mid-April to mid-November, going to the Kamikochi valley is a unique way to enjoy Japan's landscapes while escaping the unbearable moist heat of its summer.
Part of the Northern Japan Alps, and conveniently accessible from the major hubs of central Japan, Kamikochi receives around two million visitors every year.
The best way to find out why was to go there ourselves, so that's what we did at the end of July.
You'll find below an overview of the place, how to get there, and what to do in Kamikochi.
THE Japanese Alps: Kamikochi
Located inside the Chubu Sangaku National Park in the Northern Japan Alps, Kamikochi Valley's altitude is about 1500 m (~5000ft). Even though the oxygen level in the air is lower than at sea level, this should not be a problem for those who are walking/trekking at a normal pace.
Being in a National Park, Kamikochi is subject to numerous restrictions including traffic ones, so if you were planning on coming by car you'll need to stop at some point then take an authorized shuttle bus to the protected areas (more on that below).
It's a typical "mountain resort" in Japan, ideal for a change of air, temperature and scenery.
The average maximum temperature in Kamikochi in Summer is around 23℃/73.4℉ in July/August, and the weather is generally good although some heavy rain and strong winds can occasionally happen, so it's better to come prepared.
Location of Kamikochi
Walking around Kamikochi is quite easy. The path is clearly visible, information about the area is displayed at key locations and, more obviously, everything follows the banks of the Azusa River.
With the main bus terminal at the center, it's a good idea to stop at the Taisho pond and go North towards either the Bus Terminal or the Myojin Pond (more on that a few sections down), but do not do the opposite!
In fact, buses only stop at Taisho Pond on their way to the Kamikochi Bus Terminal.
Weather in Kamikochi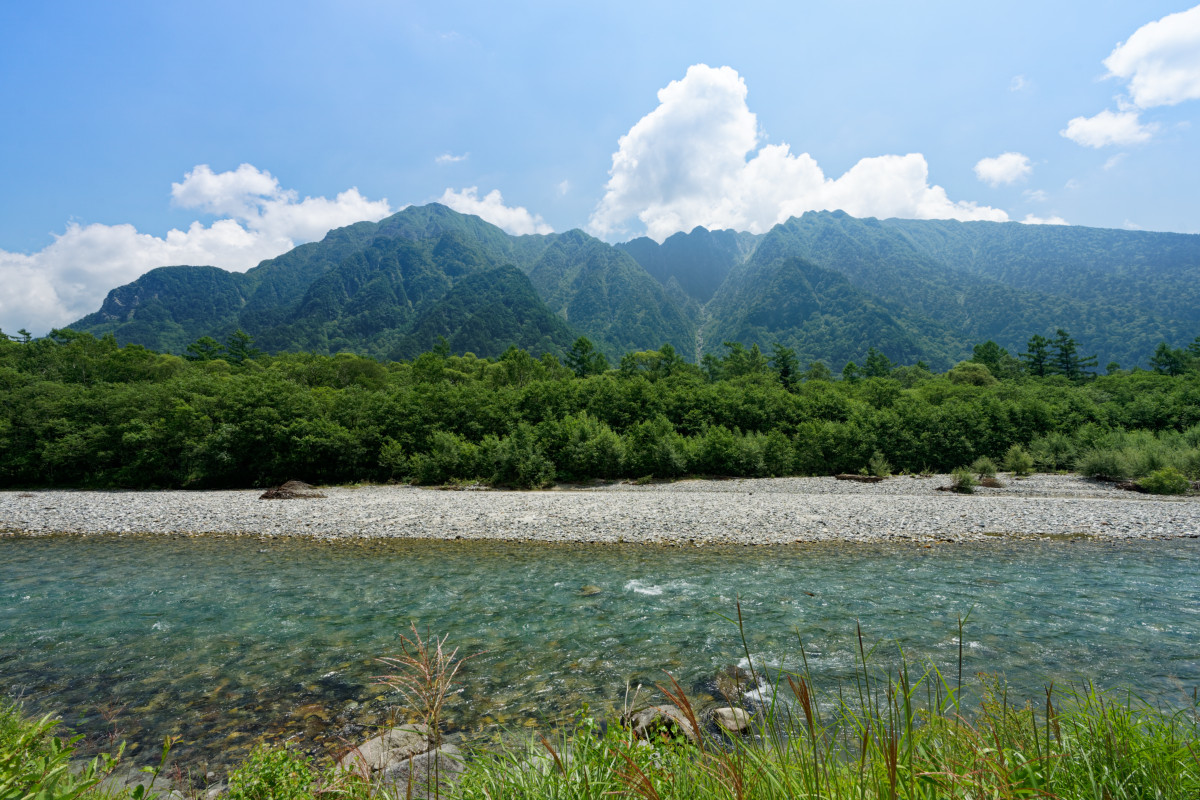 In case you didn't know it, Japanese summer can be harsh on lighter skins, so bring some sunscreen!
Here is the average temperature range in Kamikochi!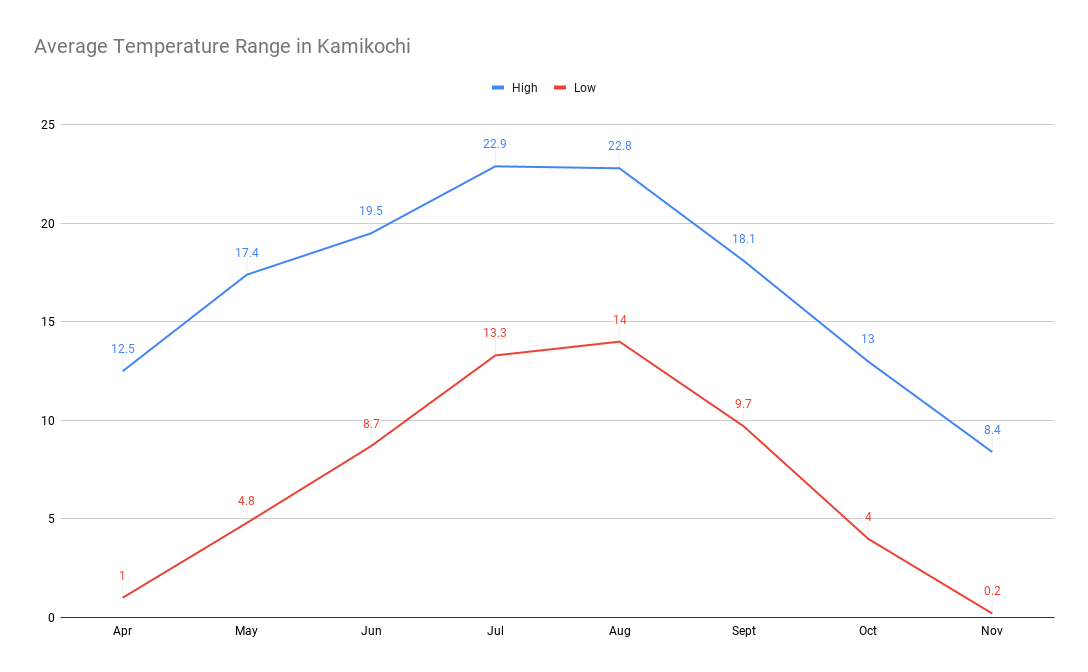 Transportation to Kamikochi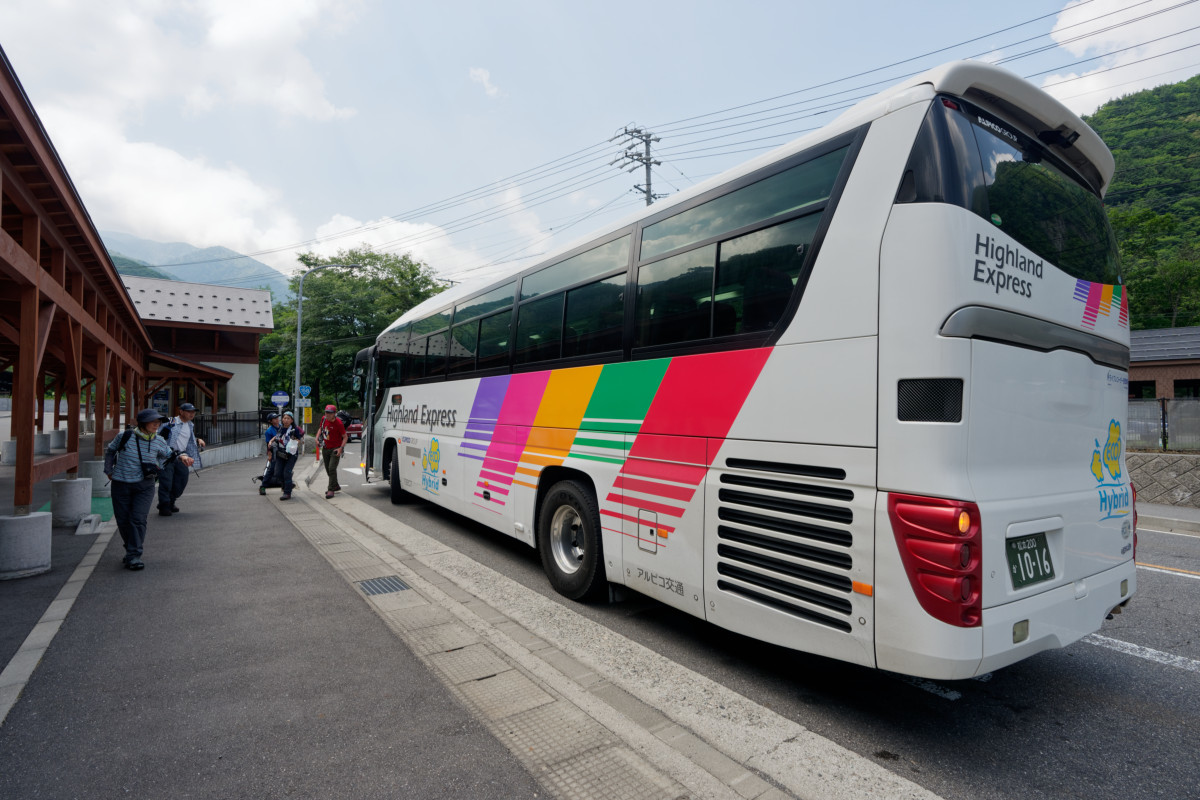 As I've previously mentioned, to protect the park's ecosystem, its access is limited to authorized vehicles (taxis and buses for business use, plus licensed vehicles).
If you're coming directly from highway buses this won't affect you in any way, but if you're coming by car you'll have to stop at one of the following places to take a shuttle bus:
From Matsumoto (East):
Sawando (沢渡), just outside the big parking lot:
06:00 – 15:40 towards Kamikochi, 07:25 – 17:05 towards Sawando
Round-Trip: ¥2,100 ($14.06) for adults (over 11 yo), ¥1,050 ($7.03) for children (6-11 yo), free for infants using their parent's seat (under 6 yo)
Takes roughly 30 minutes.
From Takayama (West):
Hirayu-onsen (平湯温泉) or
Akandana Parking (あかんだな駐車場):
06:20 – 16:50 towards Kamikochi, 07:30 – 17:00 towards Akandana
Round-Trip: ¥2,090 ($13.99) for adults, ¥1,050 ($7.03) for children (6-11 yo), free for infants using their parent's seat
Takes roughly 35 minutes. Additional buses available earlier and later during peak season.
06:20 – 16:50 towards Kamikochi, 07:30 – 17:00 towards Akandana
Round-Trip: ¥2,090 ($13.72) for adults, ¥1,050 ($7.03) for children (6-12 yo)
Takes roughly 35 minutes. Additional buses available earlier and later during peak season.
In both cases you'll be able to buy tickets at the bus stop, so there's no need to reserve early.
These routes, timetables and prices are subject to change, so please check through the websites of the bus companies before leaving.
Tokyo to Kamikochi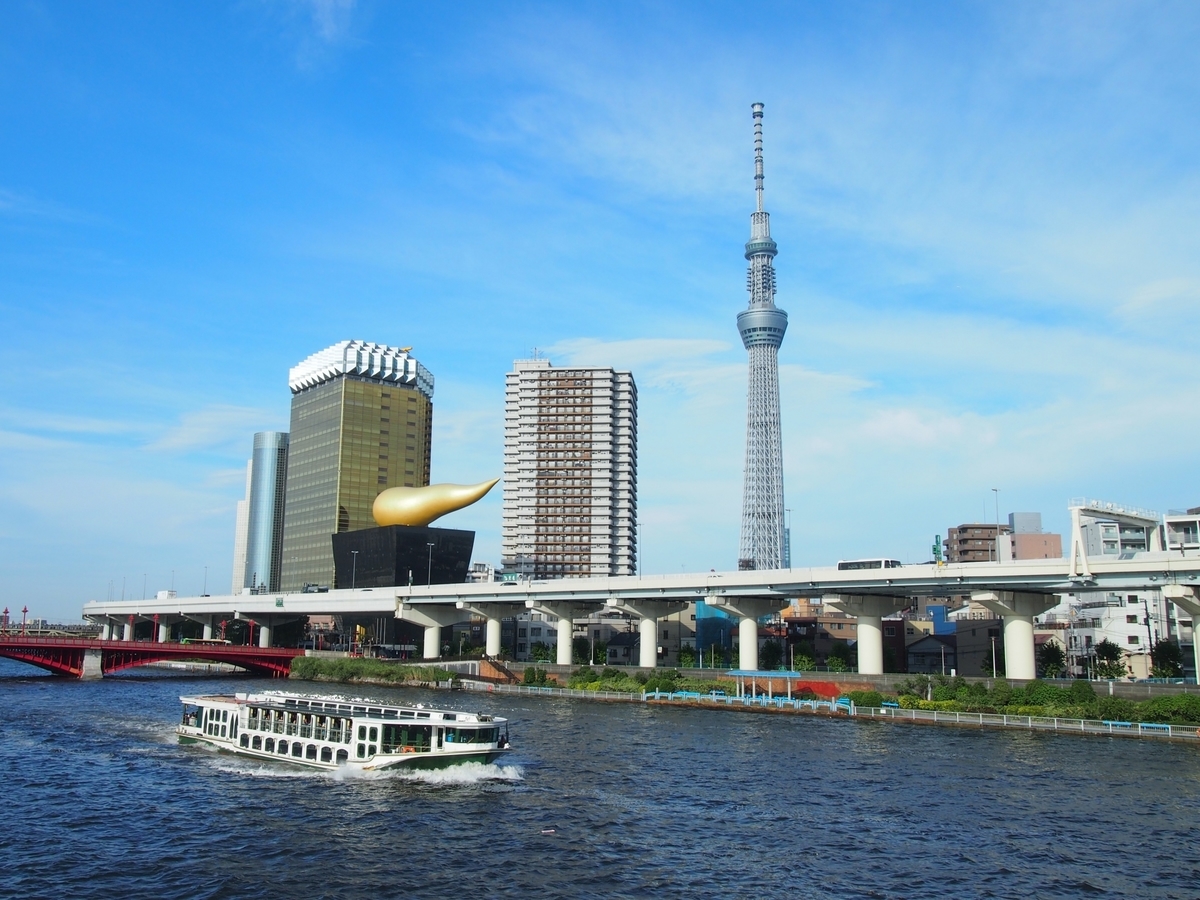 From Tokyo to Kamikochi, you have two main options besides a car: buses and trains.
Buses depart from Shinjuku and Shibuya, and the company is once again ALPICO.
You may see that Keio Dentetsu also provides a bus service to Kamikochi but they're just reselling seats on ALPICO buses, so if one still sells tickets while the other is overbooked this could come in handy.
To save hotel money, if you are one of the lucky few who are able to sleep in a bus you can use a night bus leaving at 22:25 and arriving at 05:20, but it's usually a more expensive Premium Green Car so…
The prices are… well… you may prefer to rent a car or take the train (see below).
From Shinjuku: departing at 22:00 and arriving at 05:20 (Standard Bus), departing at 22:25 and arriving at 05:20 (Premium Green Car or Standard Bus). From Shibuya: departing at 07:12 and arriving at 12:02 (Standard Bus). From Kamikochi to Shinjuku: departing at 15:00 and arriving at 19:47 (Premium Green Car or Standard Bus), departing at 16:15 and arriving at 21:02 (Standard Bus). From Kamikochi to Shibuya: departing at 15:50 and arriving at 20:40 (Standard Bus)
Tokyo, Shinjuku or Shibuya
Round trip: Premium Green Car: ¥17,000 ($113.81) to ¥19,400 ($129.87) for adults, ¥10,300 ($68.95) to ¥11,500 ($76.99) for children (6-11 yo). Standard: ¥13,400 ($89.71) to ¥15,800 ($105.77) for adults, ¥6,700 ($44.85) to ¥7,900 ($52.89) for children.
The Shibuya bus only runs from July to October.
If you have a JR Pass, it's quicker and cheaper (no additional charge!) to either take the Hakutaka Shinkansen to Nagano then the JR Shinonoi local line to Matsumoto from there, or the JR Super Azusa Express from Shinjuku Station to Matsumoto Station.
It depends on which cities you want to visit along the way, really.
For the following step once in Matsumoto, see the "Matsumoto to Kamikochi" section below.
JR Hakutaka Shinkansen + JR Shinonoi (without JR Pass)
Tokyo Station -> Nagano -> Matsumoto
One-way: ¥10 300 ($68.95) (or ¥8340 ($55.83) + ¥2900 ($19.41) if you stop at Nagano)
JR Super Azusa Express (without JR Pass)
Shinjuku Station -> Matsumoto
Takayama to Kamikochi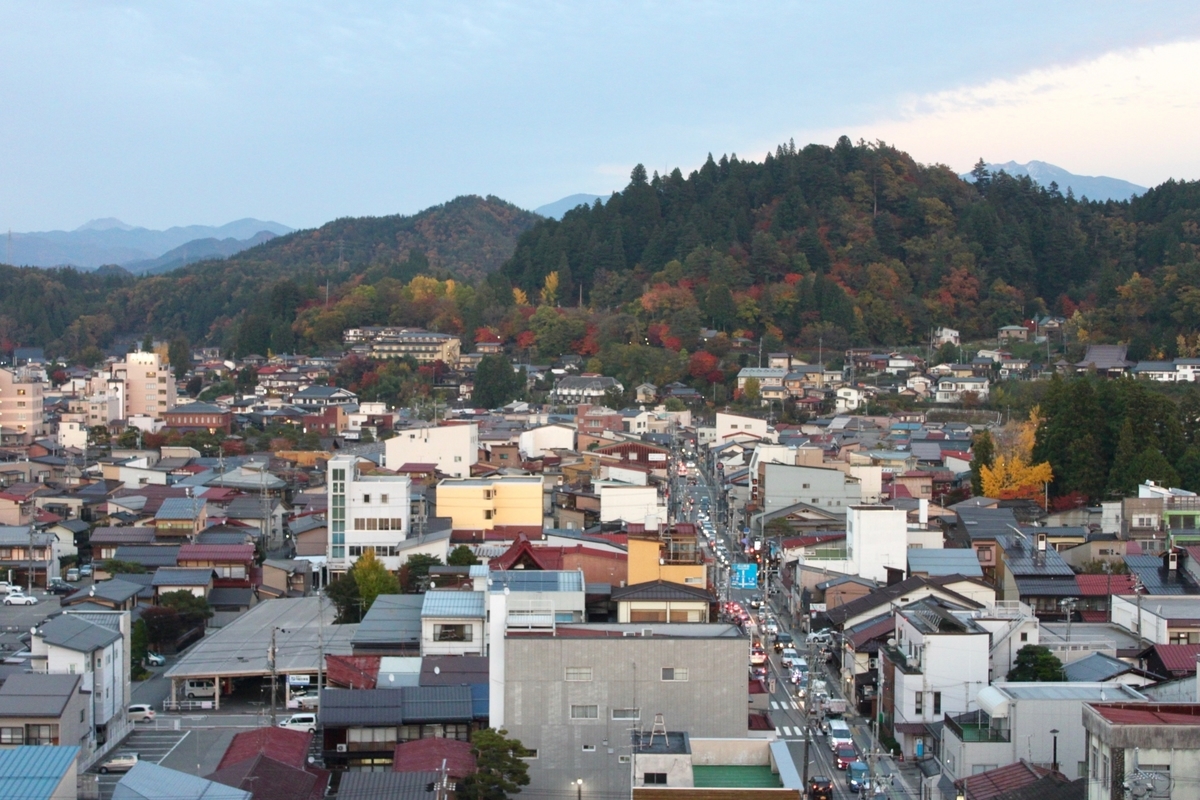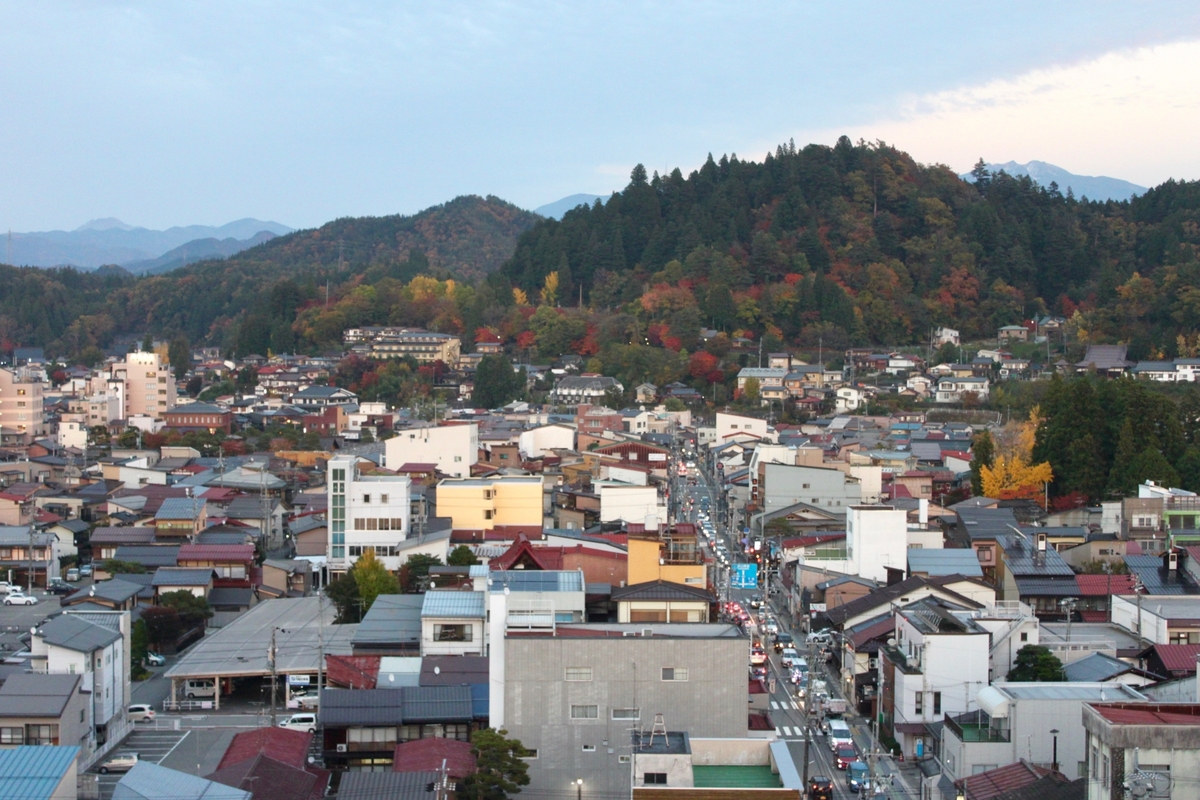 To go from Takayama to Kamikochi, you'll need to go to the Takayama Nohi Bus Center (bus departing from 07:00 to 18:40), then change buses at Hirayu Onsen (see above for the relevant information).
Matsumoto to Kamikochi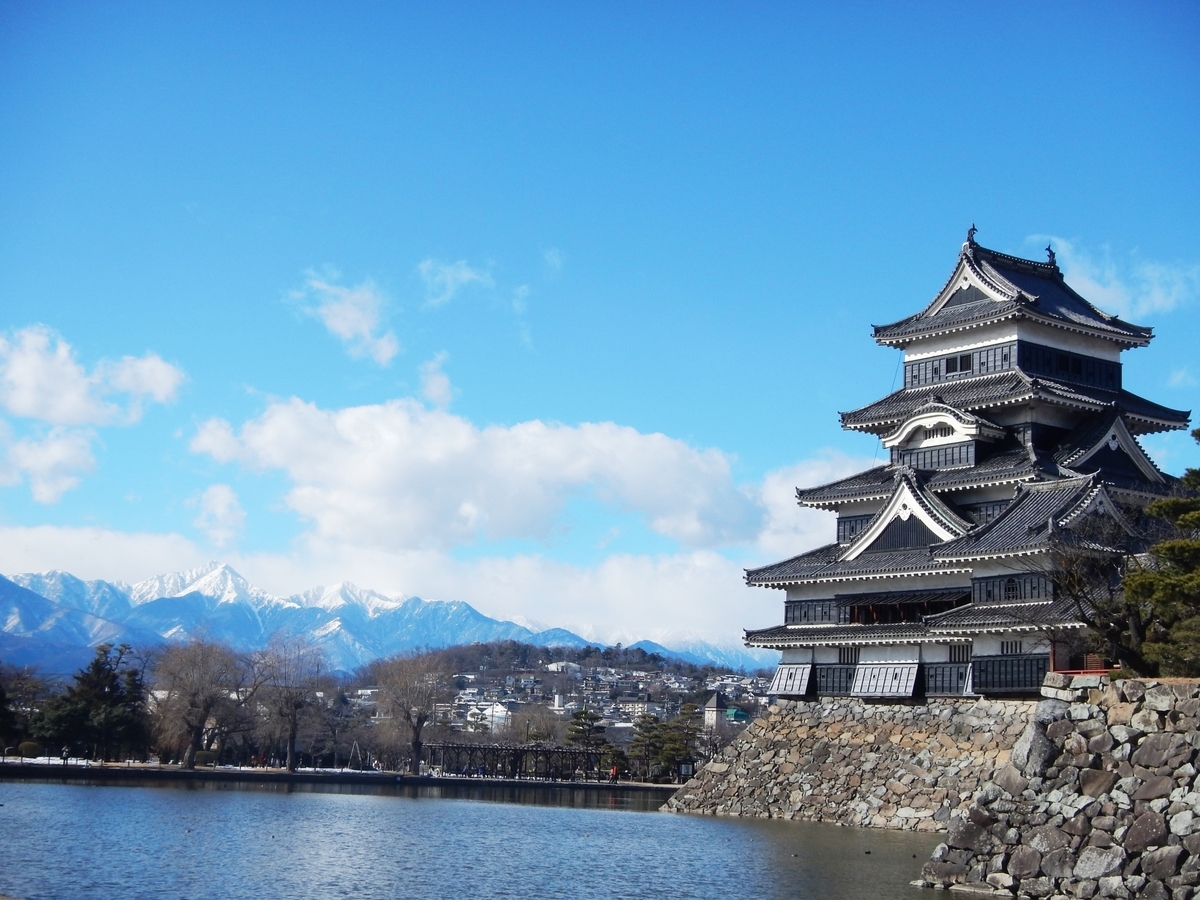 To go from Matsumoto to Kamikochi, we'll once again need ALPICO !
06:31 – 15:26 towards Kamikochi, 07:50 – 17:25 towards Matsumoto
Matsumoto Station <-> Kamikochi Bus Terminal
Round-Trip: ¥4,650 ($31.13) for adults, ¥2,330 ($15.60) for children (6-11 yo), free for infants using their parent's seat
Takes roughly 35 minutes. Additional buses are available earlier and later during peak season.
Kamikochi Hike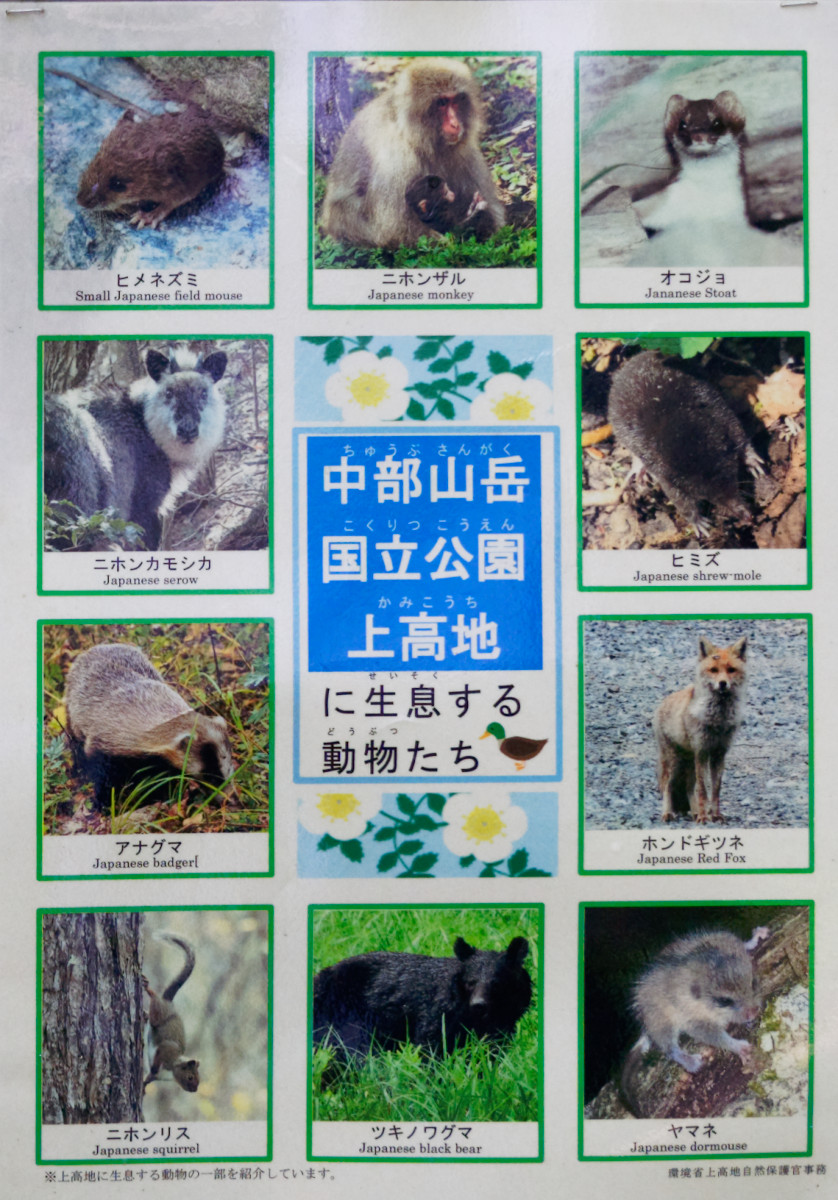 For those who prefer to hike without a hurry or plan their hiking tour extensively, it's better to stay at a hotel at Kamikochi. Early hiking is highly recommended.
Kamikochi being isolated from light pollution during the night, seeing the stars may be another reason to stay there overnight as buses don't run during the night.
For those interested in fauna, the amount of tourists in the most active hours may scare most animals away, but you never know what you might see!
The most common ones are shown on the attached image.
Proper rules have to be followed especially for monkeys and black bears who inhabit the region, like avoiding approaching bear cubs as their mother could be nearby!
Furthermore, here are the "5 rules of Kamikochi Hiking":
No collection of fauna or flora
No feeding of the animals
No littering
No pets or animals from outside the area
No stepping outside the hiking path
Taichoike course (2 hours)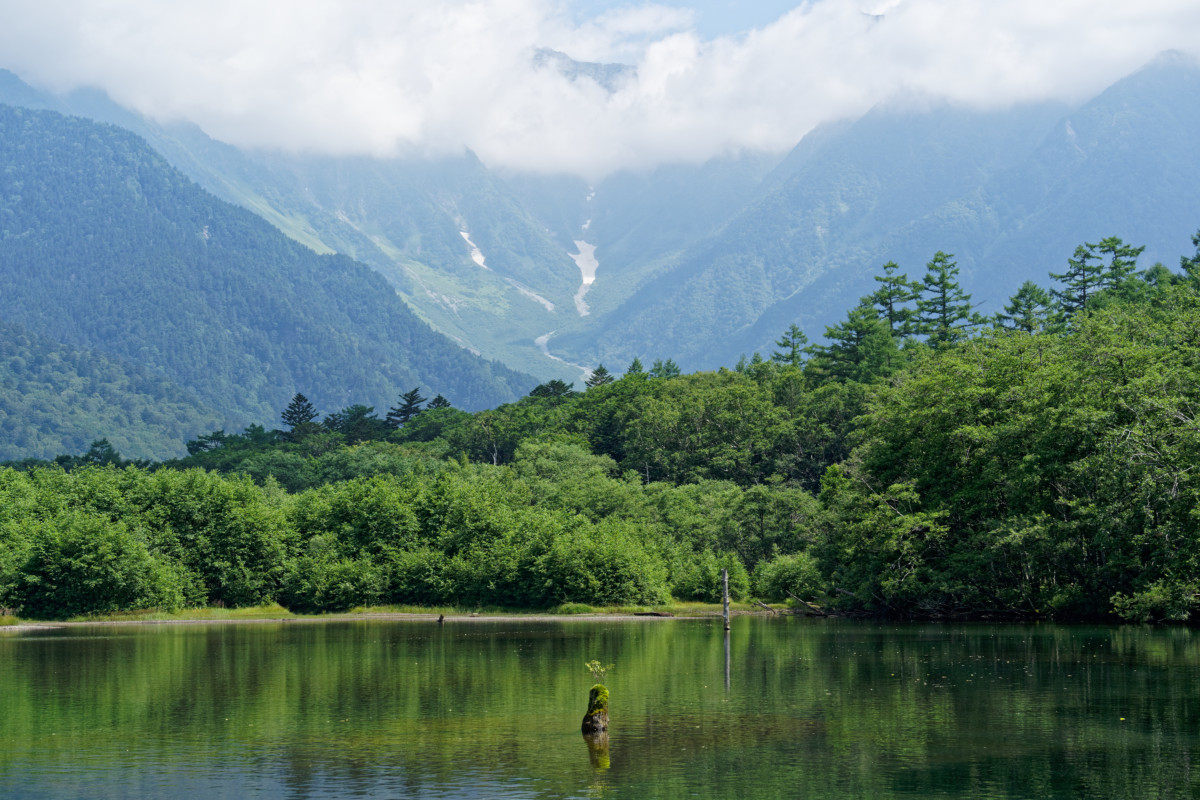 The path from Lake Taisho (大正池) to the Kappa bridge (河童橋) is approximately 3.7 km (2.5mi): if you just follow the well-maintained walking path while taking a detour to see the Tashiro Lake (田代池), it would take you about an hour.
But what a waste it would be!
For photography enthusiasts, this place can be a unique playground.
At two-thirds of the walk you'll have the option to cross the Tashiro bridge to get to the other side of the river, which is what we did.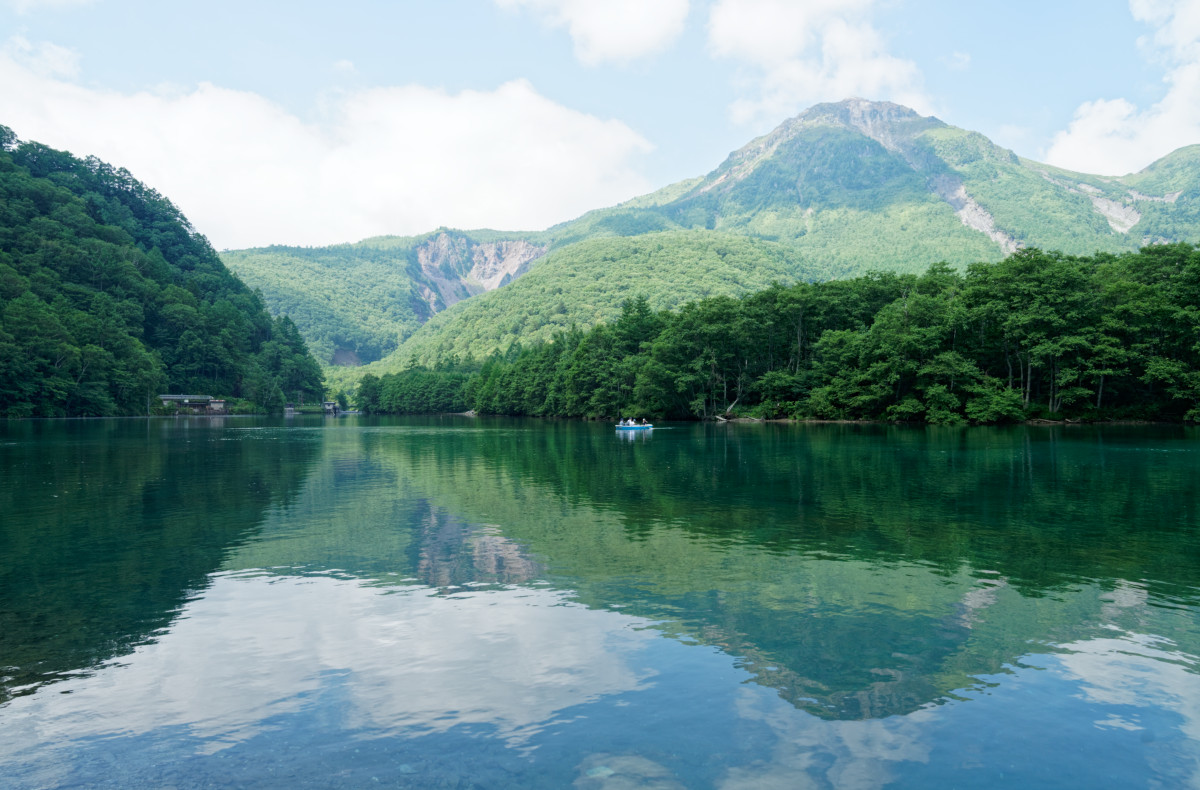 Taichoike & Myojinike course (4 hours)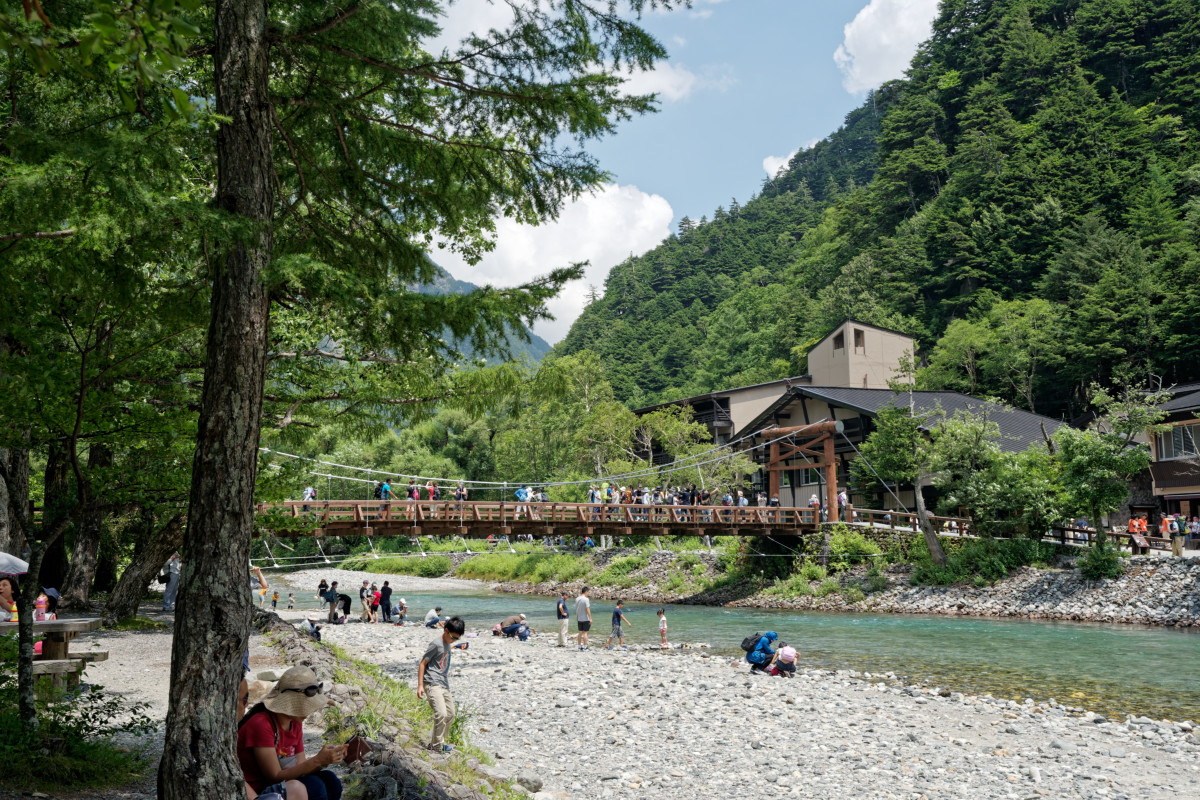 If you have more time on your hands, instead of stopping at the Kappa bridge pictured above you can continue walking after it, up to the Hotaka Shrine (穗高神社 奥宮) and the Myojin pond (明神池) just next to it (but which requires an entry fee of ¥300).
As for the previous course, going there would take you about an hour if you just keep on walking, but would you be able to resist taking breaks to enjoy the view?
Things You Should Know About Kamikochi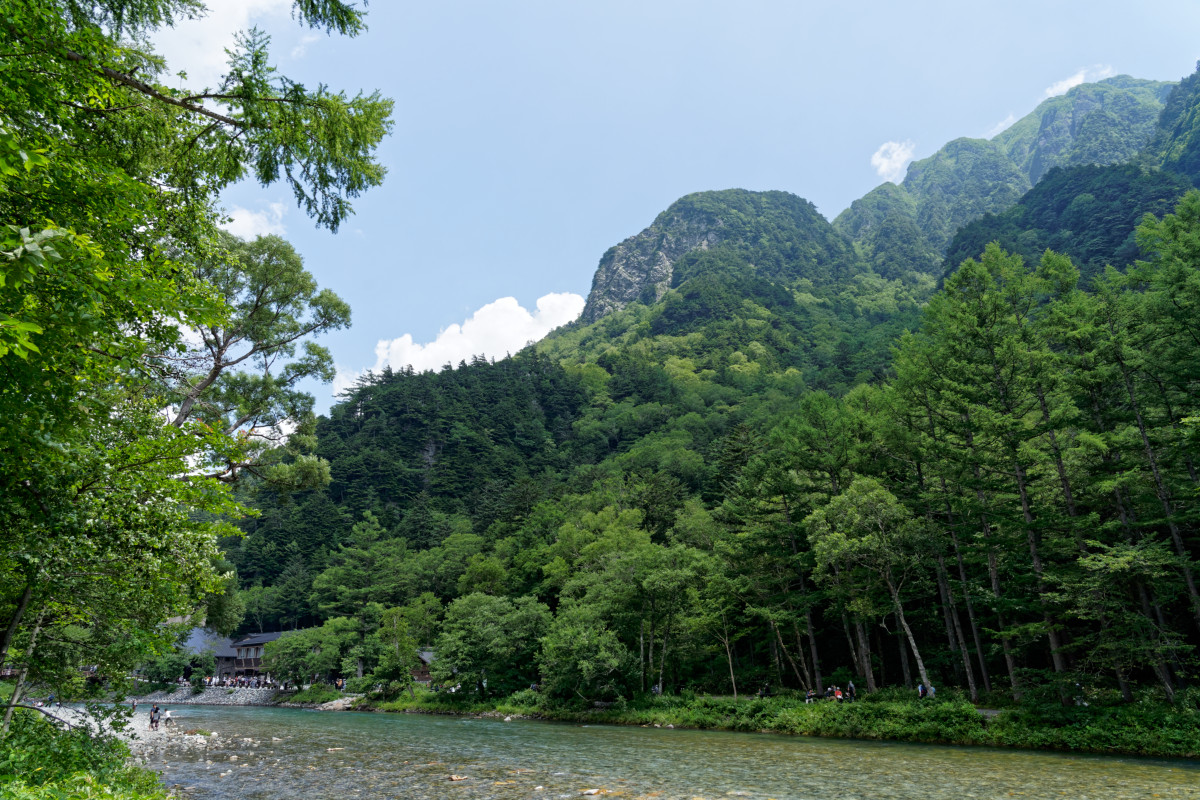 Originally written as 神垣内, "the place where the God descended" as a reference to the local deity Hotaka-no-Mikoto which is worshiped at the Hotaka Shrine, the more recent spelling has become 上高地, "upper plateau".
There are no bank, ATM or konbini in Kamikochi, so plan accordingly!
Hiking is easy even for kids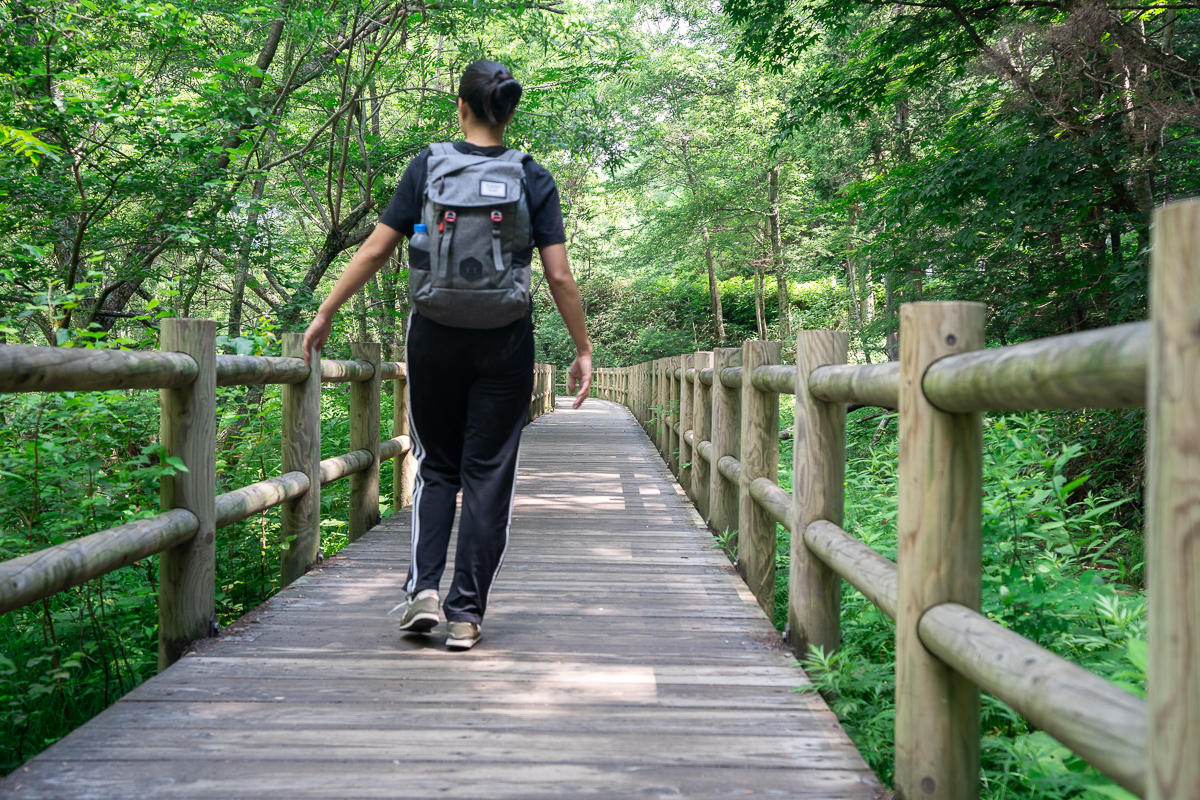 Hiking isn't that hard. Even kids can go for hiking (we saw some parents with baby-cars). In fact, many kids seemed like like they really enjoyed hiking AND looking for animals. There… I'd say, we became like a treasure hunter in the great nature. Here are what we found!
No equipment needed for hiking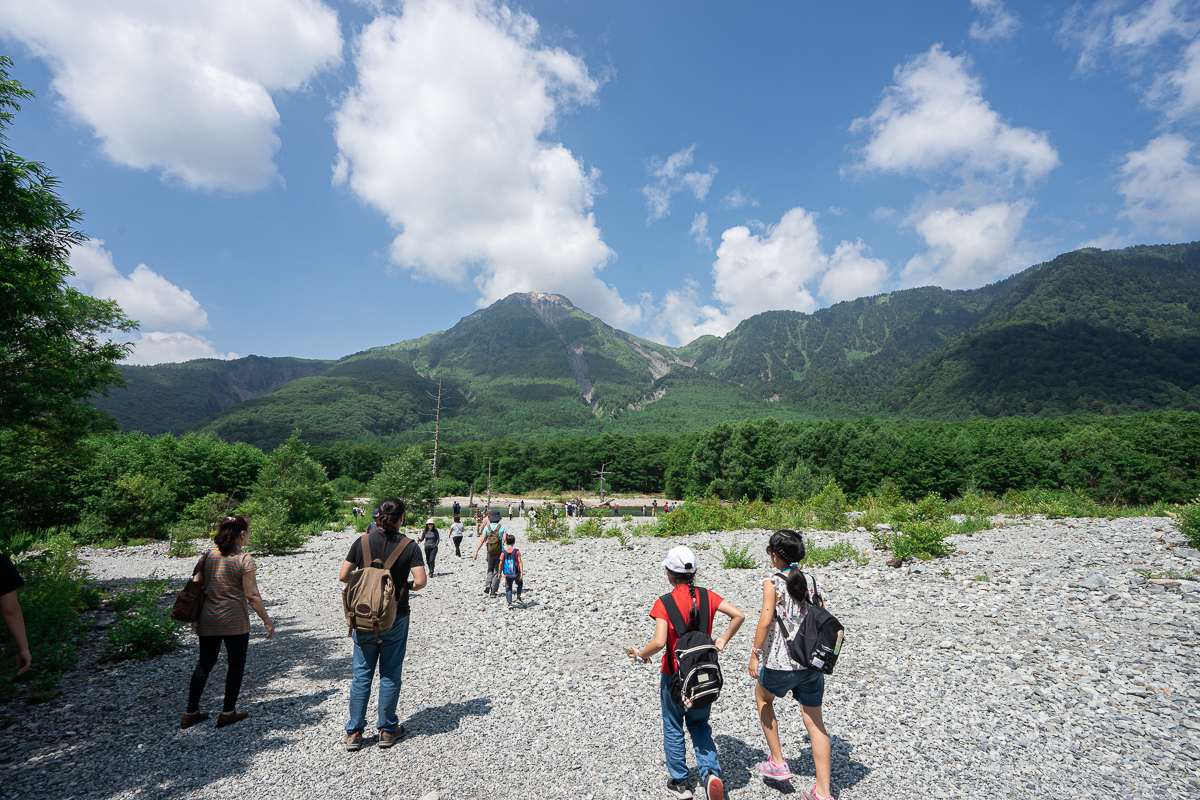 Hiking in Kamikochi, no equipment needed. Maybe not sandals but at least you know what to wear for sport, that's all good.
Indeed, you'd better bring a light jacket. After hiking, you could get cold.
Hotels in Kamikochi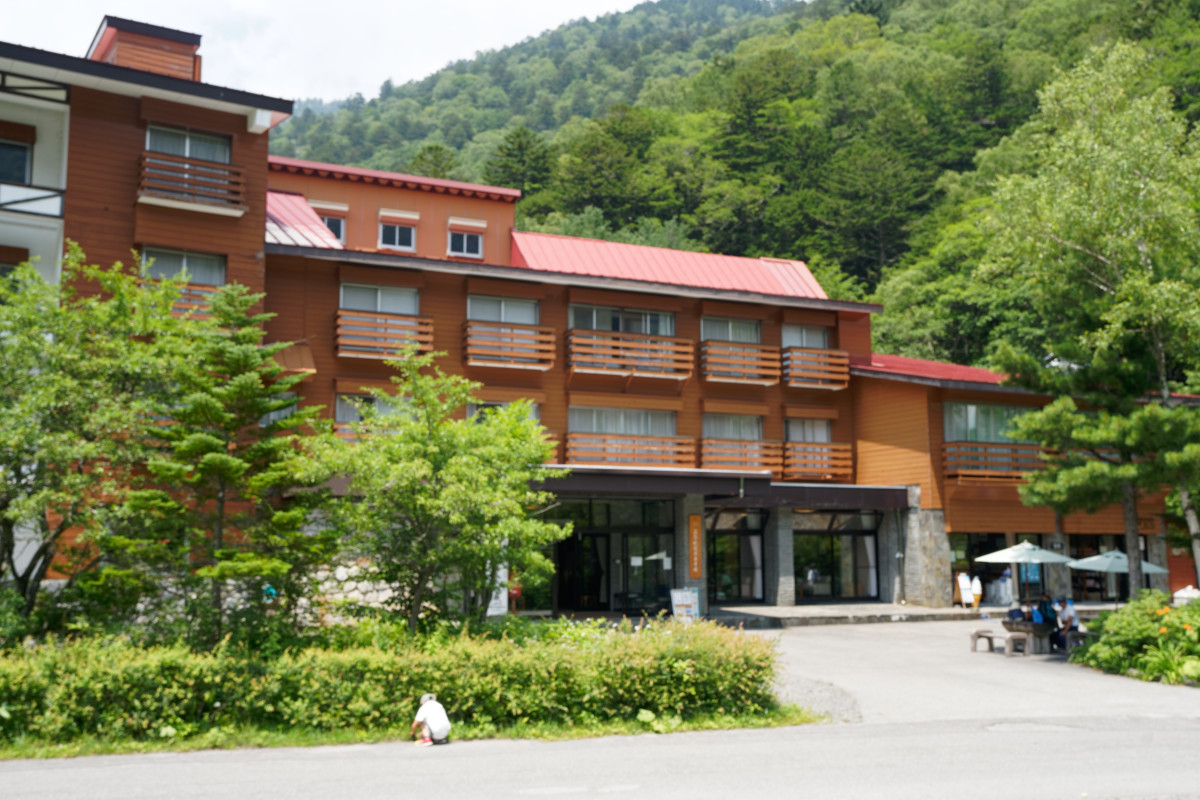 Looking for a magical night sky with plenty of starts or hiking in the very early morning to feel the fresh air? Let's stay a night in Kamikochi!
Here are famous accommodations in Kamikochi.
To begin with, I need to tell you that most of the hotels in Kamikochi are pretty expensive due to the location. However, despite of the price, it's worth staying in the priceless hotels.
Kamikochi Imperial Hotel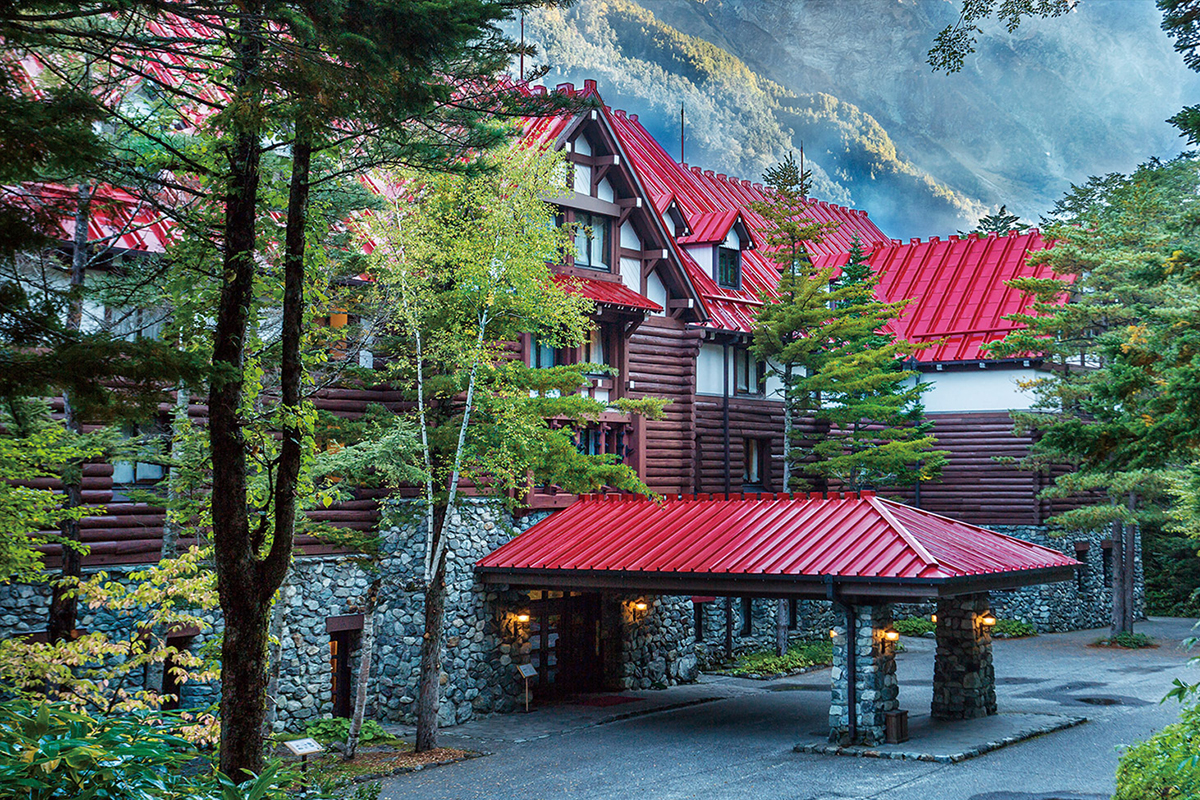 Kamikochi Imperial Hotel (上高地帝国ホテル) is a high-class hotel. This is cream of the crop out of the hotel in Kamikochi. You will be surrounded by nature and luxury. In the restaurant they offer various options from french to local cusine.
1 night: from ¥35,500 ($237.66). Price ★★★★★(5/5).
Booking: Kamikochi Imperial Hotel official website
Kamikochi Onsen Hotel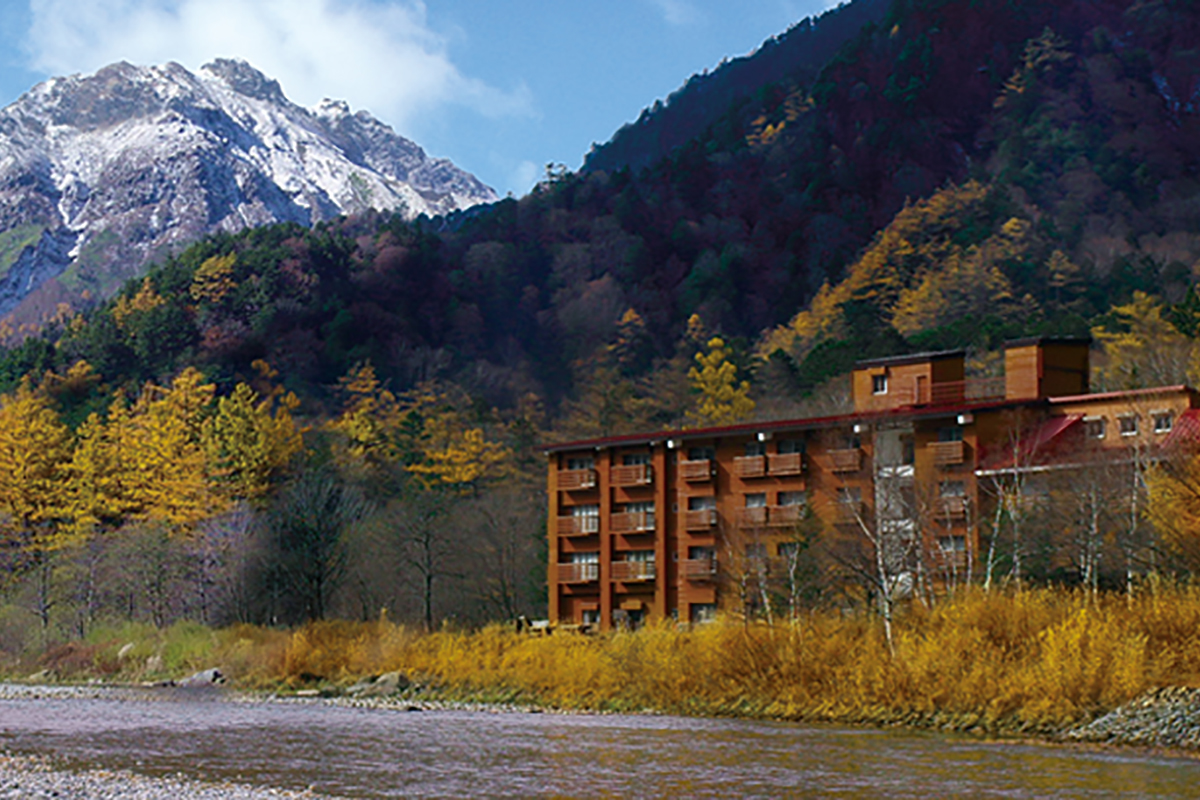 I will tell you more about Japanese hot springs (onsen) in the next section. But first, I introduce Kamikochi Onsen Hotel. As its name suggests, it has an onsen. This hotel has been open for over a century and, Walter Weston, the English has previously stayed here.
Rooms are traditional Japanese, and you can try different types of onsen. Unlike at other onsen, you can book a private onsen for families.
1 night: from ¥16,350 ($109.46). Price ★★★☆☆(3/5).
Booking: Kamikochi Onsen Hotel website
Kamikochi Hotel Shirakabaso
Kamikochi Hotel Shirakabaso is located in front of the Kappa bridge so it's to access all surrounding areas. The big advantage of staying at this hotel is the view from the room. You feel like you're standing on top of the world. The room is modern Japanese chic.
Kamikochi Hotel Shirakabaso
1 night: from ¥18,400 ($123.18). Price ★★★☆☆(3/5).
Booking: Kamikochi Hotel Shirakabaso website
Other things to do in Kamikochi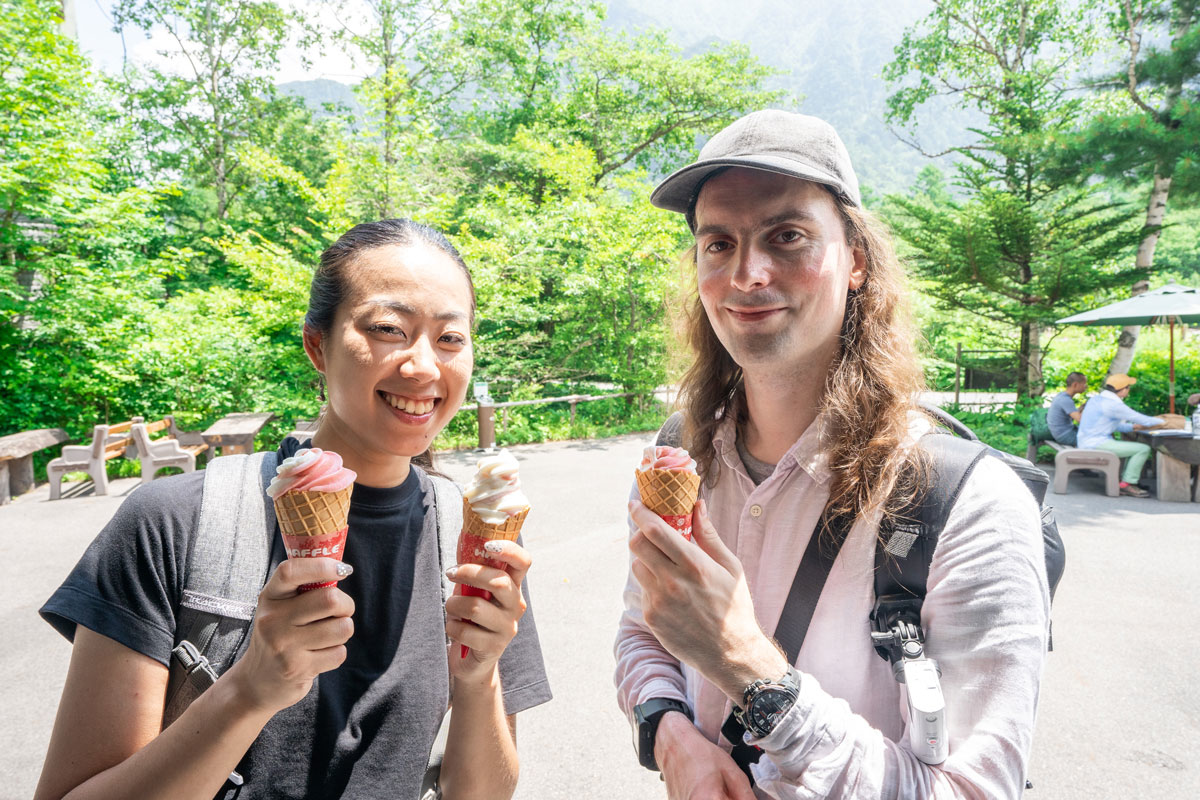 Among other activities in Kamikochi:
Kayaking on the Taisho lake
Climbing Mount Yake (焼岳) (the one behind Taisho lake)
Climbing Mount Hotaka (穂高岳)
I recommend you to try other things to do in Kamikochi.
Going to Shirahone Onsen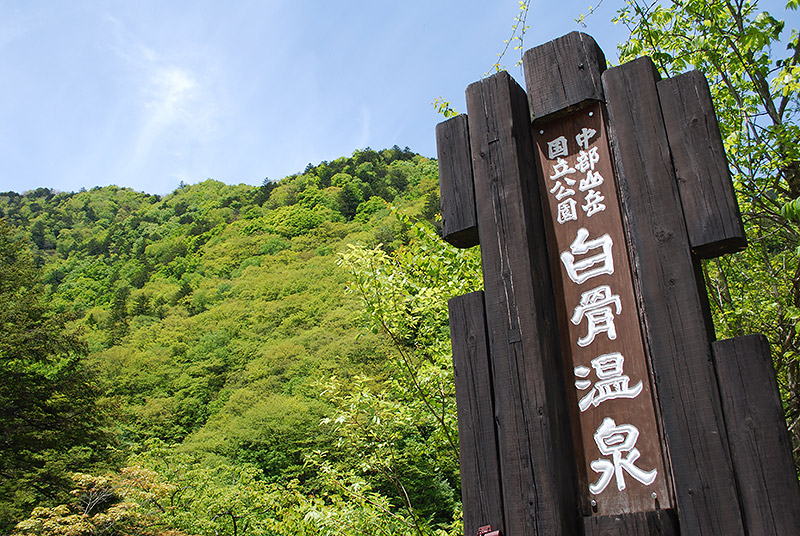 No doubt, Nagano prefecture is surrounded by great nature, including natural onsen. Onsen is a typical Japanese style of hot bath. If you go to Kamikochi, most locals will recommend you try Shirabane Onsen which is a famous onsen area in Japan.
Once I arrived at Shirabane Onsen, I could smell a the sulfur. You can stay at a ryokan, a Japanese style of Inn if you want but if you come here to just try natural onsen, then I recommend you to try Shirahone Onsen Koukyo Notenburo (白骨温泉公共野天風呂). You can try only one onsen but this one is really surrounded by nature and it makes you feel you are in heaven. Every season, the view of the mountain changes, so many onsen lovers come several times here.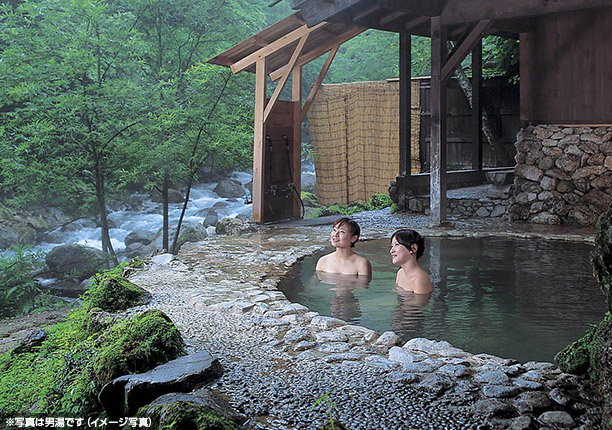 Ah wait, I need you to mention two very important things. First, going to this onsen, you must come down many, many stone steps. Actually it's pretty tough to come up after bathing.
Second, do not forget to bring a body towel and a facial towel. At Shirahone Onsen Koukyo Notenburo, they're often sold out. If you don't bring them… Trouble, trouble, trouble like we had. No Konbini or shop around this Onsen.
If you are not familiar with onsen or ryokan, check out this article!
Eating Rockfish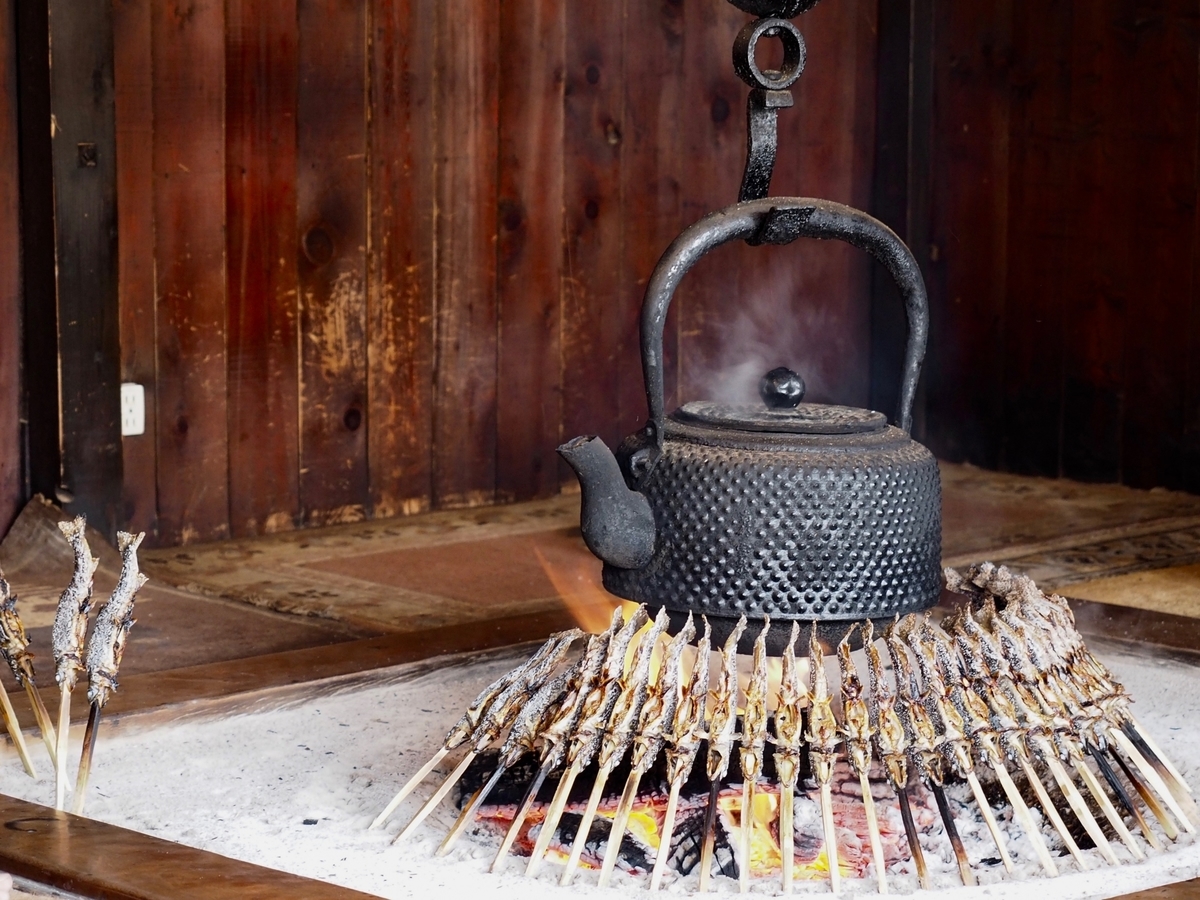 If you decide the Taichoike & Myojinike course (4 hours), you should go and eat fresh rockfish at Kamonji-koya (嘉門次小屋) just next to Myojinike. The fish is charcoal-grilled and tastes so, so good. It gives you strength for the last half of the way.
8:30-16:30. Closed during winter season.
¥900-1500 ($6.03–10.04) for adults.
Tasting local specialties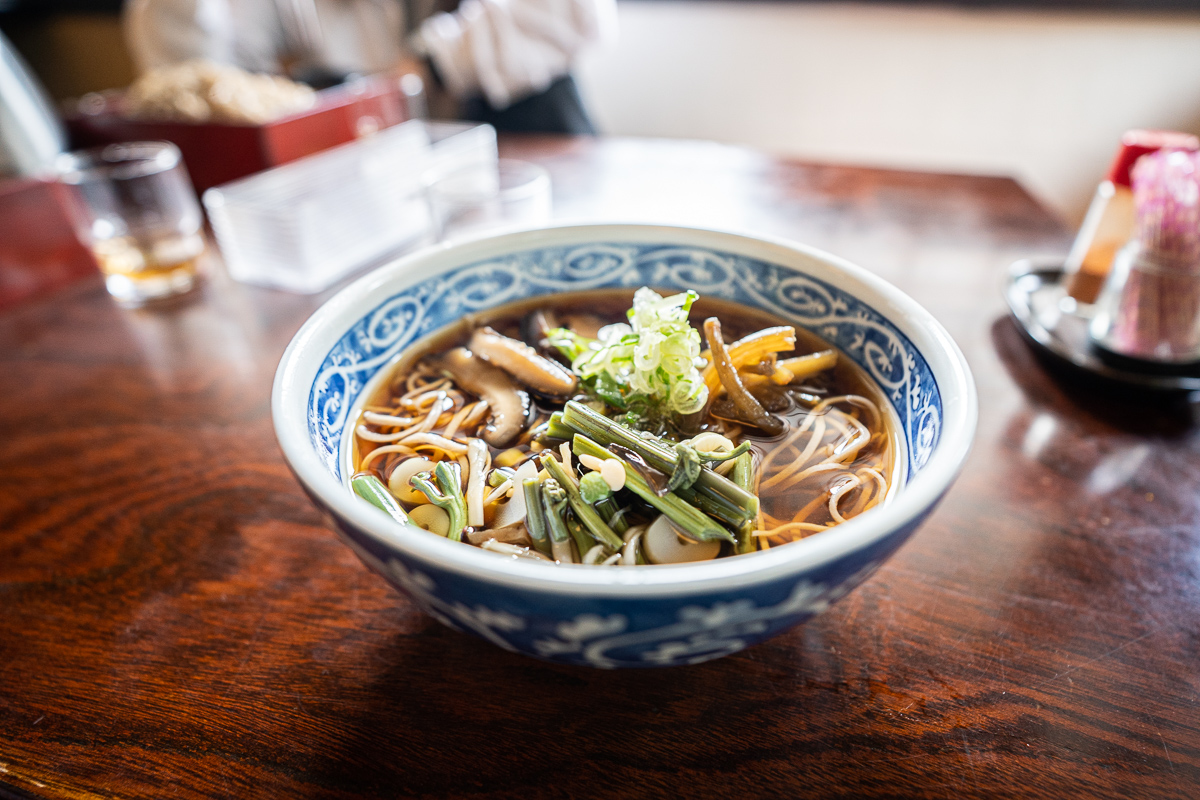 The culinary specialty of Nagano prefecture being soba (buckwheat) noodles, why not enjoy some on your way?
If you come to Kamikochi by car from Matsumoto, one perfect place would be the Somanoya restaurant, just in front of the Sawando bus station / parking lot.
No schedule information found. It's probably always open during the days buses run towards Kamikochi.
¥900-1600 ($6.03–10.71) for a soba meal.
But people in Nagano don't just eat soba noodles, so while you're in Kamikochi the shops on both sides of the Kappa bridge offer a wide variety of local products, some of them you can taste before buying!
Pictured below on the right is a nozawana-based mix, but other products made from wasabi are available too.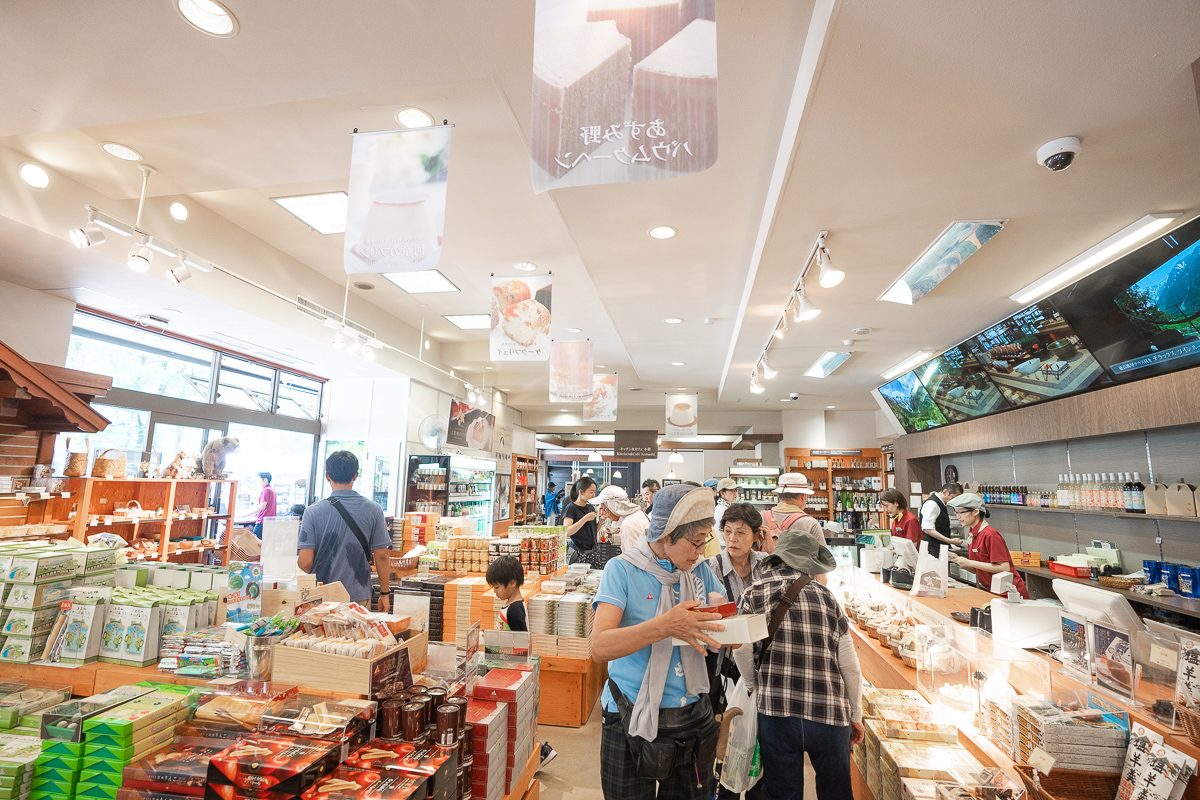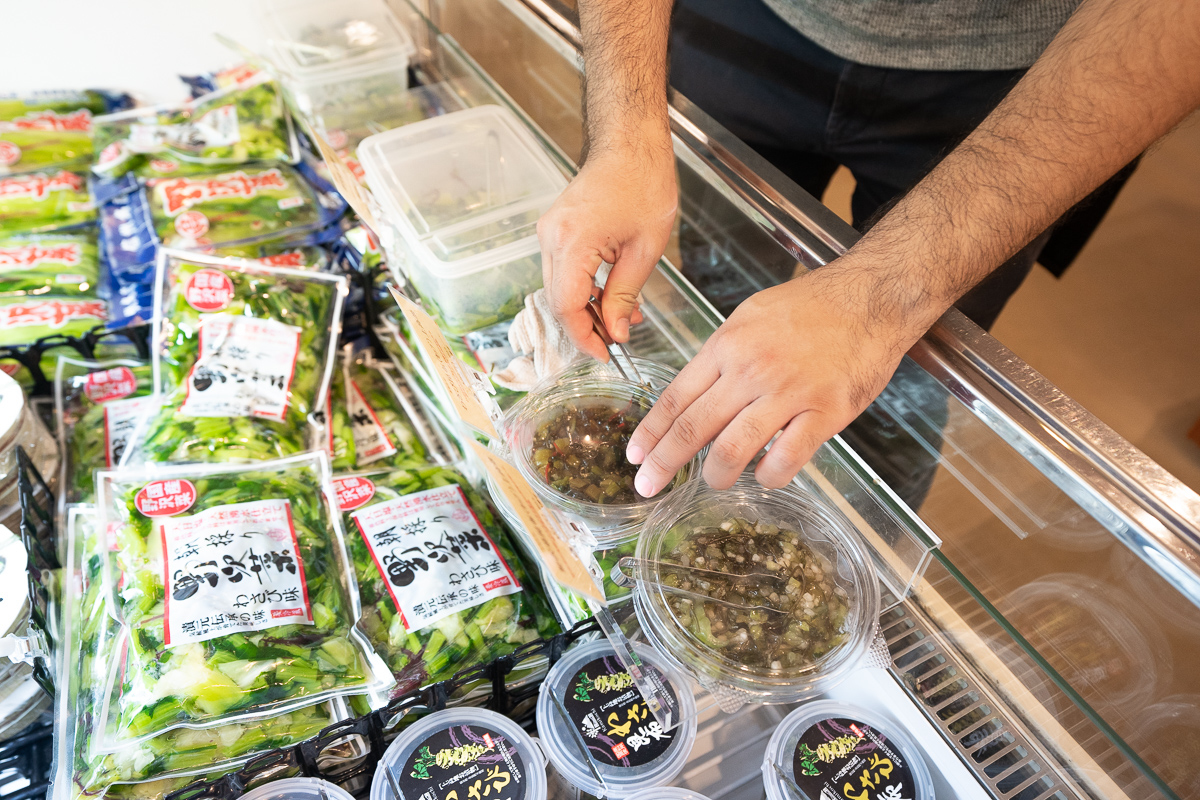 Bonus Section: Mount Norikura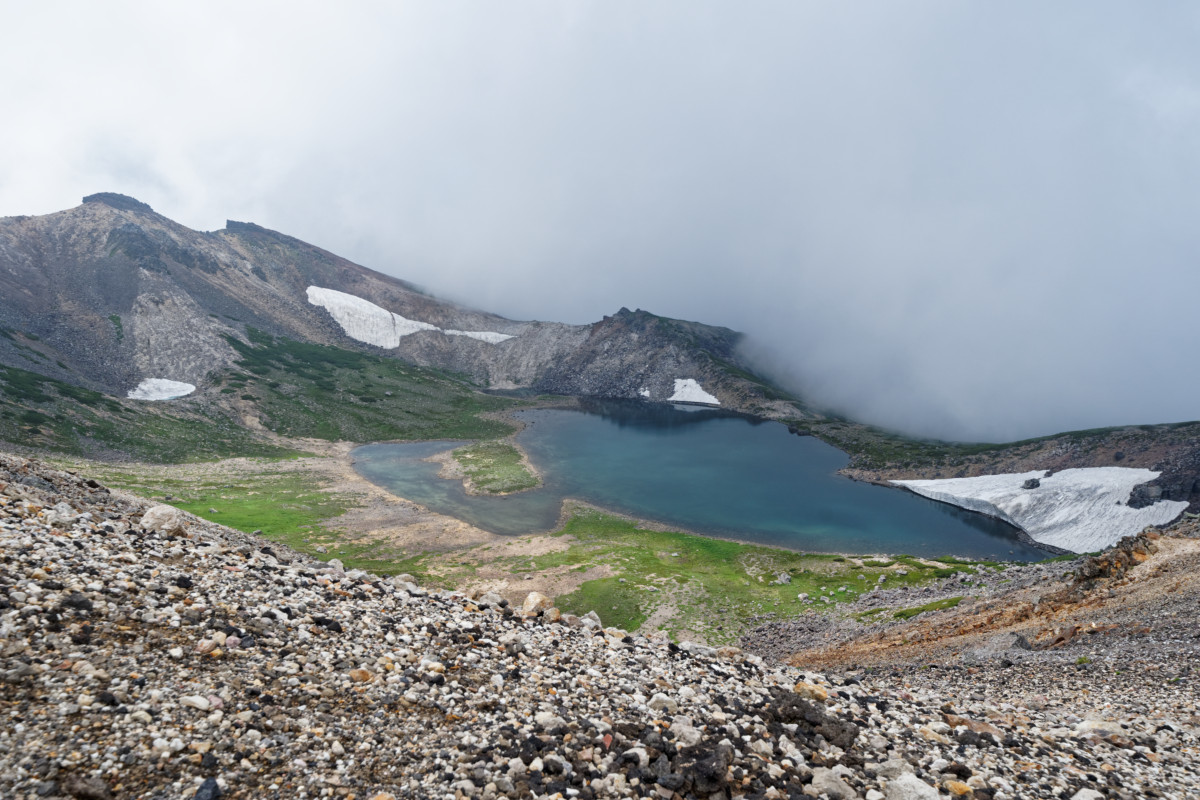 During our trip we asked locals what would be a great addition to Kamikochi, and it is thanks to their advice that we decided to go to Mount Norikura (乗鞍岳) the following day.
Location of Mount Norikura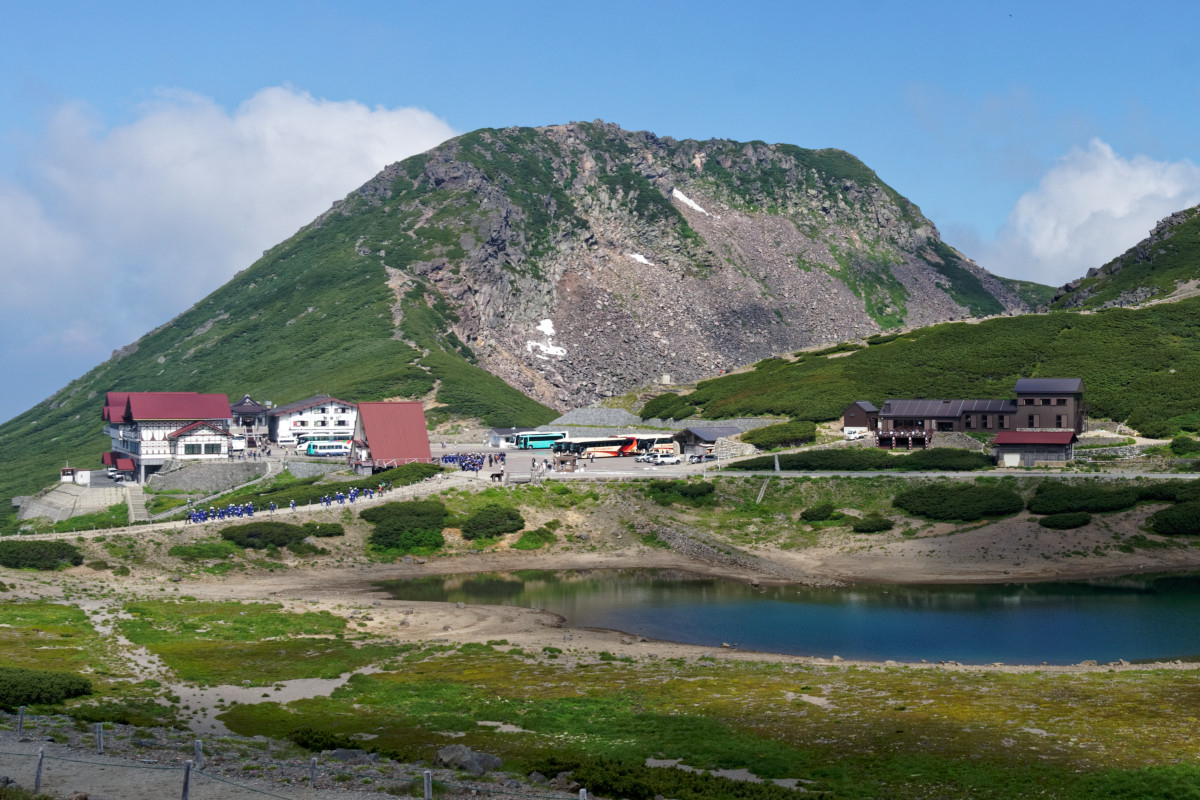 What you see here is the Bus Terminal of Mount Norikura.
Norikura is supposed to be harder than Kamikochi (and this section is supposed to stay small!) so I'll link you to the bus companies :
What to Expect At Mount Norikura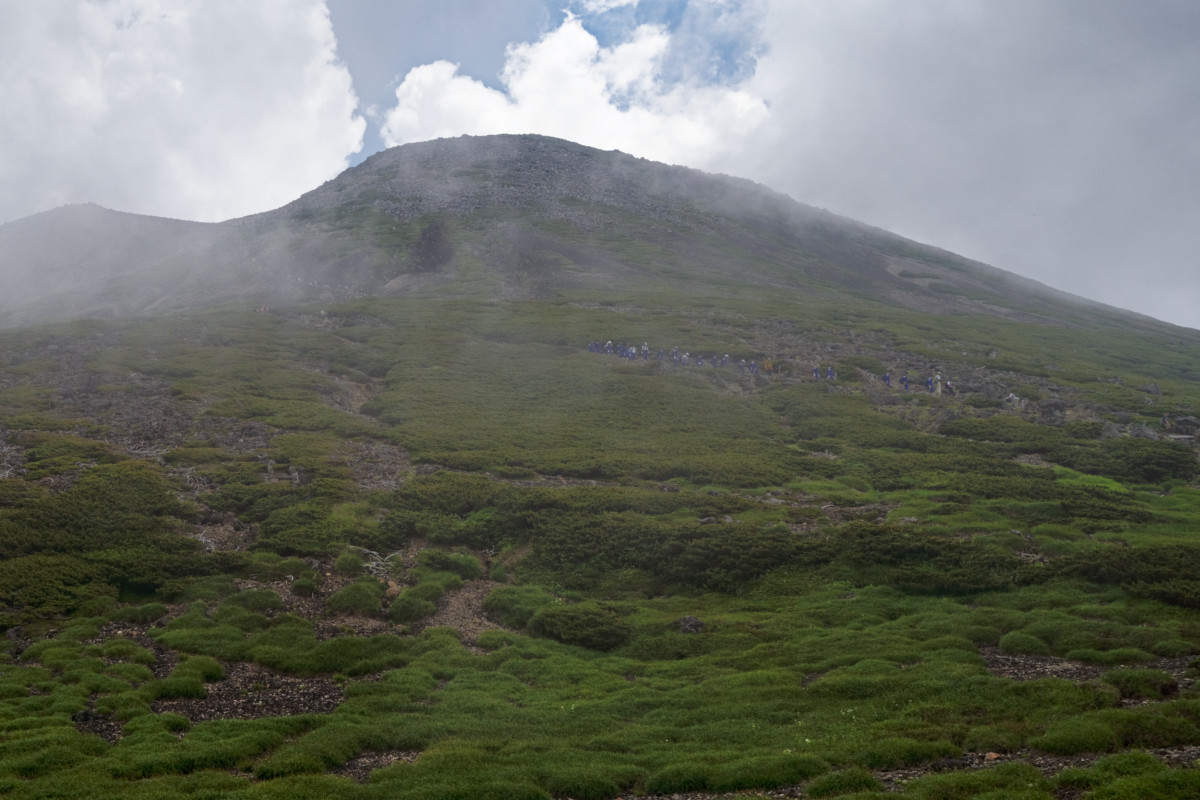 It took us between three and four hours to get to the peak and back to the bus terminal, but the path was really crowded that day. It looked like an entire school from Nagoya came to hike to the summit (they're the blue dots on our pictures, in case you were wondering).
The base being at an altitude of 2700 m and the summit at 3026 m (respectively 8860 ft and 9930 ft), the lack of oxygen and the climb make the hike more difficult than the "walk in the park" (in more ways than one) that is Kamikochi, but it's not particularly hard either.
Bring your energy bars or jellies just in case, and of course enough water to compensate for what you're gonna sweat, and wear appropriate shoes (high shoes) to avoid sprained ankles while climbing down or slipping on (sometimes wet) rocks.
If you're planning on climbing Mount Fuji, this could be a nice training.
Oh, and in case you didn't believe us: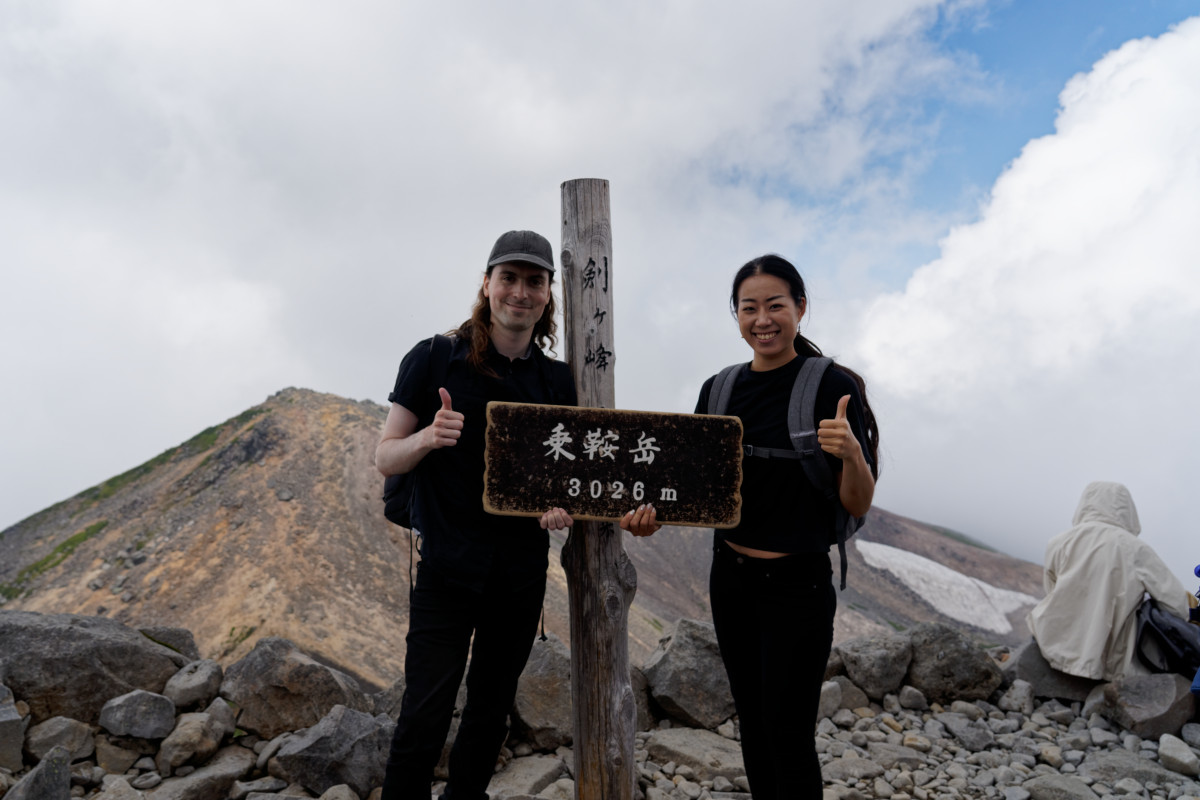 Discover New Areas Nearby Kamikochi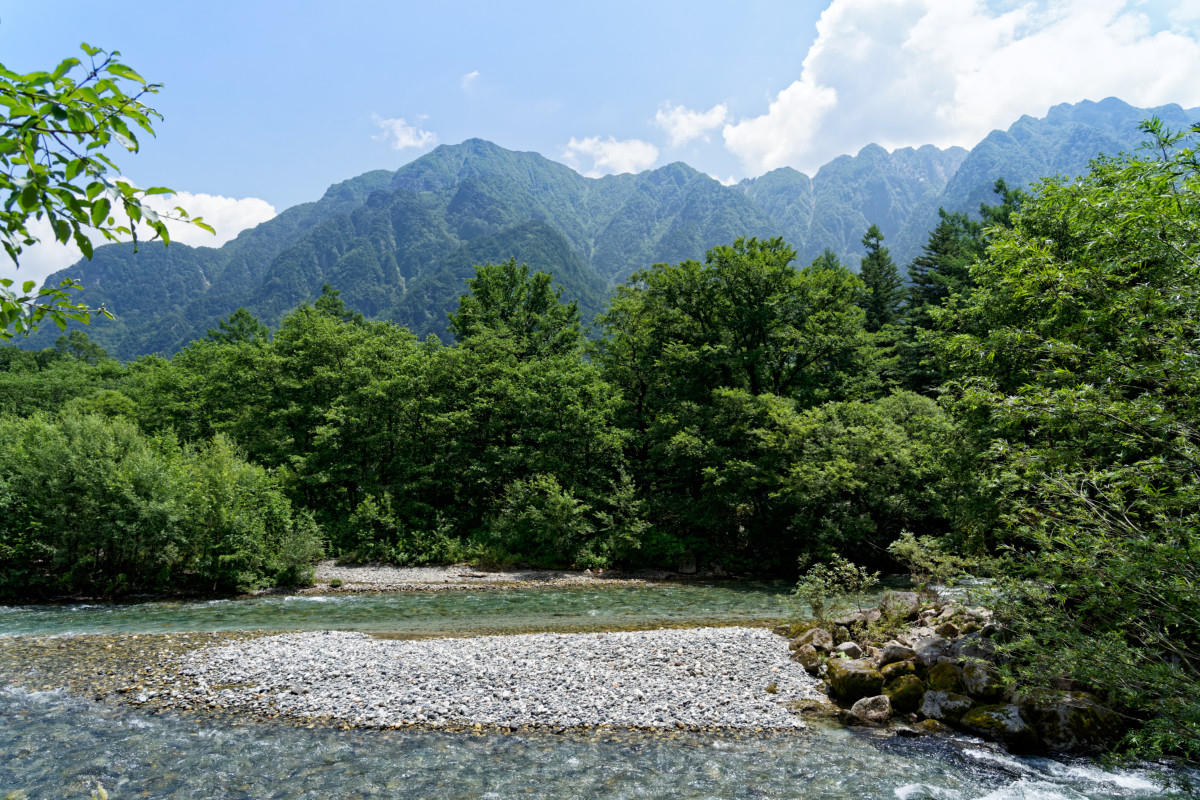 The Northern Japanese Alps are of course way bigger than this: as I mentioned above another day trip suggestion would be Mount Norikura, accessible as well from nearby towns.
But of course, while you're in the area you could also visit Matsumoto and its castle, Nagano, or Takayama!
And before you go, you could also check out these other articles related to this one: