We at Otashift try to have locals with us when we travel. As such we were guided through Osaka with two local Osakans during two days. Thanks to this, we were able to do things in Osaka, and eat in places which Japan travel guides may not have, and are able to relay the information to you. Using this guide, you can visit Osaka more like a Japanese would.
When people think of Japan, and for very good reasons, Tokyo is what comes to mind. This country of 127 million people, spread around 47 prefectures is too often reduced to its capital. While Tokyo is a massive, bustling city, it is not the only one. The Keihanshin (Osaka-Kobe-Kyoto) metropolitan area is the 2ndlargest metropolitan area in Japan, and 14thin the world. This makes it much larger than any European metropolitan area, and larger than all American metropolitan areas except New York City. At the center of the Keihanshin metropolitan area is Osaka, Kansai's interpretation of a massive, bustling city with loads of things to do.
QUICK FACTS ABOUT OSAKA:
Population: 2,714,497
Area: 225.21 km2
Climate zone: Humid subtropical climate zone. The weather in Osaka is pretty similar to Tokyo's. Osaka has 4 distinct seasons, mild winters with rare snowfall, and very hot, humid summers. Early spring is cool and pleasant, but ends up being very hot, and is also considered the rainy season, while fall shows a quick drift from summer to winter.
THE CITY OF OSAKA
Osaka (=大阪) has always played an important role throughout Japanese history. This is especially true from the mid 16thcentury, when it was considered an important strategic location. In fact, Oda Nobunaga has been quoted to say "Osaka is the best place in Japan". This was true in his eyes because controlling Osaka's Uemachi Daichi plateau was synonymous with controlling the whole of Japan.
During the Edo period (1608-1867), Osaka became a major economic and trading hub. All goods transported from either side of Japan passed through, and were stored in Osaka. It became such an influential city that prices set in the Dojima Rice Market were recognized as the standard price for the entire archipelago.
Beyond being a trading hub, Osaka also became an important site for the arts with Bunraku, also known as puppet theater, being developed in the city at the time. Furthermore, some of the more popular Japanese authors made their works in the city. The poet Ihara Saikaku is one such figure. In addition, Osaka became a center for learning, especially with the creation of the Tekijuku, which was a school for the purpose of studying western medicine. This school played a crucial role in the modernization of Japan, as some of its alumni were advocates for the government reforms that led to the end of the Shogunate.
Today, Osaka is arguably the second most important city in Japan, after Tokyo. Osaka city proper has a population of 2.7 million in an area of 225.2 km2it is still a massive financial center, with 191,854 private business establishments and 2,354,657 private sector employees (as of 2014). Osaka, however, does not just work hard, it also parties hard. It is a vibrant city, with a great nightlife, filled with bars and izakaya, with an exciting food scene thanks to the street food styles, old school eateries, late night food spots, and fine dining establishments, with beautiful sites, and some of the friendliest people in Japan.
TRAVELING TO OSAKA
Osaka is in the Kansai region, on the eastern end of the Japanese island of Honshu. Traveling to Osaka is pretty straightforward. Those arriving from Tokyo and with a Japan Rail Pass can simply catch the Shinkansen. Otherwise, the plane is a decent option. There is also the option to arrive in Japan through Osaka's Kansai International airport (KIX).
Kansai International Airport is located a little under an hour from the Chuo ward of Osaka, on an artificial island south-east of Osaka city. Kansai International Airport has various connections throughout the world, and you can easily find flights to Osaka. Follow the map below to find your way to Osaka from the airport.
TRAVELING WITHIN OSAKA
The Osaka Metro is a rapid transit network which is operated by the Osaka Metro Co., Ltd. It includes an extensive network of 8 subway lines and one tram line, spanning over 137.8 km and 133 stations within the Osaka metropolitan area. In addition, Osaka Metro includes a network of bus lines. For those planning on using the subway extensively during a day, you should consider getting a one-day ticket "enjoy Eco card" which allows you to ride all the subway and bus lines. In addition, it gives you a discount for certain tourist facilities, which includes pretty much all of the main sights in the city.
Click here for a list of discounted facilities.
The ticket will set you back ¥800 (7$) for adults (¥600 or 5$ on weekends and holidays) and ¥300 (<1$) for children. To figure out the best route and fares for your itinerary, simply look it up on Google Maps.
GOING TO KYOTO FROM OSAKA
Kyoto is also part of the Kansai region in which Osaka resides, and is very near Osaka. Those staying in Osaka can easily go to Kyoto for a day trip. To get to the Kyoto main station from Osaka, simply get to the Yodoyabashi station on the Midosuji Line (M17), and from there take the Keihan Main Line on platform 3. From Namba, this takes you (according to Google Maps) 1h 14min, and costs ¥590 (5$30).
THINGS TO DO IN OSAKA
Needless to say, as a major city, Osaka has a lot to see and do. Most Japanese people would tell you, however, that Osaka is not so much a city to see, but one to experience. There are examples of interesting and beautiful architecture, as well as historical landmarks and monuments, but they are not what makes Osaka appealing. Osaka is such a great city because of its attitude. It's a friendly, messy, raw city which doesn't hide behind the same polishing as Tokyo. As such, when there, I'd recommend you focus your time on the amazing food, nightlife, markets and people over the sights.
DOTOMBORI
Dotonbori is probably the most popular destination for tourists. Dotonbori is recognizable by its violently bright and omnipresent neon lights, its alleys crowded with both people, and an outrageous number of food stalls and restaurants with oversized, obnoxious signs, and what seems like the entire crowding the area at all points. Dontonbori is centered around the canal of the same name. It is a must visit, if anything but for the quantity of street food.
This is my theory, and I might be completely wrong, but because there is such a high density of restaurants in a small area, many of which make the same thing, restaurants had to become imaginative to attract customers. As a result, they have started using massive, weird, and over the top decorations in front of their establishment, leading to an arms race of who can have the weirdest entrance sign.
Among the signs, and neon lights and billboards, and ad screens, features the Glico Man sign. This 20-meter-tall sign has been there since 1935, although it has been updated through the years. It has become a landmark of this area of Osaka. It, along with the nearby Ebisu bridge have become popular meeting spots, akin to the Hachiko Statue in Tokyo.
OSAKA CASTLE
Osaka Castle (=大阪城) is one of the most important Japanese castles in the brutal, yet intriguing history of the archipelago. Osaka Castle has played a major role in the game of thrones that led to the unification of Japan. The site of Osaka Castle was originally the site of a fortress of the Ikko-ikki which were a group of Jodo sect backed warrior-monks and commoners which rebelled against the Daimyo's authority and were amongst the last to stand against Oda Nobunaga's unifying conquest. When after a decade, they surrendered, Nobunaga, Japan's 1stgreat unifier took control of the fortress. After his death, his successor Toyotomi Hideyoshi, Japan's 2ndgreat unifier ordered the construction of a castle in the premises. After his death, his son and designated successor, being only 6 years old, and a puppet for the regents which ruled instead, moved to Osaka castle to protect himself from Tokugawa Ieasu who through his conquest of the castle, and defeat of the regents and their allies following the battle of Sekigahara (10/21/1600), became the de-facto ruler of the entire Japan. The history of the castle, and of Japan is extremely interesting, and I would recommend everyone study is a little.
Hundreds of years later, it became the last stronghold of the Tokugawa shogunate forces against the imperial forces. Its fall marked the end of the shogunate, and the beginning of the Meiji era, as well as the rapid modernization of Japan. The current Osaka Castle is not the one that was originally built. It has been destroyed by Tokugawa Ieasu, before being reconstructed, and destroyed anew during the Meiji Restoration. Parts were reconstructed as an arsenal of the imperial army, just to be destroyed again by bombing raids. It was finally fully renovated in 1997. The current castle is a representation of the old one, with a fully modern interior where there is a museum.
While I personally would have preferred a complete representation of the original Osaka castle, along with the interior, to have a feel of what it looked like in its heyday, it is merely a shell, that looks like the castle. The museum is free for those under 15 years of age, and costs ¥600 (5$30) for others. Discounts apply for large groups. The hike up the castle grounds however can be fun on its own, and the garden surrounding the main building is really nice as a park. I did not find the museum extremely interesting, but for those who would like a panoramic view of the city, the top of the castle gives you a breathtaking 360° view of Osaka for a cheap price.
9:00 – 17:00 (last admission at 16:30). Open Everyday.
Morinomiya station (Chuo Line, Osaka loop Line, Nagahoritsurumiryokuchi Line)
¥600 (5$30) for adults. Free for visitors under 15.
OSAKA TENMANGU SHRINE
Osaka Tennmangu (=大阪天満宮) is a 10th century shrine devoted to Tenman-Tenjin, the Shinto god of scholarship. Tenman-Tenjin is the deification of Sugawara no Michizane who was a prominent scholar and poet of the time.
The temple is located in the Kiba ward of Osaka and has many picturesque sights. Every year in mid-July, there is a festival held all over Japan in shrines dedicated to Tenjin. As such, Osaka Tennmangu also holds one. It is a grand spectacle with fireworks, a parade, and inflamed boats cruising down the river.
Osakatenmangu (JR Touzai-Gakkentoshi Line)
SUMIYOSHI TAISHA
Sumiyoshi Taisha (=住吉大社) is one of Japan's most famous shrines. It is known because of it's jaw-dropping, dauntingly calming gardens. It is the site of the famed Sorihashi arched bridge which hobby photographers will love. It create's an almost perfect circle with it's reflection on the bond it crosses. Sumiyoshi Taisha houses numerous cultural treasures, as well as centennial trees. It is definitely a place you should see. They have an awesome Instagram page with great pictures published regularly so make sure to check it out.
24/7. 6:00 – 17:00 to visit inside the temple.
Sumiyoshitaisha (Nankai Line), Sumiyoshitorii-Mae (Hankaidenki-Hankai Line)
UNIVERSAL STUDIOS JAPAN
Universal Studios Japan (USJ) is one of only two Universal Studios theme parks outside the US. This is great news for those who've not had the chance to check out those in Los Angeles and Orlando.Universal Studios Japan is located in the Konohana ward of Osaka, by the sea. The Osaka attractions include many of the same ones as in the U.S. It doesn't limit itself to just Universal properties, however. USJ has licensed other properties, including some popular anime/manga such as Attack on Titan, Sailor Moon, Neon Genesis Evangelion, One Piece and Yo-kai Watch among others.
The park is divided in 10 areas, one of which is the Wizarding World of Harry Potter based on the Harry Potter series. It is a built to look like the world of Harry Potter, and does a pretty good job at it.
If you're into attraction parks, it's definitely worth a visit. Universal Studios Japan's opening hours fluctuate often and can change day by day, make sure to check out this link to figure out when it's open.
Universal Studios Japan Info
Universal City Station (JR Yumesaki Line)
1 Day Pass Adults ¥7,400 ($49.54), Children ¥5,100 ($34.14). 2 Day Pass Adult ¥13,400 ($89.71), Children ¥9,000 ($60.25).
RESTAURANTS IN OSAKA
As I've mentioned before, Osaka is a foodie's heaven on earth. One of the stereotypes for Osakans is that they are obsessed with food. It is easy to understand once you've been subjected to the sheer overpresence of delicious, cheap food you can find there. If you're going to Osaka, just for the little time you're there, ignore all your mindfulness when it comes to what goes into your stomach, and eat until you drop. Here are a few places I've absolutely loved.
KOROKKE
This little stand Nakamuraya (=中村屋) is in Tennjinbashi 2-chome, right off the 3rdexit of the Minami-Morimachi station. It specializes in korokke (from the French croquette). Korokke are a battered deep-fried usually made of potatoes, sometimes with ground meat or other ingredients added. I've had many versions of this, and it's one of my favorite things when I want to reward myself.
Nakamuraya's korroke was hands down the best I've ever had. I knew something was special about it when I saw a little stand with a line of local such as that one, and I was right. One basic korokke costs ¥70 (< $1) It was crispy on the outside, creamy on the inside, while still retaining some texture, and was perfectly seasoned, with a hint of sweetness.
9:00 – 18:30. Closed on Sundays.
Minami-Morimachi (Sakaisuji line and Tanimachi line).
OKONOMIYAKI
Okonomiyaki(=お好み焼き) is one of the Osaka staples, along with its smaller ball shaped cousin, takoyaki. Okonomiyaki essentially means cooked as you like. It's basically a pancake-like batter with cabbage, with whatever ingredients you'd like on it. Some restaurants allow you to customize them however you want based on a list of ingredients and let you cook it yourself, which can be a fun experience. In other places though, they have pre-set menus of okonomiyaki along with the customizable ones, which are often too complicated to cook on your own and will have a chef come to your table and cook it in front you on the hot plate in the middle of your table. Local Osakan recommended two places we thoroughly enjoyed.
MIZUNO
Mizuno(=美津の) is a famous family-owned okonomiyaki restaurant that has made it onto the Michelin Guide Kyoto Osaka. It's not a very large place and as such it can't sit too many at once and you'll likely have to wait a bit. Thankfully the line moves very quickly, as most diners are aware others are waiting and leave as soon as they are done to allow others to take their place.
While still in line, they give you a menu and have you decide before you enter the restaurant for a quicker process. Once inside and seated a chef shows up with the ingredients and cooks everything table-side. We had a pork belly and scallop okonomiyaki which was recommended by the receptionist, as well as a modanyaki (modern-yaki).
The okonomiyaki was unlike anything I've ever had. I've had many okonomiyaki in my life, but usually just in random decent restaurants. This one was a level above. The pancake itself was extremely light and thin, not like the dense, chewy ones I've had before. The toppings were of excellent quality, and shone thanks to the simplicity of the cooking. It was topped with the typical powdered algae, the most amazing okonomiyaki sauce, and of course, Japanese mayo.
Modanyaki is a modernized version of okonomiyaki, made to include a layer of noodles. In this case we had soba, which was satisfying because of the contrast of textures. The noodles, having been fried on the plancha had burnt bits, fried slightly more bouncy bits, softer bits, contrasting with the crispness of the vegetables, and their occasional soft bits as well.
If you want to drift away from the common okonomiyaki and would like to see what it would be when considered more than just an everyday street food, checkout Mizuno.
Nipponbashi (Sakaisuji Line and Sennichimae Line, Kintetsu Namba Line), Namba (Nankai Main Line, Nankai Koya Line, Midosuji Line, Sennichimae Line, Yotsubashi Line).
AJINOYA
Ajinoya(=味乃家) is a very popular spot with locals in Osaka. We had to wait in line for a little before getting in. It's a very casual eatery, with very good food. The waiters passed by, talked with us, shared banter, and gave the place a very human, friendly environment in a way you do not generally find in Tokyo.
We had their Ajinoya Mix Okonomiyaki, which is the mother of all seafood okonomiyaki. It's an okonomiyaki topped with thin pork belly, squid, octopus, shrimp, mince meat, and when in season, oysters. This is their most popular dish, and rightfully so. We also had a negiyaki, which is a thin variant of okonomiyaki will a load of scallions. Both were cooked table-side by a chef.
Both were really good. The pork belly was crisp and succulent, and a great welcome addition of fatness. The rest of the dish was light. The batter was nowhere near dense and heavy, and the mix of seafood was cooked well and were very juicy, protected from overcooking the batter.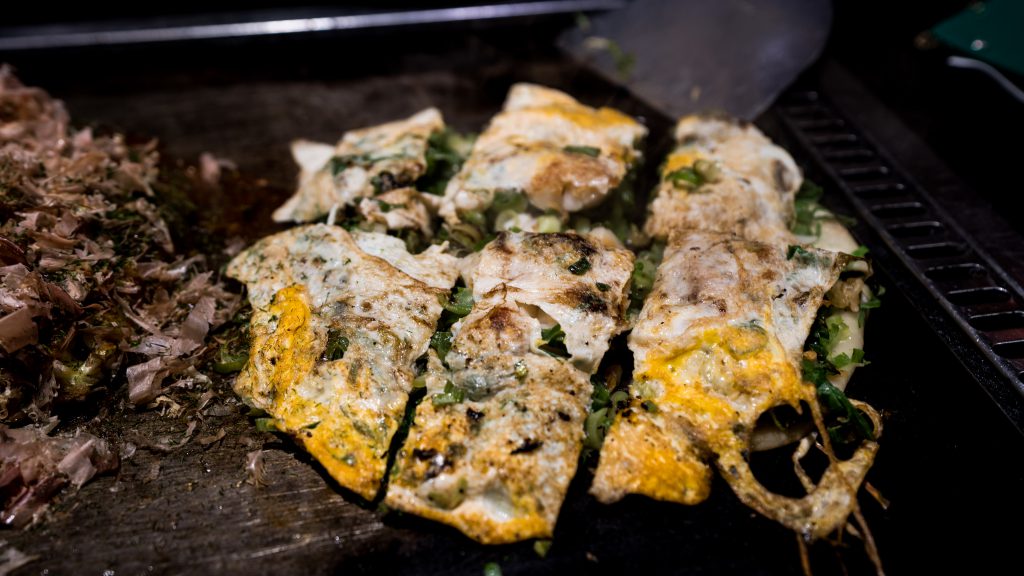 12:00 – 22:00 From Tuesday – Friday. 11:30 – 22:00 on Saturday and Sunday. Closed on Mondays
Namba (Nankai Main Line, Nankai Koya Line, Midosuji Line, Sennichimae Line, Yotsubashi Line).
TAKOYAKI
Takoyaki is okonomiyaki's aforementioned balled shaped cousin. It is Osaka's other staple. The batter is different and a lot more liquid. Takoyaki is a spherical dough with a piece of octopus in the center. It is made in a special pan with half sphere shaped holes. The batter is poured into the cavities, and the piece of octopus is placed in the middle. Afterwards the batter is constantly moved around until a perfect sphere is achieved.
Takoyaki stands can be found all over the Namba area, with a very high concentration in Dotombori. We've all especially enjoyed SONS DOHTONBORI.
KUSHIKATSU
The third member in the family of succulent, Osaka street food staples is kushikatsu. Also known as kushiage, it consists of deep fried skewers of meat or vegetables. I can be made of almost anything, from sausages, to eggs, to okra, and so on. If it exists, you can kushikatsu it.
To eat the kutshikatsu, you essentially dip it in the sauce in front of you. Do not, I repeat, do not double dip. There is a strict rule against it as the same dipping bowl is used for several people.
The place we went to is called Kushikatsu Daruma Shinsekai Sohonten(=だるま新世界総本店). It's part of a chain present in the Osaka area. They have loads of different kushikatsu types. I'd recommend getting a set to start with and get an idea which ones you like, then order a la carte. They also have great side dishes, like the stew we ordered with the skewers. Pro tip: beer and kushikatsu were made to be consumed together.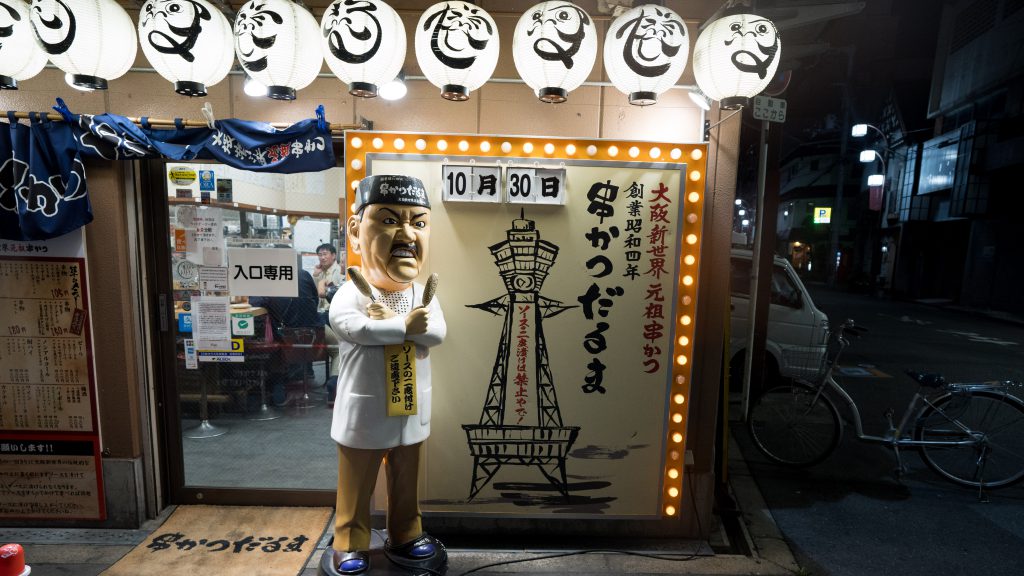 KUSHIKATSU DARUMA SHINSEKAI INFO
Shin-Imamiya (Nankai Main Line, Nankai Koya Line, Nankai Limited Express, Osaka Loop Line, Yamatoji Line), Ebisucho (Sakaisuji Line, Hankaidenki-Hankai Line).
KASU UDON
Kasuya(=かすや) advertises itself as being the "most famous japanese udon noodles in Osaka". They are right. It is the one place people recommend as an after hour munch, especially after drinking. They specialize in beef udon, with a light, yet succulent broth. They also have an interesting green mass of graded mountain yam mixed with herbs and placed in the soup. I found it delicious but couldn't figure out what it was until I asked the chef.
This Kasuya restaurant is quite popular with locals, and has grown popular with tourists thanks to its reviews. As such, they have an English menu, and the chef knows a few words of various languages. It's not a large restaurant. We did not have to wait, but if you're here during certain hours, you might have to.
11:00 – 2:00 From Sunday – Thursday. 11:00 – 3:00 on Friday and Saturday.
Namba (Nankai Main Line, Nankai Koya Line, Midosuji Line, Sennichimae Line, Yotsubashi Line).
IZAKAYA: INFORMAL JAPANESE PUB
Sousaku Tosaryouri Botan(=創作土佐料理ぼたん) is an izakaya which specializes in seafood. Like any good izakaya it has a variety of dishes to be shared, and meant to be eaten with alcohol, of which the selection is plentiful. As with most izakaya there is a seating fee of ¥350, for which you get a small dish, which will be added to your bill at the end.
We had a variety of dishes, some of which might take a bit of courage to try. We first had oden, with all the typical elements, all cooked well, and it proved a great opener. Then we had a variety of fish and seafood dishes, including a dish of bonito tataki, ika no shiokara, which is a fermented squid dish. It is a pungent, strong favored dish, but very good otherwise. Finally we had deep fried milt, which I did not know at first what it was. Had I know before, I might not have eaten it. Thankfully, I had only learned what it was after eating the creamy, salty, savory, weird deep fried thing in front of me. Because I liked the taste, I couldn't care less about what it's made of. And to finish, we had a thick, perfectly bouncy yakisoba with a ton of scallion.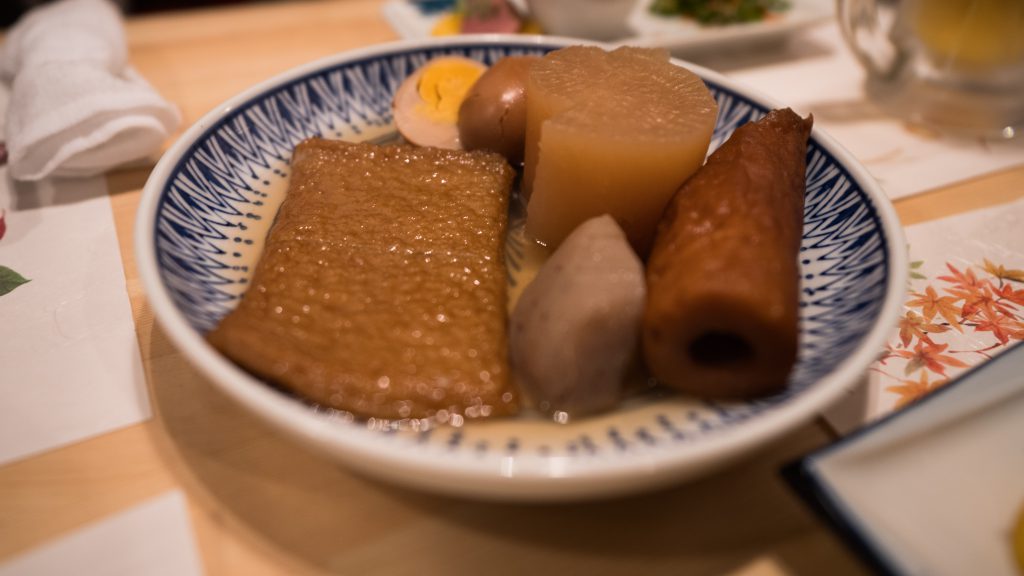 Sousaku Tosayouri Botan is one of my favorite izakaya experiences if I narrow it down to food quality. Izakaya are a truly genius invention. There is no better way to drink tons of alcohol than paring it with tons of great food.
Sousaku Tosaryouri Botan Info
Namba (Nankai Main Line, Nankai Koya Line, Midosuji Line, Sennichimae Line, Yotsubashi Line).
VISITING OSAKA
Osaka is a massively under-looked city. The vast majority of tourists to Japan only visit Tokyo and even when heading to Kansai, are there for Kyoto. This is mainly due to Osaka's low number of touristic attractions and sight-seeing spots, especially when compared to nearby Kyoto.
Osaka is however well worth a visit. I'd recommend those who go there spend at least a couple days, and one night, as nighttime is when the city truly comes to life. In addition, it s a great destination for financial reasons. Osaka is much cheaper than Tokyo. Finding a decent ¥3000 (27$) hotel for two is pretty common, and food is equally cheap, with plenty of street food, and cheap, Japanese eateries. In addition, Osaka is a great way to experience another side of Japan. Osakans are said to be nicer, more open, and louder than Tokyoites who are said to be reserved, and a bit stuck-up. Whatever the case, Osaka, through being a bustling city, with amazing food, cheap accomodation, a wild nightlife, and great people, has all that is required to warrant a visit.