Those among us who are into Japanese anime, manga, and video games, have at some point heard about Akihabara. Akihabara is the de-facto capital of all those within Tokyo, which makes it the de-facto capital for Japan, and even the world. Akiba (for short), has a long history in electronics and technology, but for the last 20 or so years has become known as an anime and manga city/town.
I've been to Akihabara many times with friends who know the area really well. I've noticed the contrast between what Japanese Otaku do and what tourists do in Akihabara. So here I'll tell you about the experiences you don't want to miss out on. Here, I'll walk you through Akihabara, where to find it, where to stay there, and all the things to do in the little otaku wonderland.
WHERE IS AKIHABARA
Akihabara is actually just a common name for the area around Akihabara Station, in Tokyo's Chiyoda ward. People, including myself, before actually getting there, assume it's a city of its own filled with anime and manga goods, but in truth, it's a relatively small area, spanning over a few blocs around a main street and a network of smaller side streets.
AKIHABARA: LOCATION
Luckily, Akihabara is located very centrally within Tokyo and is very easy to reach from anywhere within Tokyo through its station of the same name. Additionally, Akihabara Station is on the Yamanote Line, the one that goes in a loop passing through Tokyo's main hubs, making it extremely convenient and easy to access from Tokyo Station, Shibuya, and Shinjuku. Because Akihabara is not an official location, it's hard to say exactly where it ends, and what is really part of Akihabara, so to get there, aim for the station, to ensure you get to where you want.
AKIHABARA: HOTELS
If you're visiting Tokyo, chances are you'll want to visit Akihabara, and chances are, you might also want to stay at a hotel in Akihabara. After all, it is well located within Tokyo and allows easy access to all the other important places within the city. There are various options of places to stay within Akihabara, below are some decently priced ones with favorable reputation.
REMM AKIHABARA
Remm Akihabara has what some would call a huge plus, but others would hate: It's connected to the Akihabara Station. Despite this, however, it remains one of the best rated hotels on Tripadvisor. Remm Akihabara comes with all the amenities to be expected of a hotel, including high-speed wifi, and air-conditioned, TV equipped rooms.
Starting price: around ¥13,000 (~$120) per night.
AKIHABARA WASHINGTON HOTEL
For those who are looking for something a bit cheaper, but similarly centrally located, Akihabara Washington Hotel should fit the profile. Akihabara Washington Hotel is located a few meters away from the station, and has everything to expect from a hotel, including high speed internet, air-conditioned rooms, and has a restaurant in the premises.
Starting price: around ¥8000 (~$73) per night.
THINGS TO DO IN AKIHABARA
Akihabara is one of Tokyo's most popular shopping and entertainment districts, as such, there are a lot of things to do there, for everyone (though even more if you are into anime and manga-related stuff).
ARCADES AND GAME CENTERS IN AKIHABARA
The streets of Akihabara are lined up with arcades and game centers. There are games of all sorts, from retro games, to new games, to fighting games, interactive games, music games, and TONS of U.F.O catchers. If you've been in arcades in your home country, you should know, arcades in Japan are next level. Nothing like what we have in the west. Here are some you should check out.
SUPER POTATO
Super potato is primarily a video game store specializing in retro games. It spans over the third, fourth and fifth floor of a building. The last floor has an arcade room where you can play all the popular retro games from years ago.
Hours: 11:00 – 20:00 from Monday-Friday, 10:00 – 20:00 on weekends and holidays.
TOKYO LEISURE LAND
This is a five-story building with just about everything you can think of and more. The best part, however, is the second floor which is dedicated to music games, like drumming games, etc, where the instrument acts as a controller.
Hours: 10:00 – 24:00, open everyday.
SEGA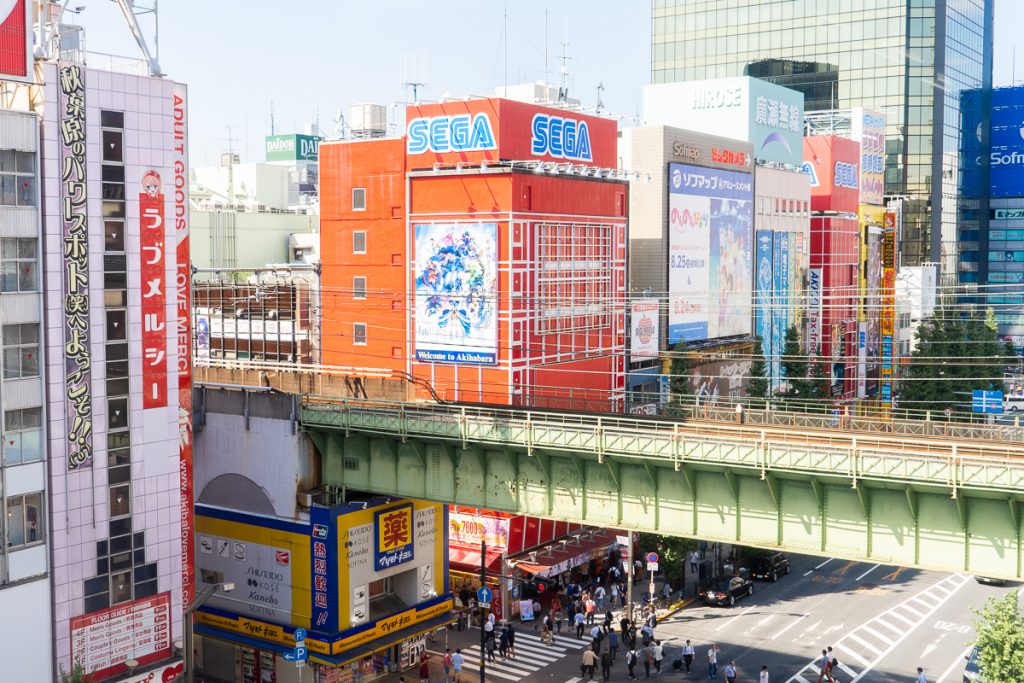 Owned by the video game giant SEGA, this multi-floored building has the entire bottom floor dedicated to U.F.O catcher, and other floors filled with various arcades, and games licensed by the developer and publisher. There are various interactive games with specialized controllers and is a lot of fun for all ages.
Hours: 10:00 – 23:00, open everyday.
ANIME SHOPS IN AKIHABARA
This is why you came, isn't it? Well, you're in luck. Akihabara has hundreds of shops dedicated to selling anime DVDs and Blu-ray disk, related merchandize, official goods, soundtracks, figurines, etc. If you want an in-depth guide to the different anime and figurine shops, check out our article: The Ultimate Guide to The Best Anime and Otaku Stores in Akihabara. Here are however a couple you should know.
ANIMATE AKIHABARA
Animate is the largest retailer of anime, manga, and video games in Japan. They Akihabara branch is a huge seven floor department floor selling comics, novels, DVD and Blu-ray disks, anime and game soundtracks, magazines, as well as merchandize like character goods, trading cards, character goods, etc.
Hours: 10:00 – 21:00, open everyday.
MANDARAKE
Animate is the largest retailer of anime, manga, and video games in Japan. They Akihabara branch is a huge seven floor department floor selling comics, novels, DVD and Blu-ray disks, anime and game soundtracks, magazines, as well as merchandize like character goods, trading cards, character goods, etc.
Hours: 10:00 – 21:00, open everyday.
AKIHABARA CULTURE ZONE
Akihabara Culture Zone is essentially a mall type building with multiple stores inside. These stores are generally branches from Tokyo's most popular otaku shops. There you will find everything, including figurine shops, anime good, derivative merchandize, cards like Magic the Gathering, and much more. If you want one place to buy everything you might want in one stop, this is it.
Hours: 11:00 – 21:30, open everyday.
AKIHABARA RADIO KAIKAN
This is another otaku mall. It's an 11 floor behemoth comprised of multiple stores that sell just about everything. In addition, inside, there is a Comic Toranoana, so if you're hunting for doujinshi, you should head there. Other shops sell just about anything you might need. Like Akihabara Culture Zone, it's a good place for those who do not feel like going though multiple locations to find what they want. It's all in one place.
Hours: 10:00 – 20:00, open everyday.
MAID CAFES IN AKIHABARA
Maid cafes are a quirk of Japan you've most definitely heard of. They are, as they imply, cafes with maids. Women, usually of young age, will dress in a classical french maid outfit, and serve your foods and drinks, while interacting with you. They will even sometimes say a spell, which apparently will make your food taste better. Just walking through the streets of Akihabara, you'll notice tons of maid on the street advertizing their respective cafes and handing out flyers.
Akihabara Absolute Area, or Akihabara Zettai, is a very popular maid cafe, and currently ranked number one on Trip Advisor. It is in addition very foreigner friendly. If you're looking to try out a maid cafe, I'd recommend this one. Akihabara Zettai Ryōiki is open everyday from 12:00 to 22:00.
YODOBASHI CAMERA AKIBA
Before being known for anime and manga, Akihabara was, and is still known as the Electric Town, where one can find all things electronic. Yodobashi Akiba is a gigantic consumer electronics store with nine floors of everything electronic ever created. There you will find any electronic device you may need, and some you do no need at all, but will want nonetheless. In addition, the 8th floor has over a dozen restaurants of all types, so if you're not sure what to eat, you can just go there and decide as you find one.
For an in-depth floor by floor guide to Yodobashi Akiba, check out our article: Electronic Stores in Akihabara: a guide to Yodobashi Camera.
Hours: 9:30 – 22:00, open everyday.
RESTAURANTS IN AKIHABARA
Akihabara is known around Tokyo for having very heavy, greasy food. That's not necessarily a bad thing. There are some great eateries there, including ramen shops, Japanese cuisine, western cuisine, etc, pretty much all you might expect to find in an entertainment hub.
If you'd like to find a place to eat in Akihabara, check out our article: Restaurants You Should Check Out in Akihabara.
OTHER POPULAR THINGS TO DO IN AKIHABARA
These are activities which are extremely popular with tourists in Akihabara. They are, however, activities which I personally, as well as most people who have lived in Tokyo long enough that know, would not recommend to anyone.
STREET KART AKIHABARA
Commonly known as Mario Kart, they were forced to change their name after Nintendo threatened to sue them. This service essentially allows people to drive karts around Akihabara, dressed as Mario Kart (and others) characters, all the while annoying just about everyone else driving on the street or walking. There is unanimous hatred for this among those who live in Tokyo. They tour with the karts from Akihabara around parts of central Tokyo, for a price of ¥10,000 ($92). Instead, I'd recommend, not spending that much money, and saving it to buy cool stuff in Akihabara. Not only will you have used the money better, you won't annoy anyone, and will be less at risk of having a deadly accident. Win-win.
GUNDAM CAFE
As much as I love anime, I must admit, it's one of the most capitalistically greedy businesses on the face of the earth. The industry will unscrupulously milk a cow with no regards for quality at all, as proven by 80% of all anime sequels being made for no reason other than popularity. The worst consequence of this greed, however, is something those who live outside Japan are lucky to be able to avoid: anime cafes. Gundam Cafe is one such anime cafe. It's a cafe, themed after the mega famous mecha series. Now, that sounds awesome, right? RIGHT? Who wouldn't love a proper cafe, made to look like the inside of a mecha, with interactive Gundam things, and foods and drinks from the series? Gundam Cafe is none of that.
Gundam Cafe looks pretty cool from the outside, but that is sadly a poor representation of the inside. The inside, is a bland, lazily designed space that has nothing to do with Gundam. You could stick any name to it, and it would fit. Instead, you have a shop at a corner to buy more gundam merch. Oh, there's also a screen with clips from the Gundam universe playing. The table, is a regular table, and was chipped by the way, the chairs are regular old chairs you can find anywhere, no futuristic furniture, or interior resembling the inside of a robot, or even of what a cafe in the gundam universe would look like.
Ok, the interior is bad, how's the food? As long as the food is good, one can forgive them for their lack of trying with the interior. The food, however, is even worse. The portions are minuscule, and the prices are exhorbitant. They don't even make the food themselves in the cafe, it's outsourced. In short, don't go there, save your money, go to a regular cafe, or to one of the great cafes this city has to offer. Hell, as much as I like to hate on Starbucks, go there, even. it'll be a much better experience.
THINGS YOU SHOULD KNOW BEFORE GOING TO AKIHABARA
You've booked your tickets, gathered your clothes, made plans to visit the anime holy land, Akihabara. Before you get there, though, here are a few things to note.
MANY AKIHABARA RESTAURANTS CLOSE EARLY
While in places like Shibuya and Shinjuku you'll find places open very late, it's not the case in Akihabara. Most restaurants there will close around 10 pm. Though you may find some open later, they are the outliers.
"PEDESTRIAN HEAVEN" TAKES PLACE EVERY SUNDAY
Pedestrian heaven is essentially the Japanese way to say pedestrian zone (hoko-ten in Japanese. Short for hokousha tengoku). From 13:00 to 17:00 between October and March, and from 13:00 to 18:00 from April to September, parts of the street are closed off to motor vehicles and become pedestrian only.
KANDA MYOJIN IS BEAUTIFUL AT NIGHT
The small shrine Kanda Myojin (神田明神) is 10 minutes away from Akihabara Station which was founded in 730 (the current one was established during the Edo period, however). It's popular among tech geeks who go to get talismans to bless their electronic devices. If you've just built a new computer than needs blessing or not, you should visit, and do so at night, when it turns into an otherworldly lantern-light shrine. Note that there are stairs going up to the temple, so if you are predisposed, you may have issues getting there.
KARAOKE, BILLIARDS, AND DARTS ARE A LOT OF FUN IN AKIHABARA
While the bar scene is Akihabara is not great, it doesn't mean there is nothing to do at night once after you've bought all the anime goods you were there for. Because of the early closing time of shops and restaurants, Japanese otaku tend to flock to entertainment places like karaoke parlors, or to dart and pool places.
Bagus in Akihabara is one of the more popular places for darts and billiards. It opens from at 11:30 and closes at 5 am, every day.
If you'd like to learn more about Karaoke, and the different chains, check out our arccle: How to Go to The Karaoke – Japan's Ultimate Form of Entertainment.
AKIHABARA: LESS THAN, BUT MORE THAN YOU EXPECT
I remember my first time going to Akihabara. I lived outside Tokyo and on my first trip to Tokyo Akihabara was the terminus to the train from my city to Tokyo. Naturally, it was my first ever point of entry into Tokyo. I had read about it, seen it in anime and manga, etc. I arrived expecting a gigantic anime-centric city. That is not what I found. I was a bit disappointed to find a single large street and shops surrounding it, going maybe three blocks or so at most. I decided I had no interest there.
Later on, however, as I moved to Tokyo, and learned about the tiny shops, where to find what, what random tiny side street has what hidden gem, and when I learned about the food to be found there, it changed my opinion. While you will find a LOT of anime, manga, and video game related things, it might not be as grandiose as you might expect, but you might also be pleasantly surprised by what you did not expect.